In News: Supreme Court, in a 3:2 majority decision, upheld the validity of 103rd constitutional amendment and held that the 10% EWS quota to "poorest of poor" among forward castes did not pose any danger to the Basic Structure of the Constitution.
Background:
Reservation is a form of quota-based affirmative action governed by constitutional laws in India.
Current reservation in India:
| | |
| --- | --- |
| ST | 7.5% |
| SC | 15% |
| OBC | 27% |
| EWS | 10% |
|              Total | 59.5% |
Article 14 states that the State shall not deny to any person equality before the law or the equal protection of the laws within the territory of India. Supreme Court held that where equals and unequal's are treated differently, Article 14 does not apply.
Article 15 provides that the State shall not discriminate against any citizen on grounds only of religion,  race, caste, sex or place of birth.
Exception to article 15 – The 103rd Constitutional Amendment provides 10% reservation in government jobs and educational institutions to the 'economically weaker sections' of the society but excludes the 'poorest of poor' among Scheduled Castes (SC), Scheduled Tribes (ST), Socially and Educationally Backward Classes (SEBC) and Other Backward Classes (OBC) from its scope.
Current issues in reservation:
Indira Sawhney judgment in 1992: SC upheld the principle that the combined reservation beneficiaries should not exceed 50% of India's population. However, with EWS reservation of 10%, the total reservation in India's population amounts to almost 60%.
Rohini Commission report: Asymmetrical distribution of reservation – 97% of central OBC quota benefits go to just under 25% of its castes. As many as 983 OBC communities — 37% of the total — have zero representation in both central government jobs and admissions to central universities.
Data Deficiency: There is hardly any legible data on the socio-economic conditions of varied social groups at State & local level. Also, we do not know what liberalisation has done to castes which remained tied to more traditional sources of income.
The creamy layer threshold: SC admits plea challenging Rs 8 lakh EWS annual income criteria is the same as that for the creamy layer of Other Backward Classes quota and is unfair.
Lack of merit-based recognition
Significance of the judgement:
Expansive view: Reservation was an "instrument of affirmative action by the state" and should not be confined to just SCs, STs, SEBCs, and the non-creamy layer of OBCs, but also include "any class or sections so disadvantaged as to answer the description of 'weaker section'"
103rd Amendment only created "a separate class of EWS without affecting the special right of reservation provided to SEBCs, STs, SCs and OBCs".
Even the SC/ST/SEBC/OBC members had been treated as a separate category for the purpose of the 50% reservation. Now, they cannot be treated at par with citizens belonging to the general or unreserved category.
Article 14: Just as equals cannot be treated as unequal's, unequal's cannot be treated equally. Treating unequal's as equals will offend the doctrine of equality in Article 14.
Concerns:
Existing reservation should not be seen as a "free pass to equal opportunity" for these backward classes, he noted, but as a reparative and compensatory mechanism to level the field for those crippled by social stigmatisation.
Hostile discrimination: Excluding the SC/ST/OBC/SEBC communities, on the ground that they already enjoy the benefits of a pre-existing 50% reservation based on their caste and class origins, would amount to heaping injustice based on their past disability and struck at the essence of the "Non-Discriminatory Rule" and destroyed the Equality Code of the Constitution.
Orwellian exclusion: Such an exclusion was simply "Orwellian" as the government's statistics itself showed that the "bulk of economic deprived section of the society belonged to SC/ST/SEBC/OBC".
Narrow scope: The petitioners had argued that the exclusion of SC/ST/SEBC/OBC had left only the "middle class" among the forward castes drawing less than ₹8 lakh as annual family income to reap the benefits of the EWS quota.
50% ceiling limit: Permitting the breach of 50% ceiling limit would become "a gateway for further infractions and result in compartmentalisation".
BPL population: Of the 31.7 crore people living under the poverty line in the country, the classification is as follows: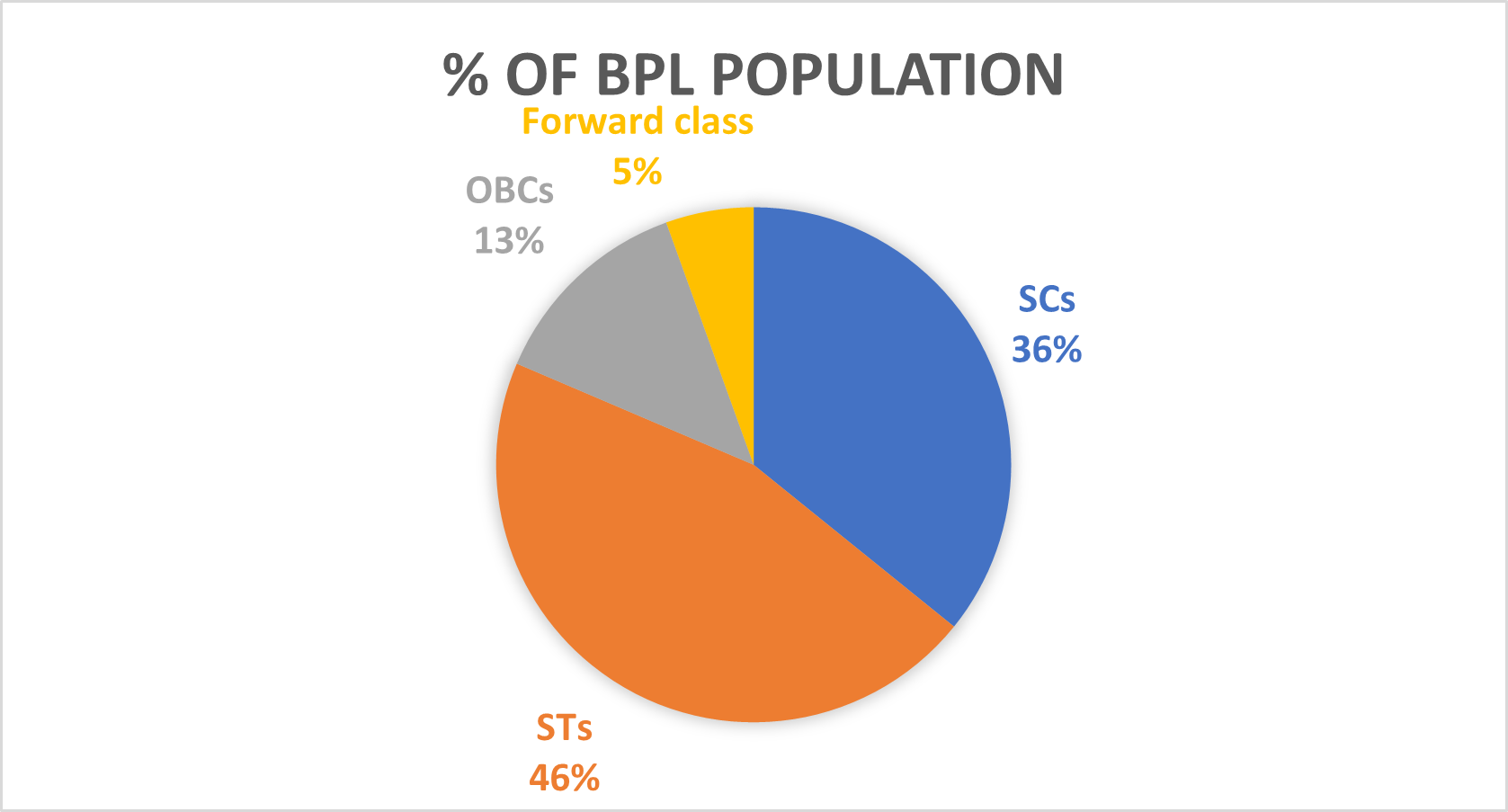 Way forward:
Both sides agreed on the state's power to make special provisions for implementing reservation in private unaided institutions, including professional colleges.
The Amendment cannot be said to violate Basic Structure by permitting the state to make special provisions in relation to admission to private unaided institutions.
Source:     The Hindu Business line
For a dedicated peer group, Motivation & Quick updates, Join our official telegram channel – https://t.me/IASbabaOfficialAccount
Subscribe to our YouTube Channel HERE to watch Explainer Videos, Strategy Sessions, Toppers Talks & many more…