Global Context:
The World Economic Forum estimates that it would take at least 268 years to close the gender gaps in economic participation and opportunities across the world.
The Global Gender Gap Report 2021 also shows that despite improvements towards skill development and wage equality—albeit slow—the lack of women in leadership positions remains persistent, limiting progress in parity.
The G20 economies are attempting initiatives that hold promise in advancing women's entrepreneurship through financial assistance, knowledge creation, and governance for nurturing entrepreneurial conditions.
Indian Context:
India has nearly half-a-million working-age women and 15 million women-owned micro, small and medium enterprises (MSMEs) that directly or indirectly provide employment to almost 27 million people.
By 2030, an estimated 30 million women-owned MSMEs are expected to flourish in India, providing employment to nearly 150 million people.
India launched comprehensive schemes like the Pradhan Mantri Jan Dhan Yojana (PMJDY), Pradhan Mantri MUDRA Yojana (PMMY), Startup India, and Stand-Up India.
Concerns:
Women, accounting for nearly one-half of the global population, contribute only 37 percent to the global gross domestic product (GDP).
Globally, the number of hours that women spend on unpaid care work is three times (3X) that of men; in India, this difference is 8X.
In India, decline in female labour force participation rates, which stood at 25.1 percent in 2020-21.
The Mastercard Index of Women Entrepreneurs 2021, which looks at the progress of women in business, ranked India at 57th position among 65 countries. India has 13.5–15.7 million women-owned enterprises, representing 20 percent of all enterprises.
Nearly 90 percent of women-owned businesses in India are microenterprises, and they are disproportionately smaller in size than other businesses.
The Findex found that 32.3 percent of women in India have inactive bank accounts because they do not have access to mobile phones and the internet, or else they are unable to operate the accounts because of lack of digital literacy; there is also no regular inflow of cash, and they are often uncomfortable dealing with male bank or business agents.
The disproportionate burden of unpaid domestic work directly reduces female labour force participation rates; financial inclusion is therefore an indispensable goal.
Lack of knowledge about inheritance and property ownership rights, as well as social limitations and a lack of financial literacy force female entrepreneurs to seek financing from informal sources.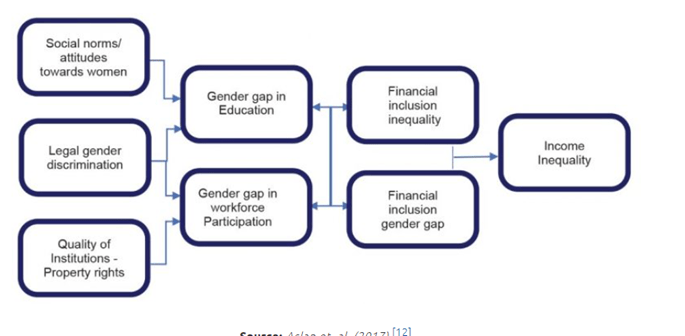 Lessons from India:
Aadhaar and the India Stack's biometric e-KYC verification capability makes it easier for women who often do not have the required documents, to establish their identity before bank officials.
PMMY allows small borrowers with no credit history easier access to credit in a flexible manner.
To improve last-mile delivery of credit, 'Last Mile Financiers' have been roped in, such as companies, trusts, societies, associations, and other networks that provide informal finance to small businesses.
The credit guarantee scheme for assurance to financial institutions to mitigate the issue of collateral under the "Credit Guarantee Fund for Micro Units" has increased the appetite of financial institutions to disburse loans to first-time entrepreneurs.
The use of digital technology has created greater transparency and promoted credit quality, thereby reducing NPAs.
MUDRA Card is a RuPay debit card, it can also be used for drawing cash from an ATM or to make purchases and repay loan amounts.
MUDRA is a reliable alternative to local money lenders and its strength lies in its collateral-free loans and easy documentation.
The scheme's focus on women entrepreneurs has also helped in a higher share of loan disbursements to women—leading to increased monthly household incomes and savings.
Suggestions to G20:
Ensuring gender-inclusivity among financial service providers:
Greater inclusion of women as users, providers, and regulators of financial services would have spillover effects beyond addressing gendered economic inequality.
Banks with higher shares of women board members often have higher capital buffers, a lower proportion of NPAs, and increased resistance to stress.
Gender impact assessments
Adoption of non-discriminatory hiring practices
Adopting a gender-sensitive approach for widespread financial literacy:
Women take primary responsibility for childbearing, daily decision-making about the allocation of household resources, and transmitting financial habits and skills to children.
Financial education programs must focus on behavioural aspects like self-confidence and technical assistance.
Financial education in schools to make young girls aware of financial issues and skills.
Utilisation of self-help groups and rotating savings and credit societies.
Promotion of women-led small enterprises:
Increased public procurement from women-led businesses.
Strategies such as subsidised interest rates for women accessing credit for setting up their businesses; and employment composition-linked incentives.
Way forward:
The G20 can provide the right platform to promote thought-leadership, delivery of financial and technical assistance, and knowledge sharing among its members and for the rest of the world to advance women's economic and social empowerment.
India, poised to take the helm of the G20 in 2022, can identify strategies to further advance its efforts towards achieving gender equity in all economic domains, in turn creating scope for social mobility.
Most importantly, the financial inclusion of informal women-led businesses will help push the process of formalisation, thereby making women's contribution to the economy more tangible and measurable.
What remains untapped, however, is the greater deployment of fintech to finance micro loans and bring down operational costs and create greater flexibility and transparency.
MUST READ:  PM MUDRA YOJANA
Source: The Hindu
Previous Year Question
Q.1) Pradhan Mantri MUDRA Yojana is aimed at (2016)
bringing the small entrepreneurs into formal financial system
providing loans to poor farmers for cultivating particular crops
providing pensions to old and destitute persons
funding the voluntary organizations involved in the promotion of skill development and employment generation
For a dedicated peer group, Motivation & Quick updates, Join our official telegram channel – https://t.me/IASbabaOfficialAccount
Subscribe to our YouTube Channel HERE to watch Explainer Videos, Strategy Sessions, Toppers Talks & many more…