In News: India's External Affairs Minister travelled to New Zealand and Australia.
This was the minister's first visit to New Zealand and second visit to Australia this year .
He also attended the 13th Foreign Ministers' Framework Dialogue (FMFD) along with his Australian counterpart.
Context:
Against the backdrop of significant geopolitical turmoil, from Russia's invasion of Ukraine to China's continuing harassment of its neighbours and heightened tensions in the Taiwan Strait, India-Australia relations assume greater significance.
India and Australia do not want to see any one country dominating or any country being dominated.
India and Australia, both are Quad members and their relations are multifaceted and comprehensive, spanning from maritime security and mutual logistics support to cooperation in cyber-enabled critical technology, critical and strategic minerals, water resources management, vocational education and training, as well as public administration and governance.
Both are strong, vibrant, secular and multicultural democracies that have a free press and an independent judicial system. Moreover, other connections such as the English language, Cricket, and Indian students coming to Australia for education, are significant elements in awareness at the popular level.
Bilateral relations: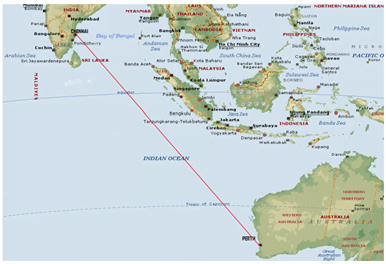 The Australia-India relationship is at a high point, underpinned by the Comprehensive Strategic Partnership announced in 2020
It includes an annual meeting of prime ministers, a foreign minister's dialogue, a 2+2 defence and foreign ministers meeting, a trade ministerial commission, an education council, an energy dialogue, and sectoral working groups.
It entails significant investments to bolster economic ties announced as part of the India Economic Strategy Update, launched in 2022, and the signing of the Australia-India Economic Cooperation and Trade Agreement.
India's extraordinary support for Australia in the face of stiff opposition from Russia and China with regard to AUKUS at the International Atomic Energy Agency (IAEA).
Australia's support to India on India's Nuclear Suppliers Group (NSG) membership as well as on counterterrorism issues.
Australia-India Council (AIC) was established by the Australian Government in 1992 to broaden and deepen Australia-India relations through contacts and exchanges in a range of fields that promote mutual awareness and understanding.
Australia will be hosting India at the next Quad Counter-Terrorism Tabletop Exercise in October 2022, while India will be welcoming Australia in the proposed No Money for Terror Conference in New Delhi, scheduled for later in 2022.
Economic:
Australia is the 17th largest trading partner of India, while New Delhi is Canberra's 9th largest trading partner. India's goods exports were worth USD 6.9 billion and imports aggregated to USD 15.1 billion in 2021. Major exports to India include coal, copper and gold; major imports from India include refined petroleum, pearls and gems, and medicaments.
In 2022, India and Australia signed the Economic Cooperation and Trade Agreement (IndAus ECTA) under which both the countries are providing duty free access to a huge number of goods and relaxing norms to promote trade in services.
A$5.8 million to the three-year India-Australia Critical Minerals Investment Partnership
To fulfil its ambitions to lower emissions and meet growing demand for critical minerals to help India's space and defence industries, and the manufacture of solar panels, batteries and electric vehicles, etc.
supply risks exist due to rare availability, growing demand and complex processing value chain.
Defence:
Defense Marles' travel to India in June 2022 shows India's importance in Australia's strategic thinking.
Indian-built offshore patrol vessel INS Sumedha joined HMAS Anzac to conduct cross-deck landing of helicopters, tactical manoeuvres and a farewell steam-past.
Indo-Pacific Endeavour 2022, a key regional engagement activity of Australia that runs across Southeast Asia and the northeast Indian Ocean.
Visakhapatnam will be a port of call
Indo-Pacific Endeavour began in 2017 as an annual activity to deliver on the promise of the 2016 defence white paper to strengthen Australia's engagement and partnerships with regional security forces.
The maritime waters between Indonesia and northern Australia are an area of mutual interest to both countries, being a gateway to the Indian Ocean region.
Maritime Exercises:
Maritime Partnership Exercise (MPX) off Perth in August 2022 – INS Sumedha participated with HMAS Anzac in the exercise.
Exercise Pitch Black 2022 between Indian Air Force and Royal Australian Air Force.
INS Satpura participated in Australia's naval exercise Kakadu 2022
Australia has been participating in the Malabar series of naval exercises since 2020
Technology:
Australian side extending assistance for the temporary Telemetry Tracking and Command Center for the Gaganyaan Mission of India, which is to take place in 2023.
Diaspora:
Australia and India will establish a taskforce to develop qualifications recognition arrangements for Australia and India to enhance two-way mobility, from 2023.
Australia's Indian communities make important contributions in business, politics, the judiciary, government, civil society, academia, science, the arts and sport.
3% of Australians have Indian heritage and in 2020 the Indian-born population became Australia's second-largest group of overseas-born residents.
This community is recognised as having a great sense of civic responsibility and being a rich source of dynamism and enterprise.
Over $20 million will be given in Maitri (friendship) initiatives, including a scholars program, a grants and fellowship program and a cultural partnership. The Maitri Scholars Program will attract and support high achieving Indian students to study at Australian universities.
The Maitri Cultural Partnership will boost the role of creative industries in our economic and people-to-people ties.
Way forward:
A tricky issue in India's engagement with Australia as well as its other new security partners is the Russia question. So far, it has not affected the functioning of the Quad.
The India Economic Strategy is an ambitious plan to transform Australia's economic partnership with India out to 2035.
For the time being, Australia and other partners maintain an understanding of the Indian position, but India needs to be careful in not pushing that beyond a point.
The growing congruence between the two sides must be shaped by their "shared concerns about respect for international law and a rules-based order."
Source: Orf Online
For a dedicated peer group, Motivation & Quick updates, Join our official telegram channel – https://t.me/IASbabaOfficialAccount
Subscribe to our YouTube Channel HERE to watch Explainer Videos, Strategy Sessions, Toppers Talks & many more…