Context:  Recently, the Prime Minister of India paid tributes to Maulana Azad on his birth anniversary.
Personal details: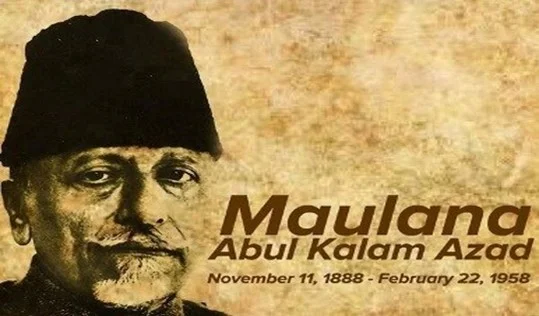 Born: November 11, 1888; Place of Birth: Mecca, Saudi Arabia
Political Ideology: Liberalism; right-winged; Egalitarian
Publications: Ghubar-e-Khatir (1942-1946); India Wins Freedom (1978); weekly called "Al-Hilal" and "Al-Balagh".
On February 22, 1958 Maulana Abul Kalam Azad, one of the foremost leaders of the Indian freedom struggle passed away.
For his invaluable contribution to the nation, Maulana Abul Kalam Azad was posthumously awarded India's highest civilian honour, the 'Bharat Ratna' in 1992.
He was the founder of the Jamia Milia Islamia Institution in Delhi along with fellow khilafat leaders which has blossomed into a renowned University today.
His birthday, November 11, is celebrated as National Education Day in India.
Early Revolutionary Activities:
In Egypt, Azad came into contact with the followers of Mustafa Kemal Pasha who were publishing a weekly from Cairo.
In Turkey, Maulana Azad met the leaders of the Young Turks Movement.
After his return to India from an extensive visit of Egypt, Turkey, Syria and France, Azad met prominent revolutionaries Sri Aurobindo Ghosh and Shyam Sundar Chakraborty.
Azad fiercely criticized the Muslim politicians who were more inclined towards the communal issues without focusing on the national interest.
He also rejected the theories of communal separatism advocated by the All India Muslim League.
Pre-Independence Activities
As an activist demanding the reinstatement of the Caliph in Istanbul, Maulana Abul Kalam Azad came onboard with the Khilafat movement during 1920.
He became involved with the Indian freedom struggle through the Non-cooperation movement initiated by Gandhi, of which the Khilafat issue was a big part of.
Although initially skeptical of Gandhi's proposal to launch an intensified drive against the British Raj demanding independence, he later joined the efforts.
He wholeheartedly advocated the principles of the non-cooperation movement and in the process became drawn to Gandhi and his philosophy.
He worked closely with Vallabhbahi Patel and Dr. Rajendra Prasad.
He vehemently opposed the idea of partition based on religion and was deeply hurt when the idea went forward to give rise to Pakistan.
He presided over the special session of Congress in September 1923 and was said to be the youngest man elected as the President of the Congress.
In 1928, Maulana Azad endorsed the Nehru Report, formulated by Motilal Nehru.
As opposed to Muhammad Ali Jinnah, Azad also advocated for the ending of separate electorates based on religion and called for a single nation committed to secularism.
In 1930, Maulana Azad was arrested for violation of the salt laws as part of Gandhiji's Salt Satyagraha.
Post-Independence Activities
During the violence that erupted following partition of India, Maulana Azad assured to take up the responsibility for the security of Muslims in India.
He helped in establishing the refugee camps and ensured uninterrupted supply of food and other basic materials.
He was appointed as India's first Minister for Education and inducted in the Constituent Assembly to draft India's constitution.
Under Maulana Azad's tenure, a number of measures were undertaken to promote primary and secondary education, scientific education, establishment of universities and promotion of avenues of research and higher studies.
Source: PIB
Previous Year Question
Q.1) Who among the following was associated as Secretary with Hindu Female School which later came to be known as Bethune Female School? (2021)
Annie Besant
Debandranath Tagore
Ishwar Chandra Vidyasagar
Sarojini Naidu
For a dedicated peer group, Motivation & Quick updates, Join our official telegram channel – https://t.me/IASbabaOfficialAccount
Subscribe to our YouTube Channel HERE to watch Explainer Videos, Strategy Sessions, Toppers Talks & many more…