Context: Marumalarchi Dravida Munnetra Kazhagam (MDMK) general secretary recently warned that the Union government might introduce a Bill for a uniform civil code soon as a private member Bill on the issue moved in the Rajya Sabha by BJP member Kirodi Lal Meena secured 63 votes, and only 23 persons voted against its introduction.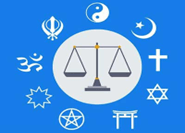 About Uniform Civil Code (UCC):
The Uniform Civil Code (UCC) calls for the formulation of one law for India, which would be applicable to all religious communities in matters such as marriage, divorce, inheritance, adoption.
Origin of Uniform Civil Code:
It dates back to colonial India when the British government submitted its report in 1835 stressing the need for uniformity in the codification of Indian law relating to crimes, evidence, and contracts, specifically recommending that personal laws of Hindus and Muslims be kept outside such codification.
An increase in legislation dealing with personal issues at the far end of British rule forced the government to form the B N Rau Committee to codify Hindu law in 1941.
The task of the Hindu Law Committee was to examine the question of the necessity of common Hindu laws.

The committee, in accordance with scriptures, recommended a codified Hindu law, which would give equal rights to women.
The 1937 Act was reviewed and the committee recommended a civil code of marriage and succession for Hindus.
Constitutional Provisions:
Article 44: The "State shall endeavour to provide for its citizens a uniform civil code (UCC) throughout the territory of India."
Article 37: The "state shall endeavour by suitable legislation", while the phrase "by suitable legislation" is absent in Article 44.
Inclusion in DPSP:
The Uniform Civil Code (UCC) was included in the Directive Principles, not in the Fundamental Right which is enforceable by the Court of Law due to the following reasons:

Muslims members opposed it in the Constituent Assembly (CA).
The pain of partition on the religious ground was still not diminished.
The stand taken by B.R. Ambedkar in the Constituent Assembly was that a UCC is desirable but for the moment should remain voluntary.
Significance of UCC:
Uniform Principles: Common Code would enable uniform principles to be applied in respect of aspects such as marriage, divorce, succession etc. so that settled principles, safeguards and procedures can be laid down and citizens are not made to struggle due to the conflicts and contradictions in various personal laws.
Promotion of secularism: One set of laws to govern the personal matters of all citizens irrespective of religion is the cornerstone of true secularism.
It would help end gender discrimination on religious grounds and strengthen the secular fabric of the nation.
Protection of Vulnerable and Women's Rights: It will protect the vulnerable sections of society.
Women have been denied via personal laws in the name of socio-cultural-religious traditions.
Therefore UCC could bring all communities together to ensure Women the Right to a dignified life and control over their life as well as body.
Reduced Discord: if and when the whole population will start following the same laws, chances are there that it would bring more peace in the living and reduce riots.
Hence, Religious harmony will be created for peaceful living in the country
Prevents religion-based discrimination: Personal laws differentiate between people on grounds of religion. A unified law having the same provisions regarding marital affairs would provide justice to those who feel discriminated against.
Ending unjust customs and traditions: A rational common and unified personal law will help eradicate many evil, unjust and irrational customs and traditions prevalent across the communities.

For example, Law against Manual scavenging. It might have been a custom in the past but in a mature democracy like India, this custom cannot be justified.

Remove vote bank politics: Opting the UCC will remove the religious nexus of the Political system in which voters are divided on the basis of religion, caste etc.
Eases Administration: UCC would make it easy to administer the huge population base of India.
Global practice of UCC: Almost all Muslim nations like Morocco, Pakistan etc. have been following the UCC.
National integration: A common civil code will help the cause of national integration by removing disparate loyalties to laws that have conflicting ideologies. No community is likely to bell the cat by making gratuitous concessions on this issue. It is the State which is charged with the duty of securing a uniform civil code for the citizens of the country and, unquestionably, it has the legislative competence to do so.
Best Practice: While delivering a judgment legitimising the Portuguese Civil Code of 1867, the Supreme Court reportedly described Goa as a "shining example" with a Uniform Civil Code.
Arguments against UCC:
Dominant religion's codes: It is believed that it could make dominant religion's codes and norms universal, and require minority religions to assimilate to those norms, while abandoning the tenets of their faith.

It will assert cultural hegemony, in a State that is growing increasingly majoritarian.

Violates right to religion (Article 25): Article 25 gives every religious group the right to manage its own affairs.

Article 29 gives them the right to conserve their distinct culture.

In Constituent Assembly, fundamental rights sub-committee headed by Sardar Vallabhbhai Patel said that UCC was outside the scope of fundamental rights and therefore it was made less important than freedom of religion.
Several communities, mainly minority communities, perceive the Uniform Civil Code as an encroachment on their rights to religious freedom.
Diversity in India: It is tough to come up with a common and uniform set of rules but our government is trying to come up with common rules.
View of Judiciary on UCC: Courts in India, including the Supreme Court, have time and again questioned why a UCC is yet to be introduced.
During the Mohd Ahmed Khan v. Shah Bano Begum and Others (1985) case, the top court exhorted the central government to enact a "common civil code" in the interests of national integration.
The Court reiterated the same, in context of a marriage between a Christian woman and a Sikh man under the Indian Christian Marriage Act, 1872 in Jordan Diengdeh v. S S Chopra (1985).

Court observed "Time has now come for the intervention of the legislature to provide for a uniform code of marriage and divorce as envisaged by Article 44."

Case of Goa: Goa is the only state in India where all communities, including Hindus, Muslims, Christians, are governed by the same law when it comes to marriage, divorce, succession, etc. as it is governed by the Portuguese Civil Code of 1867 for all communities in the state.
Way Forward:
Gender equality in UCC: Before framing UCC first need to ensure gender equality in UCC.
Making UCC voluntary: If a person is free to choose whether they want to be governed by personal law, or by a non-religious civil code, there is no reason why UCC and personal laws cannot co-exist, instead of one replacing the other.

For example: People who do not wish to marry under personal laws can marry under the Special Marriage Act (albeit not without problems and inconveniences).

Codification of all personal laws as suggested by the Law Commission: By codification of different personal laws, one can arrive at certain universal principles that prioritize equity rather than the imposition of a Uniform Civil Code.

To resolve the contentious issues like UCC, common consensus of all the stakeholders is needed.
Thus, framing the voluntary and gender equal uniform civil code is in need to provide equality to the citizens across the country. Instead of considering whether India needs a Uniform Civil Code, India should focus on how to make sure that every person in India has the option to be governed by a civil code that is fair to all genders.
Source: The Hindu
For a dedicated peer group, Motivation & Quick updates, Join our official telegram channel – https://t.me/IASbabaOfficialAccount
Subscribe to our YouTube Channel HERE to watch Explainer Videos, Strategy Sessions, Toppers Talks & many more…