Context: Recently, a report "Do India's Food Safety Regulator (FSSAI) and Indian Citizens Need Saving from (Foreign & Indian) Private Players Behind Food Fortification Initiatives?" was released.
About Food Fortification: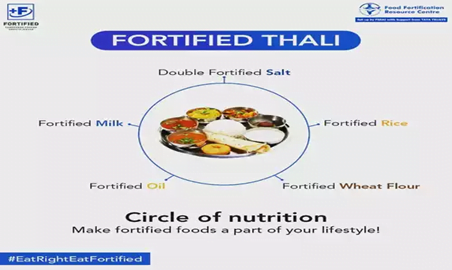 The Food Safety and Standards Authority of India (FSSAI) defines fortification as "deliberately increasing the content of essential micronutrients in a food so as to improve the nutritional quality of food and to provide public health benefit with minimal risk to health".

For example, adding iodine and iron to edible salt.
Recent developments food fortification:
The Ministry of Consumer Affairs, Food and Public Distribution had launched a centrally sponsored pilot scheme on "Fortification of Rice and its Distribution under Public Distribution System (PDS)" for a period of three years beginning 2019-20 with a total budget outlay of Rs.174.64 crore.
The pilot scheme focuses on 15 districts in 15 states.

Under the scheme, the blending of rice is done at the milling stage.

Maharashtra and Gujarat have started distribution of fortified rice under PDS in the Pilot Scheme.
The Scheme is funded by the Government of India in the ratio of 90:10 in respect of North Eastern, hilly and island states and 75:25 in respect of the rest.
Need of food fortification:
According to the National Family Health Survey (NFHS-4):

4% of children (6-59 months) are anaemic
1% women in the reproductive age group are anaemic
7% of children under 5 are underweight
Also, It is estimated that 50-70% of these birth defects are preventable. One of the major causes is deficiency of Folic Acid.

India has slipped to 101st position in the Global Hunger Index (GHI) 2021 of 116 countries, from its 2020 position of 94th.
Thus, fortification is necessary to address deficiency of micronutrients or micronutrient malnutrition.
Fortification of food in India: Currently government is promoting fortification in following 5 food items:
Rice: Department of Food and Public Distribution (DFPD) has been running a "Centrally Sponsored Pilot Scheme on Fortification of Rice & its distribution through Public Distribution System". The scheme was initiated in 2019-20 for a three-year pilot run.

This scheme will run till 2023 and rice will be supplied to the beneficiaries at the rate of Re 1 per kilogram.

Wheat: The decision on fortification of wheat was announced in 2018 and is being implemented in 12 states under India's flagship Poshan Abhiyaan to improve nutrition among children, adolescents, pregnant mothers and lactating mothers.
Edible oil: Fortification of edible oil, too, was made compulsory across the country by FSSAI in 2018.
Milk: Fortification of milk was started in 2017 under which the National Dairy Development Board of India (NDDB) is pushing companies to add vitamin D.
Benefits of food fortification:
Prevent nutritional deficiency-induced ailments: A nutritional deficiency occurs when your body doesn't get enough nutrients, such as rickets due to vitamin D deficiency, anaemia osteoporosis or reproductive and nervous system ailments due to zinc deficiency.

The fortified food helps reduce rates of nutrient deficiency-related diseases.

Beneficial in pregnancy: There is a link between zinc deficiency and high mortality and morbidity rates in mothers and new-borns.

Folate deficiency can cause faulty neural development in babies in the womb.
Consuming fortified food during pregnancy can lower the risks of numerous congenital deformities in babies and improves the mother and baby's health.

Fulfill dietary requirements: People who are strict vegetarians, vegans, lactose-intolerant, or other diet-related conditions have poor micronutrient levels, which causes various ailments.

Adding fortified foods to your diet can fulfill your nutrients requirement and improves your overall health.

Help in children's growth and development: It is an evident-based fact that deficiency of iron, zinc, and vitamins A and D causes growth problems.

Including fortified foods or micronutrient supplements in the growing phase have a positive physical and mental growth response among children.

Helpful for elderlies: With aging, our digestive system absorbs fewer nutrients, causing a nutritional deficiency.

Adding fortified food to the diet help maintain healthy nutrient levels for stronger bones, better digestion, and healthy organ functioning.
Issues with food fortification:
Loss of natural protective substances: Sometimes, fortification can have the opposite effect.

Natural foods contain protective substances such as phytochemicals and polyunsaturated fat that are adversely affected by the process of blending micronutrients.

Impact on foetal development: Consumption of excess iron by pregnant women can adversely affect foetal development and birth outcomes.

These children have increased risk of contracting chronic diseases.

High cost: The fortification expenditure of only the rice delivered through the social safety networks will cost the public exchequer about Rs 2,600 crores annually.
Market-driven solution: The researchers are worried that the push towards fortification is more to help the industry than the people and is an international market driven solution and without any scientific logic.
Impact on small industries: Fortification creates an assured market for multinationals. It could threaten the livelihoods of small units across India. Like, in case of rice and oil processing.
No direct link between anaemia and iron deficiency: There is no direct link between anaemia and iron deficiency.

Anaemia is high among poor children in the rural areas but iron deficiency is more among the urban and rich across the country.
According to stalwarts of nutrition, food fortification is a cost-effective complementary strategy to address multiple micronutrient deficiencies. Thus, given its proven efficacy and cost-effectiveness, food fortification can help us in reducing micronutrient deficiencies and address overall health benefits. The intervention, carried out with precautions, is the key to the malnutrition issue which the nation continues to grapple with.
Source:  Down To Earth
Previous Year Question
Q.1) In the context of India, which of the following is/are considered to be of practice(s) of eco-friendly agriculture? (2020)
Crop diversification
Legume intensification
Tensiometer use
Vertical farming
Select the correct answer using the code given below:
1, 2 and 3 only
3 only
4 only
1, 2, 3 and 4
For a dedicated peer group, Motivation & Quick updates, Join our official telegram channel – https://t.me/IASbabaOfficialAccount
Subscribe to our YouTube Channel HERE to watch Explainer Videos, Strategy Sessions, Toppers Talks & many more…