---
(PRELIMS & MAINS Focus)
---
Global Report on Internal Displacement 2023
Syllabus
Prelims – International Relations
Context: The Global Report on Internal Displacement 2023 (GRID-2023) stated that in 2022, over 32 million people were displaced by disasters, 98% of which were triggered by weather-related events such as floods and storms.
About the publisher:
The Global Report on Internal Displacement 2023 (GRID-2023) is published by the Internal Displacement Monitoring Centre (IDMC).
IDMC is the world's leading source of data and analysis on Internal Displacement (ID).
IDMC is an international non-governmental organization established in 1998 by the Norwegian Refugee Council in Geneva.
It is focused on monitoring and providing information and analysis on the world's internally displaced persons.
About Internal displacement:
Internal displacement refers to the situation where people are forced to leave their homes but remain within their country's borders.
Unlike refugees, internally displaced people have not crossed international borders and are not covered by any international convention.
India has one of the highest numbers of IDPs in the world.
India does not have a national policy or legal framework to deal with refugees or IDPs.
India has not ratified the 1951 Convention and 1967 Protocol and does not permit UNHCR access to most refugee groups.
Key highlights of the report:
Highlights
Details
Total Number of IDPs
Over 71 million IDPs across 110 countries and territories at the end of 2022, a 20% increase in a year
Highest displacement
Pakistan had the highest number of disaster displacements in the world in 2022, at 8.16 million. It was followed by Philippines and China.
Total IDPs in India
India recorded the fourth largest disaster displacement, with 2.5 million displacements.
Actions needed
·        Unconditional cash assistance for supporting the immediate needs of IDPs;

·        Developing livelihoods and skills for IDPs;

·        Building resilience and preparedness at an individual, community, and national levels;

·        Addressing the impacts of climate change and investing in adaptation measures are crucial to mitigate future displacements
Factors for Internal Displacement:
Internal displacement in India arises from secessionist movements, identity-based autonomy movements, localized violence, and environmental disaster and development-induced displacement.
In 2022, the Russia-Ukraine caused a displacement of 16.9 million — "the highest figure ever recorded for any country."

The number of displacements associated with conflict and violence nearly doubled to 28.3 million.

In recent years, disasters have displaced more people than historically dominant reasons for conflicts and violence. This makes climate change — that leads to frequent weather-related disasters — the key driver of massive internal migration of people, who we popularly call "climate refugees".
As per the report, in 2022, 32.6 million people were displaced due to disasters and 6 out of 10 disaster displacements were triggered by floods.
Why is there a sudden increase in such disasters?
The prolonged three-year La Niña phenomenon has contributed to the rise in weather-related disasters, especially floods, leading to widespread disasters across the globe. There is also a rise in drought in Eastern Africa which also adds to the displacement.

La Niña is the cooler than the normal phase of the El Niño Southern Oscillation (ENSO) phenomenon in the central and eastern equatorial Pacific Ocean.
Source:  DTE
---
Positive Indigenisation List
Syllabus
Context: The Union Ministry of Defence (MoD) has approved the fourth and the largest positive indigenisation list of 928 strategically-important Line Replacement Units (LRUs), sub-systems, spares and components, including high-end materials and spares.
About Positive Indigenisation List:
The list means that defence PSUs cannot import the specified items beyond the timelines indicated against them.
These items will be purchased only from domestic manufacturers.
The DPSUs will undertake indigenisation of these items through different routes under 'Make' category and in-house development through the capabilities of MSMEs and private Indian industry.
In the last two years, the defence ministry has brought in three positive indigenisation lists of 351, 107 and 780 items which will have to be procured only from indigenous sources after the timelines mentioned against each item.
What is the need for such a list?
The fundamental idea is to promote self-reliance in defence while reducing imports of defence items and equipment.

This is important as India is one of the largest defence importers globally and the demand for better defence equipment is going to increase in the future given the rising security threats.

The DPSUs, MSMEs and private sector would get more opportunities to grow in this sector thereby providing impetus to the growth in economy.
Enhanced investment in defence, especially from the private sector would lead to more research in defence technology.
The design capabilities of the domestic defence industry would be enhanced by involving academia and research institutions.
Source: Indian Express
---
Adopt A Heritage
Syllabus
Prelims – Indian Art and Culture
About 'Adopt a Heritage' scheme
The 'Adopt a Heritage: Apni Dharohar, Apni Pehchaan' scheme is an initiative of the Ministry of Tourism, in collaboration with the Ministry of Culture and the Archaeological Survey of India along with the State/UT governments.
Private firms, corporates, NGOs and public sector units can enter into agreements with the Union Ministry of Culture to adopt and maintain State-owned archaeological sites or monuments.
It aims to develop synergy among all partners to effectively promote 'responsible and sustainable tourism'.
Agencies/Companies would become 'Monument Mitras' through the innovative concept of 'Vision Bidding', where the agency with the best vision for the heritage site will be given an opportunity to maintain the monument through their CSR activities.
The project primarily focusses on providing basic amenities like cleanliness, public conveniences, drinking water, ease of access for differently abled and senior citizens, and enhanced facilities like surveillance system, night viewing facilities, etc., to provide an enhanced tourism experience.
The project began with 93 ASI monuments and has extended to heritage, natural and tourist sites across India, some of which are not protected under ASI currently.
Rationale Behind 'Adopt a Heritage'
Need for amenities: There is a need to develop a robust mechanism for the provision of basic amenities on an immediate basis. Advanced amenities are needed for sustaining the interest of tourists on a long-term basis.
Government doesn't have resources for all monuments: Archaeological Survey of India (ASI) protects 3,686 ancient monuments and archaeological sites, including 36 world heritage sites. The government needs more resources for maintenance of heritage.
CSR fund: The private entities anyways have their CSR funds which lie unutilized. Such a scheme would be useful in putting the CSR funds to some purpose.
Sustainable tourism creates employment: The scheme aims at harnessing the tourism potential of heritage for its effects in employment generation and economic development, especially through the active involvement of local communities.
Global experience: Italy has the largest number of UNESCO Heritage Sites in the world. The cash-strapped government has been successfully collaborating with corporates since 2014 for heritage maintenance after shunning them for decades.
Source:   Indian Express
---
National Gallery of Modern Art
Syllabus
Prelims – Indian Art and Culture
Context: Prime Minister visited the National Gallery of Modern Art, New Delhi for viewing the exhibition 'Jana Shakti: A Collective Power' which celebrates the artistic diversity of India and is inspired by the themes highlighted in Prime Minister's popular radio programme Mann ki Baat.
About NGMA:
The National Gallery of Modern Art (NGMA) is the premier art gallery which aims to acquire and preserve works of modern art from 1850s onward.
It is run and administered as a subordinate office to the Ministry of Culture, Government of India.
Its collection includes works by artists such as Raja Ravi Verma, Rabindranath Tagore, Abanindranath Tagore, Gaganendranath Tagore, Nandalal Bose, Jamini Roy, Amrita Sher-Gil as well as foreign artists like Thomas Daniell.
The main museum in New Delhi was established in 1954 by the Government of India.
NGMA has two other branches, one at Mumbai and another at Bangalore.
Source:   PIB
---
Indian Ocean Conference (IOC) 2023
Syllabus
Prelims – International Relations
Context: The sixth international Indian Ocean Conference (IOC) began in Dhaka, Bangladesh.
About the 6th IOC:
The theme of this year's conference is 'Peace, Prosperity and Partnership for a Resilient Future' due to the post-Covid situation and the ongoing Russia-Ukraine war.
About IOC:
The Indian Ocean Conference (IOC) was started in 2016
It has emerged as the "flagship consultative forum" for countries in the region over regional affairs.
The conference aims to strengthen partnerships with Indian Ocean countries, enhance regional political engagement, and facilitate decision-making in crisis situations.
The conference aims to bring critical states and principal maritime partners of the region on a common platform to deliberate upon the prospects of regional cooperation for Security And Growth for All in the Region (SAGAR).
Source: NewsOnAir
---
Sahyadri Tiger Reserve
Syllabus
Context: 374 animals recorded in wildlife census at Sahyadri Tiger Reserve.
About Sahyadri Tiger Reserve:
The Sahyadri Tiger Reserve is located in the Sahyadri Ranges of Western Ghats in Maharashtra.
These ranges from a common boundary between Maharashtra, Karnataka and Goa.
Vegetation: It comprises of rich evergreen, semi-evergreen and moist deciduous forests.
The habitat of Sahyadri is composed of woodlands, grasslands and plateau.
The most distinct feature of the Tiger Reserve is the presence of numerous barren rocky and lateritic plateaus, locally called "Sadas", with less perennial vegetation and over hanging cliffs on the edges along with numerous fallen boulders with dense thorny bushes.
It is the first Tiger Reserve of Western Maharashtra and the fourth Tiger Reserve of the State spreading over two Protected Areas of Koyana Sanctuary (KWLS) and Chandoli National Park (CNP).
KWLS and CNP are part of the UNESCO World Natural Heritage Sites. Birdlife International has declared this area an 'Important Bird Area'.
CNP has a number of ecotone areas and is thus highly species rich.
Fauna: The Tiger Reserve is home to the endangered species of top carnivores such as Tiger, Wild dog, and Leopard. As many as 30 species of mammals have been recorded. In addition, the area is home to Vultures and Crocodiles. The habitat also supports Hornbills, and many other endemic Birds. The Blue finned Mahasheer fish is present in the Koyana waters.
Source:  Times of India
---
Greenwashing
Syllabus
Mains – GS 3 (Economy and Environment)
Context: The Reserve Bank of India (RBI) will join 12 international regulators in the Global Financial Innovation Network (GFIN)'s first-ever Greenwashing TechSprint to develop a tool to help regulators and the market effectively tackle the risks of greenwashing in financial services.
About Greenwashing:
Greenwashing refers to misleading the general public into believing that companies,

sovereigns or civic administrators are doing more for the environment than they actually are.

This may involve making a product or policy seem more environmentally friendly or less damaging than it is in reality.
The term was coined by environmentalist Jay Westervelt in 1986.
The phenomenon came into practice as consumers and regulators increasingly sought to explore planet-friendly, recyclable and sustainable 'green' products.
By 2015, 66% of consumers were willing to shell out more for a product that was environmentally sustainable.
Examples:

In April 2022, the S. Federal Trade Commission penalised retailers Kohl and Walmart $5.5 million for misleading customers about their home furnishing products being made of bamboo.
In reality, they were made of rayon — a fibre made from cellulose whose manufacturing entails the use of harmful chemicals such as sodium hydroxide that are hazardous to the environment.
Why does greenwashing happen?
Greenwashing is done primarily for a company to either present itself as an 'environment-friendly' entity or for profit maximisation.
It is achieved by introducing a product, catering to the inherent demand for environment-friendly products.
In certain instances, it is done using the larger idea as a premise to cut down on certain operational logistics and providing consumer essentials.
Criticism against green washing:
At the COP27 conference, Secretary-General of the United Nations (U.N.), António Guterres said, "We must have zero tolerance for net-zero greenwashing."

Although several companies, cities, states and regions have committed to reaching net-zero, in the absence of regulation, a lot of these pledges are not aligned with the science to achieve the same and do not have enough detail to be credible.

Additionally, the inconsistent use of terms 'net-zero', 'net-zero aligned', 'eco-friendly', 'green' and 'ecological' among others are not accompanied with satisfactory evidence to substantiate their claims.
If greenwash premised upon low-quality net zero pledges is not addressed, it will undermine the efforts of genuine leaders, creating both confusion, cynicism and a failure to deliver urgent climate action.
Green washing and financial sector:
Ethical investing: Sustainable investing has become increasingly popular among millennials and impact investors concerned with 'ethical investing'.
Role of ESG credentials: Financial services providers expect increased scrutiny of a company's Environmental, Social and Governance (ESG) credentials from regulators, shareholders, customers as well as other stakeholders.
Transition funding: Financial institutions are expected to fund the transition towards renewable energy and discourage investments in further harnessing of conventional energy sources as coal, oil and gas.
Policy moves in India
If the financial sector is to respond effectively to the demand for products that endeavour to introduce positive changes into the economy, it is imperative that 'greenwashing' is averted.
In May 2022, market regulator Securities and Exchange Board of India (SEBI) constituted an advisory committee to look into all ESG-related matters.
Suggestive measures to combat 'greenwashing':
Non-state actors cannot claim to be net-zero while they continue to build or invest in new fossil fuel supply.

Thus, companies must work towards reducing emissions across their entire value chain and not limit the endeavour to only one part of the chain.

Companies must not invest, through any means, in harnessing fossil fuels or engage in deforestation and other environmentally destructive activities.
In addition to this, companies cannot compensate for this investment by means of cheap credits, which "often lack integrity".

For perspective, carbon credits work as a permit allowing the holder to emit a stipulated amount of carbon dioxide or other greenhouse gases.

The committee also recommends a transition from voluntary disclosures (pertaining to net emissions) to regulatory norms.

Verification and enforcement in a voluntary space can be particularly challenging.
Source:  The Hindu
About Global Financial Innovation Network (GFIN)
The GFIN is the international network of financial regulators and related organisations committed to supporting financial innovation in the best interests of consumers.
The Global Financial Innovation Network (GFIN) was formally launched in January 2019 by an international group of financial regulators and related organisations.
The GFIN is a network of over 70 organisations committed to supporting financial innovation in the interests of consumers.
It seeks to provide a more efficient way for innovative firms to interact with regulators, helping them navigate between countries as they look to scale new ideas.

This includes the ability to apply to join a pilot for firms wishing to test innovative products, services or business models across more than one jurisdiction.

The GFIN also aims to create a new framework for co-operation between financial services regulators on innovation related topics, sharing different experiences and approaches.
The world bank group, OECD and IMF are observers of GFIN.
---
Indo-Pacific Economic Framework for Prosperity (IPEF)
Syllabus
Mains – GS 2 (International Relations)
Context: India chose to join the Indo-Pacific Economic Framework for Prosperity (IPEF) but declined the Regional Comprehensive Economic Partnership (RCEP).
About IPEF: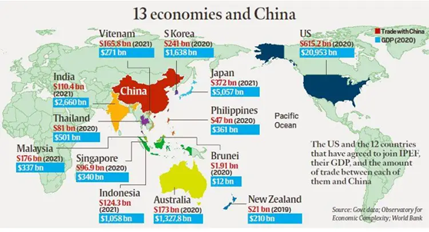 It is the S.-led economic grouping representing 40 percent of the global GDP, proposes to advance resilience, economic growth, competitiveness and fairness in member countries.

However, some analysts view it as a move to counter China's growing influence in the region.

It is to counter the influence of China in the region and fill the vacuum created by not being a partner to RCEP.
Partner Countries: Australia, Brunei, India, Indonesia, Japan, the Republic of Korea, Malaysia, New Zealand, the Philippines, Singapore, Thailand, Vietnam and the United States.
Within days of its launch, IPEF expanded its membership to the Pacific Island states, with Fiji joining the initiative.
Pillars:
The IPEF has four pillars: trade, supply chains, clean economy, and fair economy.
India has joined the other three pillars but not trade.
Significance of IPEF:
Strategic importance:
The US-led Indo-Pacific Economic Framework for Prosperity (IPEF) is strategically important for India.
It will enhance India's economic engagement in the region.
The IPEF will help control the damage caused by the RCEP withdrawal as all the IPEF members save India and the US are signatories to the RCEP.
Supply chain building:
Building resilient supply chains is one of the motives of the IPEF.
India can consider members as alternative sources for its raw materials requirements.
This could reduce India's overdependence on China for these inputs.
Challenges:
Economic dependency on the US: India needs to ensure that its strategic partnership with the US does not result in complete economic dependency.

The IPEF is about developing an integrated economic system centred on the US, and excluding China.

Impact on manufacturing sector: The fear of any trade deal's impact on India's manufacturing sector remains a concern.

With the IPEF, there is a risk of unfair labour and environment standards compromising India's comparative advantage in manufacturing.

Limited policy space: India joining the IPEF could lead to a compromise on its ability to create a vibrant domestic ecosystem in emerging areas such as the digital economy and green products.

Joining the IPEF could mean surrendering policy space for regulating Big Tech and digital policy-making.

Impact on agriculture: The IPEF could have deep implications in agriculture, especially in terms of genetically modified seeds and food.
Rushed negotiations: The IPEF is proposed to be concluded by November 2023, and real engagements only began late last year.

The rush to conclude negotiations could mean that India misses out on addressing key concerns and issues.
Deep implications for India:
The IPEF can already be seen to have deep implications in

Agriculture, in terms of genetically modified seeds and food,
Surrendering policy space for regulating Big Tech, and
Compromising a comparative advantage in manufacturing because of unfair labour and environment standards.

It will also seriously affect India's ability to create a vibrant domestic ecosystem in emerging areas such as a digital economy and green products.
Way Forward:
India would stand to gain by being part of the supply chain initiative of the arrangement but it would need flexibility on the other initiatives. The one clear difference is of China versus the U.S. Developing a strategic partnership with the U.S. is India's top foreign policy priority. Its relationship with China has, meanwhile, further deteriorated.
Source:  The Hindu
---
Practice MCQs
Daily Practice MCQs
Q.1) This Protected Area lies in the Western Ghats. It has lateritic plateau called 'Sada' with less perennial vegetation and dense thorny bushes. It houses the Koyana Sanctuary (KWLS) and Chandoli National Park (CNP). It is the fourth Tiger Reserve of Maharashtra.
Which of the following matches the above description?
Sahyadri TR
Tadoba-Andhari TR
Melghat TR
Bor TR
Q.2) Consider the following statements regarding 'Adopt a Heritage' Scheme:
It covers heritage sites only.
This scheme is beyond the ambit of CSR.
Public sector units are prohibited from adopting monuments under the scheme.
How many of the above statements is/are correct?
Only 1 statement is correct.
Only 2 statements are correct.
All 3 statements are correct.
None of the statements are correct.
Q.3) Consider the following statements about National Gallery of Modern Art
NGMA only deals with artworks post 1850s.
It is a statutory body.
It is located at Delhi and does not have any branches.
Which of the above statement(s) is/are true?
Only 1
Only 2 and 3
Only 1 and 3
1, 2 and 3
Comment the answers to the above questions in the comment section below!!
ANSWERS FOR ' 16th May 2023 – Daily Practice MCQs' will be updated along with tomorrow's Daily Current Affairs.st
---
ANSWERS FOR 15th May

 

– Daily Practice MCQs
Answers- Daily Practice MCQs
Q.1) – a
Q.2) – c
Q.3) – b
For a dedicated peer group, Motivation & Quick updates, Join our official telegram channel – https://t.me/IASbabaOfficialAccount
Subscribe to our YouTube Channel HERE to watch Explainer Videos, Strategy Sessions, Toppers Talks & many more…