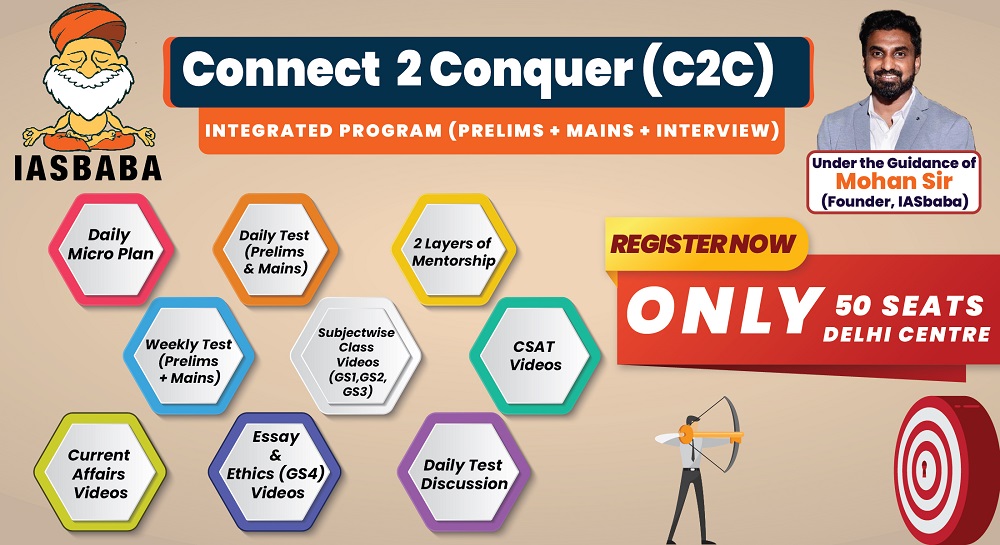 Let's talk a bit about the thing we are all chasing -
SUCCESS
What is Success?
Success is a combination of – Ideas + Planning + Strategy + Quality + Approach + Guidance…
When all of the above conditions are met, we experience what we all say with love 'achieving one's dreams'.
This is what IASbaba stands for.
While the entire coaching ecosystem revolves around classes and test series, the team at IASbaba understood one key issue – not everyone gets an equal chance in life. This is despite being talented as well as immensely knowledgeable in their respective fields.
Connect to Conquer (C2C) is an intensive programme designed only for sincere and serious candidates. It is programme focused on consistency and dedication.
It primarily focuses on Daily Tests (Prelims & Mains) according to the Detailed Micro-Plan, Daily Offline Test Discussion.
This is an Exclusive Initiative for
Delhi
There is a lot of confusion, which is leading to the herd of choosing courses where the norm of the batch size is around 400. This doesn't help students and aspirants as there is hardly any interaction with the faculties and the mentorship guidance is almost nil and Personalized Mentorship is nowhere to be seen.
C2C is a sincere attempt to tackle these problems and help aspirants to improve every single day and move closer towards realising their UPSC Dream.
C2C gives you a chance to connect with the best mentors at IASbaba and get your skills monitored, honed and upgraded to let you secure a place in the final list. The USP of this initiative is the connect that you get to establish with your mentor. Believe us, it helps a lot. The mentor is your friend, philosopher and guide in this process. You will enjoy the process even as you devote your maximum energy and time to keep pace with the course plan.
The seats are limited to 50 only
The programme will be held in OFFLINE MODE at DELHI CENTRE ONLY
Hitting the Bull's Eye Year After Year
UPSC Prelims > 40%
UPSC Mains > 80%
UPSC Prelims > 75%
UPSC Mains > 80%
UPSC Prelims > 70%
UPSC Mains > 80%
UPSC Prelims > 65%
UPSC Mains > 85%
UPSC Prelims > 70%
UPSC Mains > 85%
UPSC Prelims > 60%
UPSC Mains > 80%
UPSC Prelims > 50%
UPSC Mains ~ 85%
UPSC Prelims > 50%
UPSC Mains ~ 85%
C2C 2024 will be starting from
17th July
Presenting Connect to Conquer (C2C) 2024
C2C 2024 is the Most Comprehensive OFFLINE Programme for UPSC aspirants which caters to all the stages of the exam (Prelims, Mains & Interview).

C2C

acts as your companion in preparation, ever ready and capable to help you at each stage of your preparation – day by day, hour by hour.
It reduces your efforts; micro manages your time in the most productive way and allocates your attention in a well-defined priority. It makes your preparation planned, seamless and enjoyable!
C2C

is an effort towards assisting an aspirant sitting at the remotest part of the country to crack UPSC with a 'single-digit rank'.
To come up with something which can integrate your preparation in a common string of theme-based understanding of concepts.
Connect to Conquer (C2C) – 2024 IN A NUTSHELL!!
COMPREHENSIVE PROGRAM Covering Prelims, Mains, Interview
2 LAYERS OF MENTORSHIP – An immediate mentor will be assigned and Mohan Sir (Founder, IASbaba) will also be mentoring the students.
COMPREHENSIVE COVERAGE OF NCERT and STANDARD SOURCES
COMPREHENSIVE PLATFORM AND APP – C2C will have a dedicated APP for a better user experience
DETAILED STUDY PLAN (≈ 1 Year) with DAILY TARGETS/PLANNING
DAILY TESTS & DAILY DISCUSSION – Based on the micro plan, there will be daily tests (prelims + mains) & the test would be discussed by the mentor.
VALUE ADD NOTES (VAN) – MAINS + PRELIMS
BABAPEDIA – One-Stop Destination of Current Affairs Preparation
MAINSPEDIA – Mains Current Affairs (GS1, GS2, GS3, GS4 & Essay)
PRELIMSPEDIA – Prelims Current Affairs
BABA's PRELIMS TEST SERIES (PT)
TOTAL PRELIMS TESTS – 67 Tests
CURRENT AFFAIRS TESTS – 24 (50 Questions)
MODULE WISE TESTS – 19 (100 Questions)
SUBJECT WISE REVISION SECTIONAL TESTS – 6 (100 Questions)
EXCLUSIVE TESTS (MAP BASED, ECONOMIC SURVEY & BUDGET, GOVERNMENT SCHEMES & POLICIES) – 3 (100 Questions)
FULL-LENGTH TESTS – 5 (100 Questions)
CSAT FULL-LENGTH TESTS – 10 (80 Questions)
ALL INDIA RANKING
SELF-ASSESSMENT SYSTEM
MAINS TESTS & SYNOPSIS
TOTAL MAINS TESTS – 59 TESTS
MODULWISE TESTS – 28 TESTS 
CURRENT AFFAIRS TESTS – 12 TESTS
FULL-LENGTH TESTS – 10 TESTS (GS1, GS2, GS3, GS4, Essay – 2 CYCLES)
ESSAY TESTS – 9 TESTS
ESSAY GUIDANCE
Essay strategy videos
Framework for theme-wise (Including Philosophical) essays
Mainspedia Content
SUBJECT-WISE VIDEO CLASSES – GS1, GS2, GS3, Ethics (GS4), Essay and CSAT video classes will be covered. 
FREE MAINS TEST SERIES – Mains Test Series will be provided for free, once you clear the prelims examination.
DETAILED PROGRAMME FEATURES
The seats are limited to 50 only
The programme will be held in OFFLINE MODE at DELHI CENTRE ONLY
The programme will start from 17th July
Considering the pandemic, job, and income losses we have tried to
keep the pricing as low as possible without compromising on the quality.
PLEASE NOTE: OFFLINE PAYMENT DETAILS – Please mail us the acknowledgment at support@iasbaba.com if making offline payment. 
Bank details

BANK Name
CANARA BANK
BANK BRANCH
BANGALORE KLE SOCIETY
ACCOUNT NAME
IASBABA
ACCOUNT NUMBER
8418201003836
IFSC CODE
CNRB0008418
ACCOUNT TYPE
CURRENT ACCOUNT
Email us on: support@iasbaba.com
Call us on: +91 91691 91888