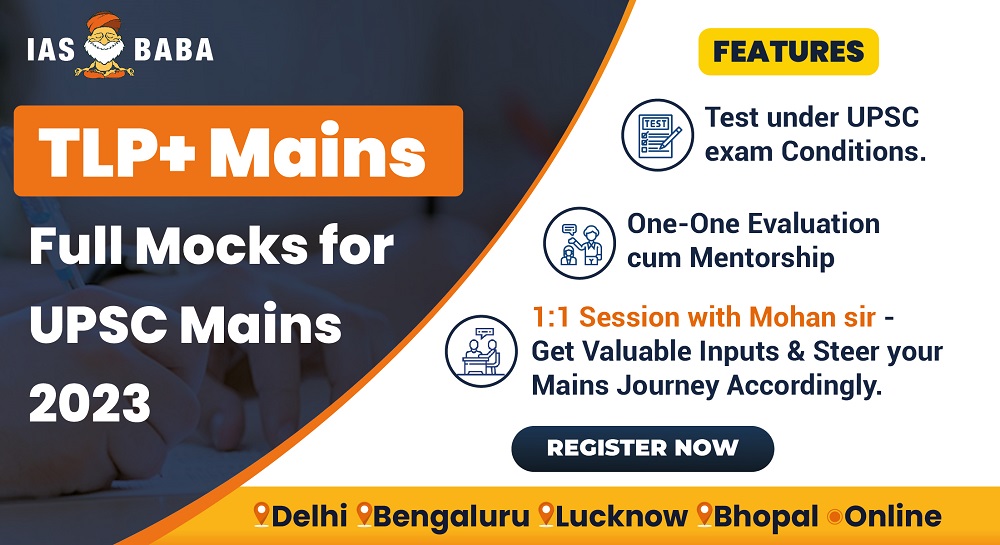 Dear Students
Only 20 Days are left for UPSC Mains Exam; now is the time to test your preparation.
At this stage of preparation, one should focus on writing Full Length Tests in a simulated environment and to get into the groove.
We are offering 2 Sets of Full-Length Tests.
TLP+ Mains Test Series 2023 - Full-Length Mock Tests (FLMs)
I followed TLP Platform for Answer Writing Practice (AWP) after Prelims. It helped me get into the Answer Writing Practice (AWP) groove. I would HIGHLY RECOMMEND to those who want to get started with AWP. Quality of Questions is good. Preferred IASbaba more for their quality of questions.
Today I write with utmost gratitude to IASBABA for being a constant support in my UPSC journey. The most important part of my own mains preparation was TLP initiative. I used to religiously and diligently practice every day writing 5 questions on the website. If there's one initiative I truly followed despite even on days when I didn't feel like studying, it was definitely TLP. The questions are thoughtful and completely in sync with the dynamic trends covering the syllabus in a timely manner.
It is not about success alone, but the path you travel and the experiences. IASbaba and their online programmes - TLP Answer Writing , C2C mains test series. TLP+ test series. Babapedia, Prelims test series immeasurably contributed to my preparation. Specifically, IASbaba aided me in improving the quality of my mains answers. I worked upon the feedback and suggestions after every mains mock test. and in the process found my answers to become better.
The IAS BABA TLP Answer Writing program helped me improve the structure as well as the content of my answers. It also helped me inculcate discipline regarding daily answer writing. I would highly recommend students to use TLP platform to excel in Mains examination.
IAS Baba's celebrated 60 Days Program for Prelims inspired me to take up the Full Length Test series for Mains as well. The feedback from my mentors was so focused and precise that I never felt the handicap of not interacting with them physically. I would sincerely recommend following the daily quizzes and enrolling in the TLP+ program to every serious aspirant.
I would like to thank IASBABA for their guidance. I had used the current affairs material, 60 days prelims program as well as TLP for mains answer writing along with mock interview. I would like to thank the entire IASBABA team and Mohan sir for their guidance and support.
Since Start of my journey I have been associated with IASBaba via various programmes of IASBaba. I personally feel TLP is the best medium to learn and practice answer writing, it helped me to think in structured manner and complete paper in time.
I have been following various initiatives of IASBaba on a regular basis for all stages of the examination, especially the Daily Current Affairs Quiz, All India Open Mocks, TLP program and the Yojana gist, and they have all proved to be very helpful. Similarly the interview guidance provided in the form of Mock Interviews, One to One guidance by Mohan Sir also proved very fruitful.
I was a part of the first batch of IASBABA Gurukul . Dedicated mentorship, Personalised sessions under the guidance of Mohan sir, TLP initiatives at IASBABA have helped me a lot during my preparation. I would like to extend my gratitude to the entire team for being there during my entire journey
I was a student of TLP+ Mains Answer Writing Programme which helped me to fetch a good score in Mains. Besides, in all three stages of Prelims, Mains and Interview, I have received your guidance. I am thankful for your valuable contribution to my UPSC success story so far.
IASBaba's initiatives such as 60 days program for prelims and daily mains answer writing program helped me gain the necessary edge throughout my UPSC journey. Mohan sir's personal guidance for interview was also insightful and help me better frame my answers for the UPSC interview. I thank IAS Baba from the bottom of my heart for providing me with the necessary resources which help me get value addition for my mains and prelims preparation.
I'm from Indian Forest Service 17 batch and i gave this attempt after a gap of 5 years I had joined the TLP+ mains test series and the interview guidance programme which helped me immensely. The post-test video discussions of mains test series were really top notch and helped me get relevant contemporary info.
TLP+ Mains Test Series of IASbaba is one of the finest programs available for Mains. The Mentorship aspect along with Evaluation are Top notch. The Synopsis & Value Addition " Material helped me enrich my content and get that extra edge in Mains.
I thank IASbaba so much for your guidance during my interview preparation Sir. Also, being part of TLP+ program of IASbaba, the mains test series and full length tests " were very useful in gaining confidence for answer writing.
Thank you Mohan Sir and IasBaba for all your support and guidance for getting into IAS this time. I have been part of Mains Test series and value addition material which helped me to good marks in Mains papers. Also, your interview guidance program helped me a lot last time and this year,too.Thank you once again to make my UPSC journey smooth and end on positive note.
I am grateful for all the support and help recieved from Iasbaba and Team over the years (2019 Onwards). Mohan Sir, Sunil Oberoi Sir, Srinath Sir, GV Goutham Sir and Other Mentors have shown a lot of faith and trust in me, which has helped me immensely. Initiatives such as TLP+(Mains Answer Writing), PEP(Prelims Exclusive Program), TRP(Interview Mentorship Program) etc have been a constant guide.
WHY SHOULD YOU ATTEND THIS FULL MOCK TEST BY IASBABA?
Here you will not just appear for the examination to test your knowledge, but to understand the approach that you take in such a short amount of time. Your speed, your decision-making skills, your weak areas, and your strong ones all get evaluated. This environment will help you evaluate the smallest of details that can make or break your dreams.
Two Levels of Mentorship
Mentorship 1: Personalized mentoring by Faculty and Mains Experts
Mentorship 2: Mohan Sir will provide his input and guide you on the overall approach so that you prepare for your next mock in a better manner.
DETAILS OF TLP+ 2023 – Full-Length Mock Tests (FLMs)
Total No. Tests – 10 Tests
Slot

Essay

GS1

GS2

GS3

GS4
Slots for FLM 1 and FLM 2
Mains Full-Length Cycle – 1
Mains Full-Length Cycle – 2
(Fri, Sat, Sun) –

1st (Essay), 2nd (GS1 & GS2), 3rd (GS3 & GS4) September
The Tests can be taken at any of our Centers in Delhi, Bangalore, Lucknow and Bhopal. One can take the test online as well.
Even though we have mentioned the Dates for every test, we have kept the tests flexible. However, we would want the enrolled students to write the test on the scheduled date so that they can get a feel of writing exams, three days at a stretch, mimicking the UPSC Exam Pattern.
FLM 1 and FLM 2 include Detailed Synopsis and Discussion Videos along with One-One Evaluation with our Faculties/Mains Experts. Synopsis for Essay tests will not be provided.
Post Evaluation one will have a one-one session with Mohan Sir
Students who have enrolled in TLP+ 2023 (Complete Mains Test Series – 24 Tests) need not enroll for this course.
ARE YOU READY TO CRACK UPSC-MAINS 2022?
Email ID: support@iasbaba.com
Contact No.: 84296 88885 (10 AM – 6 PM)