IASbaba's Daily Current Affairs – 31st October, 2015
NATIONAL
TOPIC: 

General Studies 2 : Government policies and interventions for development in various sectors and issues arising out of their design and implementation. 
General Studies 3: Infrastructure: Energy, Ports, Roads, Airports, Railways, etc. 
Draft National Civil Aviation Policy (NCAP) 2015
The government has come up with a new draft national civil aviation policy 2015 with the mission of providing safe, secure, affordable and sustainable air travel with access to various parts of India and the world.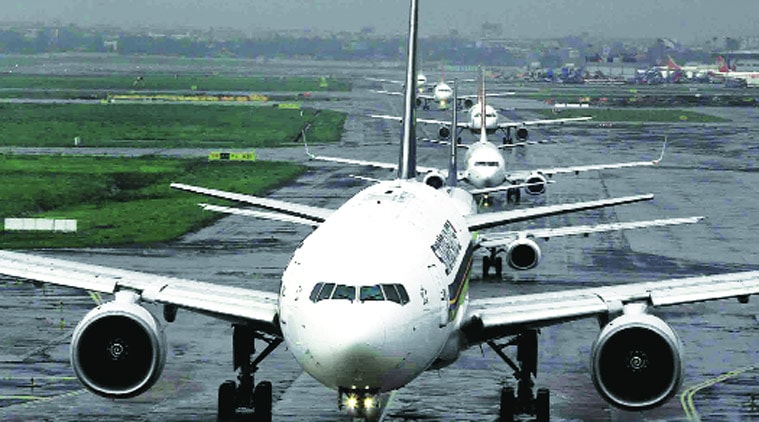 Vision statement:
To create an eco-system to enable 30 crore domestic ticketing by 2022 and 50 crore by 2027. Similarly, international ticketing to increase to 20 crore by 2027.
Objectives:
Ensure safe, secure and sustainable aviation industry through use of technology and effective monitoring.
Enhance regional connectivity through fiscal support and infrastructure development.
Enhance ease of doing business through deregulation, simplified procedures and e-governance.
Promote the entire aviation sector chain: cargo, MRO, general aviation, aerospace manufacturing and skill development.
The policy:
NCAP 2015 covers issues ranging from safety, regional connectivity, 5/20 rule, airports authority of India etc.
A look into the important contents of the policy:
Regional connectivity scheme(RCS):
It is aimed at improving access to remote areas, fiscal and other concessions aimed at helping airlines and operators to lower their operational costs.
To finance RCS, a 2 per cent levy to ensure an all inclusive airfare not exceeding Rs 2,500 per passenger for one hour of flying on some regional routes and plans to revive at least 300-odd airports in various parts of the country that are not in use by upgrading their infrastructure to equip them as no-frills airports at an investment of Rs 50 crore each.
5/20 rule :
The Union Cabinet had stipulated that for Indian carriers to fly abroad, they must fly on domestic routes for 5 years and have a fleet of 20 aircraft. MoCAis proposing to introduce the concept of Domestic Flying Credits (DFC).
A lot of opposition is seen to this move, however its left to the ministry to take a final call on this after due consultation.
Open sky proposal :
The open sky proposal will allow India to enter reciprocal agreements with South Asian neighbours and countries beyond 5,000 km. This will result in unlimited flights to and from Europe and the SAARC (South Asian Association for Regional Cooperation).
Aviation Safety :
The government places topmost priority on aviation safety.
Director General of Civil Aviation (DGCA) will strive to create a single-window system for all aviation related transactions, queries and complaints. The services rendered by DGCA will be fully automated by 1 April 2016 by implementing eGCA project on priority.
DGCA will ensure real-time safety tracking and prompt incident reporting.
The Aircraft Accident and Incident Investigation Bureau (AAIIB) will be strengthened in order to undertake speedy, professional and effective investigations. 
Code Share Agreements (CSA):
A Code-Share Agreement between two airlines allows one airline ('Marketing airline') to sell seats on a flight run by another airline ('Administrating airline'), with the airline code and flight number of the marketing airlines. This helps in seamless connectivity for passenger.
Maintenance, Repair and Overhaul (MRO):
The MRO business of Indian carriers is alone around Rs 5000 crore, 90% of which is currently spent outside India – in Sri Lanka, Singapore, Malaysia, UAE etc. Given our technology base, the government is keen to develop India as an MRO hub in Asia, attracting business from foreign airlines.
Air Navigation Services (ANS):
Airport Authority of India (AAI) is ranked among the top ANS providers in the world.
Upgradation and modernisation of ANS in India is line with global trends.
With the launch of GAGAN, India becomes the fourth nation in the world to use satellite-based navigation system.
Aeronautical 'Make in India':
Ministry of Civil Aviation (MoCA) and Ministry of Defence(MoD) will work together to ensure that commercial aero-manufacturing is covered under defence offsets requirements.
Area where aero-manufacturing takes place will be notified as SEZ. The government will provide fiscal and monetary incentives and fast-track clearances to global OEMs and their ancillary suppliers.
Sustainable aviation:
MoCA will strive to develop a sustainable Indian aviation industry. It will work with DGCA and industry stakeholders to develop an action plan for making all Indian airports carbon neutral by 1 April 2030.
MoCA will strengthen policy guidelines on energy conservation, sustainable practices, improvements in emission measurement and information dissemination; training and awareness building.
Connecting the dots:
Critically examine the need for a national aviation policy in India.
Critically examine the various factors hindering the development of aviation industry in India.
Critically examine the need to replace DGCA with Civil Aviation authority in India with special reference to civil aviation authority bill 2013.
Critically examine the issues associated with controversial 5/20 rule in aviation industry of India.
Write a note on no frills airport in India.
TOPIC: 

General Studies 1:  Social Issues
General Studies 2 : Government policies and interventions for development in various sectors and issues arising out of their design and implementation; Issues relating to development and management of Social Sector or Services relating to Health, Education, Human Resources. 
Surrogacy: Wombs for Rent
The reproductive tourism may have been in vogue for more than one decade now, but only recently, fresh perspectives have started emerging from all sectors of the country. While the issues at hand are worth more than what it really deserves, a closed view lens leads us to a myriad number of loopholes that has been prevalent in the country, largely impoverished.
With the recent PIL filed by Ms. Jayashree Wad (a lawyer) asking Supreme Court to put a ban on the use of Indian surrogate mothers by foreigners, the government has also held up its hand in support of the PIL and has declared its stance; confirming its 'No-support for commercial surrogacy' stand. 
Concerning Loopholes:
Simply not enough:
Women have been urging for increased compensation as the present figures with the increasing living standard and costs do not emerge as a real deal for the pain, sweat, the emotional trauma and the socio-economic vulnerabilities they counter.
Sometimes surrogates do not have a uniform payment structure and aren't provided with written contracts, and some are even subjected to forced impregnations and abortions without their knowledge
Fair remuneration and pricing standards should be followed strictly and should not be dependent upon the doctor's varying demands.
Unifying Bond:
The relationship between the surrogates and the commissioning parents should undergo a change as surrogacy isn't just a business deal and there exists a greater need to foster connections, at least during the time of negotiation and, the process of embryo-transfer.
Contractual details should be between the surrogates and the commissioning parents to increase transparency and provide attention to the social relations that are embedded in the process of surrogacy.
Socio-Emotional-Eco strands:
Easy Money: It is the single-most factor involved sometimes and the 'need of money' gets overshadowed with this practice. The woman involved, thus has no say w.r.t. her own body, soul and life.
Citizenship: 2014 brought with itself a case of a German Couple and their kid who was denied nationality of Germany. The long drawn legal battles thus, put the child's life and upbringing at stake.
Unfavourable Outcome: If, unfortunately, the outcome is unfavourable, the surrogate mothers are denied money and are left out with no insurance or post-pregnancy medical or even psychiatric treatment/psychological support. Death and cases of babies born with disabilities or an unplanned twin being abandoned by the intended parents has started becoming a common concern.
Away from Home: At times like these, they are shifted to homes especially catering to the surrogate mothers and this leaves them without their own family support. It leads to mental trauma, for most of the mothers, to leave their own children in the process of giving birth to other's child.
Policy crippled Industry:
Background: 2008 had brought with it 'The Manji's case' wherein Supreme Court had allowed commercial surrogacy. But due to the aforementioned issues, a draft 'Assistive Reproductive Technologies (Regulation) Bill, 2013" was put across for regulation.
Issues with the draft 'Assistive Reproductive Technologies (Regulation) Bill, 2013'
No stipulation on the number of attempts to practice surrogacy
While '21' is the minimum age, no maximum age limit has been specified
No attempt to understand the socio-economic family background
Sex-selective surrogacy is not allowed but compliance to the same is majorly in question due to overarching patriarchal values deeply entrenched in the society
Conduct ad operations as well as the NGO's that are participating in the same should be regulated and be taken care under the ambit of the Government run agency
IASbaba's Views:
Research has shown that increasingly poor women who rent their wombs for money–ignoring social stigma, health hazards, fear and mental stress, are more vulnerable to exploitation. Policies need to be framed by doing an ample amount of groundwork and sticking to the reality than on the basis of an abstract rules or principles assumed.
This situation calls for an evidence-based approach that would take into account the interests of the actors involved and would try and connect with the social scientific knowledge to policy programs and practices, leading to a more balanced and effective policy that addresses the needs of surrogate mothers and egg donors.
Proper (& binding) regulation (protection to the vulnerable in surrogacy agreements) than a complete ban as a knee-jerk reaction should be the way ahead. Heavy penalties should be imposed on couples going back on their word and the rights of the surrogate mother should be prioritised (maintenance of bargaining capacity); ensuring adequate checks and balances and adoption process to be allowed via a strict and rigorous mechanism provided by CARA.
Connecting the Dots:
Can the practice of surrogacy or its heavy demand be considered as a stifled cry of the women overburdened with the ever-growing patriarchal mind-set? Discuss
The 'reproduction rush' has facilitated a new element in the era of Globalisation. What is India's position and the laws guiding India towards the same?
MUST READ 
Overcoming the stasis in Nepal
A different social justice- Disprivilege and backwardness can be addressed without resort to fixed quotas
Myanmar: What makes the November 8 elections so significant- A transparent and peaceful election will be an important step towards normalcy.
A consensual approach to labour reform – Creating an ambience where both workers and managements understand their rights and duties is no tall order
Europe's politics of dystopia- Failure to act decisively now will lead to the eventual failure of the peaceful EU and the rise of dystopian nationalist regimes
For a dedicated peer group, Motivation & Quick updates, Join our official telegram channel – https://t.me/IASbabaOfficialAccount
Subscribe to our YouTube Channel HERE to watch Explainer Videos, Strategy Sessions, Toppers Talks & many more…