IASbaba's Daily Current Affairs – 22nd January, 2016
ENVIRONMENT
TOPIC:

General studies 2:

Government policies and interventions for development in various sectors and issues arising out of their design and implementation.

General studies 3:

Infrastructure: Energy; Conservation, environmental pollution and degradation
Putting wind into renewable sails
The present Prime Minister wants to mainstream renewable energy (RE) and has set a target of 175 GW by 2022.
Some experts say the target is too ambitious.
To an extent, they are correct that the targets are huge and pose challenge to grid operator due to inconsistent generation.
Precise and significant decision by the Prime Minister:
The counter argument to the above arguments is that even the demand is inconsistent and governments and utilities do very little on demand-side management.
Further, with improved technologies, renewable generation can be predictable with reasonable accuracy.
The other important aspects to consider are pollution from fossil fuels, their finite availability, and the cost of imports.
Renewable energy is abundant and domestic.
Even if the targeted capacity is not fully achieved, the resultant successes will be better than meeting small targets.
Therefore, the Prime Minister's decision is precise and significant.
Issues to tackle:
The above targets imply renewable additions at about seven times the current rate.
This in turn will require a serious overhaul of the systems and processes.
Inadequate grid infrastructure, open access issues, poor fiscal health of utilities, inconsistent policy processes at the State levels and lack of quality consciousness resulting in the creation of bad assets are the major issues blocking investments into renewable energy sector.
The case of wind and solar energy:
Of late, wind and solar are unnecessarily discussed as competition.
Both the sectors have a successful global track record. The benefits and drawbacks for each depend on the application and location.
Wind power growth has declined from an addition of 3,000 MW in 2011to only 1,600 MW in 2015-16 so far, against a target of 2,400 MW.
This slowdown is mainly due to inadequate evacuation, refusal to enter into power purchase agreements by some States, political interference at local levels and cumbersome land acquisition processes
It should also be noted that the regulatory regime by centre and states is strongly weighted against wind energy.
Against the wind energy:
In contrast with the various land and evacuation bottlenecks for wind, the government is bullish in promoting solar.
State governments are de-risking large solar projects by acquiring land and creating evacuation facilities.
For smaller projects, when the investor acquires land directly, the processes of land alienation is exempted.
Solar projects are also let off from inter-State transmission and cross subsidy charges. Currently, they are exempted from forecasting and scheduling.
Promote wind energy:
The Prime Minister's vision will benefit, if wind is given the same treatment.
In particular, national renewable purchase obligation (RPO) must be announced immediately.
The wind-rich States should be allowed to sell surplus wind energy generated to deficit States.
Areas near green corridor can be designated as manufacturing hubs to absorb power near source, reducing capital costs in transmission, and cutting T&D losses.
India also needs to invest in gas-based spinning reserves along the green corridor for grid stability.
Role of the industry:
While the government has much to do, the industry can also contribute by rationalising excessive manufacturing capacity, and passing on the benefits of higher hub height and larger rotor diameter trend towards lower capital cost per kWh.
Quality must be a key focus.
Further, we should also revisit the tariff process.
For wind, State regulators fix feed-in-tariff after due consultations with stakeholders and public hearings.
However, for solar, tariffs are decided through bidding.
It is perceived that bidding has contributed to reduction in tariffs.
The recent low bids in Andhra Pradesh are also used to showcase this argument.
Way ahead:
In sum, India needs all sources of renewable energy and the government must promote every source on equal terms.
Land acquisition, power evacuation, local political interference, tariff process, and quality are the key areas that need attention.
It is also necessary to reconsider the policy without the restricted approach from purely commercial application of mind.
Connecting the dots:
Energy mix is the key for energy security in India. Substantiate.
Critically examine the INDC targets of India with special focus on the renewable energy component in the target.
NATIONAL
TOPIC:

General studies 2: Issues relating to development and management of Social Sector or Services relating to Health
General studies 3: Nano-technology, bio-technology
Superbug and quantum dot
Rampant and indiscriminate usage of antibiotics, have led to the evolution of some of the bacteria's like Salmonella, Staphylococcus and E. coli- showcasing their ability to shuffle their genes and defeat these drugs
Antibiotic-resistant bacteria have infected about two million people and killed at least 23,000 people in the US alone (each year) and being the world's largest consumer of antibiotics and a leading hotbed of untreatable bacterial infections (threat doubling over five years); India could do well to analyse the situation and strategize better to deal with the same.
With advancements in nanotechnology, a new revelation has been forwarded- development of a light-activated superbug-killing nanoparticle (20,000 times smaller than the width of a human hair) and which has required enormous interdisciplinary research, stretching into biology, chemistry and electronics.
Quantum Dot
These nano-particles are known as quantum dots and each 'quantum dot' is one million times smaller than a millimetre
Usage: These 'quantum dots' were used in tiny concentrations (about a thousand times smaller than current drugs in a pill)
Capacity to kill- Could kill nine of 10 drug-resistant bacterial cells grown in a laboratory culture and the ones who are resistant to all known antibiotics—
Claimed to have destroyed 92% of drug-resistant bacteria in a laboratory trial
Working of 'Quantum Dot'-
Following the traits of the superbugs (evolve-adapt-fight back), these quantum dots can be tuned or customised, with an atom added or subtracted to create a new material, property or therapy, while using data from related clinical trials or drugs
Fashioned in the researcher's laboratory in water from several semiconductor materials—used in solar panels or mobile phones—show different effects on bacteria:
Cadmium telluride nano-particles have a therapeutic effect against drug-resistant bacteria;
Copper indium sulphide particles help good bacteria grow
Light excites electrical charges in the quantum dots and sparks a chemical reaction.
Varying the wavelength of light, or size, composition and surface of the dots, allows selective killing of drug-resistant bacteria, without harming host human cells.
If Clinical Trials approve—
A simple administration of these dots to patients with infections can cure the infection without potential effects (or side-effects) for healthy host cells
Three models of quantum-dot therapy and drug administration envisaged:
For topical infections caused by wounds or cuts, where a sticky adhesive patch coated with nano-particles will need to be illuminated with light to begin treatment
For systemic infections, which will need the drug to be injected or administered intravenously
As a disinfectant, on hospital surfaces or instruments—in a well-lit or specially lighted room
Good signs- If the nano-particles are dispersed evenly, will be effective for patients exposed to a well-lit room or photo-therapy room
Other Ways—
PRAAN Biosciences- Uses a separate discovery from their laboratories, i.e., a single DNA molecule to sequence genetic profiles to diagnose and treat the infections that drug-resistant bacteria cause
Gold and Silver nano-particles—They have been used to attack superbug infections but with varying degrees of success
Lack of consistency with no guarantee
Damages the surrounding cells
MUST READ
The road from Pathankot
Related Articles:
Save security from the establishment
Compassion on death row cases
Related Articles:
Capital punishment : should it be banned or allowed in India?
Rural India too battles hypertension– Obesity and diabetes cases increase in urban areas; experts blame it on stress and faulty diet
Gender equality still not a reality-Survey involving 13 states reveals there is no end to preference for boys
Power Tariff Policy
Indian Regional Navigation Satellite System (IRNSS)- India is just months away from deploying a regional alternative to GPS
And diplomacy won- The fruits of the Iran nuclear deal, visible from this month, demonstrate the necessity and benefits of multilateralism.
Fine print of India's start-up policy- The government's ambitions of turning limited partner to venture capital funds has drawn sharp criticism from several quarters
Related Articles:
Start Up India Stand Up India Scheme
All India Radio- STARTUP INDIA STANDUP INDIA
MIND MAPS
1. Birth & Death Registrations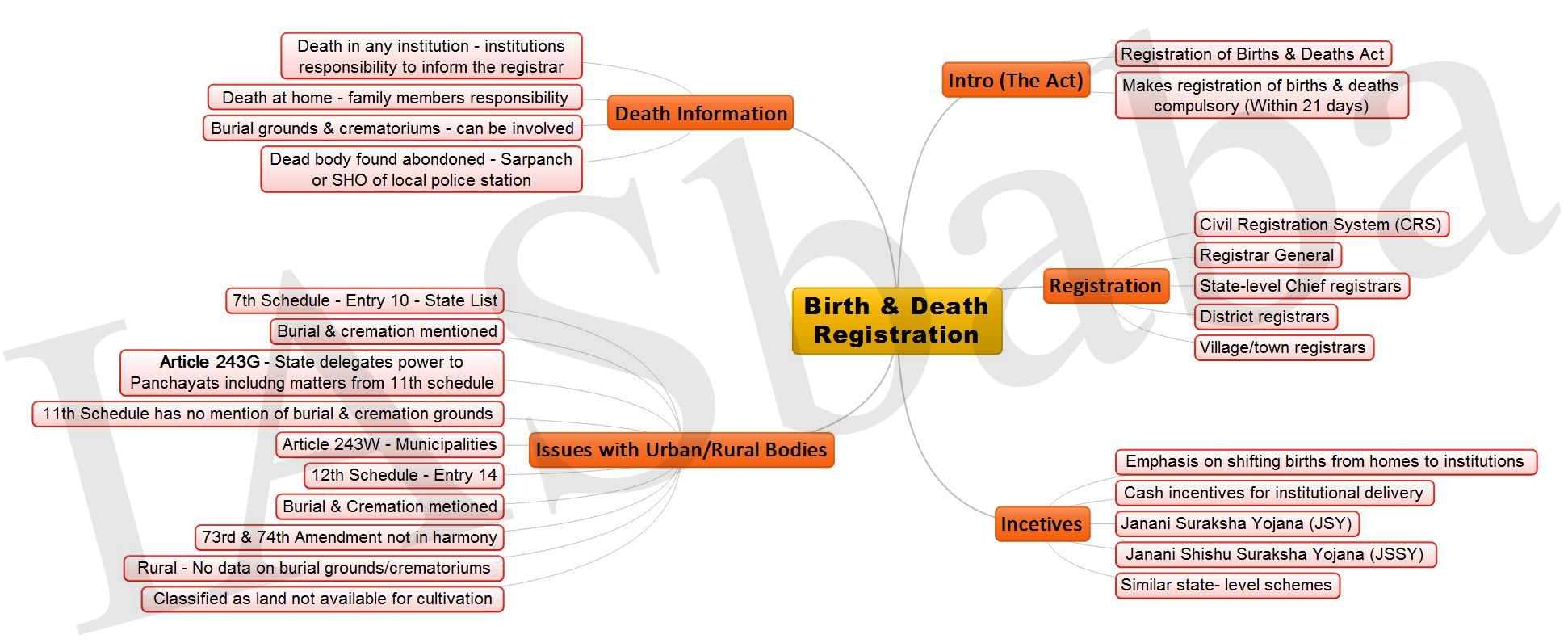 2. PPP – Welfare Issues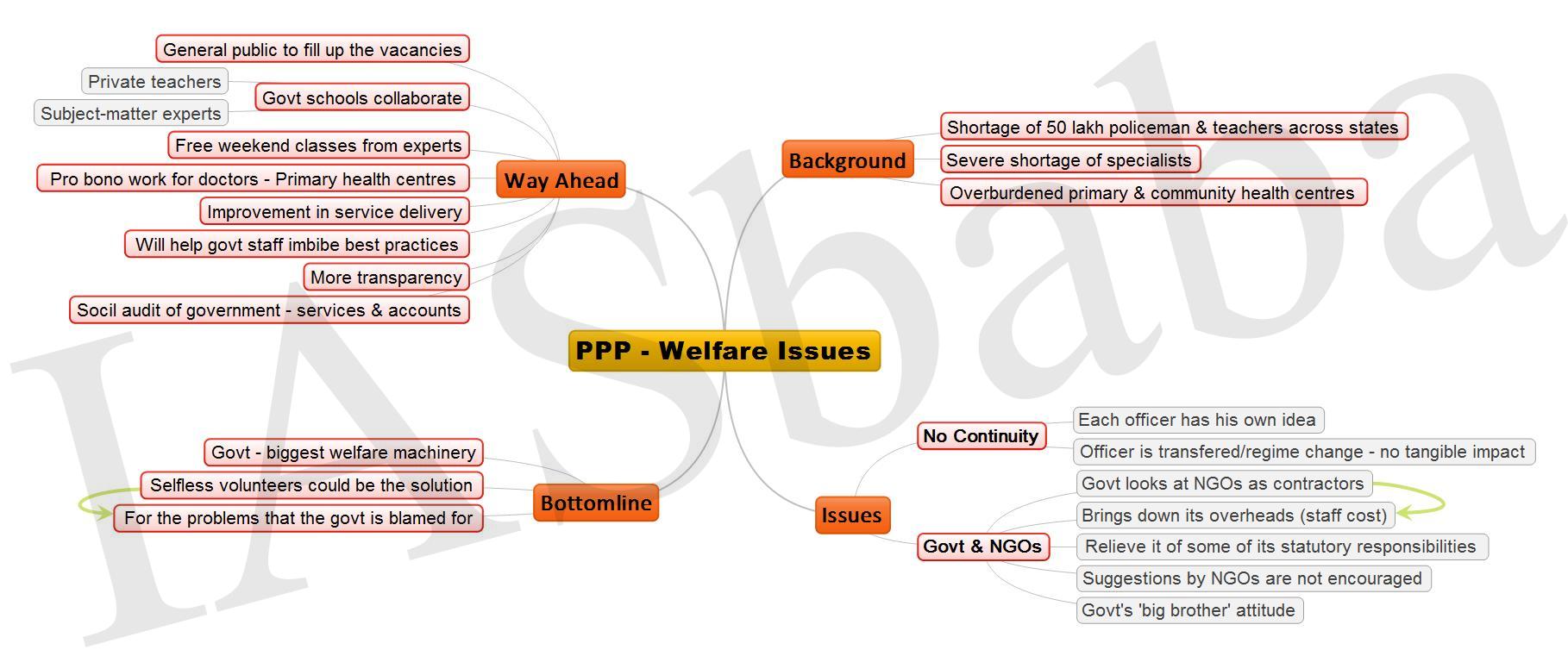 For a dedicated peer group, Motivation & Quick updates, Join our official telegram channel – https://t.me/IASbabaOfficialAccount
Subscribe to our YouTube Channel HERE to watch Explainer Videos, Strategy Sessions, Toppers Talks & many more…