IASbaba's Daily Current Affairs – 16th July, 2016
INTERNATIONAL
TOPIC: General studies 2

International Affairs – Turkey and Kurds Issue
Bilateral, regional and global groupings and agreements involving India and/or affecting India's interests.
Effect of policies and politics of developed and developing countries on India's interests, Indian diaspora.
Turkey and Kurds Issue: Full Story
Why Turkey is in news?
Military Coup: Turkey's army launches a coup attempt
A section of Turkey's military on Friday tried to overthrow President Tayyip Erdogan who has been in power since 2003.
If the coup is successful, it will be a significant power shift in West Asia, already struggling with failed states, internal strife and the threat from ISIS.
Turkey – which is a strategically important Muslim-majority nation– has already seen three full military coups since 1960.
Turkey versus IS and Kurds: Turkey is battling threats on two main fronts, against Islamic State group jihadists and Kurdish militants.
Geo-strategic significance (Syria Issue): Turkey, a NATO frontline state was also in News as it waited for almost a year to join US-led air strikes on Syria (against Islamic State jihadists) and to open its air bases to US planes.
Turkey versus Russia: Turkey had criticised Russia's intervention in Syria, which had provoked several airspace incidents along its border.
Geographical importance of Turkey: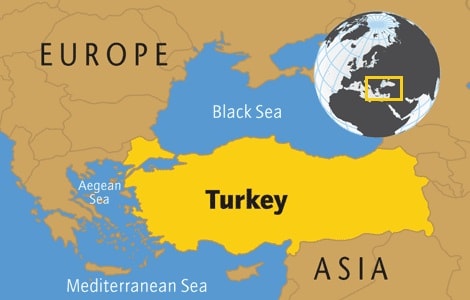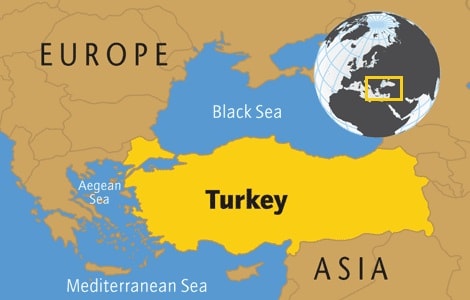 Turkey is located between Europe and Asia. Turkey's location at the crossroads of Europe and Asia makes it a country of significant geostrategic importance.
Turkey is bordered by eight countries:
Syria and Iraq to the south;
Iran, Armenia, and the Azerbaijani exclave of Nakhchivan to the east;
Georgia to the northeast;
Bulgaria to the northwest; and
Greece to the west.
The Black Sea is to the north, the Mediterranean Sea to the south, and the Aegean Sea to the west.
The Bosphorus, the Sea of Marmara, and the Dardanelles (which together form the Turkish Straits) demarcate the boundary between Thrace and Anatolia.
Note: Locate and remember all the above said straits and seas in your Atlas. (Important for exams)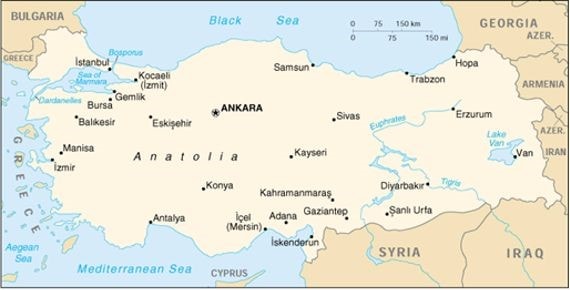 Strategic importance of Turkey
With a Black Sea coastline facing Russia, Turkey has been a NATO frontline state for more than 60 years. (NATO member since 1952)
Turkey's strategically placed location is important for US, as both can take part in the US-led fight against Islamic State jihadists
Turkey bordering with Black Sea, makes it a prime location to watch the activities of Russia and contain Russia. Turkey had criticised Russia's intervention in Syria, which has provoked several airspace incidents along its border.
Turkey has played a key role in Europe's migrant crisis, having taken in more than two million Syrian refugees, compared with its own population of around 78 million.
Troubled political life
The Republic of Turkey was created as a secular state in 1923 after the collapse of the Ottoman empire at the end of World War I.
Its founder Mustafa Kemal Ataturk was president until his death in 1938. His successor Ismet Inonu introduced multi-party democracy in 1946. Turkey witnessed repressive military coups in 1960, 1971 and 1980.
In 1997 the Turkish military also forced out current President Recep Tayyip Erdogan's late mentor Necmettin Erbakan from the premiership.
The Islamic-rooted Justice and Development Party (AKP) came to power in November 2002. Its leader Erdogan was prime minister from 2003 until 2014, when he became the first Turkish president directly elected by the people.
Why a coup?
Erdogan has comfortably been in power for well over a decade and has brought in a lot of reform to the Turkish establishment and society.
The military sees itself as upholders of Kemalism, the form of democratic nationalism and secularism ushered in by founding father Mustafa Kemal Ataturk in 1923. Erdogan on the other hand is considered an Islamist and conservative.
Will the coup succeed?
At the moment, it seem the coup has lost its momentum. Erdogan also seems to have the support of the public and maybe a section of the military too. Also, thousands of people took to the streets in favour of the democratic Erdogan government.
What will be the impact?
If the coup fails, then President Erdogan will emerge more powerful. Since 2003 he has been able to make himself one of the most powerful president in the country ever, and this make him more authoritarian. Some experts suggest he might even push for more constitutional changes.
Kurds Issue:
Who are these Kurds? Why are they fighting?
The Kurds are one of the indigenous people of the Mesopotamian plains and the highlands in what are now south-eastern Turkey, north-eastern Syria, northern Iraq, north-western Iran and south-western Armenia.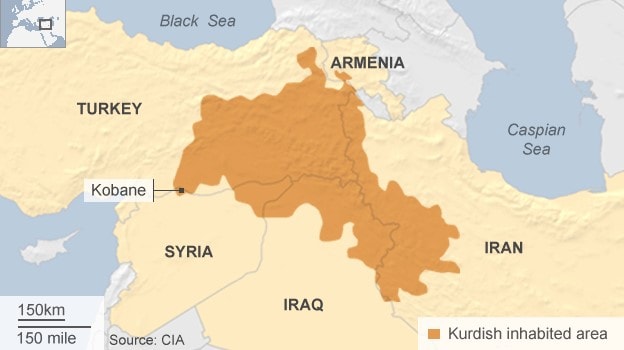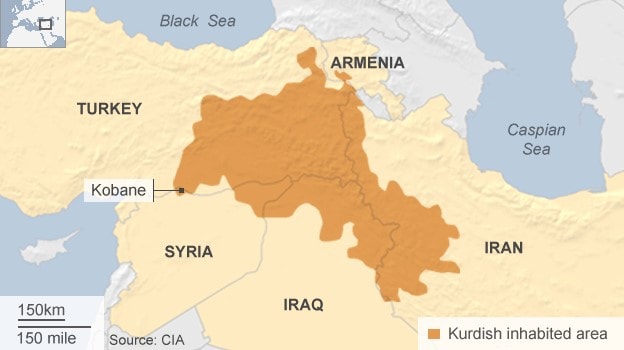 In recent decades, Kurds have increasingly influenced regional developments, fighting for autonomy in Turkey and playing prominent roles in the conflicts in Iraq and Syria, where they have resisted the advance of the so-called Islamic State (IS) jihadist group.
Today, they form a distinctive community, united through race, culture and language, even though they have no standard dialect. They also adhere to a number of different religions and creeds, although the majority are Sunni Muslims.
In the early 20th Century, many Kurds began to consider the creation of a homeland – generally referred to as "Kurdistan".
Kurds are fighting for Kurdistan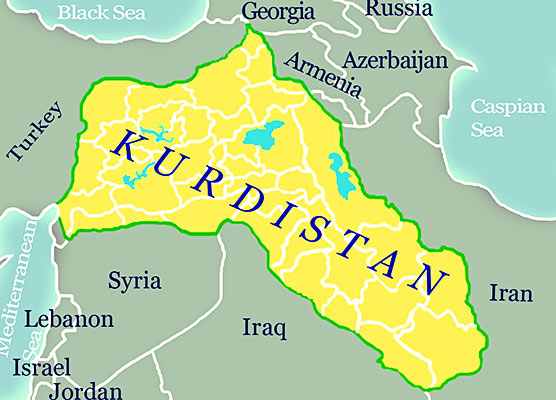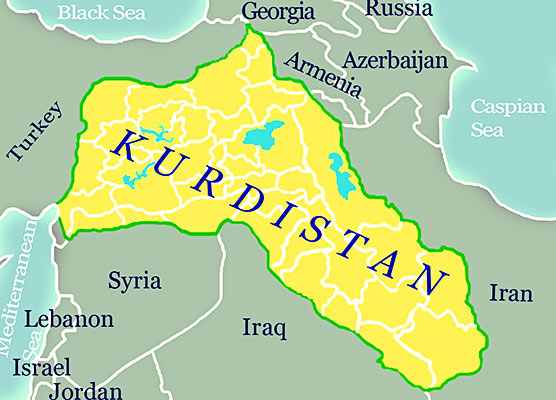 Treaty of Sevres: After World War One and the defeat of the Ottoman Empire, the victorious Western allies made provision for a Kurdish state in the 1920 Treaty of Sevres.
Treaty of Lausanne: However, such hopes were dashed three years later, when the Treaty of Lausanne, which set the boundaries of modern Turkey, made no provision for a Kurdish state and left Kurds with minority status in their respective countries.
Over the next 80 years, any move by Kurds to set up an independent state was brutally quashed.
So, these Kurds are aiming to change the outcome of World War One
Why Kurds fought against Islamic State?
In mid-2013, IS turned its sights on three Kurdish enclaves that bordered its territory in northern Syria. It launched repeated attacks until mid-2014, when the armed wing of the Syrian Kurdish Democratic Unity Party (PYD) repelled IS.
The jihadists' advance in Iraq also drew that country's Kurds into the conflict. The government of Iraq's semi-autonomous Kurdistan Region sent its Peshmerga forces to areas abandoned by the army.
In mid-September 2014, IS launched an assault on the enclave around the northern town of Kobane, forcing tens of thousands of people to flee across the nearby Turkish border.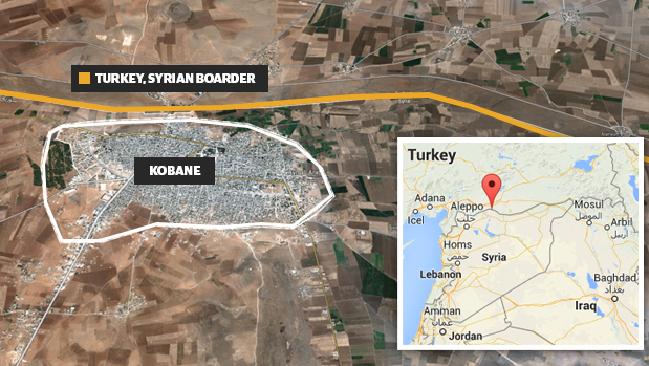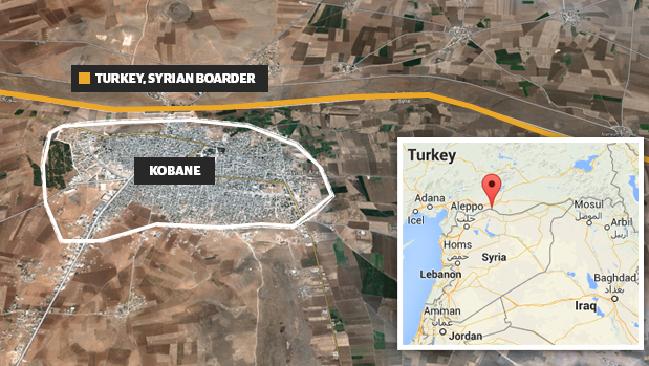 Despite the proximity of the fighting and the threat posed by IS, Turkey refused to attack the jihadist group's positions near the border or allow Turkish Kurds to cross to defend it, triggering Kurdish protests.
In October, Ankara partially relented and agreed to allow Peshmerga fighters to join the battle for Kobane, after US-led air strikes helped halt the IS advance.
In January 2015, Kurdish forces regained control of Kobane.
Since then, the Kurds won series of battles against IS and established control over a 400km (250-mile) stretch of contiguous territory along the Turkish border and advanced to within 50km (30 miles) of the IS stronghold of Raqqa.
Turkey versus Kurdistan
Since July 2015, Turkey has suffered heavy violence with the resumption of the Kurdish conflict against the background of the war in Syria and a series of bloody attacks.
Small background:
Since 1984, the outlawed Kurdistan Workers' Party (PKK) in Turkey has led an armed rebellion in the Kurdish-majority southeast that has claimed more than 45,000 lives.
In order to stop this rebellion, Turkey government and Kurdistan Workers' Party (PKK) had signed a ceasefire agreement.
However this de facto ceasefire was broken in July 2015 when the Turkey government launched an unprecedented two-pronged "anti-terror" operation against jihadists in Syria and Kurdish militants in southeast Turkey and northern Iraq.
Western concerns have also mounted about the state of democracy and freedom of speech in Turkey after several raids on media groups and a string of prosecutions of journalists.
Major attacks
Since mid-2015 Turkey has seen a string of attacks with mass fatalities –
Oct 2015 – 103 people were killed and more than 500 wounded in twin suicide bombings targeting a pro-Kurdish peace rally in Ankara. The prime minister said IS was the main suspect.
In 2016, seven major attacks claimed more than 120 lives including the latest on June 28.
In that attack, 45 people were killed, including foreigners, and over 200 injured in a triple suicide bombing and gun attack at Istanbul's Ataturk airport. There was no claim of responsibility but authorities said evidence points to the Islamic State group.
Migrant crisis
Turkey has taken in 2.7 million Syrians from the brutal war that broke out across its border in 2011, making it host to the largest refugee population in the world.
Many Syrian refugees have launched attempts to reach Europe from Turkey's shores, making the perilous journey by sea to Greece.
Under a controversial deal between the European Union and Turkey that came into force in March, failed asylum seekers face being sent back from the Greek islands to Turkey.
MUST READ
Terror and powerlessness
No proof required: Good morality is good politics
Commercialization of GM mustard
Related Articles
Puzzling Glances over Genetically modified Crops
China's problem with the rule of law
Related Articles
The Big Picture – South China Sea: Impact of Tribunal Verdict
Reports/Studies:
Sales on digital channels
Unicef report: Tackle inequality
Climate change will cause 2.50 lakh deaths by 2030
World Bank's logistics performance index
Mitigating malnutrition
For a dedicated peer group, Motivation & Quick updates, Join our official telegram channel – https://t.me/IASbabaOfficialAccount
Subscribe to our YouTube Channel HERE to watch Explainer Videos, Strategy Sessions, Toppers Talks & many more…