South China Sea: Impact of Tribunal Verdict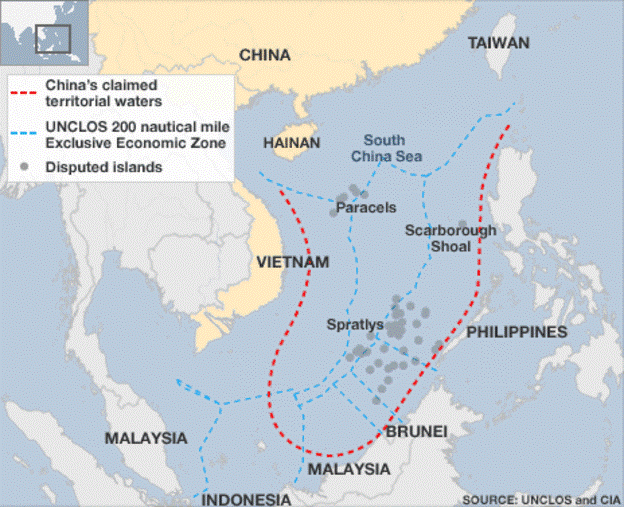 Why in news?
The dispute over the control of the South China Sea took a decisive turn when the Permanent Court of Arbitration at Hague declared that China cannot claim any historic rights over islands in the sea. The tribunal also ruled that China has violated Philippines's sovereign rights. The dispute had been raised by Philippines in 2013. However, China had refused to participate in the tribunal proceedings, questioning jurisdiction among other things.
After the tribunal announced the verdict, China has officially announced it has neither accepted nor recognised the award of the tribunal. This award had been looked forward to by many countries including India and USA, both of which have strategic maritime as well as economic interests in the region.
China has been claiming the historic control of over 85% of South China Sea, while countries like Philippines, Malaysia, Vietnam, Taiwan and Brunei also have been making competing claims.
The Dispute
The dispute is whether China has historic rights and what is the source of maritime entitlements of China. It was not about deciding the territorial dispute. The court has made this clear.
The fact that China did not participate in it and rejected it from the beginning has no weight as such. Because the Permanent Court of Arbitration rules that in case a party does not accept jurisdiction, others can still go ahead with that. Thus, the PCA took special care to ensure that the claims are well founded and for that they
Did close questioning of Philippines,
Looked at written submissions, before and after
Relied on views of independent experts and
Went into historical records and so forth
Whether or not the PCA has jurisdiction, the final decision was that of the court itself.
The fact is that the Chinese anticipated that the award will go against them which is why for more than a year now, they had been talking about it. In October 2015, there was an award on jurisdiction admissibility and now this is the final award and there is no further appeal. This is final and binding. Though there is no provision to enforce it.
Are Chinese claims valid?
China joined UNCLOS before and thus has accepted the maritime order as defined by UNCLOS since 1950s. From 1956 they accepted the cannon fire shot distance, which was the 12 nautical mile limit of Exclusive Military Zone and 200 mile Exclusive Economic Zone for fisheries, minerals, energy etc. So, the Chinese have accepted international jurisdictions.
However, their current discourse is that all these rules have been prepared by someone else and China was not the party to the rule making and hence, China has some hesitation in fully following the UNCLOS provisions.
But the issue here is the SCS, the nine dash line, and 90% of SCS which is 3.5 million sq kms territory. The Chinese proposal is that SCS is a territorial sea which means that freedom of navigation would be problematic, although they clarified that they are not obstructing the freedom of navigation or have obstructed before. However, India did face obstruction with INS Airavat and so did USNS Impeccable.
So, the Hague court ruling suggested that these are international waters, and in other words, they punctured the Chinese argument on that aspect. Hence, to that extent, maritime commons have been reiterated in the current judgement.
What next?
The award can't be enforced as Chinese have rejected it. More than the decision of the verdict, what is going to be instructive is how China will respond as PCA doesn't have any enforcement mechanism. Much of it is left to the rectitude of the parties concerned.
As China is deemed to be the major power, this is going to be the litmus about the global order. It means that, at one level, it transcends the maritime order (China became signatory to 1982 UNCLOS in 1996). So thereby in good faith, as part of international community, Chinese should accept the norms that go along with UNCLOS.
UNCLOS has made it very clear that if a country has equivalent of manmade islands, which is what is at dispute here, the country does not have a maritime entitlement. There is a claim which says that China's territorial water goes upto 2000 kms!! Which is quite untenable.
India and Bangladesh had arrived at an equivalent of a modus vivendi over a fairly complex maritime delimitation issue. The test case is how the major powers deal with intractable, territorial and related disputes. This will be instructive not only for ASEAN countries but China and Japan which are also at loggerheads at the East Sea. India and China also have territorial dispute and thus, the principle of freedom of navigation at sea is important.
This is because the countries do not want the equivalent of China's territorial claim in a way accepted because, if it happens so, other countries which want to navigate will have to 'inform' or get a kind of concurrence.
Thus, Chinese response is going to be very critical. And the first sign of foreign office statement from Beijing has been very categorical. They have used 'null and void' to answer the verdict, which is very strong.
The Beijing mood
The foreign ministry statement is very hardliner and sticking to their guns and reiterating their earlier position. So no flexibility is visible there. However, the debates carried out on various platforms and off the record statements of foreign ministry, there are two moods which can be observed:
The military mood: the hardliner actions. Pursue the live firing drills in SCS. So there is more assertive posture
The diplomatic talks: it is dominant view which is visible that despite what position officially is taken, it is time to talk quietly, in closed backdoors with all principles.
The statement also makes a distinction between Aquino government and the current government in Philippines.
There was an illusion in one official circle that the offer from Philippines to share the territorial sea rather before Chinese can come to territorial maritime delimitation, was welcomed now. So Chinese see a sort of a departure from the earlier phase. The pragmatism is coming in, which is what ultimately might happen. Finally, apart from legality, this is also a question of geopolitics and control of Asia-Pacific.
The time has come to challenge US dominance and the friction will continue despite the dialogues going on because for the Chinese, the crafting stone is that unipolar era is over and it is a multipolar world. The SCS dispute has become a test case for the assertion of new players on the global stage and Chinese themselves count them as pre-eminent among them.
India's involvement
The Indian statement is very cautious, brief, noted the award and studying it carefully. But in the past, senior spokespersons have made the following points.
India has not taken a view on territorial claim. India has focused on freedom of navigation and over flight.
The need is to observe international law, including UNCLOS. There should be dispute settlement by peaceful means.
All sides should exercise self-restraint
There should be a full and effective implementation of a code of conduct on the basis of consensus.
From India's perspective, the freedom of navigation and over flight is critical. Two reasons.
Lot of India's trade passes through SCS. Therefore, India cannot accept the situation where India is dependent on the goodwill of Chinese for transit.
The SCS has same kind of importance as Suez Canal or Malacca straight or Bosphorus strait have.
If China manages to establish its sovereignty over these islands and waters, then it becomes a very important base for its power projection in the Indian Ocean. This is what concerns India. (To assert its power, China wants to rename Indian Ocean!)
Therefore, it is expected that India will not be passive and all the steps taken with USA or Japan and bilaterally, trilaterally with Australia and Vietnam, is intended to create a coalition of forces that hopefully would signal to China to not go beyond a point because if it does, then serious national interests are involved and there will be a counter to that.
India has been slightly aggressive in the past when it made huge statements with Japan and with US. But in last few months, there is some kind of toning down of the stand. Presently, there are four Indian vessels in SCS and contiguous region. One is conducting Malabar exercise with US and Japan and another one is doing port calls at Cameron bay at Busan, South Korea, Malaysia and Sasebo, Japan.
Thus, in terms of military presence, India had signalled that it has some role in SCS. Although, it has not accepted the joint patrolling with USA. From this viewpoint, it has shown that it has certain role to play with ASEAN countries also and wishes to have a balanced role.
The former Defence Minister had clarified that it is a bilateral dispute and India is not a party to the dispute. India is not taking sides between the contestants in the dispute. So, the Indian position is balanced. However, couple of years ago in a joint statement with Philippines, India stated that the disputed region is part of West Philippines Sea, but SCS was not mentioned.
Thus, it can be also said that Indian position on SCS is more definitive and not aggressive as aggression has different connotation whereas, India is becoming more definitive with visit of President Obama, wherein in the joint statement, there was a reference to SCS. India upholds the principle of freedom of navigation, respect for international law and customary practice and these are important elements.
At this stage, when it is talked about geopolitical dimension, India should continue this particular orientation where India has displayed its interests, because some principles are involved.
Further role by India: The role India could play while awaiting India's response is to engage in quiet chat with Chinese and cite the India-Bangladesh example that there is a case of principles and that India is taking no position on territoriality but is talking about the way in which maritime practice and law must be respected because that has bearing on the larger issues of global order.
India can try to deal with each of the major stakeholders in its own way as it has in the past. And can reiterate that by negotiation, we can find a modus vivendi which is what one school in Beijing seems to suggest. Even the Philippines government are actually talking about some kind of accommodation.
Respecting the international order
One of the most important thing is the process of bringing China into the world community began in 1971 when Peoples' Republic got the seat of the Republic of China and then they became member of UNSC, NPT, UNCLIS, WTO etc.
The way China is challenging UNCLOS, it is undermining the basis of agreement saying that this dispute cannot be heard by the arbitration tribunal. This will create a huge reputational damage to China. There is no doubt that China is militarily in a good position in SCS and can dominate in SCS. But henceforth, Philippines and Vietnam will have the power of the tribunal verdict. In turn, when China says that they don't care about international tribunals and they don't support their verdicts, it poses a big danger.
The arbitration doesn't happen only in UNCLOS. It is for every international agreement. The Chinese companies go out to build rails and roads and there is an arbitration clause in the agreement. The people will say Chinese will not accept decisions if arbitration goes against it. This long term damage to China will be severe. This is the opportunity for the world community, particularly USA, as there is a parallel problem between USA and China with regard to interpretation of UNCLOS. US is sailing close to China which has aggravated the situation. The USA should take the lead and through quiet diplomacy get China to deal with it tactfully.
The verdict is very clear that even though little islands have no maritime zones attached to them, no one can claim any maritime zone of theirs- not China, Philippines or Vietnam.
Chinese view: The matter of reputational damage can be a serious concern for Chinese. But they are of the view that USA playing such an active role, verbally and through joint patrols while it is not a signatory to UNCLOS at all, so it has no moral right on commenting on Chinese interpretation or views and their position. From the Chinese perspective, it is the US which makes the rules, whether trade, navigation etc. So, it is now challenging to observe Chinese underlined objective which will filter though their actions and show that rule making is no longer the right of US hegemon. It is a multipolar world and players like China, Russia, India have come into the party.
This is a post 2008 situation where it has been learnt that US power has diffused now, especially in last few years and the most important dialogue that will take place between Chinese and Americans on SCS and Asia-Pacific. India is not a party to it right now not in a league so it will maintain a position of balance.
Yet, it is not only about US and China but the whole world is involved. There are South East Asian countries. Even if the Philippines is ready to compromise and share resources, it might not be true for Vietnam, Malaysia, Indonesia- not all will compromise. The Chinese may have military clout but they are dependent on all these countries for markets. If they go beyond a point, they could lose the market. They cannot assume to have rest of the world as free market.
Conclusion
The Chinese are on a weak wicket morally, diplomatically and politically. It is understandable that they want to project that they have nothing to fear and nothing to lose. But this is a significant low for China and the reputational cost and possibly an economic cost for China is bound to be there.
The Chinese hardliner position can be to walk away from UNCLOS, but they have lot more to lose in terms of contract and economic investments profile.
The pragmatic approach would be sending signals to new Philippine President and start the hard negotiations.
What is going to be more critical than arbitral verdict is the Chinese response.
Connecting the dots:
The South China Sea dispute can challenge the global order and hegemony of USA. Analyse
Key words:
UNCLOS: United Nations Convention on the Law of the Sea defines the rights and responsibilities of nations with respect to their use of the world's oceans, establishing guidelines for businesses, the environment, and the management of marine natural resources.
Cannon fire shot distance: UNCLOS replaces the older 'freedom of the seas' concept, dating from the 17th century: national rights were limited to a specified belt of water extending from a nation's coastlines, usually 3 miles (Three-mile limit), according to the 'cannon shot' rule, which was measured by how much distance the fire could cover from its shore line.
Modus vivendi: means "mode of living" or "way of life". It often is used to mean an arrangement or agreement that allows conflicting parties to coexist in peace.
For a dedicated peer group, Motivation & Quick updates, Join our official telegram channel – https://t.me/IASbabaOfficialAccount
Subscribe to our YouTube Channel HERE to watch Explainer Videos, Strategy Sessions, Toppers Talks & many more…