IASbaba's Daily Current Affairs – 30th July, 2016
ENVIRONMENT
TOPIC: General Studies 3

Environment and Ecology, Bio diversity – Conservation, environmental degradation, environmental impact assessment, Environment versus Development
Issues relating to renewable energy technology and developing new technology.
175GW of renewable energy by 2022 – Is this goal achievable?
India has set ambitious goals to achieve 175GW of renewable energy by 2022.
A large share of this goal — 100GW — is expected to come from solar energy
A relatively smaller share — 10GW — from bio-energy
The below article discusses the difference between Solar photovoltaic (PV) technology, Solar thermal technology, biomass-based technologies and importance of hybridisation model.
Current status of solar energy in India:
Today, the Indian market is dominated by the photovoltaic (PV) technology, which has an installed capacity of almost 7000 MW.
Also worth noticing is the fact that the price of solar PV fell from Rs. 17 to Rs. 5 per unit (1 unit = 1 kWh) in the past few years, while the price of solar thermal has remained above Rs. 10/kWh.
As solar energy is available only a few hours in a day, it is desirable to store it, to be able to dispatch power when required.
However, battery storage is expensive and unviable for long-term use, as batteries need to be replaced at least every five years.
Hence, PV with battery storage, using current technologies, looks unviable as a long-term solution for dispatchable and reliable power.
Solar Thermal Technology versus Solar PV Technology:
Solar thermal, which concentrates sun's rays to produce heat (steam), is used to drive turbines. This heat energy can be stored and used to generate electricity when there is no sunlight; this makes it cost-effective in comparison with battery storage.
Worldwide, most solar thermal power plants have incorporated thermal storage. Solar thermal with storage facility can be used to overcome intermittency and provide steady power to grids; however, the inclusion of thermal storage increases the capital cost further.
In India, solar thermal technology had limited success in the initial phase of the National Solar Mission owing to challenges in terms of financial closure, sourcing of critical components of the power plant, etc., and this led to a substantial delay in their commissioning. This also resulted in a reduction of the allotted target in the subsequent phases.
Also, the capital cost of solar PV reduced from Rs. 12.5 crore/MW to Rs. 5.8 crore/MW, whereas that of solar thermal remained at Rs. 12 crore/MW. This led to the dominance of PV in the Indian market. Hence, solar thermal has not been able to compete with solar PV.
Conclusion: Solar thermal technology is far effective and better for longer term than solar battery or photovoltaic (PV) technology. But Indian government in its National Solar Mission is pushing for solar photovoltaic (PV) technology which will be helpful for just short-term.
On the other hand, biomass-based technologies are relatively mature here, with investment and generation costs of about Rs. 6.5 crore/MW and Rs. 4.5/unit, respectively. However, biomass plants are also not able to progress due to various reasons such as availability (lack of a well-established supply chain) and variations in costs of biomass.
Mix and make
Considering above issues, India must have a mix of both thermal and PV technologies to achieve 100GW.
And to bring down the cost of solar thermal, one of the options is to have thermal storage or to hybridise solar thermal power plants with biomass.
Biomass is predominantly used by combustion and gasification technologies to generate power. It is estimated that 120-150 million tonne of surplus biomass is available in India annually, which has a potential of generating 18GW.
However, the typical capital cost for setting up a biomass-based plant is about Rs. 6.5 crore/MW, while the benchmark cost of biomass-based power is Rs. 4.5/kWh. Hence, biomass-based standalone power plants have not been popular in India.
Both solar thermal and biomass technologies work on the same principle. The heat generated is used to produce steam, which is in turn fed into a turbine to generate electricity. Thus, a hybrid of a solar thermal plant and a biomass plant is a viable option.
For example, based on the Central Electricity Regulatory Commission guidelines, the capital cost of a 3MW hybrid plant is about Rs. 30 crore, whereas the cost of a standalone solar thermal plant is about Rs. 45 crore and that of a biomass-based plant of equal capacity would be about Rs. 20 crore. The capital cost of a hybrid plant reduces due to the use of common equipment (turbine generator set, cooling systems, etc.).
Biomass versus Hybrid model:
Though a biomass plant costs less compared to a hybrid one, the latter scores on operational parameters. Operating costs of a biomass plant increase with the rise in fuel requirements. Biomass prices also fluctuate typically between Rs. 3-6 per kg, or even more.
The availability of biomass and supply chain is also a major issue. Hybrid plants also score because they require considerably lower quantity of biomass as it is used in combination with solar radiation.
A comparison of the tariffs of the power generated from a standalone solar thermal and a hybrid system shows that the costs range from Rs. 14-16/kWh and Rs. 8/kWh, respectively. These estimates are based on a normal eight-hour operation considering only solar hours. If the plant runs 24 hours, the cost comes down to Rs. 5.4/ kWh.
Hybridisation will increase the capacity utilisation factor of a plant threefold, as it will generate electricity from biomass in the absence of sunlight. This will make the plant financially viable.
Also, biomass-based power can help overcome the intermittency without adding thermal storage. A standalone biomass-based power plant requires a continuous supply of biomass in large quantities. Hybridisation with solar thermal will reduce the biomass requirement, and in the case of a temporary shortage of biomass, power production will be curtailed but the plant will remain functional throughout the year.
Some hurdles
However, the hybridisation model has some issues.
Securing a continuous supply of biomass still remains a hurdle because there is no provision for a long-term purchase agreement between biomass suppliers and power producers, which makes the price of biomass unpredictable.
Another issue is the configuration of plants (i.e., solar and biomass contribution) that can produce electricity at the lowest cost. Regulatory issues such as monitoring the contribution of each source in power generation remain a point of contention.
A 3MW hybrid is being implemented in Bihar as a demonstration project by CSTEP along with Indian and European partners. Currently, there is no regulatory and policy framework in India to address or promote hybridised renewable energy plants.
The learnings from the operations of this power plant will lead to a better understanding of the technical challenges associated with hybrid systems, and can lead to better policy frameworks and tariff pricing mechanisms.
Connecting the dots:
Discuss the features and provisions under National Solar Mission. Highlight the difference between Solar PV technology and Solar Thermal technology.
What are the limitations associated with solar and biomass technologies. Do you think hybridization model can help India to achieve its ambitious 175GW of renewable energy by 2022? Critically analyze.
ENVIRONMENT/NATIONAL
TOPIC:
General Studies 2
Government policies and interventions for development in various sectors and issues arising out of their design and implementation.
General Studies 3
Conservation, environmental pollution and degradation, environmental impact assessment
Disaster and disaster management.
Science and Technology- developments and their applications and effects in everyday life
Kovvada Nuclear Plant, Andhra Pradesh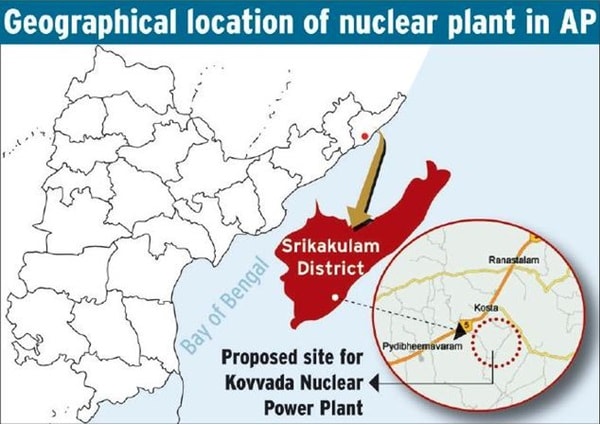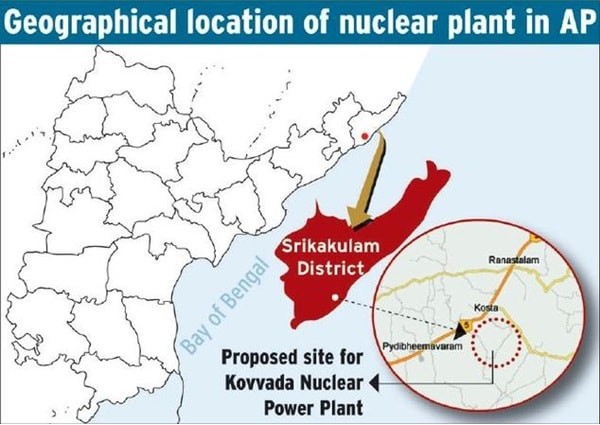 Photo credit: http://www.dianuke.org/wp-content/uploads/2013/12/Kovvada-site.jpg
What?
As part of the Indo-US nuclear deal signed almost a decade ago, India had offered GE and Westinghouse one site each to set up six units of 1000 MWe.
Government in 2012 demarcated Kovvada land in Andhra Pradesh for acquisition to build nuclear power plant.
This project is transferred from Gujarat. Westinghouse was given to Mithivirdi. But after protests from local people and also environmental objections, it was shifted to Andhra Pradesh
Nuclear hub in making
The Nuclear Power Corporation of India Limited (NPCIL) plans to install six nuclear reactors, each generating 1,594 megawatts (MW), or 9,564 MW of power overall.
This will throw the normal life out of gear of the communities of Kovvada as they will have to shift to other areas.
Andhra Pradesh has permitted for the establishment of string of nuclear plants along the coastline- both U.S. and Russian-which will together generate 30,000 MW by 2031.
Political angle
In 2012, the protestors mainly included cadre of TDP workers, which was then in opposition.
The opposition in parliament during the UPA rule also opposed the nuclear power plant project.
However, now the centre and the Andhra Pradesh state government are in support of the project.
It is not a political issue in the State as all parties have agreed to the project.
However, this time it is the CPI (M) which is mobilising the masses to rise against the proposed plant at Kovvada.
Resistance in Kovvada:
Four years ago, Kovvada had experienced a small resistance movement.
The protestors, including the fisherfolk, anti-nuclear activists and leaders of political parties raised slogans against establishment of the nuclear power plant as it would rob them of their livelihood and expose to high dose of radiation
Relay hunger strike: It began in December 2012 where hundreds of people staged protests and raised slogans against the power plant. it lasted for more than 150 days
With passage of time and no strong political backing, the movement lost its steam.
The fishermen are indulged in knitting long nylon and plastic threads into hammocks because effluents from nearby pharma industries into the water bodies consumed their fishes.
Activists cite four reasons for 'Destination Andhra Pradesh' for nuclear plants

Warm rapport between leadership of central and state government
AP's huge requirement for power as it shifts from agriculture to industrialisation
Ready availability of government land
Virtually no resistance from people

Creating a dumpyard: it is feared by activists that Andhra Pradesh may become a nuclear dumpyard as it is willingly accepting the nuclear power plant project, which is opposed by people in states of West Bengal, Tamil Nadu, Maharashtra and even Gujarat
Ground Realities- A lookout
One view
People are ready to move out from the plant/nearby plant areas as they have lost their primary livelihood already (fishing), persistent unavailability of drinking water, no MGNREGA facility or any old age pension scheme
They await a 'good package' of Rs. 25 lakh for each family as a 'Relief and Rehabilitation' scheme before they hand over their lands
Another view
"Vaddu, nuclear plant vaddu, Kovvada maku muddu (No, we don't want nuclear plant, we love our Kovvada)" is a slogan one hears on the beach.
The 560 acres of coconut plantation is expected to be lost if the nuclear plant comes in the vicinity.
Some people are doubting the officials who assure them best monetary package, when their real concern is the information they have got about radiation effects that cause serious damages to human, animal and environmental health.
Also, government's promise of employment opportunities is looked at with scepticism. When graduates from their villages did not get job assurance from NPCIL or villagers themselves found that they will be end up as coolies during the construction work and will be out of employment once the plant is constructed, they doubt if the development and prosperity is for them.
Land Acquisition
Plans to acquire 2000 acres of land- some fallow, some fertile- in Kovvada and abutting areas (Pedda and Chinna Kovvada, Tekkali, Ramachandrapuram and Kotapalem)
This is expected to displace 3000 families
Government's rule: the state government has declared ban on land registration

In simple terms, no one can buy or sell lands, use it as collaterals to raise loan for health emergencies or marriages.

Indirectly, the state government expects the people to leave the place themselves as they cannot live in such areas, with such rules.
NPCIL has completed the survey of 1200 acres of government land after the project was proposed four years ago
As per government, a big part of land is illegally occupied by the big landowners and landless. This has encouraged government for a speedier process
However, there are holes in private land survey done by Revenue Department officials where the farmers have alleged under-measurement of their land to reduce compensation amount.
Astonishingly, the state government says that it has no role in deciding anything relating to such projects which come under the aegis of the Central government and NPCIL
As per a state government official, the Government of India has just asked the state government to look for nuclear plant sites in Nellore and Prakasam districts
US will build nuclear plant at Kovvada, Russia is expected in Nellore/Prakasam.
Where is safety?
Vicinity of plant

Kovvada and surrounding villages have many families living within the 'exclusion' zone, i.e. the immediate vicinity of the nuclear plant upto 1.5km from the project site where no one is expected to live.
There are 42 villages in the 'sterilised' zone, upto 5 km where no development should take place.
In the 'emergency' zone which is upto 16km, there are 66 villages

Safety from nuclear issue is debatable as

Neither India has experience in handling new generation reactors- whether GE-Hitachi's Economic simplified boiling water reactor or Westinghouse's AP1000
Nor an independent and strong regulatory mechanism
The Atomic Regulatory Board works like an arm of DAE

Another issue is of Indian Civil Nuclear Liability law which has a low liability cap
The liability for Kovvada is put at Rs. 1600 crore for a plant whereas its cost is whopping Rs. 4 lakh crore!!
Report findings
A US based institute called- Energy Economics and Financial Analysis revealed that GE-Hitachi and Westinghouse nuclear reactors were neither cost effective nor power efficient along with a huge risk factor.

The first units of six nuclear reactors are not expected to produce electricity for the grid before 2031

Indian Institute of Chemical Technology has estimated that tariffs for electricity in Kovvada will be very high

First year tariffs will be in range of Rs. 19.8 to Rs. 32.77per KwH
Thus, it needs to be understood if it is worth to spend crores on nuclear power whose share is just 0.58% in primary energy demand of India
NPCIL
When state government is acting in an unfriendly manner with ban on land registration, the NPCIL is making all efforts to encourage people to accept the RR package which it calls 'the best package ever'.
It has deposited the first tranche of Rs.359 crore of the Rs.1,000 crore it has earmarked as relief and rehabilitation (R&R) package with the Srikakulam District Collector.
NPCIL officers believe that local people will cooperate once they get the assured monetary reliefs.
On safety
The new age reactors require less land
The reactors have latest Generation-III plus pressurised water type which automatically shuts down in case of an accident or an earthquake above 7.2 magnitude.
Once the reactors shut down, they cooling takes place on its own in the fortnight. Human intervention is required after that only.
Survey support
National Geophysical Research Institute has conducted study which classified Kovvada as low vulnerability of zone 2
Conclusion
Too much haste?
Former Union Energy Secretary has expressed displeasure over showing such rush in building the nuclear plant in Kovvada

There has been no scientific bases on which the site is chosen.
Intense seismic activity was recorded by the Department of Atomic Energy's own agencies
Four fault lines run through the region
It is also a cyclone affected area

Yet, the site has been selected for building the nuclear plant. With such plans, Fukushima disaster can't be ruled out
Exposure to radiations can lead to genetic disorders and cancer. The sufferings can last till generations. And more importantly, though some people knew, most of them were not made aware fully of such critical information
Chernobyl disaster: A WHO report mapping the impact of disaster after two decades mentioned

Increased incidence of thyroid cancer
Doubling of leukaemia
Radiation cataract
Mental health issues

Though Social Impact Assessment has been on the agenda, the environmental clearance for the project is yet to be sought.
20000 people are estimated to be displaced which belong to agriculture and fishing families, affecting a total population of more than 6 lakhs.
What remains to be seen is if people will succumb to the temporary monetary bait or fight for their human rights.
Connecting the dots:
Nuclear reactors are yet to find acceptance in the minds of people, especially after post Fukushima disaster. Is nuclear energy a feasible option for high energy demanding and consuming India?
MUST READ
Dengue should be prevented and not merely tackled when the epidemic sets in
India and Pakistan must recognise the role of trade in bringing them closer
The limits of vengeance
A flawed approach to managing water
For a dedicated peer group, Motivation & Quick updates, Join our official telegram channel – https://t.me/IASbabaOfficialAccount
Subscribe to our YouTube Channel HERE to watch Explainer Videos, Strategy Sessions, Toppers Talks & many more…