IASbaba's Daily Current Affairs – 10th November, 2016
INTERNATIONAL
TOPIC: General Studies 2

Effect of policies and politics of developed and developing countries on India's interests, Indian Diaspora
Bilateral, regional and global groupings and agreements involving India and/or affecting India's interests
India-UK Relations – Visit by the British Prime Minister
Background
India and the United Kingdom share close and friendly ties. It is a relationship between the largest and the oldest democracy in the world. Highlights of this relationship have been the following:
The bilateral relationship between the two nations was upgraded to a strategic partnership in 2004 and further in 2010 the foundation for Enhanced Partnership for the Future was laid.
Prime Minister Narendra Modi's visit to UK in November 2015 took the relationship to new heights.
The two Prime Ministers endorsed a Vision Statement.
Both Prime Ministers resolved to hold biennial PM-level Summits to advance the partnership.
They agreed on a new Defence and International Security Partnership aimed to intensify cooperation on defence and security, including cyber security, counter-terrorism and maritime security.
They also endorsed a Joint Statement on Energy and Climate Change.
They issued a Statement of Intent to scale up bilateral cooperation to a global partnership for development cooperation in third countries.
India is the 3rd largest source of investment in India
UK is the largest source of Foreign Direct Investment (FDI) in India
India and UK have already signed the civil nuclear agreement
UK is participating in India's Smart City Mission
Indian Inc. forms one of the most important and influential segment in UK with names such as Jaguar of Tata Motors.
UK is home to almost 90,000 Indian students.
News: Prime Minister Theresa May has visited India on her first bilateral trip outside Europe since Britain voted to quit the European Union. The potential of this partnership has been described as limitless.
Why India
Search of new markets post the EU exit.
Trade opportunities with India which is one of the world's fastest growing economies.
Areas of Cooperation
Visa Regime
Indian business men have been offered access to UK's registered traveller scheme.
Indian government will be the first in the world to nominate top business executives for the specialised fast-track visa and immigration service launched in 2013.
Preferential visas however are not being offered to the students and IT professionals.
India's concern is the segment of population who would be asked to return to India.
UK concern should be to address the skill gap by allowing flexible visa policies for this category.
India will have one of the best UK visa services of any country in the world.
They will have access to more application points and will be the only place where one can get a same day visa.
Terrorism
Condemned the Uri attack and emphasised on cross border terrorism.
Issued a joint statement to purposefully work together to combat radicalism, terrorism.
Support for strong action by international community in a joint manner.
Ensure sharing of best practices to tackle the use of internet for spreading radical propaganda and online recruitment.
Strong measures against those who finance, support and encourage terrorism and provide a breeding ground to terrorism.
Defence
The Defence Consultative Group (DCG) has been tasked to advance the bilateral defence cooperation agenda.
Build upon UK's proposals for partnerships, through activities including military to military cooperation, training, and exchange of subject matter experts, research and technology linkages as well as defence manufacturing.
British companies should look at multiple opportunities in the Indian defence sector.
Other than trade in defence equipment India UK should  build partnerships with Indian companies to focus on manufacturing, technology transfer and co-development.
Legal Cooperation
Both the nations have shown strong commitment to enhance cooperation under the Mutual Legal Assistance Treaty and agreed that fugitives and criminals should not be allowed to escape the law.
India and UK have signed a Memorandum of Understanding (MoU) to establish bilateral cooperation activities in the field of Intellectual Property to promote innovation, creativity and economic growth in both countries.
The MoU helps in establishing a broad and flexible framework for:
Exchange of best practices,
cooperation on training programs,
technical exchanges to raise awareness on intellectual property rights (IPR), and
better protection of IPR
Science and Technology
'Make in India' will be a key aspect in the cooperation in science and technology.
Science, technology and innovation have a significant role especially to boost entrepreneurship.
India-UK clean energy Research and Development centre has been announced and it would be set up with a 10 million pound investment corpus.
UK will invest Indian start-ups and also contribute for a Start-Up India Venture Capital Fund.
 Analysis
The British Prime Minister, due to domestic politics, has assumed office on an anti-immigration and anti-free trade mandate and hence she could not adopt a tough stance on visas.
By allowing preferential visas to High Net-worth Individuals (HNI) only, UK has missed an opportunity to bridge its own skill gap.
The immigration issues should not be allowed to hamper relations in other areas since UK needs to realise the potential of India as a partner in post EU exit era.
India UK goods trade is not of high volumes as the services and investment. Hence, India would like to enhance merchandise trade since it does not have to go through the EU bureaucracy now.
Britain needs to be clear and show willingness to explore the possibility of a preferential or a free trade agreement.
Connecting the dots
Critically analyse the India UK relationship in the recent past giving due attention to the hurdles in the path of a fruitful partnership. Also highlight India's importance for UK in the post EU exit scenario.
ENVIRONMENT
TOPIC: General Studies 3

Environmental pollution and degradation
Major crops cropping patterns in various parts of the country, different types of irrigation and irrigation systems storage
Delhi pollution linked to crop burning- Truth and way forward
After few days of Diwali, NCR remained under a thick blanket of fog which led to poor visibility. Deteriorating air quality has already ushered in anger amongst the residents. However, this time, apart from firecracker pollution, it has been found that burning of crop stubble is considerably impacting the pollution levels.
Delhi has registered its worst air quality in recent times which has prompted it to call 'gas chamber'.
Pollution in different parts of the capital has touched hazardous levels with potentially serious health effects on people, especially on children, the elderly and physically vulnerable people.
The case of crop burning
It has been often pointed out that paddy stubble burning in Haryana and Punjab is a major reason for affecting air quality in Delhi during the onset of winter.
Stubble burning is a common practice followed by farmers in these States to prepare the field for sowing of wheat in November as there is little time left between the harvesting of paddy and sowing of wheat.
Reasons: burning stubble is convenient, cheap and pragmatic solution to get rid of it. Unlike the wheat stalk, which is used to make cattle fodder, the paddy stalk is of inferior quality and is of practically no use. So, the farmers cut it and set it afire
This practice is followed every year and thus despite some efforts by the State governments to prevent it, the problem of air quality getting affected in Delhi during October-November recurs.
Hence, it is important to diagnose and address the fundamental problems that force the farmers to burn the paddy straw on the field and not utilise it for any productive purpose.
Rice and Wheat rotation
Being agriculturally progressive States, almost all farmers in Punjab and Haryana grow high-yield varieties of rice and wheat.
Historically, rice was not a major crop grown in Punjab and Haryana. In Punjab, rice accounted for only 7.6% of the total cropped area during 1970-1973. This increased to 36% during 2011-13.
In Haryana, paddy area increased from 5.6% to 19% during the same period.
Reasons: Extensive development of irrigation, assured price (MSP) and secured market (government procurement) have induced farmers to grow paddy and expand the area of cultivation considerably over time.
Consequently, farmers in this traditionally wheat-growing belt started cultivating rice and wheat in rotation year after year. But, various studies have shown that the rice-wheat rotation has put land and other resources under severe strain like

Depletion of soil nutrients
Decline in water table
Build-up of pests and diseases
Micronutrient deficiency

Also, the State governments' initiatives to push crop diversification as a strategy to overcome these problems have not convinced farmers to break the rice-wheat rotation.
Use of machines for harvesting has serious implications for crop residue management at the farm level. The combine harvester cuts the crop well above the ground, leaving behind substantial amount of stubble on the field. The machine leaves the residues in such a state that it is difficult to collect them manually.
As a matter of fact, field studies have shown that even though farmers are aware that the burning of straw is harmful to health, they do not have alternatives for utilising them effectively.
Hence, there is a need to solve the air pollution problem by finding sustainable technological solutions that can help farmers and simultaneously allow everyone to breathe clean air.
Way forward
Biomass production
Biomass provides safe and reliable energy.
The available paddy straw can be effectively used for power generation, which will go a long way towards overcoming the problem of disposal of crop residues and power deficit in the region.
As per Ministry of New and Renewable Energy, Punjab and Haryana have not made much progress in creating biomass-based power generation plants as compared to States such as Maharashtra, Uttar Pradesh, Karnataka and Tamil Nadu.
Thus, there is great potential for making investments in paddy straw-based power plants which can help avoid stubble burning to a large extent and also create employment opportunities.
Such a method can improve soil moisture and help activate the growth of soil microorganisms for better plant growth.
However, suitable machinery for collection, chopping and in situ incorporation of straw is required.
For this, initiatives can also be made to convert the removed residues into enriched organic manure through composting.
Arhar production
In the Subramanian Committee report on pulses, the possibilities created by a new variety of arhar (pigeon pea) developed by Indian Agricultural Research Institute (IARI) were discussed.
This variety (Pusa Arhar16) has the potential to be grown in the paddy-growing regions of Punjab, Haryana and Uttar Pradesh and eventually in all of India.
Its yield (about 2000 kg/hectare) will be significantly greater than those of the existing varieties and because its size will be uniform, it will be amenable to mechanical harvesting, an attractive feature for farmers in northern India who currently use this technology for paddy.
Most important, arhar straw, unlike paddy straw, is green and can be ploughed back into the soil. In paddy straw, the problem is the high silica content, which does not allow for easy decomposition.
There will be other social benefits of replacing paddy with arhar. They will use ess fertiliser, less water, and fewer emission and in addition will replenish the soil with nitrogen.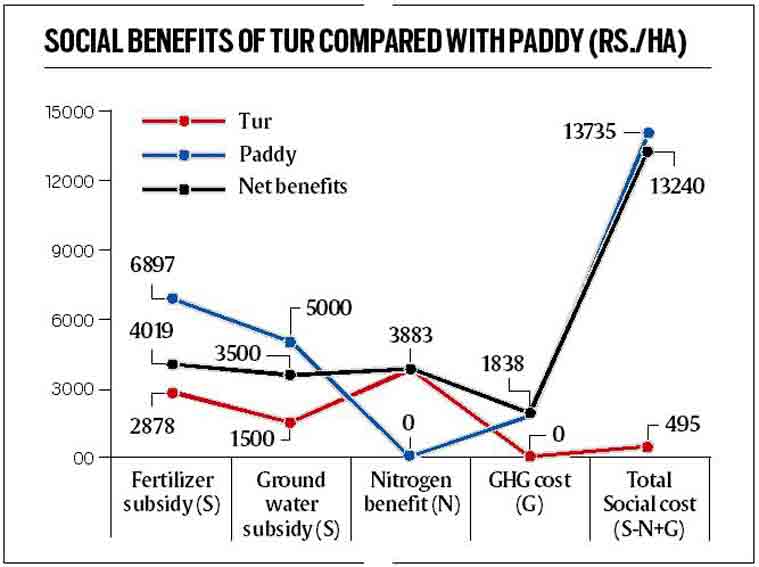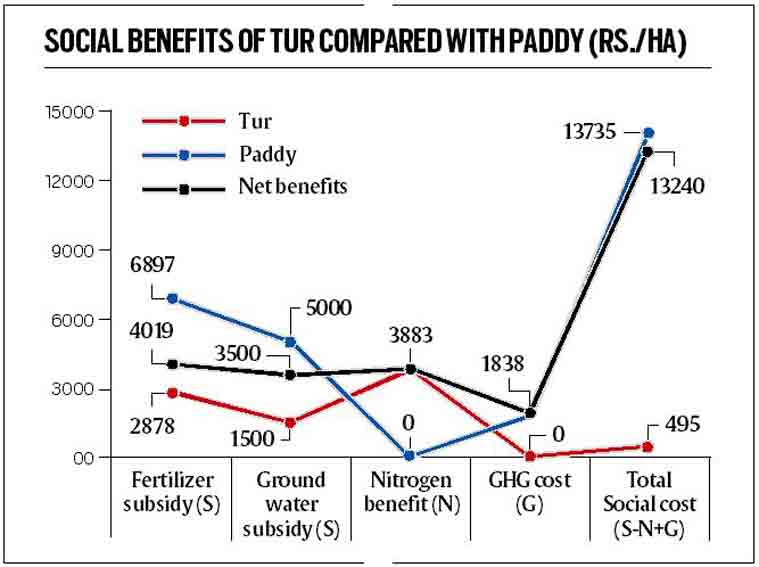 Picture Credit: http://images.indianexpress.com/2016/11/social.jpg
Other options
Paddy straw can generate new opportunities for industrial use — such as extraction of yeast protein — by exploring scientific research.
Development of new rice varieties that are both rich in grain yield and high in straw quality. This will help to maintain food security, farm income and improve environmental sustainability.
Connecting the dots:
Growing air pollution in Delhi is not only due to vehicular pollution. Examine.
MUST READ
Demonetisation- A method in the shock therapy
Related article:
Demonetisation- Reasons and effects
Start from the top
United States of discontent
Grassroots change: A Bamboo Revolution
Educators and their epistemic responsibility
Getting a fix on privately held food stocks
For a dedicated peer group, Motivation & Quick updates, Join our official telegram channel – https://t.me/IASbabaOfficialAccount
Subscribe to our YouTube Channel HERE to watch Explainer Videos, Strategy Sessions, Toppers Talks & many more…