IASbaba's Daily Current Affairs – 18th November, 2016
NATIONAL
TOPIC: General Studies 2

Government policies and interventions for development in various sectors and issues arising out of their design and implementation.
Salient features of the Representation of People's Act.
Electoral financial reforms need to follow demonetisation
The Centre for Media Studies in 2014 estimated that aggregate cost of the central and state elections was just under $5 billion. This would have been the second most expensive election season ever after the 2012 US presidential campaign.
However, the vast majority of the funds was off the books and above legal spending caps.
Election finance — the "money power" euphemism has restrained the Indian political system for decades. But with the recent currency swap can have an impact on the upcoming state elections and disrupt the functioning of 'money power', especially in the crucial Uttar Pradesh Poll.
But there are two limitations in this

The extent of disruption is debatable. As per a former CEC, there are many innovative ways in which political parties funnel undocumented cash into elections (bundles of saris and dhotis and hundreds of gas stoves). Hence it would be naïve to imagine that they will be entirely unable to adapt to the current situation.
Election finance is entwined in India's parallel economy which interlocks with various industries and sectors such as real estate. It might bring about temporarily purge in some industries but it cannot permanently alter the dynamics of the shadow economy.
Addressing the electoral problems
The purity of the electoral process requires a multi-pronged approach, which includes removing the influence of money and criminal elements in politics, expediting the disposal of election petitions, introducing internal democracy and financial transparency in the functioning of the political parties, strengthening ECI and regulating opinion polls and paid news.
Many previous attempts have been made to address the election finance problem- Goswami Committee on Electoral Reforms (1990), Election Commission of India's (ECI) 2004 report Proposed Electoral Reforms and 2nd ARC's report in 2008.
However, as expected, none of their recommendations have resulted in legislative action.
There is lack of political incentive and will as well as a dubious premise of limiting expenditure of the candidate. Today, the per-candidate spending caps is Rs. 54-70 lakh for Parliamentary constituencies and Rs. 20-28 lakh for assembly constituencies!
The size and diversity of Indian electorate also makes substantial cash expenditures an inevitability.
Why the need of electoral reforms?
Money influence– financial superiority translates into electoral advantage, and so richer candidates and parties have a greater chance of winning elections.
Expenditure limits– There is need for equality and equal footing between richer and poorer candidates. Hence, there should be expenditure limits so that no individual or political party should be able to secure an advantage over others by reason of its superior financial strength.
Black money presence– there is wide prevalence of black money and corruption which helps candidates fund their campaigns. It has been observed by SC that The sources of some of the election funds are believed to be unaccounted criminal money in return for protection, unaccounted funds from business groups who expect a high return on this investment, kickbacks or commissions on contracts etc.
Too much lobbying– the current system tolerates, or at least does not prevent, lobbying and capture between big donors and political parties/candidates.
Institutional corruption– it is a more philosophical argument that large campaign donations, even when legal, amount to 'institutional corruption' which compromise the political morality norms of a republican democracy. Here, instead of direct exchange of money or favours, candidates alter their views and convictions in a way that attracts the most funding. This change of perception leads to an erosion of public trust, which in turn affects the quality of democratic engagement
Proposed electoral reforms
Electoral reforms often contain proposals for reforming election funding, and candidate and party expenditure. It includes limits on political contributions and party and candidate expenditure, disclosure norms and requirements and State funding of elections.
As per 255th Law Commission report, the legislative limits on expenditure will not solve the problem, especially without an alternative such as complete state funding, which is impossible given the economic conditions and developmental problems of the country.
Any reform in state funding should be preceded by reforms such as the decriminalisation of politics, the introduction of inner party democracy, electoral finance reform, transparency and audit mechanisms, and stricter implementation of anti-corruption laws so as to reduce the incentive to raise money and abuse power.
Hence, until the issue of these spending caps is revisited or totally abolished, it will be difficult to manage election finance with sincerity and sanity. This reform will have greater transparency on the part of political parties.
The Representation of the People Act mandating that only contributions above Rs. 20,000 need to be disclosed to the ECI had a loophole. Thus, a political party can declare that it hasn't received any donations above Rs. 20,000.
The Association of Democratic Reforms has found that only 9% of parties' funding comes from donations over Rs. 20,000.
To close this loophole, the law commission has suggested that such funding should be accompanied by broadening and enforcing disclosure norms.
However, ECI's disclosure guidelines have no statutory authority; nor are there legal consequences for non-compliance. And thus, when parties and candidates do file returns with the ECI, they are not posted online for public access.
The individual candidates should now maintain an account of the contributions received by them from their political party (not in cash) or any other permissible donor. Similarly, each recognised political party shall maintain accounts clearly and fully disclosing all the amounts received by it and clearly and fully disclosing the expenditure incurred by it.
However, the political parties are yet not willing to disclose their funding sources which is represented from the chart below: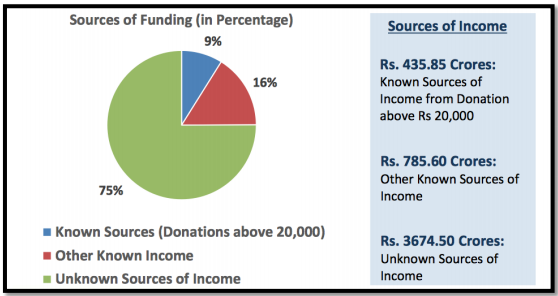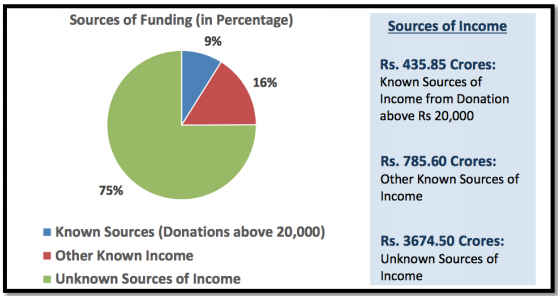 Picture Credit: http://lawcommissionofindia.nic.in/reports/Report255.pdf
Conclusion
Now, there is a need for wide-ranging electoral reforms that should be introduced along with will in the political parties that they shall police themselves. Unless this is done, the shake-up caused by the currency swap will have not much impact in regulating the electoral finance in upcoming elections.
Connecting the dots:
Why are electoral financial reforms needed? Critically analyse its implementation prospects.
Demonetisation followed by electoral finance reform will lead to beginning of end of parallel economy. Do you agree? Examine.
INTERNATIONAL
TOPIC: General Studies 2

Bilateral, regional and global groupings and agreements involving India and/or affecting India's interests
Effect of policies and politics of developed and developing countries on India's interests, Indian diaspora.
India Nepal Relationship
President Pranab Mukherjee's visit to Nepal is a first in 18 years ever since the visit by President K R Narayanan in 1998. This visit is expected to help in restoring equilibrium in ties between both the nations which have seen certain instability in recent times.
As close neighbours, India and Nepal share a unique relationship of friendship and cooperation characterized by open borders and deep-rooted people-to-people contacts of kinship and culture.
History
India has a huge, open and accessible border with Nepal which has helped in easy movement of goods and people. However, the same has also added to stress between the nations recently.
Both nations share cultural and traditional interests which has always given the ties a boost.
In July 1950, India Nepal signed a Treaty of Peace and Friendship which had the following components:
Addressing security concerns
Socio-Cultural and economic interaction
Open border and movement of people
India has been a regular supplier of defence equipment to Nepal and contributed towards modernisation of the Nepalese military.
Both nations have mutually agreed on equality to respective nationals with respect to residence, property and trade and commerce.
In 1960 the relations between India Nepal had turned bitter for a while as China was continuously making attempts to bring Nepal closer to itself. However, normalcy was restored in 1965 when India provided support to Nepal in training and modernisation.
India Nepal also signed the Treaty of Trade and Transit in 1977 to ease transit and encourage trade through exemptions and relief of duties.
Other areas which have increased cooperation between both the nations have been SAARC, open border regime and integrated development of river projects.
Recent assistance and support provided by India for relief and rehabilitation after the Nepal Earthquake.
 Constitutional Crisis and misunderstandings with India
Nepal, after seven years of struggle, drafted a constitution in 2015. Nepal's new constitution defines the majority Hindu nation as a secular republic divided into seven federal provinces. The Madhesis have had concerns regarding the new constitution and feel that the process was completed in a hurry.
The issues in the constitution led to unrest and agitations in the Terai region. The violence in this region has been India's concern as Terai region lies along the border of India and Nepal.
India also raised concern about Madhesi interests not being addressed in the new constitution. The Oli government hardly made efforts to engage in a dialogue with the Madhesis and blamed India for imposing an economic blockade to pressurise the government to accept Madhesi demands.
As a result, an anti-Indian sentiment had been created and Prime Minister Oli's government also collapsed.
Damage Control by Nepal
Pushpa Kamal Dahal Prachanda has now taken over the government for a period of nine months after which the Maoists and National Congress (NC) will form a coalition government.
Bilateral visits are being used as a tool to restore the relations. Mr. Prachanda made a successful bilateral visit in September and Nepal President Bidhya Devi Bhandari is expected to visit India in coming times.
Takings from the Presidential Visit
President Pranab Mukherjee has highlighted that Nepal needs to complete the political transition and to ensure efficient working of a multiparty democracy all sections need to be brought together for the new constitution to succeed.
India and Nepal are cultural partners with historic, spiritual and civilisational links between the people.
Due to cultural links as well sharing open and accessible borders both nations have a vital stake in each other's well-being and security.
The Gurkhas have been a very important part of the India Army and their importance in the Army and this relationship can never be undermined.
India has numerous welfare schemes covering solar electrification and drinking water supply to ex-servicemen's villages, medical care and provision of ambulances to their associations, and education and scholarships for their children.
The Nepali citizens can easily find employment in India due to the 1950 Treaty of Peace and Friendship between both nations.
India has also addressed the long standing requests of Nepal for renovating the ghats along the Bagmati River and construction of two dharamsalas adjoining the Janaki Mandir in Janakpur.
Nepali students will now be eligible to sit for the entrance examinations for the IITs and the additional scholarships for postgraduate studies in water resources management and hydel power at IIT, Roorkee.
Domestic Challenges 
The interim government under Mr. Prachanda faces a lot of challenges on various contentious issues and there is a need to ensure a high degree of political consensus. NC and the Maoists do not have complete agreement between themselves.  Even the Madhesi groups do not have a unified negotiating position.
The government has only six months to ensure that the dialogue with the Madhesi groups makes some progress.
In absence of any progress in dialogue with the Madhesis, it will be very difficult for the government to have the local body elections.
Madhesis are yet to agree on the issue pertaining to the number of parliamentary seats from the Terai where 'population' will be the main criteria in delimiting electoral constituencies
Issues pertaining to provincial demarcation, restrictions on appointment to high-level constitutional positions for naturalised citizens, status of Hindi and other languages and composition of the upper house are still pending.
Oli is not willing to compromise and this is a major difficulty to get the two-thirds majority necessary for a constitutional amendment.
Analysis
The bilateral visits by both the nations are proving to be very helpful in restoring the ties to normal. Mr. Prachanda made two consecutive visits in the recent past which included a visit to Goa for the BRICS-BIMSTEC outreach summit. This has helped stabilise India-Nepal relations.
Mr. Prachanda needs to use this political space and relationship to build up on this stability between the nations. Domestically, he has to use his negotiating skills to make progress on the pending constitutional issues during the remaining part of his short tenure. However, one thing has to be kept in mind that time is definitely not on the Prime Minister's side.
Both the nations need to work hard to remove the trust deficit that has created a gap in the relationship. Nepal has to ensure that the anti-India sentiment within the country does not grow further. India has an important role to play during this period of transition for Nepal, not as superior counterpart, but as an ally that stands with the spirit of this new republic.
Connecting the dots
Highlight the challenges that Nepal faces domestically since the drafting of its constitution. Also discuss how India Nepal relationship can be improved in the light of the provisions and the challenges posed by the new constitution.
MUST READ
A chance to recalibrate ties
Time to move towards a new litigation policy
Navigating the Cauvery
Global warming a matter of urgent priority
Here comes the sun
Consequences of the demonetisation shock
Bimaru states see steep fall in fertility rates over last 15 years
Of warfare, tech and innovation
With TPP dead, India must tread trade waters cautiously
For a dedicated peer group, Motivation & Quick updates, Join our official telegram channel – https://t.me/IASbabaOfficialAccount
Subscribe to our YouTube Channel HERE to watch Explainer Videos, Strategy Sessions, Toppers Talks & many more…