IASbaba's Daily Current Affairs – 4th November, 2016
NATIONAL
TOPIC:
General Studies 2
Government policies and interventions for development in various sectors and issues arising out of their design and implementation.
General Studies 3
Inclusive growth and issues arising from it.
Issues related to direct and indirect farm subsidies
Agricultural reforms- Now is the time
It's been over a year since reports of NITI Ayog's upcoming wide-ranging reform package for India's farm sector have been making rounds.
Intermittently, there are news hinting at the Centre's plans of liberalising rules governing tenancy, contract farming, agri-marketing or even forestry.
However, it is difficult to ascertain from previous experience that any big bang reforms in agriculture should not be expected.
This brings to the notice that the present government shall be completing half tenure of their incumbency in November 2016 and yet no significant initiation of agricultural reforms may not be helpful for them in next general election if no meaningful announcement is done in next 3-4 months.
Not learning from mistakes
From what is known from those with some knowledge of the developments and thinking taking place at the top, the current agricultural reform moves seem to be making the same mistakes that marred similar earlier well-meaning attempts.
These are

Delhi-centric nature of ongoing consultations/discussions
One-size-fits-all approach
Preaching to states what they need to do
Centralised approach
Agriculture is a 'State' subject, and yet it is astonishing how conveniently states continue to be ignored when it comes to involvement in the process of agricultural policymaking or reforms.
Every major step taken by the Centre — land reform agenda of 1950s, adoption of green revolution technologies in the following two decades, farm loan waivers, curbs on agricultural exports or to push to delist fruits & vegetables from the Agricultural Produce Market Committee (APMC) regulations — has been decided in a unilateral manner in New Delhi.
The states have to accept the decisions without being a party in the policy making process of a 'subject; that is implemented by them and which also affects them the most.
As the states have no choice other than to accept the centre's order, they proceed to deal with (or not) in accordance with the political economy peculiar to their regions.
Hence, this clearly shows that lack of ownership by states is a primary reason for the failure of agricultural reforms. Yet, no one is learning from past mistakes.
The misplaced 'one size fits all' approach
This approach is an affliction originating from the partial success experienced by policy makers and scientists in implementing the Green Revolution package.
The success was visible in well-endowed regions of north-western and east-coast southern India where the resource intensive package — use of high-yielding dwarf wheat and paddy varieties, large doses of fertilisers and pesticides and multiple irrigation methods — was utilised
This was however not replaced in the rainfed parts of central and western India.
The eastern region also lacked strong institutions like village cooperatives to disburse credit and inputs, extension systems and state agencies to procure the surplus grains from farmers.
Hence, this did not allow them to fully exploit the Green Revolution technologies, despite a much more favourable natural resource base, especially with regard to water.
This shows that the Green Revolution approach was clearly unsuited to the Northeastern and hill states, but they were still offered the same schemes for agricultural development as in the rest of India.
However, it took decades for the policy makers to shed their Green Revolution obsession and identify horticulture as the core competent field where these states have a natural growing advantage.
Not involving the states
The centre continues to make its own list of agricultural reforms which the states are expected to implement without protest.
Centre's unrequited passion for reform without consulting the concerned parties usually leads to collapse of well-identified intentions.
Centre's role
It's not as if the Centre cannot initiate reforms in agriculture.
In fact, in at least three major areas, the onus for leadership and action lies with the Centre.
Capital and credit
Provisioning of credit and capital. The centre and RBI can largely influence these with their policies
Situational Assessment Survey of Agricultural Households conducted in 2013 revealed that hardly 60% of India's farmers received institutional credit for cropping operations.
Small and marginal farmers who make up 86% of all agricultural households, the penetration of formal credit was an abysmal 15%.
Thus, this is one area which requires central intervention and has the potential to change the fortunes of households at the bottom of the agri pyramid.
Increased infrastructure investment
Though there has been pressure on states to loosen the stranglehold of APMCs, no incentives have really been offered to them.
Cities like Delhi and Mumbai have achieved delisting of fresh produce from compulsory APMC mandi trading. On the similar lines, the Centre can at least put up state-of-the-art, modern trading infrastructure.
This kind of public investment and incentives for creation of new mandis, including in the private sector, could help showcase a model which states may be attracted to emulate.
Direct cash transfer
Giving the boost to cash transfers at least to the weakest and most vulnerable farmers in rainfed areas and the northeastern/hill states before the onset of next kharif season.
This is possible only by centre as it has accepted the concept in principle.
Such result oriented actions will give the centre a significant leverage to take up the larger reform agenda with the states in the remaining part of this government's tenure.
Conclusion
The above three reforms have the potential to trigger a virtuous cycle of reforms.
These can be followed by creation of a Council on Agriculture hosted by the Centre which can be on lines of GST Council where all states are represented and thus serve as a platform for developing locally relevant reform agendas.
Patient deliberation and long-term engagement can bring centre and states on one table to discuss and decide on significant agricultural reforms which is extremely essential now.
Connecting the dots:
Agricultural reforms need to see the light of the day. Discuss.
Cooperative federalism should be one of the basic principle while addressing agricultural issues. Comment.
Related articles:
Farmers can lean on LIN- A solution for doubling farm income
Partnership approach to double the farm income
INTERNATIONAL
TOPIC: General Studies 2

Bilateral, regional and global groupings and agreements involving India and/or affecting India's interests
Effect of policies and politics of developed and developing countries on India's interests, Indian Diaspora
RCEP – An Agreement marred by disagreements and divergence
What is RCEP?
Regional Comprehensive Economic Partnership (RCEP) is a mega-regional trade deal that covers half of the world's population, 38% of the world economy and nearly 30% of the world's trade volume. The 16-nation RCEP negotiations formally began in 2013 comprised of the 10 ASEAN Member states at its core along with 6 of its major trading partners (China, Japan, Australia, New Zealand, South Korea, and India).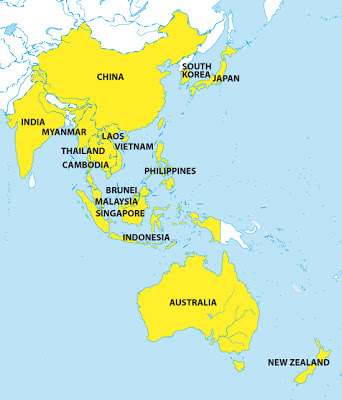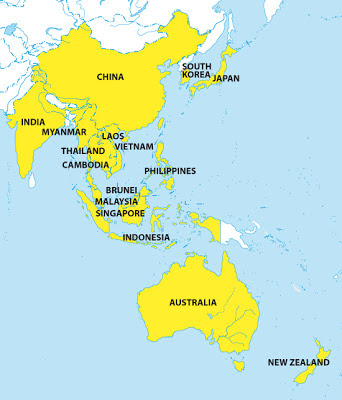 Picture credit: http://www.thegeotradeblog.com/2012/11/a-new-regional-comprehensive-economic.html
Trade ministers of the above mentioned countries were scheduled to meet on November 3-4 at Cebu, Philippines to take forward the negotiations. Initially, 2016 was the target year for conclusion of negotiations to finalise the terms of RCEP. However, RCEP negotiations are unlikely to be concluded by this year-end due to the existing challenges / hurdles.
Impact of RCEP
Cover a market of over three billion people in the member countries accounting for a total GDP share of more than $17 trillion and 40 per cent of world trade
Objectives of RCEP
Open up trade in goods and services.
Liberalise and encourage cross border investment.
Integrate markets and provide improved access to markets.
Promote regional economic and technical cooperation.
Global economic growth and development.
Counter to the Trans Pacific Partnership (TPP).
Challenges
Lack of reciprocity from China: All nations are concerned about agreeing to give greater market access to Chinese goods without gaining similarly in return.
Complete tariff elimination: Elimination of tariffs altogether will majorly help China.
Dumping by China: Fears of China dumping its excess capacity in items such as steel and other highly subsidised items. This move could also harm the local industry in the importing countries and lead to trade distortion.
Goods and service imbalance: The progress in talks to liberalise services trade is much slower than talks on liberalising goods trade.
India's interest in service sector: Greater market access in services is of interest to India as it is a leading services supplier. ASEAN countries led by Singapore have opposed India's push for greater thrust on services whether relating to cross border trade, consumption abroad, commercial presence of a service supplier and temporary movement of skilled workers overseas for work.
Automatic investment approval: Negotiating members have expressed concerns over New Zealand's refusal to provide automatic approval in the future for investments up to NZD 100 million, which is the current ceiling there for clearance without government approval.
Overcoming Obstacles
India's two tier system for China's goods: India could propose a two-tier system on goods specifically for China. This proposal on China will include:
A larger negative list (goods that will be protected from tariff cuts), and
A longer time-frame for reducing / eliminating tariffs on the remaining goods.
Single undertaking: According to this principle, each aspect of the negotiation, whether goods, services and investment, will be treated as one indivisible package and cannot be agreed upon separately. There is likelihood that an agreement explicitly incorporating the principle of 'Single Undertaking' could be included in the final ministerial declaration. This principle is important for India due to apprehensions regarding the slow pace of negotiation on opening up services.
Separate bilateral negotiations: Owing to various disputes such as that on services, countries such as India and Singapore will hold separate bilateral talks to iron out differences.
Investor-State Dispute Settlement clauses: All members are in agreement over avoiding Investor-State Dispute Settlement clauses. This is to avoid private investors to easily drag governments to international arbitration tribunals and claim huge amounts as compensation for any losses they suffer including due to policy changes.
Conclusion
With the finalisation of RCEP agreement still hanging in mid air and the future uncertain, it is difficult to evaluate the benefits it is likely to bring. Given the sheer size of the trade flows between its members even rudimentary tariff elimination would increase efficiency considerably. However, it is upon member nations to cooperate and converge to ensure that RCEP does not merely remain a tool to exhibit opposition to the TPP without any significant material gains.
Connecting the dots
RCEP is ending up as a symbol of chaos among nations rather than cooperation and convergence. Critically analyse
MUST READ
Citizenship on a divisive agenda
How to balance our gigs
The quality of justice
Faith And Its Limits
Cleaning up India's air pollution problem
Securing public-public coordination
Is Indian pharma breeding superbugs?
Habitat III: Mainstreaming gender issues
Addressing energy poverty in India
For a dedicated peer group, Motivation & Quick updates, Join our official telegram channel – https://t.me/IASbabaOfficialAccount
Subscribe to our YouTube Channel HERE to watch Explainer Videos, Strategy Sessions, Toppers Talks & many more…