Rafale Deal
Search 23rd September here http://www.newsonair.com/Main_Audio_Bulletins_Search.aspx
TOPIC: General Studies 2

Government policies and interventions for development in various sectors and issues arising out of their design and implementation.
After a long time since the purchase of Sukhois from Russia in the late 90's, a new deal for 36 combat aircrafts has been singed in an Inter-Governmental Agreement (IGA) between India and France. It is a spearhead for the new generation power of the Indian Air Force.
The competition for the Medium Multi-Role Combat Aircraft (MMRCA) under which this aircraft was first selected was scrapped. But the government chose the same aircraft which Indian Air Force chose.
This is a breather for the Indian Air Force as it is facing depleting fighter strength. Now arises a situation where India needs traditional combat aircraft and need them in hurry. This is because the squadron strength is down to 33 squadrons. It needs to be built around 42 squadrons as it is the committed squadron stand.
Indigenous efforts on Tejas is moving but it is going very slowly and to acquire 100-200 aircrafts will take long time. Hence, there was a need for IAF to look for another type of aircraft.
Rafale aircraft
Aircraft is an on-board package of avionics, electronic warfare and missile system that makes it potent. Rafale is most potent aircraft incorporating the best technology.
It is a twin-engine, multi-role fighter aircraft.
It is capable of carrying out all combat missions: air defence, interception, ground support, in-depth strikes, reconnaissance, anti-ship strikes and nuclear deterrence.
India has never attacked any country first but it has been attacked. In such times, this aircraft offers biggest advantage of stand-off capability. ELSA radar can enable the pilot to look 400 kms away too and thus gives long range precision strike capability.
Also, given the technological sophistication and the long range, the Rafales are expected to play a lead role as nuclear delivery platforms in India's second-strike capability, replacing the Mirage 2000 fighters.
This aircraft can stay within their own territory and take on a large number of targets of the adversaries in airspace, underground without even crossing the border.
Are 36 Rafales sufficient?
The initial contract was for 126 aircrafts. But got cut down to 36. Thus, it gives two squadrons of aircraft. But there is a clause for 18 more aircrafts also and it is hoped that as the time goes by, the air force will exercise that option to get the third squadron.
There exists a precedent for it too. The Mirage 2000 in 1985 were initially bought worth only two squadrons but later on the strength was augmented and raised the third squadron.
These two squadrons will be spearhead for the Indian Air Force formations. Generally they will be used for long range precision attack missions.
They can defend themselves while they are embarked on missions which take them deep into enemy territory.
The Rafale deal
The basic cost of the aircraft is about €91 million or about Rs. 680 crore and little over Rs.1600 crore per aircraft for the whole deal. As per the defence sources, the present agreement has many components, which are better that the original deal and the best part is the weapons package.
The weapons package includes Meteor radar guided Beyond Visual Range (BVR) missile considered the best in the class with range of over 150 km and Scalp long range air to ground missiles, with a range of 300 km, will help maintain the IAF's air superiority as they have no equivalents in the region.
During kargil war in 1999, Indian air force had a BVR capability of only 50 kms.
The deal includes the aircraft in fly-away condition, weapons, simulators, spares, maintenance, and Performance Based Logistics support for five years. (this means that 75% of the fleet will be airworthy at any given time.)
Dassault will begin aircraft deliveries after 36 months and complete in 67 months.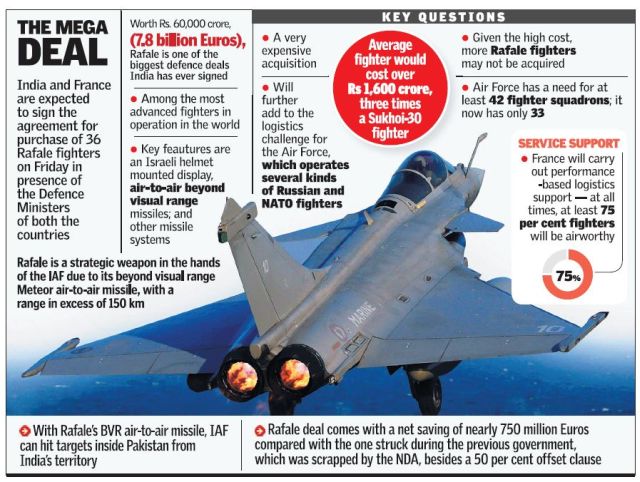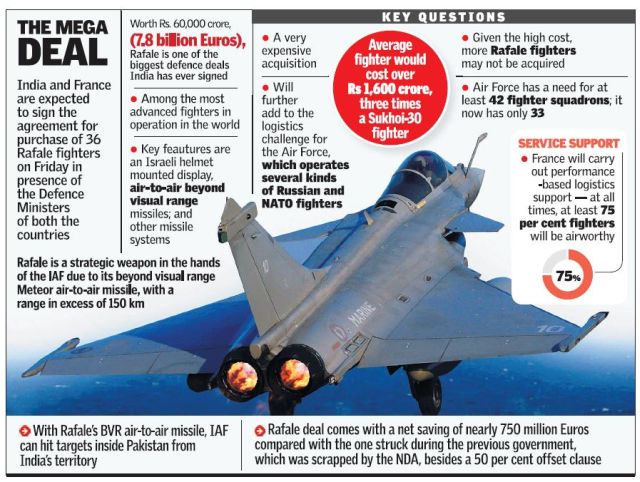 Picture credit: http://www.thehindu.com/multimedia/archive/03020/Rafale_deal_3020629a.jpg
Conclusion
The Mig series needs replacement as they are with IAF from 1970s-80s generation. The system also takes 7-8 years to acquire and replace the defence procurement and for various political reasons, there has been paralysis in last few years in this sector. Bofors deal in 1980s has inflicted sufferings on all wings of armed forces. However, this paralysis is being faded out slowly. Air force still needs 400 more aircrafts as they have to replace the Mig 21 and Mig 27. Over the few years, it will replace Mig 29 and Mirage 2000. (5-10 years of life left)
India's is now one of the most diverse air forces, with Western and Russian- origin aircraft with Indian and other systems incorporated in them. The IAF has been attempting to narrow the diversity to optimise utilisation and bring down the cost of operations.
In the years to come, the indigenously built Light Combat Aircraft Tejas and the Fifth Generation Fighter Aircraft from Russia will join the force, adding to the diversity. While the Rafale deal is a welcome step, it is high time India made procurements based on a long-term integrated plan.
New plans: The present government is pro-active in taking quick decision on filling the gaps of other 350 aircrafts. Now the government is planning for 200 aircrafts in a bid to upgrade military hardware and arrest a fall in operational strength.
However, the government has said that India is ready to the fighter planes from foreign manufacturers – as long as the jets are made in India and with a local partner.
Connecting the dots:
What is the importance of Rafale deal in developing India's combat capability? Discuss if it is possible to slowly replace import of defence equipment with indigenous technology.
For a dedicated peer group, Motivation & Quick updates, Join our official telegram channel – https://t.me/IASbabaOfficialAccount
Subscribe to our YouTube Channel HERE to watch Explainer Videos, Strategy Sessions, Toppers Talks & many more…