IASbaba's Daily Current Affairs – 22nd December 2016
SOCIAL ISSUES
TOPIC:
General Studies 1
Poverty and developmental issues
General Studies 2
Welfare schemes for vulnerable sections of the population by the Centre and States and the performance of these schemes 
Missing Children and Trafficking
Missing Children in India – Magnitude
Missing children is not a problem restricted to any specific state or part of India but has its arms spread all across. Various shocking numbers related to child related crimes are given below. This highlight the magnitude of this problem.
In India, one child goes missing every eight minutes.
Over 60,000 children go missing every year in the country.
In the past year, approximately 3,000 children have gone missing in the state of Uttar Pradesh alone.
Between 2013 and 2014, at least 67,000 children in India went missing out of which 45 percent were minors.
Missing Children – Causes
The number of missing children has been on a rise for a while now. The reasons for the same are as follows:
Laxity on the part of State governments in tracing missing children.
Lack of coordination between officials of various authorities such as the district administration, social welfare organizations, child welfare committee and the police.
Porous borders with countries such as Nepal, Bangladesh which account for a major share in the human trafficking including child trafficking.
Lack of effective legislations and penal measures to curb the problem by creating an effective deterrent.
Under reporting or no reporting of cases of children going missing. Kailash Satyarthi's NGO Bachpan Bachao Andolan has put the number of missing children as much as 10 times more than what is stated in their findings and research because the majority of trafficking victims are not included in missing cases.
Missing Children – Reporting and Tracking
As a result of the writ petition filed by Bachpan Bachao Andolan, the Supreme Court of India ordered State and Central governments to periodically submit compliance reports in the court relating to the status of missing children in their respective States.
The Ministry of Women and Child Development (MoWCD) has also set up a website, trackthemissingchild.gov.in. It contains information relating to missing children in each State, police stations in every State and the number of children missing and traced in real time.
gov.in was another portal launched in 2015 where information relating to missing children can be submitted.
Childline Services are also available on 24-hour toll-free number 1098 which is currently operating in more than 250 cities and districts. Various issues which are against child safety can be reported on this number.
In addition to the above measures, various informal methods can also be adopted for dealing with the issue. Images of missing children can be shared with social media, mobile phone applications in an attempt at increasing outreach and tracking them.
The setting up these portals and helplines are a very positive development but greater awareness, sensitisation and specialized manpower are needed to ensure that these measures provide best results in curbing the problem if missing children
Missing Children – Link with Human Trafficking
The National Crime Records Bureau (NCRB) has reported an increase in the incidents of human trafficking year on year. This is one area which needs urgent attention because of its connection with missing children. As per reports, at least 67,000 children in India went missing between 2013 and 2014 out of which 45 percent were minors who were victims of trafficking for prostitution.
Primary causes of trafficking include forced marriage, child labor, procuring of minors as domestic help and sexual exploitation thus providing a direct evidence of a connection between trafficking and missing children. Exclusion of missing cases from reporting of trafficking also leads to under-reporting of the problem of missing children. 
Missing Children – Need for Crisis Management
The reasons behind children going missing need to be identified through specialized studies, unique to different States because the reasons differ across the country. A key cause of children being kidnapped in one part of the country could be for use as domestic labor whereas in another part of the country could be for prostitution.
The rising menace of missing children of India and them becoming victims of trafficking is making international headlines.
There is a worrisome growth of trafficking syndicates in the country.
Way Forward
The draft Trafficking in Persons (Prevention, Protection, and Rehabilitation) Bill, 2016, which seeks to address loopholes in the legal system, impose stronger penal measures and address issues of rehabilitation needs to be taken up in the Parliament very soon.
Strong, well-coordinated platforms are needed to deal with the problem of missing children.
Sound rehabilitation measures need to be in place for the well-being and protection of rescued children who have been victims of violence.
Connecting the dots:
India is witnessing a constant increase in the cases of missing children and child trafficking. Highlight the reasons for this growing number even though various policy measures have been taken to check this problem. Suggest a strategy handles this issue, highlighting the steps taken by the government to check the problem.
NATIONAL/HEALTH
TOPIC: General Studies 2

Issues relating to development and management of Social Sector/Services relating to Health
Government policies and interventions for development in various sectors and issues arising out of their design and implementation.
Reforming healthcare in India
India is the third-largest economy in the world, with annual spending of over Rs. 6 trillion on healthcare on its 1.3 billion population. Currently, it represents a USD 40 Billion industry (figure as on 2009 Source: IDFC Securities Hospital Sector November 2010) where hospitals account for nearly 50% of pharmacies (25%), insurance and medical equipment (15%) and diagnostics (10%).
Yet, it is faced with a triple disease burden
Maternal and child health
Infectious diseases
Non-communicable diseases
To achieve success in it, there need not be a choice between the public and private sectors but can use each where its application is best. The right combination of roles for the public and private sector in health reform is critical for a healthy India.
The healthcare system in India
India's tax-based funding of healthcare is very low. Additionally, it barely supports a government-owned health system which has a primary focus on basic maternal and child healthcare.
The formal private network is a small component of India's health sector. It is predominantly focused on secondary and tertiary care for urban India.
Moreover, the health insurance covers less than 5% of total health expenditure. As a result, over 60% of healthcare expenditure in India is incurred by individuals whenever they seek care.
Money is spent on seeking health care services from several informal providers and on purchasing large quantities of irrational medicines directly from pharmacies.
Thus, this focuses India's largely unorganized healthcare sector on curing people rather than preventing sickness itself.
Reforming healthcare in India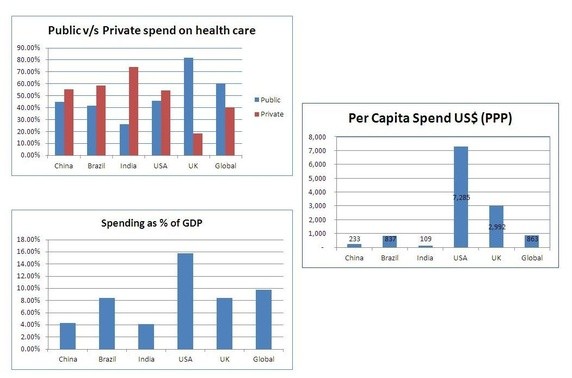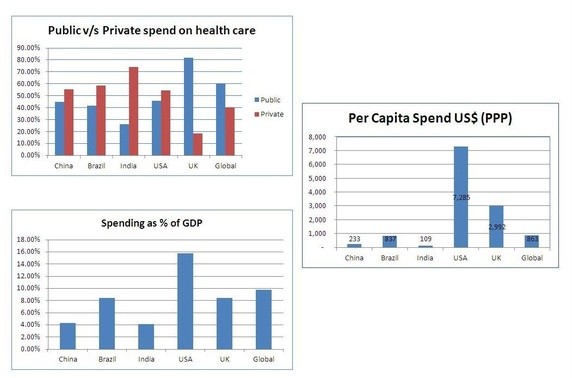 Picture credit: https://qph.ec.quoracdn.net/main-qimg-5f6b6c4b0693fc2094343986c9b9cd38-c?convert_to_webp=true
Making the Healthcare systems robust
It has certain peculiar features which prevent free-market solutions from working. Unlike other expenses, healthcare expenses are high on variability and are most often unexpected.
The humans have an innate tendency of not to think about health until they get sick. As a result, they don't buy health insurance, spend less or completely avoid primary care and early diagnosis which leads to spending huge amounts at hospitals.
This shows that an average individual is not even aware of his/her health status and is completely dependent on the doctor or surgeon for medical advice.
Many countries have built high-performing health systems and have not depended upon free market solutions.
A careful study reveals three essential principles central to the design of each of these successful health systems:
Pre-payment with pooling
Many countries have either used higher taxation levels or have required residents to mandatorily purchase some form of health insurance.
Britain largely relies on tax-financed health systems whereas Germany is largely reliant on mandatory health insurance.
Japan mandates its citizens to enroll with one of its several insurers for universal coverage.
Thus, the aggregated money is then converted into large pools which are able to absorb the high level of variability of health expenditure.
Concentrated purchasers with organized providers
The large pools are managed by one or more large agencies, which use pooled money to pay for healthcare for their members and thereby discipline both providers and consumers.
Britain has public trusts, Germany has sickness funds and Japan uses multiple insurers.
Thailand adopts a single national health security office which buys only from primary care-led integrated providers.
In many countries, there is a difference between the roles of the purchaser of health services and the providers of healthcare.
A public trust or designated organization could receive pooled finances, acting as a purchaser whereas providers could be a mix of public and private accredited facilities that compete for contracts based on high-quality services and on a capitation basis.
Health insurers provide a wider suite of innovative products, covering outpatient and primary care.
This enables the shift towards a futuristic healthcare design where payments to healthcare providers are based on achievement of outcomes.
Government as an active shaper
It is the most crucial principle in all effective health systems as the government plays an active role in designing and supervising the entire health system.
It doesn't solely focus on the management of a health system owned by itself but also looks out at the private establishments.
Many countries have adopted these principles and applied to their own sociocultural context as they deemed appropriate. On doing so, these countries have shaped and organized an effective provider institutions over time where healthcare related hardships and impoverishment are being almost entirely eliminated
Conclusion
Designing an effective health system of this type is an uphill yet achievable journey. In India, each state represents a different social, economic and cultural environment, and will need a customized approach towards its health systems' redesign.
In the 1960s, countries such as Thailand, Brazil, and South Korea had health statistics similar to or worse than India's in 2010 but transformed the status quo over four decades.
It is clear from global experiences that for any country that has achieved successful reform of its healthcare system, these three core design principles have played an outstanding role and thus there is no fundamental reason why each Indian state cannot use these guiding principles to aspire to build a strong health system.
Connecting the dots:
The Indian healthcare system requires a reboot. Do you agree? Critically examine the pros and cons of the reforms in the healthcare system.
With technology picking the pace, the health care sector cannot remain immune to it as it can generate many advantages out of it. What are various technological interventions in healthcare sector visible in India? Discuss.
MUST READ
Ending the Manipur blockade
Related articles:
Manipur violence- Assessing the internal security
A year of living dangerously
Smallness at the border
All play
Listen please
Can punishment change human behavior?
A poorly handled army chief appointment
Where's money for a big-spend Budget?
Leadership crisis in public sector banks
For a dedicated peer group, Motivation & Quick updates, Join our official telegram channel – https://t.me/IASbabaOfficialAccount
Subscribe to our YouTube Channel HERE to watch Explainer Videos, Strategy Sessions, Toppers Talks & many more…