Role of Sardar Vallabh bhai Patel in Uniting the Nation
Search 31st October 2016 http://www.newsonair.com/Main_Audio_Bulletins_Search.aspx
2016 marks the 141st birth anniversary year of Sardar Patel. Sardar Vallabhbhai Patel, India's first deputy prime minister and the minister of home affairs, went on to truly become—in the words of Shashi Tharoor—"the man who saved India". By integrating more than 560 princely states, Patel and his secretary of the ministry of states V.P. Menon imparted geographic coherence to India and prevented its Balkanization, a fate which many predicted would befall the newborn state.
Unifying the nation- A task unmatchable
Sardar Patel had the tough task of unifying the 500+ princely states into one homogenous country. The princely states covered almost 48% of the area. Legally, they were not part of British India but subordinate to the British crown. The British gave an option to the princely states to join India or Pakistan. The task of Sardar Patel was very tough from 1947 to 1950. Things were done in a context where lot of fast moving developments were taking place and the task given to him as one of the founders of republic is true.
The question of borders was the crucial new question that India had to face because suddenly it had two different borders, one on west which had been drawn up in very haphazard and hasty manner and other in the east, with the creation of east Pakistan, which created a problem with regard to the north east states that were now tenuously linked to rest of India and needed attention.
The whole effort of Sardar Patel was to make sure that an already complicated situation on the ground did not get further complicated. It had his commitment to a strong state and a strong union that motivated him to push him where rulers were hesitant, where the population and rulers belonged to different persuasion. There was a certain hesitation as which would be more advantageous option. He made it very clear that those within the borders had only one option and that was India.
Thus, if Gandhiji was the father of nation and Nehru was father of Indian state, Sardar Patel could legitimately claim to be father of Indian Union in the sense that it was his tireless efforts over period of 3 years from 1946-1949 that united India through persuasion, through diplomacy, sometimes through coercion and threat of military use. This process was a master stroke in lasting achievement to the building of Indian republic.
If no unification?
British colonial rule created a haphazard mix of territories and the boundaries that arose from the hazards and the opportunities given by military conquest or treatise with local rulers.
However, it made no sense on the ground. One of the planks of INC and national movement was that they would put this in order. They would recognise the socio cultural entities and boundaries and would redraw the map of India. Sardar Patel's contribution was to create the space for this reorganisation of state because if there were pockets and enclaves and territories which could not be integrated, it would not have made a unified India very difficult, if not impossible. Manipur was an important princely state. So was Tripura. They were active in the national movement but when it came to integration, Sardar Patel was very clear that accession first and then rest would be seen. Thus, his contribution is immense in creating the unified country. However, many of the grievances cropped up later because these initial promises had been betrayed.
Contribution in saving J&K for India
Those were troubled times when the infiltrators from the other side of the border had begun moving in. One must also remember the delicate international context of the cold war and the various treaties in place. It is against that backdrop and also the enormous journey of the refugee movement and migration from either side of the border.
Sardar Patel as the Home Minister was resolutely looking after the protection of the population crossing the borders. His contribution in the Kashmir crisis remains as the taking of bold decision of airlifting of the troops and halting the advance of the infiltrators who had crossed over and occupied a certain portion of Kashmir.
Hyderabad crisis
Sardar came to know about the local militia, backed by the Nizam of Hyderabad, ransacking villages and holding people to ransom. Thus he ordered the military action against the Nizam of Hyderabad. There was a clear police action taken because of Sardar's quick decision making power. Had this not been done, Hyderabad would have been become hot bed of instability in the middle of the Deccan and splashing its negative effects in neighbouring areas.
Sardar was similarly firm in case of Goa but it was overruled as throwing the Portuguese by the use of armed force somehow did not appeal to the government of that time. But later, as known, there was no option and it had to be done.
Offer from Pakistan
Muhammad Ali Jinnah, the founder of Pakistan, offered the several of the bordering Rajas of princely states that they would retain their existence if they came to Pakistan. Sardar Patel countered that, especially the Rajputana princes and Patiala and some parts of Gujarat. Despite Jinnah's offer which looked lucrative then, Sardar managed to get these princes into India with his skilful combination of diplomatic persuasion of pointing to the larger long term interests of their population and also a certain amount of arm twisting and threats which made it clear that there would be a price to pay if they did not accept the conditions that Indian government was putting to them.
In those troubled circumstances where rulers hesitated balancing their own self-interests, their own loyalties, their own identities with the general well-being of their people, this firm intervention helped in making up their minds.
Sardar's persona
His strong will and decisiveness makes him stand apart from the crowd. That is why he is called the iron man. That aspect of his personality that he did not shirk at taking unpleasant and tough decisions and at the same time, he was very humane with undivided loyalty to Gandhiji, made him the initial choice as India's first PM.
Sardar Patel asked the princes to join him and gave them a privy purse for one time payout or annual pay out or grant for giving lands and revenues to the union of India. Some sort of compensation was in order because they were going to lose what they lived on and thus their maintenance was to be made. Also, it was needed as the union was being made and hence it was important to get cooperation. The privy purses at that time was seen as a diplomatic move.
An administrator by instinct, Patel sought to protect the privileges of the Indian Civil Service officers who were deemed to be compromised on account of their previous services to the British Raj. Sardar Patel was a hard-nosed realist and his clarity of thinking was matched only by Subhas Chandra Bose and B.R. Ambedkar among contemporaries.
Sardar's contribution was recognised at the time and despite the differences that he may have with his colleagues, what is needed to remember that he was a loyal and steadfast soldier of the Indian struggle for independence. He was committed to Gandhiji and so whenever there were differences, he bowed to Gandhiji and his opinion. This has sustained the partnership and helped India find its feet.
He died in 1950 and thus in that short period of Indian independence, he made an enormous contribution. In 1991, he was given Bharat Ratna.
Related Important events from 1946-1951 (Till Sardar Patel's death)
From 1946 to 1951, there was formation of constitution of India, independence of India and formation of states. Internal consolidation was focused upon. Equally important was the positioning of India on world map. The rise of iron curtain, the beginning of cold war and also the fact that new powers were rising, Afro Asian solidarity was coming into being and India not taking up the offer of UNSC seat and instead of it going to china, this has to be seen in wider context as Nehru was clear at that time that belonged to China. These events marked the final years of Sardar Patel's life.
Patel was among the few to see the dangers from China's imminent takeover of Tibet. One of the foremost chroniclers of Sino-India relations, John W. Garver records: "Patel advocated a series of practical measures designed to strengthen India's position: accelerated road building in the frontier areas, strengthening of India's military capabilities, moves to better integrate the northeastern territories into India.".
Key words
Iron Curtain- the Iron Curtain was the name for the boundary dividing Europe into two separate areas from the end of World War II in 1945 until the end of the Cold War in 1991. The term symbolized efforts by the Soviet Union to block itself and its satellite states from open contact with the West and non-Soviet-controlled areas.
Physically, the Iron Curtain took the form of border defenses between the countries of Europe in the middle of the continent. The most notable border was marked by the Berlin Wall and its Checkpoint Charlie, which served as a symbol of the Curtain as a whole.
The events that demolished the Iron Curtain started in discontent in Poland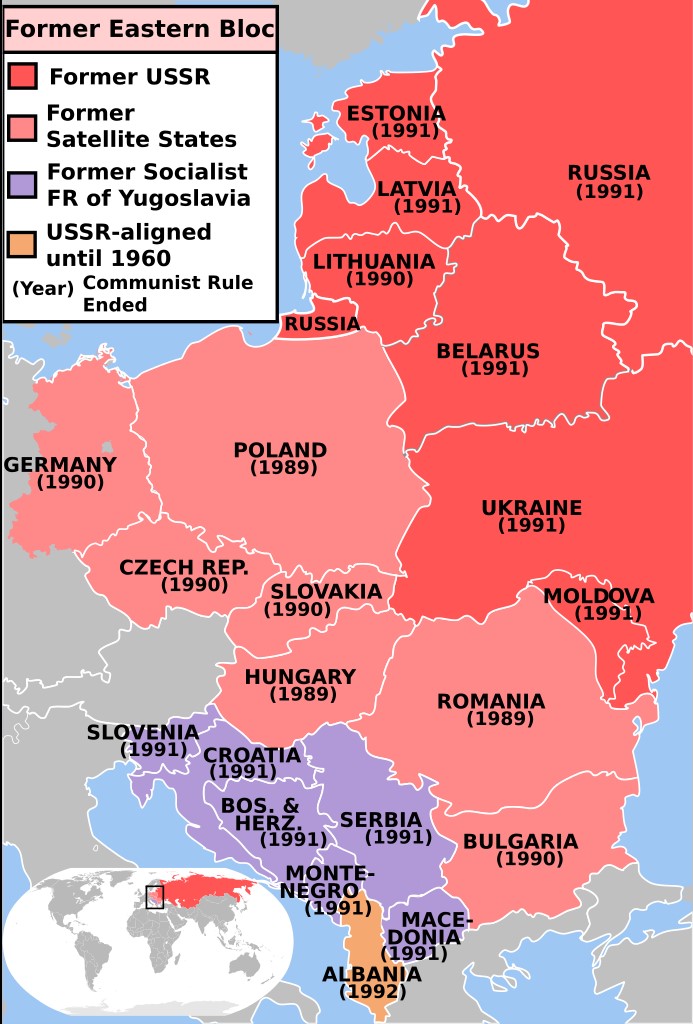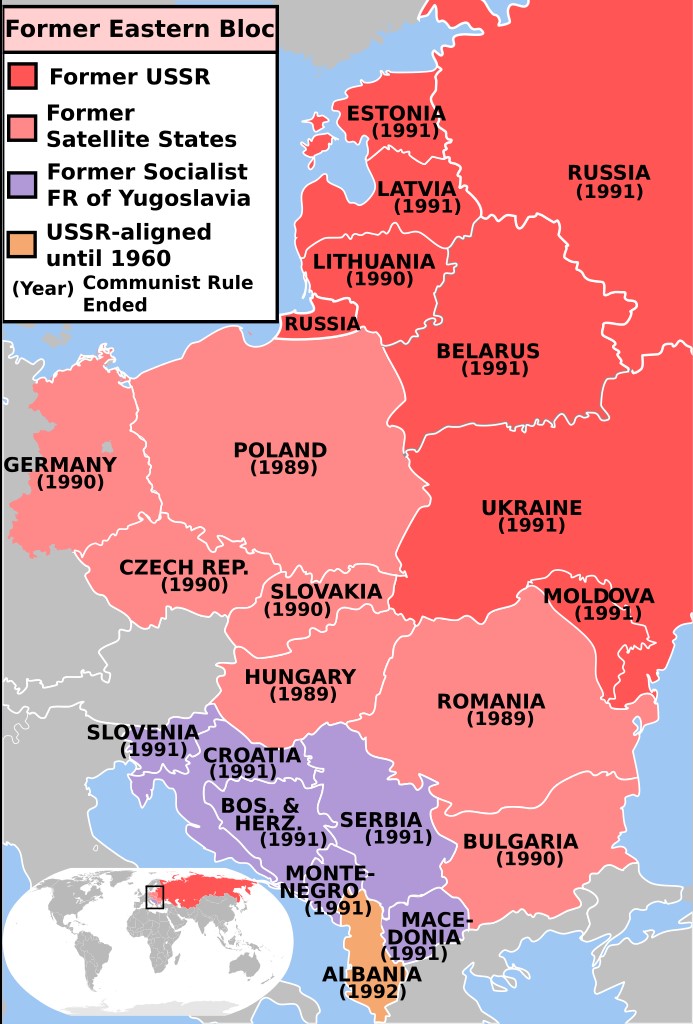 Picture Credit: https://upload.wikimedia.org/wikipedia/en/thumb/1/1e/EasternBloc_PostDissolution2008.svg/693px-EasternBloc_PostDissolution2008.svg.png
Connecting the dots:
Sardar Patel is known for his indomitable political personality and strong administrative prowess. Yet, it has been felt across the years that his contribution has not justly brought forward, whether India's independent struggle or post-independence. So you agree? Give reasons for your answers.
For a dedicated peer group, Motivation & Quick updates, Join our official telegram channel – https://t.me/IASbabaOfficialAccount
Subscribe to our YouTube Channel HERE to watch Explainer Videos, Strategy Sessions, Toppers Talks & many more…