IASbaba's Daily Current Affairs – 10th February, 2017

IASbaba's Daily Current Affairs – 10th February 2017
INTERNATIONAL 
TOPIC: General Studies 2

Bilateral, regional and global groupings and agreements involving India and/or affecting India's interests
Effect of policies and politics of developed and developing countries on India's interests, Indian diaspora.
India should 'Look East' again
America is shaking
President Trump has been criticised about his eccentricities, prejudices and his stereotyping of countries and peoples across the world.
This, however, is mere reflecting of concerns and anger of whites across the US. Their lifestyle has been shaken by losing employment as industrial facilities migrate to other countries, and hence have a negative attitude towards globalisation.
This is fuelled by perceived threats from 'radical Islam terrorism'. The oil-rich Sunni Arab countries like Saudi Arabia and UAE are supporting Trump to contain Iran and also asking Israel to go slow on settlements in occupied Palestinian lands.
In such circumstances, India needs to pay greater attention to its eastern neighbourhood, extending across the Bay of Bengal, the Straits of Malacca and the South China Sea.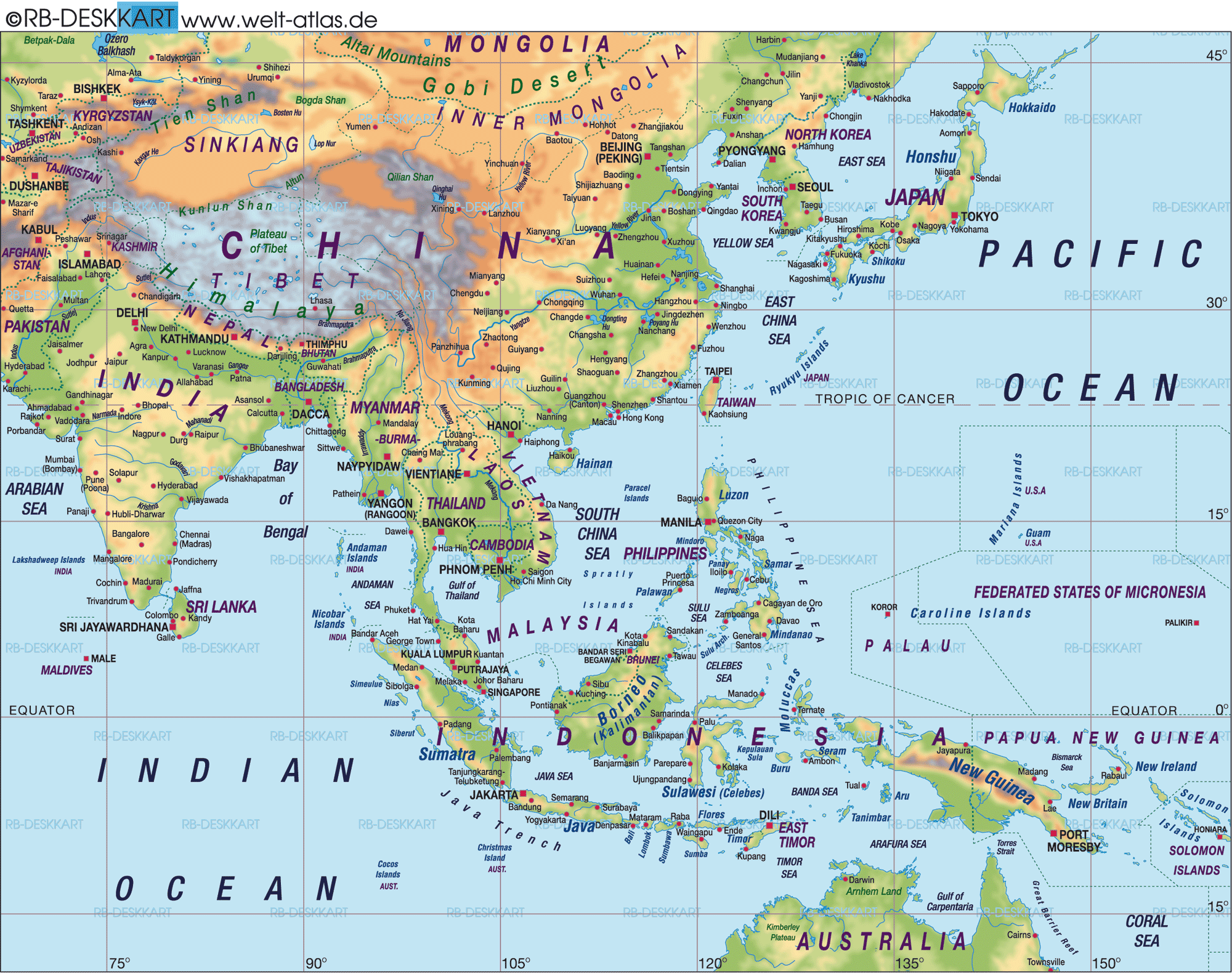 Picture Credit: https://www.welt-atlas.de/datenbank/karten/karte-0-9014.gif
'Look East' revisited
India's 'Look East' Policy was crafted in an era when the Asia-Pacific was the fastest growing region in the world.
India had concluded free trade and comprehensive economic cooperation agreements with ASEAN members (who were united in their approach to outside world), Japan and South Korea.
Things started changing when China began defining its maritime boundaries in outrageous manner. This provoked tensions with its maritime neighbours — Japan, Taiwan, South Korea, Vietnam, the Philippines, Malaysia, Brunei and Indonesia.
China used its economic dominance to attract countries such as Cambodia and Laos and caused tensions between ASEAN members on how to deal with Beijing's territorial ambitions.
TPP introduced and annulled
The US administration under President Obama responded to Chinese dominance in South China Sea though its policy 'pivot to Asia'. Here it strengthened military ties and naval presence across the Asia Pacific.
US challenged China's economic prowess by formulating a Trans-Pacific (Economic) Partnership (TPP) to facilitate trade and investment ties across the Asia Pacific.
TPP consisted of US, Canada, Mexico, Chile, Peru, Japan, Australia and New Zealand, together with ASEAN members Singapore, Malaysia, Brunei and Vietnam.
Given the vast size of US market and opacity of Chinese markets, the TPP was set to attract countries like Philippines, Laos, Thailand, Indonesia and Cambodia to join it and take advantage of larger markets and reduce excessive dependence on China.
To counter TPP, China was working on promoting RCEP which also included ASEAN countries as well as India, to facilitate Indo-Pacific region in becoming a Free Trade Area.
However, the newly elected US President annulled the TPP thereby making trade liberalisation a difficult affair between Asia and Pacific, increasing threats of growing Chinese economic and military power and rising concerns in East and Southeast Asia over it.
Increased role of New Delhi
The collapse of TPP is a welcome step for India as its presence would have eroded India's competitive edge in the US.
There was no way India, in anytime future, would have accepted the American imposed conditionalities on issues such as labour standards, intellectual property rights and arbitration.
Now India has to focus on how best it can influence the direction of negotiations on the RCEP, so that its concerns on inclusion of the service sector and lack of transparency in Chinese policies on the exports of India's goods and services are met.
America has expressed its concern over China's policies across its maritime frontiers. Especially it is concerned with China's maritime claims on Vietnam, where Exxon has interests in off shore drilling and exploration.
In such a scenario, US knows that balancing Chinese power and its maritime boundary claims will need partners such as Japan, Australia, Vietnam, Indonesia and India.
Forming a trio
However, US's attitude towards it allies like Australia and Japan is difficult to contemplate considering President Trump's bugle of 'America First'.
The annulment of TPP raises doubts such as if America will be able to cope up with Chinese rising power or it shall simply abandon Asia to the mercies of Chinese supremacy.
With America and China fighting their own battles, countries being impacted by them (India, Japan, Indonesia, Australia, South Korea, Vietnam and Singapore) need to steer a path that is steady and interest-based, avoiding both complacency and panic.
India and Japan share a high level relationship with new partnerships in security, economic and political cooperation to together shape the regional order and not simply accept the results of US-China competition, collision or collusion.
Australia has long been another leader in building a more robust regional security architecture. Alongside solid economic and people-to-people links, Australia-India security ties have intensified, including with an anti-submarine warfare exercise in the Bay of Bengal.
Japan-Australia relationship is also bouncing back and noted the synergies in their Indo-Pacific strategies and identified India as a key third partner. The foreign secretaries of three nations have been regularly meeting annually which helps the maritime democracies to move beyond dialogue and build practical cooperation that helps all three and the wider region.
India-Japan-Australia are the three best positioned to demonstrate new triangular approach to Indo-Pacific diplomacy.
They can indulge with each other on security dialogues, intelligence exchanges, sharing of maritime surveillance data, capacity-building of military or civilian maritime forces in smaller countries in Southeast Asia or the Indian Ocean, technology sharing, agenda-setting in regional forums like the East Asia Summit and coordinated diplomatic initiatives to influence both US and Chinese strategic calculations.
Conclusion
The role of India as a regional power or regional critical member is growing to increase in future. Rise of India along with other nations to build a stable region is not to construct and Asia without America or contain China. It more about limiting regional instability rising due to their altercation. An India-Japan-Australia coalition will send strong messages to both China and America about their seriousness for political and security interests of its Asian neighbours.
Connecting the dots:
With increased protectionist attitude emerging from western countries, how can India focus on 'Look East'?
Regional stability in Indo-Pacific is possible only when US and China are together. Do you agree with the statement? Give reasons for your answer.
INTERNATIONAL
TOPIC:
General Studies 2
Bilateral, regional and global groupings and agreements involving India and/or affecting India's interests.
Effect of policies and politics of developed and developing countries on India's interests
General Studies 3
Effects of liberalization on the economy, changes in industrial policy and their effects on industrial growth
Issues relating to intellectual property rights
TPP and its aftermath
Introduction
The Trans-Pacific Partnership (TPP), or the Trans Pacific Partnership Agreement (TPPA), is a trade agreement between Australia, Brunei, Canada, Chile, Japan, Malaysia, Mexico, New Zealand, Peru, Singapore, the United States (until January 23, 2017) and Vietnam.
Concerns:
TPP was opposed extensively by progressives for the last two years because of its far-reaching provisions that increased corporate power over trade at the expense of workers and consumers. The agreement's damaging ambitions were most evident in the proposed provisions concerning intellectual property.
The TPP provided explicit protections for 'biologics' (drugs manufactured in a living organism, rather than through chemical synthesis), the first trade agreement to do so.
More damagingly, the agreement mandated the protection of clinical test data submitted for marketing approvals, with pharmaceutical data obtaining five to eight years of protection.

This provision, called 'data exclusivity' or 'marketing exclusivity', prevents a generic company from relying on the clinical test results of the originator in order to prove the efficacy of its drug.
It was justified using the argument that clinical trials are the most expensive part of drug development and hence there is a necessity to provide drug developers the ability to limit access to that data so as to incentivise research.
Impact:
Undermining accessibility
Though, on the surface, the provision looks reasonable, data exclusivity is a deeply uncompetitive policy that serves to undermine generic competition in a troubling way. In fact, it is possibly a stronger restriction than patent protection itself.
Patent protection can be challenged if the product is not sufficiently novel, or violates existing national standards for obtaining patent protection, thereby clearing the way for generic competition. (This is, in fact, what happened to Novartis in India over Gleevec, an anti-cancer drug).

Simultaneously, generic companies can, and do innovate around patents and produce chemical entities that have the equivalent efficacy of the original drug.
But for the generic version to be able to come to the market, it is essential that it be able to use the proof of efficacy and safety that is generated by the clinical trial.
The restriction on the use of test data would therefore require a generic company to undertake clinical trials by itself, which is both unfeasible (in terms of expense) and unethical (since it would expose patients to trial protocols, during which some patients would have to receive a placebo when a proven cure is available).
As a result, in a country like India, even in a situation where there is no patent barrier, data exclusivity would allow for a period of five to eight years during which there is no plausible way that market access could be allowed for generics, thereby reducing access to cheaper medicines for the population.
The provisions on biologics and data exclusivity in the TPP accompanied others — like

Extending patent terms beyond 20 years;
Weaker patent standards that would allow a greater number of secondary or ever-greening patents on pharmaceuticals;
Harsher intellectual property enforcement.
Leading public health organisations termed the TPP the worst trade agreement on access to medicines.
Legacy of TPP
The legacy of the TPP leads one to reflect on what it says about U.S. trade policy, particularly as it relates to public health and intellectual property.
First, the developed world's ambitions for intellectual property will not die with the agreement. Indeed, what seems to be likely is that these damaging provisions will simply migrate to other agreements.

One of them is the Regional Comprehensive Economic Partnership (RCEP) agreement which involves 16 countries. Courtesy of Japan and South Korea, the RCEP negotiations feature several of the intellectual property provisions of the TPP.
This should be of great concern for access to medicines globally, as countries involved in the RCEP negotiations include key generic drug-producing countries, including India.
Second, U.S. withdrawal from the TPP may change the S.'s approach to trade and intellectual property more in form than in substance.

In this process, the U.S. is more than likely to continue its vigorous campaign against perceived "violators" of U.S. intellectual property.

Third, despite the public health impact of the TPP's provisions having gripped public discussion on the agreement, it is unlikely that these concerns will guide U.S. trade or foreign policy.

USA wants its trade policy to prioritise that foreign countries pay their fair share for U.S.-manufactured drugs, so that their drug companies have greater financial resources to accelerate development of new cures.
Conclusion
Though TPP seems dead with the new administration in USA calling it closed, it is evident that the stealthy global subversion of access to medicines through trade agreements and diplomatic pressure by the U.S. will continue.
With these efforts spilling across the developed world and into multiple trade agreements, there is now an even greater need for vigilance against the ever-expanding corporate control over medicines.
In India, we will need far greater government commitment to the use of the public health safeguards in our patent law to survive this era and ensure the health of the country's citizens.
Connecting the dots
India is considered the 'Pharma of the world'. In light of stringent provisions of recent multilateral agreements critically analyse what should be India's response. Enumerate the effects on global health profile of the same.
MUST READ
Bowing down to patriarchy
The temptation to go viral
A dead end
Unprepared for Paris
Charting the near-term policy road map
MGNREGS discussions must go beyond budget allocations
India in need of a two-speed economy
Messy ruling on Narmada project
Welcome push to rural India's aspirations