IASbaba's Daily Current Affairs – 2nd May 2017
INTERNAL SECURITY/NATIONAL
TOPIC: General Studies 3

Security challenges and their management in LWE areas; linkages of organized crime with terrorism.
Role of external state and non-state actors in creating challenges to internal security.
Tackling Left Wing Extremism (LWE)
Introduction:
The recent Maoist attack on the 99-member Central Reserve Police Force (CRPF) party in Sukma, Chhattisgarh, in which at least 25 jawans lost their lives, has once again brought the focus on not just the threat represented by left-wing extremism (LWE) but also questions of preparation, equipping, training and strategy of the CRPF that is bearing the brunt of the burden in this fight.
The attack came just a month after Union Home Minister Rajnath Singh informed the Parliament that security forces had achieved tremendous success in containing LWE over the past two years.
Earlier we have covered articles which covered –
Origin of Naxalism
Evolution of their movement
Evolution of their strategy
Geographical resurgence of their movement
Long history of their ambushes
Links to refer (for fast recap/revision) –
Deaths after deaths
From the above articles and the recent attack, we can observe that –
the fight against Maoists has been characterised by high casualty count of our security forces.
even after five-decade-long insurgent movement, and a large number of paramilitary personnel along with State police being deployed in Maoism-affected areas, there seems to be no clear strategic approach to the problem and the forces do not have an upper hand in the areas.
Problems:
Lack of coordination and clear strategy:
LWE/Maoists corridor spreads across several States and the perceived lack of a common plan has left each State government combating the Naxals as per their own strategy.
Lack of institutionalised intelligence-sharing between States and regions and regional coordination is being clearly utilised by the LWEs/Maoists.
While there has been a significant drop in Maoist violence in Chhattisgarh in the past year when 36 security personnel were killed as compared to 182 in 2007, between 2005 and 2017, as many as 1,910 security personnel were killed in LWE/Maoist attacks in India, out of which 954 casualties were in Chhattisgarh alone, including the latest incident.

Inadequate combat capability:

CRPF soldiers are trained inadequately and there are also shortages of Mine Protected Vehicles (MPV).
Successive ambushes and attacks have shown the vulnerability of the CRPF and police parties in the Naxal areas.
The damage and loss of life from attacks with grenade launchers and improvised explosive devices (IED) can be lessened with movement in armoured vehicles.
Inadequate combat capability of police forces in Maoism-affected States remains the prime factor for failing security response as also dependency of State police forces on the Central government for anti-Maoist operations.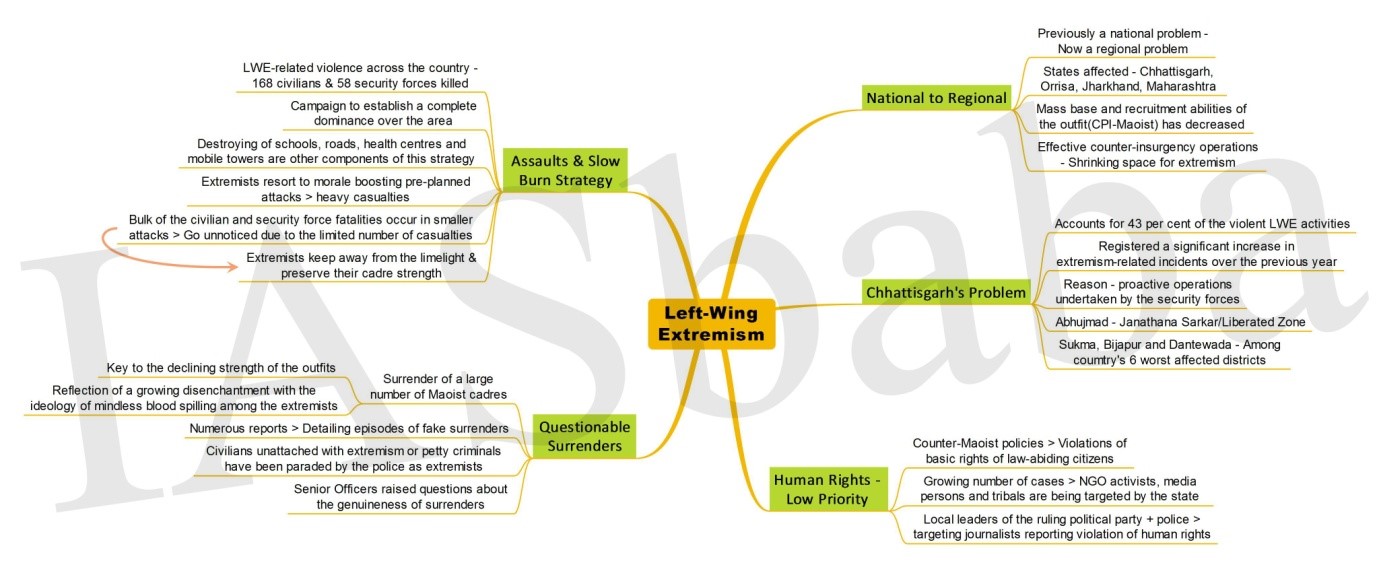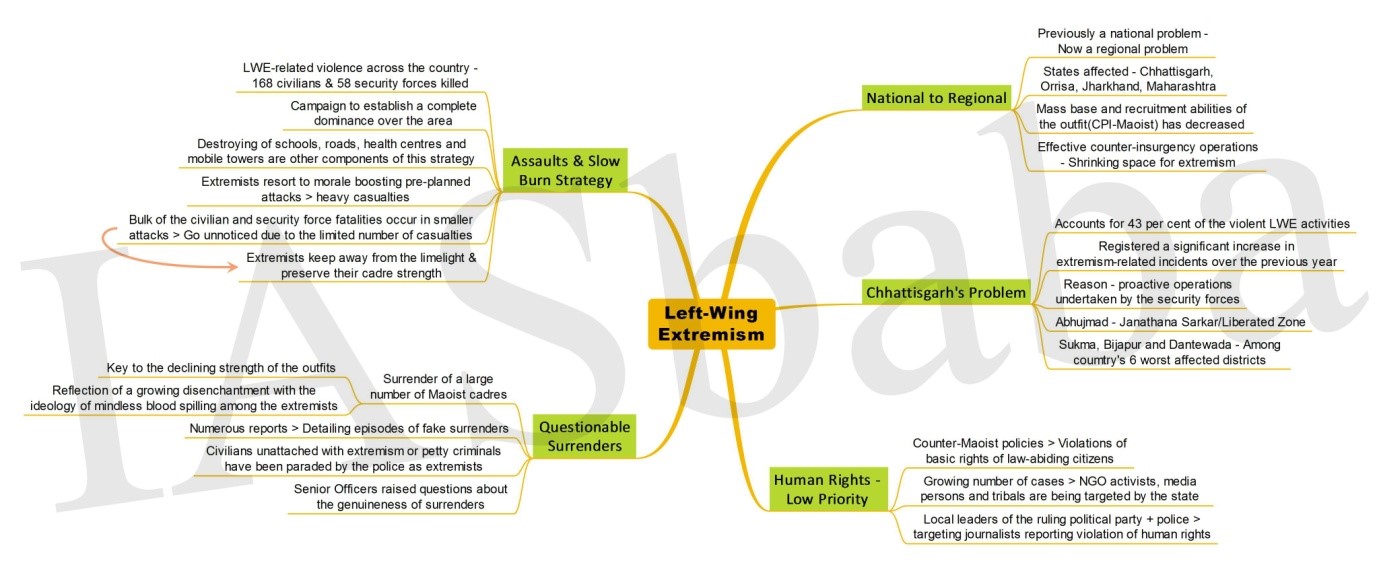 Link: http://iasbaba.com/wp-content/uploads/2016/03/LeftWing-Extremism-IASbaba.jpg
Need for more special force on the lines of Greyhounds special force:
The Greyhounds special force of undivided Andhra Pradesh has by far been the most effective force to have succeeded in reversing the trend of Maoist violence.
Since 2005, 429 LWEs/Maoists have been killed in Andhra Pradesh and 36 security personnel have lost their lives; in Telangana, formed in 2014, four LWEs/Maoists have been killed with no casualties on the security forces' side.
In 2012, the Home Ministry had proposed to replicate Greyhounds in five Maoism-hit States. Clearly, the proposal has not seen the light of day, especially in Chhattisgarh.
Need for an effective strategy with good leadership:
Apart from the obvious gaps in intelligence-gathering, there is clear evidence that the CRPF lags on strategy and tactics.
The use of technology (including drones) to increase surveillance around patrols to prevent ambushes is inadequate.
Losing a quarter of the patrol force in an ambush like this must get the CRPF leadership to re-evaluate tactics, training and equipment.
Need for a dedicated Ministry
A fundamental transformation of the Home Ministry — by moving internal security functions of the government to a new, focussed and accountable Internal Security Ministry might help.
THE GOVERNMENT OF INDIA'S APPROACH
Left Wing Extremism (LWE) Division:
Left Wing Extremism (LWE) Division was created w.e.f. October 19, 2006 in the Home Ministry to effectively address the Left Wing Extremist insurgency in a holistic manner.
The LWE Division implements security related schemes aimed at capacity building in the LWE affected States. The Division also monitors the LWE situation and counter-measures being taken by the affected States.
The LWE Division coordinates the implementation of various development schemes of the Ministries/Departments of Govt. of India in LWE affected States.
National Policy and Action Plan:
In order to holistically address the LWE problem in an effective manner, Government has formulated National Policy and Action Plan adopting four pronged strategy in the areas of security, development, ensuring rights & entitlement of local communities and management of public perception.
The focus of the Government is to address security, development and governance deficits in 106 LWE district especially the 35 most affected LWE districts spread in 7 States.
Revival of Additional Central Assistance:
A one time assistance of Rs. 1000 crores for 35 most affected LWE districts has been decided by NITI Aayog.
Revival of Special Infrastructure Scheme (SIS):
This Scheme has also been discontinued since FY 2015-16. For filling up the gaps in security related requirements of the Special Task Forces and other similar requirements of the LWE States efforts are being made to include this scheme in the umbrella Scheme namely Modernization of Police Forces.
Increasing road connectivity:
The LWE Division has taken initiative of increasing road connectivity in the LWE areas.
GIS Mapping:
LWE Division initiated a new proposal of GIS mapping of the essential services in the 35 most affected LWE districts. A project has been initiated for mapping of financial services, school, post offices, health facilities, mobile towers, PDS services, Road and security features etc. in time bound manner. This will help to the stakeholder to take informed decision on the developmental and security related issues.
A Unified Command
A Unified Command has been set up in the States of Chhattisgarh, Jharkhand , Odisha and West Bengal. The Unified Command have officers from the security establishment, besides civilian officers representing the civil administration and it will carry out carefully planned counter LWE measures.
IMPORTANT SCHEMES FOR LWE AFFECTED STATES
Security Related Expenditure (SRE) Scheme:
Under the Security Related Expenditure (SRE) scheme, funds are provided for meeting the recurring expenditure relating to insurance, training and operational needs of the security forces, rehabilitation of Left Wing Extremist cadres who surrender in accordance with the surrender and rehabilitation policy of the State Government concerned, community policing, security related infrastructure for village defence committees and publicity material.
Integrated Action Plan (IAP)/ Additional Central Assistance (ACA) for LWE affected districts:
The Planning Commission (Now NITI Aayog) had commenced the Integrated Action Plan (IAP) in 2010-11 covering 60 Tribal and Backward districts for accelerated development by providing public infrastructure and services.
From the financial year 2012-13, the scheme renamed as "Additional Central Assistance (ACA) for LWE affected districts" and extended to 88 districts covering 76 LWE affected districts.
The major works/projects included under IAP/ACA relate to construction of School building/ School furniture, Anganwadi centers, Drinking water facilities, construction of rural roads, Panchayat Bhawans/Community halls etc.
Scheme of Fortified Police Stations:
The Home Ministry has sanctioned 400 police stations in 10 LWE affected States at a unit cost Rs. 2 crores under this scheme. A total of 282 of PSs have been completed, work at 118 PSs is under progress.
Civic Action Programme(CAP):
This Scheme is under implementation from 2010-11, in LWE affected areas. Under this scheme, funds are provided to the CAPFs (CRPF, BSF, ITBP and SSB) @ Rs. 3.00 lakh per company per year for conducting welfare activities in their deployment areas in LWE affected States.
This is a very successful scheme to bridge the gap between the Security Forces and the local populace and also helpful for winning the hearts and minds of the populace.
In this context, funds of Rs. 17.65 crore and Rs. 19.02 crore were released to the CAPFs during the financial year 2014-15 and 2015-16 respectively. For the financial year 2016-17, an amount of Rs. 19.00 crores have been allocated as BE. The entire amount has been released to the CAPFs.
Conclusion:
It is the belief of the Government of India that through a holistic approach focussing on development and security related interventions, the LWE problem can be successfully tackled. However, it is clear that the Maoists do not want root causes like underdevelopment to be addressed in a meaningful manner since they resort to targeting school buildings, roads, railways, bridges, health infrastructure, communication facilities etc in a major way. They wish to keep the population in their areas of influence marginalized to perpetuate their outdated ideology.
Consequently, the process of development has been set back by decades in many parts of the country under LWE influence. This needs to be recognised by the civil society and the media to build pressure on the Maoists to eschew violence, join the mainstream and recognise the fact that the socio-economic and political dynamics and aspirations of 21st Century India are far removed from the Maoist world-view. Further, an ideology based on violence and annihilation is doomed to fail in a democracy which offers legitimate forums of grievance redressal.
Sukma attacks should act as a wake up call for the government, and in particular the Home Ministry. It is a 26/11 moment in our fight against LWEs/Maoists. The battle with them must be accompanied by not just the perseverance and devotion of our men in uniform, but also better tactics, equipment, training and a determined strategy to prevail and win that combines the resources and leadership of all States involved and the Central government.
Connecting the dots:
Critically analyse the necessity for an effective startegy and combat capable security forces in the LWE areas.
Internal security is a grave threat to the nation as said by a former prime minister. Critical discuss a rational and holistic solution to the issue of maoist and naxal violence in India.
In your opinion, why is left wing extremism in India is still thriving despite efforts made to curb its activities? Critically examine.
How can the threat represented by left-wing extremism (LWE) in India be countered. Especially with the use of technology and remote reach as observed in recent days enumerate the measures that can be initiated.
What started as a protracted struggle for the rights and interests of the marginalized landless people, the Naxal movement seems to have degenerated into an industry of extortion, kidnapping and violence. Do you agree? Substantiate. Also discuss the strategy to combat Naxalism in more than 165 districts of India infested by extreme left wing extremism. (TLP Link: http://iasbaba.com/2016/03/iasbabas-tlp-2016-8th-march-upsc-mains-gs-questions-hot-synopsis/)
What is the threat perception of naxalism in India? Why naxalism has succeeded to widen its reach? (TLP Link: http://iasbaba.com/2016/11/1-threat-perception-naxalism-india-naxalism-succeeded-widen-reach/)
NATIONAL
TOPIC:
General Studies 1
Urbanization, their problems and their remedies.
General Studies 2
Government policies and interventions for development in various sectors and issues arising out of their design and implementation.
Real Estate Regulatory Authority
Introduction
Urbanisation in India is a natural phenomenon. The scale at which real estate has grown demands regulation to ensure rule bound and hassle free activity for both the consumers and the builders. In this direction the recent legislation is a step in the right direction.
Issue:
The much awaited Real Estate (Regulation & Development) Act has come into effect.
The Ministry of Housing and Urban Poverty Alleviation recently notified 69 out of the 92 sections in total, which set the ball rolling for States to formulate, within six months, rules and regulations as statutorily mandated.
Land is a State subject under the Constitution, even after the Centre enacts the legislation, State governments will have to ratify them.
States will have to set up the Real Estate Regulatory Authority's (RERA) and the Real Estate Appellate Tribunals and have only a maximum of a year from the coming into effect of the Act to do so.
Legislation and the intent:
The Act's preamble details the legislative intention which is to primarily protect the interests of consumers and bring in efficiency and transparency in the sale/purchase of real estate.
The Act also attempts to establish an adjudicatory mechanism for the speedy redress of disputes.
RERA and the Appellate Tribunal are expected to decide on complaints within an ambitious period of 60 days.
As one of the largest job creators, the real estate sector contributes almost 6% towards the GDP.
Mindful of this, the Act seeks to assist developers by giving the regulator powers to make recommendations to State governments to create a single window clearance for approvals in a time-bound manner.
Provisions w.r.t. transparency
Key provisions of the Act include a requirement for developers to now register projects with RERA prior to any advertisement and sale.
Developers are also expected to have all sanction plans approved and regulatory clearances in place prior to commencement of sale.

Subsequent changes have to be approved by a majority of buyers and the regulator.

The Act again ambitiously stipulates an electronic system, maintained on the website of RERA, where developers are expected to update on a quarterly basis the status of their projects, and submit regular audits and architectural reports.
Notably, non-registration of projects is a serious matter.

If there is non-compliance, RERA has the power to order up to three years imprisonment of the promoters of a project.

Importantly, it requires developers to maintain separate escrow accounts in relation to each project and deposit 70% of the collections in such an account to ensure that funds collected are utilised only for the specific project.
The Act also requires real estate brokers and agents to register themselves with the regulator.
Builder grievances
The builders have been demanding "industry" status for the real estate sector as it would help in the availability of bank loans.
Real estate companies say that most delays are because of the failure of authorities to grant approvals/sanctions on time.
While the Act addresses some of this, it does not deal with the concerns of developers regarding force majeure (acts of god outside their control) which result in a shortage of labour or issues on account of there not being a central repository of land titles/deeds.
Once 100% foreign direct investment was permitted in real estate, international money flooded the market. Builders/developers overstretched themselves and diverted funds while some began to cross-invest in non-core activities.
Eventually the benefit of any statute is contingent on its effective implementation.
The onus is now on States to formulate rules and establish the regulatory authorities on time.
There shouldn't be just paper compliance, by designating an existing authority to take additional charge as the real estate regulator, as that would affect the timeliness prescribed under the Act.
Conclusion:
The legislation was much needed and timely as it addresses concern of both the builders and the largely innocent and young home buyers who put their hard earned savings. The implementation in letter and spirit will hold the key.
Connecting the dots:
Elaborate the provisions of the new real estate law. Critically discuss the impact of the same on real estate sector.
MUST READ
Curious case of dip, rise in Indian seas
Daunting water challenges across industries
Equity in taxes: Rich farmers should be treated on par with other taxpayers
Give It A Shot
Higher education, low regulation
Raja Mandala: Warming up cold Turkey
AAP shows the limits of a single-issue party
CSR's problem with good governance
A robust IPR regime is necessary for growth
Laboured exercise
NPAs are a mess, but not a lost cause
Don't write off Indian software yet
For a dedicated peer group, Motivation & Quick updates, Join our official telegram channel – https://t.me/IASbabaOfficialAccount
Subscribe to our YouTube Channel HERE to watch Explainer Videos, Strategy Sessions, Toppers Talks & many more…