IASbaba's Daily Current Affairs (Prelims + Mains Focus)- 15th December 2017
---
(PRELIMS+MAINS FOCUS)
---
Special courts to deal criminal cases against MPs and MLAs
Part of: Mains GS Paper II- Important aspects of governance, transparency and accountability and institutional and other measures.
Key pointers:
The Supreme Court on Wednesday gave the green signal for the Centre's scheme to set up 12 fast track courts to exclusively prosecute and dispose of 1,581 criminal cases pending against Members of Parliament and State Legislative Assemblies within a year.
The Centre will allocate ₹7.8 crore to the States for setting up of the special courts.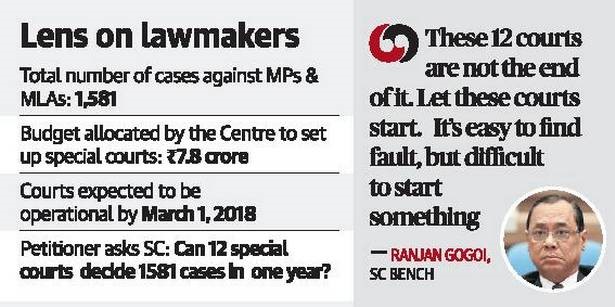 Pic credit: http://www.thehindu.com/news/national/article21665773.ece/alternates/FREE_615/lawmakerscol
The scheme proposes to club the cases of several politicians together and have one court hear them. This way, the Bench expected a special court to finish at least 100 cases a year.
Article link: Click here
---
INS Kalvari
Part of: Mains GS Paper III- Indigenization of technology and developing new technology.
Key pointers:
·         First of six scorpene-class diesel-electric vessels was recently commissioned into the Navy.
·         This is the Navy's first modern conventional submarine in almost two decades since the INS Sindhushastra was procured from Russia in July 2000.
·         Kalvari's induction in the Navy is a big step in defence preparedness," PM Modi said.
·         The Mazagon Dock Shipbuilders Ltd (MDL) has undertaken the project to construct the six submarines with technology transfer from the Naval Group (Formerly DCNS) of France.
·         The Scorpene submarines can undertake different missions including anti-surface warfare, anti-submarine warfare, intelligence gathering, mine laying and area surveillance.
·         The second of the Scorpenes would be- Khanderi and the third- Karanj.
Article link: Click here
---
No consensus at WTO
Part of: Mains GS Paper II- Effect of policies and politics of developed and developing countries on India's interests
Key pointers:
The December 10-13 meeting of the World Trade Organisation's highest decision-making body, ended with the WTO's 164 members unable to reach a consensus on substantive issues such as the food security right of developing countries and the centrality of development in multilateral trade negotiations.
The member nations though committed to secure a deal by 2019 on banning certain forms of fisheries' subsidies.
Disagreements:
The U.S. blocked the demands of more than a 100 developing nations, including India and China, to implement their food security programmes without onerous conditions.
India thwarted attempts by several countries, both developed and developing, to initiate binding discussions on what they called the 21st century challenges to trade — including e-commerce, investment facilitation and proposed norms for small firms.
India sticked to its position that members should first resolve outstanding issues (such as food sovereignty) of the ongoing Doha Round negotiations that began in 2001 with a 'development agenda' (for improving the trading prospects of developing nations), before considering 'new issues'.
Since all major decisions in the WTO need to be taken by 'the membership as a whole', even a single country can end up being the deal-breaker.
Article link: Click here
---
World Inequality Report
Part of: Mains GS Paper III- Inclusive growth
Key pointers:
Income inequality in India rose rapidly since the 1980s to a situation where the top 10% of the earners accounted for 56% of the income earned in 2014, according to a new report by economists.
The report, titled 'World Inequality Report,' said inequality rose substantially since the 1980s following the implementation of the deregulation reforms by the government.
"In 2014, the share of national income captured by India's top 1% of earners was 22%, while the share of the top 10% of earners was around 56%," the report said.
"The top 0.1% of earners has continued to capture more growth than all those in the bottom 50% combined."
Central focus:
According to the authors, this rising inequality is in sharp contrast to the trends seen in the 30 years following Independence, when income inequality was widely reduced and the incomes of the bottom 50% grew at a faster rate than the national average.
After independence, [the then Prime Minister] Jawaharlal Nehru implemented a set of socialist policies, with strict government control over the economy, with an explicit goal to limit the power of the elite," the report said. "The policies implemented by himself and his followers, including Indira Gandhi, up to the late 1970s, included nationalisations, strong market regulation and high tax progressivity."
These measure, and others, the report said, had a significant impact on reducing income inequality.
The report:
The report shows unequal impacts of globalisation over past 40 years.
It aims to contribute to a more informed global democratic debate on economic inequality by bringing the most up-to-date and comprehensive data to the public discussion
Article link: Click here
---
(MAINS FOCUS)
---
INTERNATIONAL
TOPIC: General Studies 2:

India and its neighbourhood- relations.
Bilateral, regional and global groupings and agreements involving India and/or affecting India's interests
Effect of policies and politics of developed and developing countries on India's interests
The Russia-India-China (RIC) trilateral grouping
Background:
The Russia-India-China trilateral held its 15th meeting in New Delhi recently.
This was a month after India was part of the 'Quad' discussion on the sidelines of the East Asia Summit in Manila involving Japan, Australia and the U.S.
The trilateral meet is New Delhi's attempt to overcome challenges in ties with Moscow and Beijing
Scope of talks:
The broader discussions took place in the backdrop of-
The political scenario in West Asia and North Africa.
Numerous challenges in putting the world economy back on the growth track.
Concerns relating to terrorism, transnational organised crime, illicit drug trafficking, food security, and climate change.
Background:
The proposal for a Moscow-Beijing-Delhi 'strategic triangle' had originally come from the then Russian Prime Minister in 1998. He argued that such an arrangement would represent a force for greater regional and international stability.
This idea of a 'strategic triangle' took a tangible form when former Foreign Ministers of Russia, China, and India met on the margins of the UN General Assembly in New York in September 2002.
Concern- Growing divergence between Russia and China on one side and India on the other:
Russia and China's continuous attempts to frame global and regional politics through a similar lens, and the growing divergences between India and them.
Russia wants India to join China's Belt and Road Initiative, while for India membership to the initiative would hurt its sovereignty.
Targeting India's participation in the 'Quad', Russia has underlined that a sustainable security architecture cannot be achieved in the Asia-Pacific region with "closed bloc arrangements."
China has oppose Quad grouping by arguing that China opposed "hegemony and power politics and disagree with the sphere of influence and promote the democratisation of international relations.
China continued to take an aggressive posture on Doklam and its aftermath.
The joint declaration of the recent trilateral meeting said: "Those committing, organising, inciting or supporting terrorist acts" must be held accountable and brought to justice under international law, including the principle of "extradite or prosecute." It stopped short of naming Pakistan-based terror groups such as Lashkar-e-Taiba and Jaish-e-Mohammed, something that India would have liked in line with the most recent BRICS declaration.
Different expectations:
The three nations had very different expectations from this trilateral.
Russia–
Russia's role is key as its loss of power and influence on the world scene was a major cause of concern for its leadership. There was a growing and pervasive feeling in Russia that it surrendered its once-powerful position on the world stage for a position of little international influence and respect.
It is against this backdrop that Russia tried to establish itself as the hub of two bilateral security partnerships that could be used to counteract U.S. power and influence in areas of mutual concern.
China–
Since the end of the Cold War, China has emerged as a rising power that saw the U.S. as the greatest obstacle, if it was to achieve a pre-eminent position in the global political hierarchy.
As a consequence, China recognised the importance of cooperating with Russia to check U.S. expansionism in the world, even if only for the short term.
India–
India saw in the trilateral a mechanism to bring greater balance in the global order as it believed that a unipolar U.S.-dominated world was not in the best interests of weaker states like itself, even as strategic convergence deepened between Washington and Delhi.
Moreover, all three countries realised the enormous potential in the economic, political, military and cultural realms if bilateral relationships among them were adequately strengthened.
As a consequence, the trilateral did not lead to consequences of any great importance. It merely resulted in declarations which were often critical of the West, and of the U.S. in particular.
Challenge- Changed geo-political scenario:
The recent period has seen significant shifts in Indo-U.S. ties as bilateral relations expanded while Russian and Chinese links with the U.S. have witnessed a downward shift.
An arrangement that had started with an attempt to manage American unipolarity is now being affected fundamentally by Chinese resurgence.
Both Russia and India are having to deal with the externalities being generated by China's rise.
While Russia is getting closer to China, India is trying to leverage its partnership with other like-minded states in the wider Indo-Pacific region.
Conclusion:
The Russia-India-China partnership comes with its own set of challenges. New Delhi's continued engagement with the duo suggests that India is today confident of setting its own agenda in various platforms. Just as China engages with the U.S. on the one hand and with Russia on the other, a rising India is quite capable of managing its ties with Washington, Beijing and Moscow simultaneously. It will not always be easy, but diplomacy will have to tread a complex path.
As a multipolar world order takes shape, India will have to engage with multiple partners so as to limit bilateral divergences.
Connecting the dots:
As a multipolar world order takes shape, India will have to engage with multiple partners so as to limit bilateral divergences. Analyze.
The Russia-India-China trilateral grouping has not lead to consequences of any great importance because of the growing divergence and different expectations of the three nations.
---
INFRASTRUCTURE/DISASTER MANAGEMENT
TOPIC: General Studies 3:

Infrastructure
Disaster and disaster management.
Cyclone Ockhi – Loopholes in Disaster Management
What is a disaster?
A disaster is an event causing extreme disruption in a society's functioning. It results in widespread human, material, and environmental losses which are beyond the ability of the affected people to cope with on their own.
Most disasters — floods, cyclones, earthquakes, landslides — are due to nature's fury.
When a disaster causes death and destruction, it becomes a calamity beyond human endurance.
Cyclone Ockhi:
Cyclone Ockhi struck Kanniyakumari district in Tamil Nadu and parts of Kerala on November 29th night and 30th morning.
As per the information given by fishermen associations in Tamil Nadu and Kerala, over 120 fishermen are dead and about 900 are still missing.
The Tamil Nadu government continues to be in denial mode as far as the number of deaths is concerned, although there is some consensus on the number of people missing.
Cyclone Ockhi has left a massive trail of destruction in Kanniyakumari district. It is here that the government's rapid response by way of disaster management should have stepped in.
Failure in damage control:
The cyclone warning was delayed.
The warning, when it came, was ineffective because it could not be conveyed to thousands of fisherfolk who were already out at sea.
Once the cyclone struck, there was no war-like mobilisation and action, which are the hallmarks of good disaster management.
Cyclone Ockhi's devastation started within 12 hours of the first "rough seas" warning that was put out on November 29. Given the limited quantity of fish in nearshore waters, many fisherfolk have diversified into deep-sea and long-distance fishing. The Indian Meteorological Department's timing of the cyclone forecast was futile.
Action plans should have kicked in and the Indian Coast Guard, with its seaborne vessels and helicopters, should have launched emergency search and rescue operations. Had this been done, hundreds of fishing boats and fishermen would have been found and rescued within the shortest possible time.
The Indian Navy with its vast array of ships, aircraft and state-of-the-art technology should have stepped in immediately. This too did not happen.
The National Disaster Management Act (2005), the National Policy on Disaster Management (2009), the National Disaster Management Plan (2016) and the National Disaster Response Force and infrastructure created thereof didn't come to rescue.
Way forward:
The cyclone has also resulted in massive losses to the livelihoods of people living in the coasts due to the destruction of crops, banana, rubber, coconut and forest trees.
Relief and rehabilitation is going to be a monumental task and the State government alone cannot take the huge burden of providing a decent compensation to the victims of the cyclone.
This calls for the combined efforts of the Central and State government (departments of agriculture, horticulture, animal husbandry and fisheries) and various departments (rubber board, coconut board, spices board, etc.)
Connecting the dots:
The huge devastation caused by Cycle Okchi reflects the loopholes in disaster management in India. Critically analyze.
---
MUST READ
Redefining the hate speech
Why criminalise instant triple talaq
Gender based laws- a double edged sword