IASbaba's Daily Current Affairs [Prelims + Mains Focus] – 16th January 2018

IASbaba's Daily Current Affairs (Prelims + Mains Focus)- 16th January 2018
---
(PRELIMS+MAINS FOCUS)
---
Huge loss of agricultural produce due to weeds
Part of: Mains GS Paper III- Indian agriculture
Key pointers:
India loses agricultural produce worth over $11 billion — more than the Centre's budgetary allocation for agriculture for 2017-18 — annually to weeds, according to a study by researchers associated with the Indian Council for Agricultural Research (ICAR).
The actual economic losses due to weeds were found to be highest in rice, followed by wheat and soybean. However, the average yield loss is the lowest in rice – 14 per cent in transplanted rice and 21 per cent in direct-seeded condition.
The researchers, from the Jabalpur-based Directorate of Weed Research (DWR), estimated the economic losses using data generated by an all India co-ordinated research project on weed management.
To calculate the actual yield loss, the scientists multiplied the difference in yield in weed-free situations and crop yield reported by farmers with minimum support price in respective States.
Studies some years ago showed that globally, weeds are responsible for decreasing production of the eight most important food and cash crops by 13.6 per cent, leading to an economic loss of $100 billion.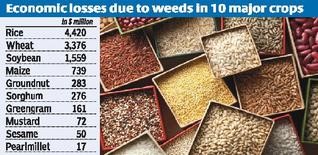 Pic credit: http://www.thehindubusinessline.com/multimedia/dynamic/03221/BL16_ndtvj_weed_GS_3221407e.jpg
Proper weed management could bring down these losses substantially. Judicious use of herbicides can cost farmers just one-third of what they spend on manual weeding.
Article link: Click here
---
INTACH to document heritage sites along Mahanadi R.
Part of: Mains GS Paper I- Indian Culture
Key pointers:
Indian National Trust for Art and Cultural Heritage (INTACH) launched a programme for documentation of the tangible and intangible heritage sites along both sides of Mahanadi river, sources in it said today.
Seven teams of culture enthusiasts will cover nearly 1000 kilometres on both side of the river Mahanadi under the project.
The tangible and intangible heritage along the river will be documented and the important heritage structures will be photographed and video-graphed. It will be a road map for the conservation workers, historians, students and researchers.
Article link: Click here
---
(MAINS FOCUS)
---
ENVIRONMENT
TOPIC:
General Studies 2:
Government policies and interventions for development in various sectors and issues arising out of their design and implementation.
General Studies 3:
Conservation, environmental pollution and degradation, environmental impact assessment
Soil and Climate Change
Introduction:
Policy makers have long failed to recognize the importance of soil in the context of tackling climate change.
Policies are usually focussed on reducing greenhouse gas (GHG) emissions from the electricity sector, transport and industry.
However, recently there has been a renewed interest in understanding how soils can serve as a sink for carbon dioxide.
Soil holds potential to slow global warming
Significant carbon pools on earth are found in the earth's crust, oceans, atmosphere and land-based ecosystems. Among them, soil should be viewed as a potential resource in response to tackling climate change as it is the second largest carbon pool after the oceans.
Soils contain roughly 2,344 Gt (1 gigatonne = 1 billion tonnes) of organic carbon, making this the largest terrestrial pool.
Therefore, if managed well, soil's ability to trap carbon dioxide is potentially much greater and could "significantly" offset increasing global emissions.
Carbon sequestration in soils has the potential to offset GHG emissions from fossil fuels by up to 15% annually.
Focus on increasing soil's carbon storage
Organic matter in soil comes from plants, animals, microbes, leaves and wood, mostly found in the first metre or so.
Unfortunately, the carbon in soil has been widely lost or degraded through land use changes and unsustainable forest and agricultural practices, fires, nitrogen deposition and other human activities.
For instance, in India carbon in soil has reduced from 30% to 60% in cultivated soils compared with soils that are not disturbed.
The greatest near-term threat comes when permafrost starts to melt in Earth's northern reaches, which could release massive amounts of carbon into the atmosphere.
There are many conditions and processes that determine changes to soil organic carbon content including temperature, rainfall, vegetation, soil management and land-use change.
Improving how the land is managed could increase soil's carbon storage enough to offset future carbon emissions from thawing (melting) permafrost.
About 70 percent of all sequestered carbon in the top meter of soil is in lands directly affected by agriculture, grazing or forest management.
Among the possible approaches: reduced tillage, increasing organic farming, year-round sustainable livestock grazing, manure and compost application, reducing erosion by allowing roots to reach deeper into the ground, increased agro-forestry practices and planting more perennial crops – could store more carbon.
Retaining and restoring soil organic matter can improve soil health, agricultural yield, food security, water quality, and reduce the need for chemicals.
Changing agricultural practices to make them more sustainable would not just address carbon mitigation but also improve other planetary boundaries in peril such as fresh water, biodiversity, land use and nitrogen use.
Conclusion:
Currently, the world is on a path to be about 3o C warmer than pre-Industrial times even if there was follow through on all the commitments made at the Paris climate conference in 2015.
Atmospheric concentrations of carbon dioxide have crossed 410 parts per million and oceans have turned acidic.
India's population will continue to increase through at least the middle of the century and we need to be able to grow more food, grown in less land and in more severe weather conditions.
There is little policy support for natural farming and sustainable farming practices. This can be witnessed in policies like Green Revolution – where the use of chemicals — pesticides, herbicides and fertilizers – are encouraged.
Implementing the recommendations of Parliamentary Standing Committee on Agriculture which suggested for "revision of the existing fertilizer subsidy policy and promotion of organic fertilizers" will help.
The ability of soils to sequester carbon is a win-win strategy for farmers, people and for climate change and it is time policy makers stop ignoring these at the policy levels. There is an urgent need to better understand and manage our soils.
Connecting the dots:
Taking care of the planet's soil is "critical for stabilizing atmospheric CO2 concentrations". Comment.
Examine the role of Soil as a potential resource to offset GHG emissions.
---
GOVERNANCE
TOPIC: General Studies 2:

Government policies and interventions for development in various sectors and issues arising out of their design and implementation.
The Issue of Government being biggest litigant
Introduction:
The government is the biggest litigant in India. According to the Ministry of Law and Justice, government departments are a party to around "46 percent" of court cases.
There is a need to explore ways of addressing this issue. The solutions to the issue that have been proposed so far have failed to understand the underlying causes.
Reasons behind government being biggest litigant:
Friction between citizens and the government:
The writ jurisdiction vested in High Courts under Article 226 of the Constitution enables an ordinary citizen to access the highest court in her State to address grievances against any authority, including any government, for violation of any of her fundamental or other rights.
The number and nature of writ petitions filed before a High Court are indicative of the extent of friction between citizens and the government.
A data shows that writ petitions constitute nearly 60% of all fresh cases filed before the Karnataka High Court.
Lack of inbuilt grievance redressal mechanisms and of an effective social audit.
Poor coordination between various departments of the government.
Cause of concern:
It creates a huge load on the judiciary which spends its maximum time in tackling cases where the government is a party increasing the spending and aggravating the issue of long pendency of cases.
Large number of cases against the government is not a positive sign of good governance.
Flaws in policy addressing the issue- A misconception regarding government litigation is that the government itself is a source of all cases involving the government. Existing policies attempt to address the issue of "government being a compulsive litigant" and do not consider cases where the government is a respondent. A survey shows that only 7.4% of fresh cases filed before the court in 2014 were by the Central government.
Way forward:
Any attempt at resolving the issue of "government litigation" must be based on the premise that the government in India functions in so many myriad forms that a one-size-fits-all approach to deal with the issue is impossible.
The analysis of petitions filed against the state at various levels of governance shows that a multi-pronged approach needs to be adopted to tackle the issue of "government litigation", depending on the kind of litigation.
For example, to reduce writ petitions filed under service and labour classifications, the state must put in place robust internal dispute resolution mechanisms within each department which inspire confidence in its workers as a means of addressing their grievances against the management.
While the Centre has so far failed to finalise the litigation policy, several states have gone ahead with their respective policies based on the 2010 draft of the Law Ministry.
A revised litigation policy with clear objectives, must enumerate the role of different functionaries, list out the minimum standards for pursuing litigation, establish fair accountability mechanisms, provide the consequences for violation and should factor in a periodic impact assessment programme.
A mechanism to scrutinize the cases "which need to be contested and which not to be contested" should be established.
In Jammu and Kashmir, former chief minister Sheikh Mohammad Abdullah had devised a nucleus system within law department to prevent cases from going to the court. A similar system can be put in other states as well at Centre to decide whether a case is fit to contest in the court or not.
The mindset that matters should be left to the courts for any final decision, should be discarded.
The departments should know the real number of litigations the government is involved in. Without such data on cases, their nature and expenditure, it is difficult to work on remedy.
We need to find solutions unique to each litigation-prone department.
Conclusion:
So far, the policies aimed at addressing the supply-side issues of government litigations are found to be lacking in data, research and analysis. What is needed is an implementable action plan to ensure that citizens are not forced to file cases against the government and its agencies in the first place. This will require a relook at the functioning of litigation-prone departments and formulating solutions unique to each department.
Connecting the dots:
The government is the biggest litigant in India. Discuss the reasons behind and state why is it a cause of concern. Also suggest remedial measures.
---
MUST READ
Enabling a form of super surveillance
Restoring order in the court
The art of balance
Ability versus aspiration
Addressing the gender pay gap in India
Renewable energy ambition needs more money
Subscribe to IASbaba