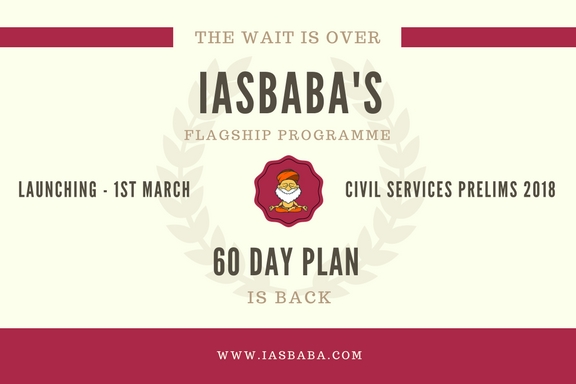 Hello  Friends, 
Here we are with the most awaited initiative.
An initiative that you can't ignore,
A ritual that you must follow,
A habit you must nurture and
A plan that you must internalize.
Yes! We are talking about IASbaba's trademark 60 Days Plan.
---
On June 18, 2015, 1st day of IASbaba and we were with our 60-day plan for Prelims.
On the first day, only 350 people visited our website (that too most of them were our friends giving us feedback).  Zoom to 2017, the 60-day plan hit a lakh plus a view on the very first-day plan itself.
Yes, the one single comprehensive, holistic and FREE programme which has caught the imagination of UPSC aspirants across India is back and better!
We need to talk a bit about the success of 60-day programme only to instil in you the importance of this programmme.
If there is a single word answer to what capitulated IASBaba to the number 1 position, undoubtedly the genesis is in 60-day program. The 60-day program has the highest word of mouth which is the biggest factor amongst UPSC aspirants.
And this is because IASbaba puts its heart and soul into this programme.You can realise the passion with which we conduct this program and other initiatives from our hit ratios……….
Hit Ratios
---
There are few who tried to copy our 60-day program and failed terribly. Some came up with 90, some half of that and in different names. And most such has been the talk of ridicule amongst aspirants in their chai time 🙂
The one program with absolute quality, clarity and prudence, we proudly present to you the 4th edition of the 60-Day programme.
"Sometimes the smallest step in the right direction ends up being the biggest step of your Life. Tip – Toe if you must, but take that step."
Ever since the notification is out the entire civil services aspirant fraternity is in buzz. Many of the aspirants have already decided that they won't be appearing this year as the seats are too less. As if they know that next year seats will be increased. Just like that, they are ready to waste one year of their life.
Even those who have decided to appear this year are under too much of stress as well. Thinking whether they are good enough to compete or not.
Before you put yourself in undue pressure, ask this question to yourself. If there were 200 more seats, would you have worked any lesser? Or, were you aiming for that last 1000th seat?
No. Absolutely not. Everyone is aiming for that top 10 rank. That bracket is still available. The process is as tough as it was before. And you need only One seat for you!
Obviously, when you consciously decided to step into this field, you knew that this is not going to be a cakewalk. You will have to put in efforts and toil till you reach the goal.
Since it was your conscious decision to aim for Civil Services, back yourself up and work hard. You need to prove yourself that you deserve to be in this elite service. You need to prove that when odds were against you, you still got successful.
But, thinking and being positive is just the first step that can sustain your journey. The second step is to set the wheel in motion. Do not think too much or procrastinate. Do the action. Plan your Days and plan your weeks. Still, there is enough time and a long way to go.
The First phase of TLP is over. We hope that you used the platform to the fullest and inculcated the habit of answer writing. Do not worry much about Mains now. Considering, the lesser number of seats this year, the competition in Prelims is definitely on the higher side. 
Now is the time to shift your focus to Prelims. As the competition has increased, there is no scope for error. Even one negative question can prove to be fatal for your journey. You can minimize your errors and maximize your score with constant practice. Solve as many questions as you can so that you become comfortable with MCQs. This will also help you to learn how to use elimination technique and how to make an intelligent guess.
This year, 60 Days Plan would be bigger and better! And yes completely free in line with IASbaba's philosophy!
We are here with better analysis, more focus and more tangible takeaways. We want you to get equipped with certain tools that will help you keep track of your preparation and performance. Continuous improvement is what you require to get past the others. For that, you need patience and unbiased evaluation of your preparedness on a daily basis. We present you certain scales to track your progress on a daily basis and do the necessary course correction to bring yourself on track. But before that, let us do a small analysis of the mistakes that one commits in prelims.
One's level of preparedness is always different for different subjects. Even within a subject, one's comfort level may vary with topics. For example, one might be more comfortable in solving questions of Polity than Economics and within Polity also, one might be at ease with questions on fundamental rights than Parliament. The level of comfort and ease that one has with a subject/ topic gets manifested in the examination. However, there is no conscious effort by aspirants to micro analyse these aspects. Now, coming to the second aspect i.e. the mistakes that one commits in answering MCQs, it can be said that there are mainly four reasons behind incorrect responses in the OMR sheet. They are:
Lack of information
Lack of analytical ability
Silly mistakes
Excessive risk-taking
---
Let's analyse them one by one:
Lack of information: You simply don't know the information. You are clueless and that's why you don't attempt the question. For example, you may have never come across a regime called the 'Wassenaar Agreement' during your preparation and you can't do much about it. Lack of information is pardonable and rectifiable. You can read more and gather more information. That is within your reach.
Lack of analytical ability: You know the concept but the question is a twisted one and you are not able to apply the concept. For example, in a question asking you to identify the climate type of a region based on certain given parameters like precipitation, temperature and air density, you might find it difficult to mark the correct option even if you are aware of all the options given in the question! That is clearly a lack of application and you can overcome it by developing a habit of framing questions in your mind while you study any topic.
Silly mistakes: This habit is unpardonable. You know the concept, you become happy, you misread the question, you mark the incorrect answer and you are out of the race! Such mistakes reveal your hurriedness while answering the question. A simple mistake of reading 'chose the incorrect option' as 'chose the correct option' can destroy your chances. It means that you need to have patience and focus while attempting the paper.
Excessive risk taking: You are confused between the options and just in order to increase your attempts, you make wild guesses and try your luck only to repent eventually. Risk taking is an art and one must be very careful while doing the guesswork in confusing questions. If you are not lucky enough, it can spoil your chances.
You will realize that these problems will have different meanings for different people. For example, one might find lack of information as the main culprit in answering wrong the questions on Culture while in Polity, lack of analytical ability is usually the culprit. The point here is that you must analyse your preparation on these yardsticks by applying them to different subjects/ topics. If one is having a headache, he/ she can't have the same medicine for fever. Isn't it.
This is where our revamped 60 Days Plan comes into the picture. It will give you an opportunity to micro analyse your preparation and perform better in the examination.
---
The detailed micro plan for 60 Days is given here. You can download the PDF here.
Note: You can also join our All India Prelims Test Series-Click Here, in case want to solve more questions. It has a total of 41 Tests including CSAT. 

Integrated Learning Program (ILP)-2018– Click Here is also running that includes 35 Tests, Value Add Notes, Babapedia for Prelims Current Affairs and Mains Mocks with Synopsis. 
---
Now, we present you the following scales (with weightage of each scale given in the bracket) to micro analyse your preparation on a daily basis and that too subject/ topic wise:
Scale 1: Information meter (1)
Scale 2: Analysis meter (2)
Scale 3: Anxiety meter (3)
Scale 4: Risk meter (4)
Suppose on Day 1, questions have been framed from Polity on the topic of Constitutional History. There are 15 questions and you are able to answer 12 out of which 7 are correct and 5 are incorrect. It means you have scored roughly 11.33 out of 30. Now you have to fill on a daily basis, the following matrix to micro analyse your preparation:
Suppose, the filled up matrix gets reflected in the following fashion:




Based on the total value in this matrix, you have to aim for the following measures on the scale:
Information meter < 4
Course Correction: If you are scoring above 4, it means that there are serious gaps in your information base in the particular subject/ topic. Please refer a standard textbook before it's too late.
Analysis meter < 4
Course Correction: If you are scoring above 4, you need to explore all possible questions in your mind while reading the topic. You should frame questions for your friends and try to trick them by twisting the questions.
Anxiety meter < 3
Course Correction: A score above 3 indicates that you are either too excited or too callous to even read the question. You need to calm down and read the question twice, particularly those questions in which you feel too confident.
Risk meter < 8
Course Correction: You need to curb your risk-taking instincts. Make an intelligent guess and don't leave your chance on fate. Don't let the previous year's cut off impact your mind.
Total N x S score < 20
Moreover, IASbaba will give a cut-off figure along with the solutions each day. If your total marks exceed that cut off along with your total N x S score lying below 20, you are on the right track and just need to keep the momentum going.
This exercise will hardly take 5 minutes of your daily time but it might do wonders for you as you will be able to gauge your strengths and limitations better.
Finally, it is up to you to take advantage of this framework. We are sure of only one thing- if you follow 60 Days Plan, assess yourself on the basis of the given framework and keep improving your weaker areas, success will be yours.
Always remember, inconsistency and doubt lead to fear. And fear is something that ruins everything without giving you a chance. So, let us come together and enjoy the journey that lies ahead.
So if you are ready for the programme –
You need to make certain promises that –
You will put in honest efforts in preparing the syllabus and then attempt the test.

Review your answers honestly and post your score.

Try to improve in every single test.

Do not commit the same mistake – Ever.
---
How to Use 60 Days?
60 Days should be part of your preparation- revision-consolidation.
Questions will be posted around 11 AM.
Solve the questions as you would do in UPSC Prelims examination room.
Enter your attempt in the comment section on the day of the exam.
After the solution is uploaded in the evening, come back and calculate your score.
Under the same comment of yours, enter your final score, check your accuracy using the Matrix analysis given above and evaluate yourself.
Do not miss this exercise at any cost.
Kindly note: Daily Quiz will be merged with this from 1st March 2018.
If your efforts are honest, you will definitely clear the first hurdle and get a chance to prepare for the next battle.
Remember, it is just a matter of 3 months from now. Forget about everything, your surroundings, likes and dislikes, friends and family and even yourself. Just focus on the target and do whatever it takes to achieve it. As compared to life, 3 months is a very short time to chase your dream. This is the moment, this is the time. Do not let it go in vain. There is a couplet –
"Mita de apni hasti ko, agar kuch martaba chahe
Ke dana mil ke mitti me, gulo gulzaar hota hai"
It says – Destroy your identity if you want to achieve a standard. As a seed destroys itself in the soil to become a flowery tree. Charge yourself and be that seed that is ready to transform. 
Raise your hands if you are part of this journey in the comment box 🙂
All the best
IASbaba
For a dedicated peer group, Motivation & Quick updates, Join our official telegram channel – https://t.me/IASbabaOfficialAccount
Subscribe to our YouTube Channel HERE to watch Explainer Videos, Strategy Sessions, Toppers Talks & many more…