IASbaba's Daily Current Affairs (Prelims + Mains Focus)- 21st February 2018
---
(PRELIMS+MAINS FOCUS)
---
Mahanadi Tribunal
Part of: Mains GS Paper II- Inter-State Water Disputes
Key pointers: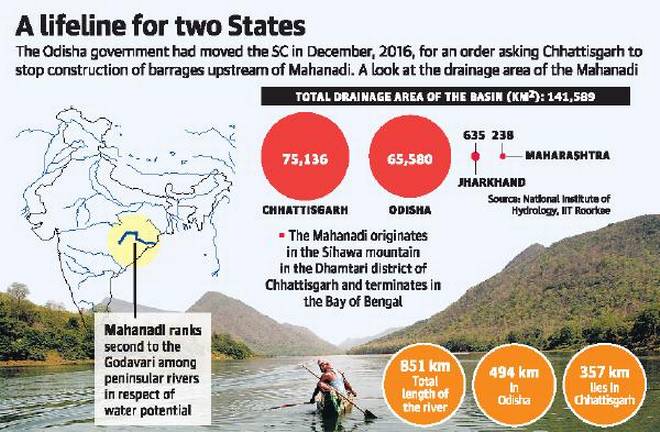 Pic credits: http://www.thehindu.com/todays-paper/tp-national/article22811042.ece/alternates/FREE_660/TH20-JACOB-KOSHGI53FG1HG1jpgjpg
The Union Cabinet approved the setting up of a tribunal to settle a row between Odisha and Chhattisgarh on sharing the waters of the Mahanadi river.

This is in keeping with a Supreme Court order last month directing the Centre to set up a tribunal in response to a plea by the Odisha government to stop the Chhattisgarh government from constructing several weirs on the river.

The tribunal is expected to determine water sharing among basin States on the basis of the overall availability of water in the complete Mahanadi basin, the contribution of each State, the present utilisation of water resource in each State and the potential for future development, official sources said.
The order on constituting a new tribunal comes even as the government plans to introduce a new bill that would have a single tribunal to replace all existing water tribunals.
Issue with such tribunals:
According to the provisions of the Inter-State River Water Disputes (ISRWD) Act, 1956, the tribunal is required to submit its report and decision within a period of three years, which can be extended for a period not exceeding two years.




Only three out of eight tribunals have given awards accepted by the States. Tribunals for Cauvery and Ravi Beas have been in existence for several decades.

Delays are on account of there being no time limit for adjudication by a tribunal, no upper age limit for the Chairman or the Members, work stalling due to occurrence of vacancy and no time limit for publishing the report of the tribunal.
Article link: Click here
---
India-Canada: Agreement to open market access to startups
Part of: Mains GS Paper II, III- International relations, Indian economy
Key pointers:
Amid Canadian Prime Minister Justin Trudeau's India visit, India and Canada have signed a bilateral agreement to provide market access for startups from both countries.

The programme has been sanctioned by both the governments and will be launched in India in partnership with Zone Startups India (ZSI), a private accelerator.

Under the bilateral agreement signed recently, both the governmentswill guide and support potential startups to grow over the next two years.

Zone Startups India will identify 40 startups that can be eligible for the programme. The programme will focus especially on women entrepreneurs.

To boost the support for selected startups pertaining to legal and operational aspects, both Canadian and Indian government will invest an undisclosed amount in Zone Startups India.

The selected startups will be mentored and connected with several corporates and investors while gaining access to the Canadian market along with the rest of the North American startup market, which is worth $19 Tn.

Ottawa's Carleton University and All India Council for Technical Education (AICTE) announced an international acceleration program to support 100 women led student tech startups.
Article link: Click here
---
(MAINS FOCUS)
---
INTERNATIONAL
TOPIC: General Studies 2:

India and its neighbourhood- relations.
Bilateral, regional and global groupings and agreements involving India and/or affecting India's interests
Effect of policies and politics of developed and developing countries on India's interests
India-Iran relations: Recent visit by President of Iran
Background:
President of Iran, Hassan Rouhani to India, was on a three day visit to India this month.
The visit is within a month of the six-day visit to India of Benjamin Netanyahu, the Prime Minister of Israel, Iran's implacable foe in the region.

A four-nation tour was undertaken by the PM to West Asia where he visited Palestine (the first by an Indian PM), Oman, UAE and Jordan.
India is one of the few countries to have warm and mutually beneficial relations on all sides of the divide in West Asia including the Shia/Sunni split and the Iran/Israel rift.
Rouhani's visit will give a decisive shot in the arm to India's growing engagement with West Asia.
The visit:
Rouhani's visit provided a welcome opportunity to the two sides to give a vigorous push to bilateral ties in the areas of connectivity, energy, infrastructure, trade, investment, security, defence, culture and people-to-people contacts.
Rouhani's presence in India was evidence of the keen interest that both countries have in promoting bilateral ties and taking them to the next higher level.
Domestic challenges:
Rouhani is under considerable pressure both on the domestic front, in political as well economic areas, and in the realm of Iran's international ties.
Huge street protests and demonstrations in several cities of Iran against lack of employment, corruption and high prices.

He won a second term in 2017 on the point that the nuclear deal or Joint Comprehensive Plan of Action (JCPOA) signed with P5+1 in 2015 would result in increased investment from foreign countries, improve production and productivity, bring in new technology, create more jobs and be beneficial to the common people.




This unfortunately has failed to materialise principally because of the aggressive and belligerent posture adopted by President Trump against the nuclear Agreement.
Connectivity:
As expected, connectivity through Chabahar port emerged as one of the most significant aspects of bilateral Talks.
India's recent accession to the Ashgabat Agreement in which Turkmenistan, Iran, Uzbekistan and Oman are members, and to the TIR Convention will help enhance its engagement with the region.
The trilateral agreement-
The Trilateral Agreement between India, Iran and Afghanistan on the use of Chabahar, which was signed in May 2016, has been put into operation in a little more than a year.

Chabahar provides a strategic option to India to connect with Afghanistan and Central Asia and beyond by sidestepping Pakistan.
Indian projects-
India has invested USD 85 million in upgrading the first phase of the port from 2.5 million tons to 8.5 million tons.

India has also committed to construct the railway line from Chabahar to Zahedan, which is close to Zaranj on the Afghanistan-Iran border.
To maintain its credibility, India will need to ensure that there is no slackness in implementation of the project.
Challenges:
Gwadar port in the Baluchistan province of Pakistan is barely a 100 kms away from Chabahar and is being developed by China.
Chabahar will face stiff competition from Gwadar. India and Iran will have to make certain that to-and-fro business handled by Chabahar is significant.
Chabahar enjoys several advantages over Gwadar-
It is located in a peaceful region as opposed to Gwadar which is situated in a violent and terrorism prone province.

The possibilities for establishing manufacturing and downstream petrochemical industries in Chabahar are much greater as ready, easy, cheap natural gas is available in plentiful in Iran.

Chabahar is a natural harbour and can serve as the sourcing point for the International North-South Transport Corridor.

For Afghanistan, the Chabahar port could prove to be, as Modi said, "a Golden Gateway."
Energy:
India will set up "plants in sectors such as fertilizers, petrochemicals and metallurgy in Chabahar Free Trade Zone (FTZ) on terms mutually beneficial to the concerned parties." This will be a win-win investment as it will promote India's energy security while providing financial resources and employment opportunities to Iran.

Discussions on the exploitation of Farzad B gas field, which was discovered by an Indian consortium comprising OVL, OIL and IOCL in 2007, have been going on for the last many years.




It was mentioned in the Joint Statement.
Trade and Investment:
Facilitating issuance of visas to promote tourism and people-to-people contacts.




It will be mutually beneficial if more businessmen and common people travel to each other's countries as they will provide a huge boost to Iran's economy and also promote understanding and cooperation between the two countries.

The Agreement on Avoidance of Double taxation was signed to promote bilateral trade and investment.

India has also decided to permit Indian investments in Iran in Indian rupees. Currently, this facility is available only for Bhutan and Nepal.




This decision, which has been taken in view of the absence of international banking facilities in Iran and also given the uncertainty due to continuing pressure by the United States on Iran.

The opening of a CII Office in Iran last year can also be expected to give strong boost to two way business and economic ties.
Bilateral cooperation in security, defence and fight against terrorism emerged as significant areas of discussion during Rouhani's visit. A Bilateral Extradition Treaty was signed and it was also decided to have enhanced cooperation in the maritime domain. The two countries "agreed to hold dialogue to look into measures for cooperation in defence sphere, including port calls by naval ships, training and regular exchanges of defence delegations."
Challenges:
Ensuring security and stability in Afghanistan, which is vital to peace in the region, poses a challenge to both India and Iran.
Both countries desire peace in Afghanistan but their approaches are markedly different. India's position-
India maintains that there cannot be a distinction between "good Taliban" and "bad Taliban." It contends that the Taliban and Haqqani network are the root cause of the problem and that these groups cannot be a part of the solution.




India views the presence of US troops as beneficial since they maintain pressure on Pakistan to give up support for terrorist elements acting against Afghanistan.

Iran's position-




Iran's wants US troops to leave Afghanistan.




In addition, it has expressed readiness to collaborate with Pakistan and China to bring the Taliban to the negotiating table.
Other challenges in bilateral relations relate to India's growing ties with USA, Israel, Saudi Arabia and UAE, all of which are intractable rivals of Iran.
Conclusion
Both India and Iran seem to have come to the conclusion that there are a large number of areas in which their interests coincide and converge. They also recognize that they have divergent views on some issues.
Notwithstanding the fact that the two countries do not see eye to eye on some issues, India and Iran have decided to focus their energies on areas of concurrence and rapidly embark on a mutually beneficial and fruitful partnership.
Connecting the dots:
India is one of the few countries to have warm and mutually beneficial relations on all sides of the divide in West Asia including the Shia/Sunni split and the Iran/Israel rift. Analyze.

Rouhani's visit provided a welcome opportunity to the two sides to give a vigorous push to bilateral ties in the areas of connectivity, energy, infrastructure, trade, investment, security, defence, culture and people-to-people contacts. Discuss.
---
NATIONAL
TOPIC:
General Studies 1:
Salient features of Indian Society, Diversity of India.
Social empowerment, communalism, regionalism & secularism.
General Studies 2:
Government policies and interventions for development in various sectors and issues arising out of their design and implementation.
Language: Much more than a means of communication
Background:
Nineteen years ago, in November 1999, the General Conference of the Unesco proclaimed February 21 as the International Mother Language Day to coincide with the Language Day Movement in Bangladesh. The genesis of this commemoration lies in widespread protests by the Bengali-speaking majority in the region, then known as East Pakistan, against the Government of Pakistan's language policy.
Importance of language:
A language is far more than a means of communication; it is the very condition of our humanity. Our values, our beliefs and our identity are embedded within it.
Language is clearly an emotive issue because it is embedded in our social life. It enables us to communicate our emotions and ideas. It fosters group identity and fraternity. Usually, we express our thoughts much better in our mother language.

It has been found that children learn better, especially at the primary stage, if they are taught in their mother tongue.

Language is intertwined with identity and is, therefore, a contested issue.




Preservation of languages has inevitably been linked to the preservation of a culture as well as artistic and intellectual heritage.

As the UN has noted, "Language is fundamental to communication of all kinds, and it is communication that makes change and development possible in human society. Using — or not using — certain languages today can open a door, or close it, for large segments of society in many parts of the world."

Language is the lifeline of a culture and, in a way, defines the larger social milieu. It plays an important role not only in communication but also in forging bonds among people who speak the same tongue. It provides a collective identity to people and forms an essential component of their cultural values.
Need to preserve languages:
We need to preserve the multicultural nature of our world and the best way to do that is to preserve all its languages and also enrich them.




Gandhiji once remarked: "I do not want my house to be walled in on all sides and my windows to be stuffed. I want the cultures of all lands to be blown about my house as freely as possible. But I refuse to be blown off my feet by any."

India has always believed in diversity and plurality. It has respected all languages.




However, since language and culture are intertwined, there is an absolute need to strengthen the indigenous languages, including those spoken by the many tribal groups in our country.
However, what is most important is to promote the use of the mother tongue.
A child can grasp knowledge better in his or her mother tongue compared to any other language.

A child will also be able to communicate and articulate her thoughts effectively in her native language.
Large-scale promotion of mother tongue is the best way to increase literacy in India beyond the current level of 74 per cent.




With strong language competency in the mother tongue, a student will be able to learn other languages faster and can become a true polyglot in a multicultural, globalised world.
International comparison:
English has become the link language in the country and is used in government offices and elsewhere. Unfortunately, many people, especially the urban-educated Indians, feel it infrerior to speak or read and write in their mother tongues. This undesirable trend has to be reversed.

World over, people not only take pride in speaking in their mother tongues, but also try to propagate them. Various heads of state, for example, from Russia, France, Switzerland, China, Germany and Iran, use their national languages. This is simply because they take pride in their languages. They use language to assert their national identity.
What needs to be done?
We need to have-
An educational system that incorporates mother languages.

A publishing industry that encourages Indian language publication.

An internet regime that allows communication and transmission of knowledge in different Indian languages.
Conclusion:
A multilingual and multicultural world will be possible only by strengthening individual mother languages. Individuality and plurality can and must go hand in hand. That has been the essential Indian vision. It is the same vision that can enable us to be true Indians as well as global citizens at the same time.
Connecting the dots:
A language is far more than a means of communication; it is the very condition of our humanity. Our values, our beliefs and our identity is embedded within it. Discuss the need of preserving languages. Also suggest how it can be done in India.
---
MUST READ
India remains in the best position to help us
The politics of AI
For cleaner fairer elections
A deceit called autonomy
The making of the Great Ocean of China
For a dedicated peer group, Motivation & Quick updates, Join our official telegram channel – https://t.me/IASbabaOfficialAccount
Subscribe to our YouTube Channel HERE to watch Explainer Videos, Strategy Sessions, Toppers Talks & many more…