IASbaba's Daily Current Affairs (Prelims + Mains Focus)- 13th June 2018
---
(PRELIMS+MAINS FOCUS)
---
National Parks/Tiger Reserves in news
Part of: Prelims – Environment and Biodiversity; Animal Conservation; Mapping
Know these names and associated states
Dudhwa National Park, Uttar Pradesh

Jharkhand's Palamu Tiger Reserve
Uttarakhand
Corbett Tiger Reserve

Rajaji Tiger Reserve

Nandhaur Wildlife Sanctuary
Why in new?
Elephants have been imported to the above national parks or tiger reserves from Karnataka.

Karnataka, which has the largest elephant population in the country, captures and confines elephants in conflict with humans.

Called Kumki elephants, they are tamed and trained in forest camps, and are now in demand in other States, for patrolling duties in forest reserves.
Article link: The elephant ambassadors of Karnataka
---
Indigenously made lithium ion batteries technology
In news:
ISRO offers indigenously made

lithium ion batteries

technology to firms

Qualified companies or competent Indian industries/start-ups can now use its power storage technology to produce a range of Li ion cells for many purposes, mainly EVs or electric vehicles.

ISRO's rocket sciences node Vikram Sarabhai Space Centre will transfer its in-house technology non-exclusively to each qualified production agency for a one-time fee of ₹1 crore.
Do you know?
The Li ion cell production initiative is part of the government's plan to achieve 100% EVs in the country by 2030.

Li ion battery is much in demand for use in handy consumer electronics goods too. Currently the batteries are imported mostly from China, South Korea and Taiwan.

NITI Aayog has also earlier called for setting up local production.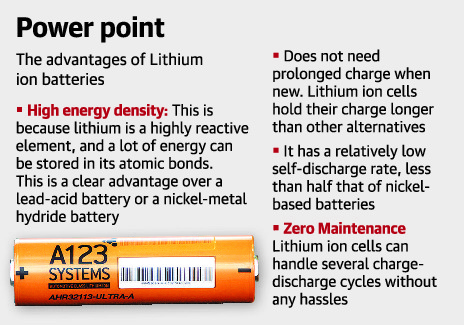 https://d39gegkjaqduz9.cloudfront.net/TH/2018/06/13/DEL/Delhi/TH/5_05/715eff52_2169160_101_mr.jpg
Important Value Additions:
Some of the advantages of LIBs are:
A typical LIB is able to store 150 watt-hours electricity per kg of battery, compared to 100 watt-hours electricity in a nickel-metal hydride (NiMH) battery, and only 25 watt-hours electricity in a lead-acid battery.

LIBs hold a charge well. They usually lose approximately 5% of their charge each month, against a 20% monthly loss for NiMH batteries.

LIBs do not require complete discharge prior to recharging.

LIBs are able to handle more charge/discharge cycles.

Lithium-ion (Li-ion) batteries are less environmentally damaging than batteries containing heavy metals such as cadmium and mercury, but recycling them is still far preferable to incinerating them or sending them to landfill.
Some of the disadvantages of LIBs are:
LIBs start to degrade the moment they leave the factory. They usually last for only two to three years from the date of manufacture, regardless of whether used or unused.

LIBs are highly sensitive to higher temperatures. Higher temperature leads to a much faster degradation rate than normal.

If a LIB is fully discharged, it gets totally damaged.

LIBs are comparatively expensive.

There exists a small possibility that if the LIB pack fails, it may burst open into flame.
Article link: Karnataka ISRO offers battery technology to firms
---
SEBI panel to study option of direct overseas listings
Part of: GS Prelims – Indian Economy
In news:
The Securities and Exchange Board of India (SEBI) has constituted an expert committee to examine the

possibility of allowing unlisted Indian companies to directly list equity overseas

while also allowing foreign companies to list directly on the Indian bourses.
Do you know?
Companies incorporated in India can today list their debt securities on international exchanges (Masala Bonds) but their equity share capital can be listed abroad

only through the – American Depository Receipt (ADR) or Global Depository Receipt (GDR) – ADR/GDR route.

Similarly, companies incorporated outside India can access the Indian capital markets

only through the IDR route

.

Thus, presently, direct listing of equity share capital of companies incorporated in India is

not permitted on foreign exchanges and vice versa

.
Considering the evolution and internationalization of the Capital Markets, it would be worthwhile to consider facilitating companies incorporated in India to directly list their equity share capital abroad and vice versa. In this regard, it has been decided to constitute an Expert Committee to look into this aspect in detail.
Important Value additions
DEPOSITORY RECEIPTS
Depository Receipt is a mechanism through which a domestic company can raise finance from the international equity market.
Companies of a country can go abroad to sell their shares in foreign capital market. When a foreign investor buys shares of domestic companies abroad (in capital market), he is issued a receipt by a custodian Bank. This receipt represents a certain number of underlying shares of domestic companies and hence they are called Depository receipts.
The depository receipts

raised by Indian companies in American market are called American Depository Receipts (ADRs)

and those that are raised in some other countries are called Global Depository Receipts (GDR).

The depository receipts raised by foreign companies in Indian market are called Indian

Depository

Receipts (IDRs).
Article link: SEBI panel to study option of direct overseas listings
---
Trump-Kim meet
Part of: GS prelims – International Relations
Key points:
Summit was held in Sentosa island in Singapore

North pledges to move towards denuclearization

U.S. assures its old foe of security guarantees

However sanctions on North Korea would stay in place for now
---
(MAINS FOCUS)
---
GOVERNANCE
TOPIC:General Studies 2:

Role of civil services in a democracy.
Important aspects of governance, transparency and accountability and institutional and other measures.
Lateral Entry: Civil Services Reform
In news:
The government has mooted the idea of allowing lateral entry from academia and the private sector at the joint-secretary level.

The department of personnel and training's call for applications to fill 10 joint-secretary level posts in various departments.

This is both welcome and inadequate to address India's governance challenges.
Reference article: Lateral entry into civil services
Background:
The idea of lateral induction is not new.

It was recommended by the 2nd Administrative Reform Commission, high level committees appointed by different governments and a plethora of think tanks.
Lateral entries in past:
The Indira Gandhi government started this in the 1970s, when Yoginder K Alagh, then a teacher in Ahmedabad, was appointed the head of the Perspective Planning division of the Planning Commission.

Other "outsiders" of note are former prime minister Manmohan Singh, economist Montek Singh Ahluwalia, who ushered in transformative economy reforms, Sam Pitroda, credited for the telecom revolution in India, and more recently, Nandan Nilekani, the co-founder of Infosys, whom the UPA brought in to head the UIDAI project.
The case for lateral entry is strong:
Civil servants enter public service as generalists and gain experience through district and state level postings. While this offers strong grounding in grassroots realities and effective coordination, building specific domain expertise starts quite late for career bureaucrats.




Frequent transfers discourage specialized knowledge. Short tenures provide little opportunity for it.

The function and form of any governance institution is shaped by the political and economic contexts it works within. These contexts have changed dramatically over the decades.




Vallabhbhai Patel's conception of the Indian Administrative Service's (IAS') role as a binding agent in a newly independent nation that was wildly heterogenous and traumatized was of its time. The old, existential threats no longer exist.




Indian federalism has changed accordingly, both politically and economically.




The bureaucracy is in many cases, ill-suited to the rapidly changing nature of technology-fuelled economic progress and governance.

Lateral entry is essential to infuse fresh vigour into this closed "mandarin" system.
Positive:
The opening up of the services is a chance to induct talented individuals who have experience and specialisation in the exact field they will be hired for.

Those hired would be experts in their domains, would have a proven record of competence, coming from the private sector, will bring in fresh perspective and new ideas.  

People hired this way will always have the option of going back to their old jobs, and thus can stand up to their political bosses in a way that is difficult for government servants.

The new move gives the people, who do not have the luxury to devote years to preparing for one exam, a fresh chance to serve the nation, after honing their talent in the private sector.
At present, the numbers to be inducted are relatively small – around 40. However, this may help tide over the current deficit of middle level officers in the central government.
It is both a workaround for the civil services' structural failings and an antidote to the complacency that can set in a career-based service.
Criticism:
This would open a side door for the government to appoint its favoured people to important posts, would promote nepotism, and could even be a way to bypass reservation for scheduled caste and scheduled tribe candidates.
Way ahead:
Lateral entry shouldn't descend into nepotism and politicisation of bureaucracy.




The recruitment and selection process must be transparent and involve an autonomous body like the Union Public Service Commission to minimize the risk of political considerations trumping merit.




This is the route the UK, Australia and New Zealand have taken, and the second administrative reforms committee has recommended as much.

The inevitable push-back from the IAS will also have to be managed.
Lateral entries are not a panacea:
Lateral entries can buttress the IAS. They cannot replace it.
Technocratic skills are important. But so is the IAS' unduplicable experience of ground-level governance in India.
From rewarding performance to curbing the culture of political patronage—reforms are necessary.




Without this, the private sector talent will not be able to make up for the deficiencies of a bureaucracy low on morale, performance and reputation.
Administrative reforms must accompany lateral entry. There should be periodic reviews of mid-career officers to weed out underperformers. IAS monopolies in ministries like home, S&T, sports, etc must go and other cadres deserve consideration too.
Connecting the dots:
The IAS has long been an ivory tower. Opening a new door to it will prove to be a good idea, for the bureaucracy and for the country. Comment.
---
HEALTH/ETHICS
TOPIC:General Studies 2 and 4:

Issues relating to development and management of Social Sector/Services relating to Health, Education, Human Resources.
Important aspects of governance, transparency and accountability; institutional and other measures.
Codes of Ethics, Codes of Conduct, Citizen's Charters, Work culture
Ethics first: Organ transplant racket
Introduction:
Yesterday, we read about Organ transplant racket which has surfaced in Tamil Nadu. It is alleged that International patients are getting more priority in cadaver transplants, bypassing long list of Indians.
Three of four hearts harvested from brain-dead patients were given to foreign nationals, bypassing Indian patients on the waiting list.
We know that,

Health is a state subject, therefore State governments have responsibility for health care provision

.

They are expected to ensure that the organs that are altruistically donated by families of brain-dead people are given to recipients ethically, and as mandated by law.
As long as there is a shortage of organs for transplantation, there will be a requirement that those organs be offered to patients on the waiting list in an ethical manner. The allocation system should be "fair."
Next course of action:
There must be an inquiry into how allocations for organ transplants are made. Any inquiry into the allocation of hearts and lungs to foreigners should, therefore, shed light on the factors that led to the decisions, including whether registered citizens were overlooked.
It should cover such issues as the capacity of district-level hospitals to perform transplants, and arrangements to air-lift organs, since domestic patients are unable to afford flight facilities. Such measures will make it possible to utilise more hearts and lungs, and offer them to domestic recipients.
Enrolling all domestic patients through State registries should be the priority for the National Organ and Tissue Transplant Organisation, set up by the Centre with that mandate.
Ethics first: Hospitals and professionals who engage in commerce or unethical behaviour should have no place in the system.
Connecting the dots:
What are the Reasons behind the imbalance between the number of organs donated and the number of people waiting for a transplant?

"Making organs a commodity is fraught with erosion of social, moral, and ethical values and is not an alternative that can be acceptable to meet organ requirements in a civilized society". Critically analyze.
---
(TEST YOUR KNOWLEDGE)
Model questions: (You can now post your answers in comment section)
Q.1) Match List I with List II and select the correct answer using the code given below the Lists:
List I                              List II
Rajaji Tiger Reserve

         

1. Uttarakhand

Palamu Tiger Reserve

      

2. Uttar Pradesh

Dudhwa National Park

    

3. Jharkhand
  A-B-C
1-2-3

3-2-1

1-3-2

3-1-2
---
Q.2) Consider the below statements with regard to lithium ion batteries:
They have high energy density compared to lead-acid battery or nickel-metal hydride battery.

They have relatively low self-discharge rate compared to nickel based batteries.

These batteries are less environmentally damaging than batteries containing heavy metals such as cadmium and mercury.
Which of the statements above is/are correct?
1 only

2 only

2 and 3

1, 2 and 3
---
Q.3) Consider the below statements:
Companies incorporated in India can today list their equity share capital abroad through IDR route only.

Companies incorporated outside India can access the Indian capital markets only through the ADR/GDR route.
Which of the statements above is/are correct?
1 only

2 only

Both 1 and 2

Neither 1 nor 2
---
Q4.) Consider the following statements about Indian Depository Receipts (IDRs):
An IDR is a mechanism that allows foreign investors to invest in Indian listed companies in Indian rupees.

IDRs are Indian version of Global Depository Receipts (GDRs).
Which of the above statements is/are correct?
1 only

2 only

Both 1 and 2

None
---
MUST READ
Historic handshake
A plastic charter
Polls are best kept apart