IASbaba's Daily Current Affairs [Prelims + Mains Focus] – 22nd June 2018

IASbaba's Daily Current Affairs (Prelims + Mains Focus)- 22nd June 2018
---
(PRELIMS+MAINS FOCUS)
---
Trade war: US imports to attract high tariffs
Part of: GS Mains Paper II- International relations
In news:
India notified higher tariffs on several items imported from the U.S.

Agricultural products such as apples, almonds, chickpeas, lentils, and walnuts;

Industrial inputs such as some grades of iron and steel products; — to attract high tariffs

Harley-Davidson motorcycles row – US tried to squeeze India to set zero import duty on Harleys
US and EU
European Union also began to charge import duties of 25% on a range of U.S. products in response to U.S tariffs imposed on EU steel and aluminium.

The move confirms a tit-for-tat dispute that could escalate into a full trade war, particularly if U.S. President Donald Trump carries out his threat to penalise European cars.
US and China
China also had announced plans to hike tariffs by 25% on 106 imports from the U.S.

The Chinese move was in response to a U.S. announcement of a 25% tariff on 1,333 Chinese imports.

However, both the countries negotiated with an agreement not to impose tariffs on each other, pulling back from the brink of a trade war.
Will US negotiate with other countries as well and make similar agreement as China's, to not impose tariffs on each other??
---
UN's Sustainable Development Goals 2018 report
Part of: GS Mains Paper III- Inclusive development
In news:
After a prolonged decline, world hunger appears to be on the rise again.

There are now approximately 38 million more undernourished people in the world, rising from 777 million in 2015 to 815 million in 2016

"CONFLICT" – main drivers of food insecurity in 18 countries.

Conflict and Climate Change (drought and disasters) are among the key factors causing this reversal in progress.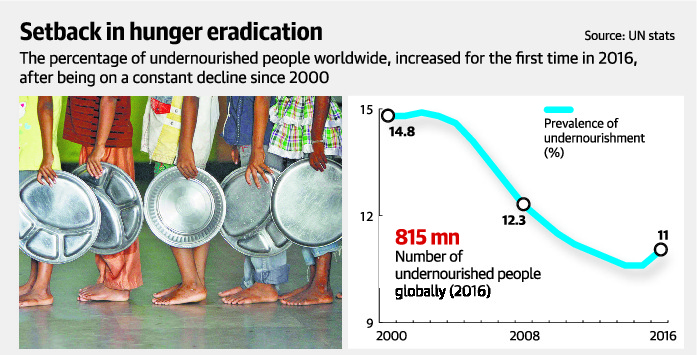 Pic link: https://d39gegkjaqduz9.cloudfront.net/TH/2018/06/22/DEL/Delhi/TH/5_07/8b3b8f35_2190471_101_mr.jpg
Highest Economic losses was in 2017 – over $300 billion loss – owing to three major hurricanes affecting the United States of America and several countries across the Caribbean.

Good news – South Asia, which includes India, has seen child marriage rates plunge

Bad news – South Asian region facing high water stress levels and fast-approaching water scarcity; air pollution level is also high

Electricity and sanitation deficits in south Asia are still poor
About Sustainable Development Goals
17 SDGs were adopted by UN member nations in 2015. The deadline to meet them is 2030.
How to remember all 17 Goals?
I Can HELP
Yes, "I Can HELP" is your answer
I2

Industry, Innovation and Infrastructure

Inequality

Can5

Clean water and Sanitation

Clean Energy

Climate Change

Cities and Communities

Consumption and Production

H2

Hunger

Health

E3

Education

Equality

Economic Growth, Decent Work

L2

Life below water

Life on land

P3

Poverty

Peace and Justice

Partnerships for the Goals
---
Credit Guarantee Trust for Agriculture (CGTA)
Part of: GS Mains Paper III- Indian Agriculture
In news:
Odisha CM suggests policy framework for farm loan waivers

Calls for a national policy on farm loan waiver

Rather than cost sharing between Centre and States, the whole issue should be removed from political considerations, since agrarian distress and addressing is beyond partisanship

Suggests the setting up of a Credit Guarantee Trust for Agriculture (CGTA) on the lines of the Credit Guarantee Trust for Small and Medium Enterprises (CGTSME)

Through this, collateral-free agricultural loans of up to ₹50 lakh and collateral-free crop loans of up to ₹2 lakh can be offered, backed only by the guarantee of CGTA

Odisha government is creating a CGTA for the State's farmers with a corpus of nearly ₹200 crore.
Important to understand CGTSME
About Credit Guarantee Trust for Small and Medium Enterprises (CGTSME)
To facilitate easy flow of credit to Micro, Small and Medium Enterprises

CGTSME was set up to strengthen credit delivery system and facilitate flow of credit to the MSE sector.

The Credit Guarantee Fund Scheme for Micro and Small Enterprises (CGS) was launched by the Government of India (GoI) to make available collateral-free credit to the micro and small enterprise sector.

Both the existing and the new enterprises are eligible to be covered under the scheme.

The Ministry of Micro, Small and Medium Enterprises, GoI and Small Industries Development Bank of India (SIDBI), established a Trust named Credit Guarantee Fund Trust for Micro and Small Enterprises (CGTMSE) to implement the Credit Guarantee Fund Scheme for Micro and Small Enterprises.
For more – https://www.cgtmse.in/About_us.aspx
---
Trace and Track mechanism to check counterfeit drugs
Part of: GS Mains Paper II- Government interventions
In news:
The Drug Controller General of India (DCGI) has proposed introduction of trace and track mechanism for top 300 drug brands that are sold in India.

This mechanism will be implemented across India on a trial basis to spot out counterfeit drugs.

Under this proposal, the company will print a unique number on each strip or bottle of the drug. It will also print a phone number where the customer can dial and enter the aforesaid unique number and get the name and address of the manufacturer, the batch number, manufacturing and expiry date of the medicine.
Need:
According to a study by the World Health Organization (WHO) in November last year, about 10 per cent of the medicines consumed in low- and middle-income countries, including India, are "substandard and falsified".

In February last year, a two-year-long nationwide survey was conducted under the supervision of the Central government, which found that around 10 per cent of the drugs in the government supply chain are "not of standard quality".




This survey found around 3 per cent of drugs in retail supply chain substandard.
---
Taking ease of doing business to the districts level
Part of: GS Mains Paper III- Inclusive development, Indian Economy
In news:
The Centre has begun to sharpen its focus on improving ease of doing business at the districts level, having achieved some improvement at both the Central and State levels.

As a pilot, six districts in five States have been selected for development schemes that will increase district GDP by 3 per cent.




Once the pilot is successful, it will be replicated pan India.

By making districts a focal point of growth and increasing their GDP by 2-3 per cent, the country's GDP will grow as districts' growth is critical for the country's overall growth.
---
Under-reporting of female foeticides
Part of: GS Mains Paper I- Social issues
In news:
The National Health Profile, 2018, exposes the gross inability of law enforcement agencies in India to crack down on female foeticide.

Between 2008 and 2016, a total of just 1128 foeticides happened in the country, says the National Health Profile. Yet, the National Family Health Survey 4 shows that the sex ratio of children born in the last five years before the survey (2010-11 to 2015-16) is just 919 girls per 1,000 births (the ideal ratio is 950).

NHP 2018 highlights the under-reporting of foeticides (sex-selective and otherwise) in the country. The abysmally low cases filed for foeticide expose the laxity of the law enforcement system.
National Health Profile is the most comprehensive annual compilation of data on disease incidence, health infrastructure and health finance.
---
MAINS FOCUS
---
NATIONAL
TOPIC:
General Studies 1:
Social empowerment, communalism, regionalism & secularism
Salient features of Indian Society, Diversity of India
General Studies 2:
Government policies and interventions for development in various sectors and issues arising out of their design and implementation.
Parliament and State Legislatures- structure, functioning, conduct of business, powers & privileges and issues arising out of these.
Political under-representation of women in India
Introduction:
B.R. Ambedkar once said that "political power is the key to all social progress". India where women suffer substantially greater socio-economic disadvantages than Western democracies like Spain—has a cabinet that is only 22% female and a Lok Sabha that has a meagre 12% female representation.
Concentration of political power tends to lead to extractive economic institutions. Inclusive economic institutions and growth—both necessary for and dependent on social empowerment—require inclusive political institutions.
Effect of political representation on disadvantaged groups:
Social outcomes:
Observing a member of their own group in charge of a public office changes attitudes and infuses confidence in the minority group. This may be referred to as the reporting channel.




For example, a public opinion survey done by the authors in Rajasthan revealed that women in villages with a head council position reserved are more likely to be willing to report crimes to the police.

An increase in the responsiveness of the official towards the pleas of disadvantaged groups.




For example, Gender of the village council president affects the extent of investment in public goods.




Data collected in 2002 revealed that in Rajasthan and West Bengal, for instance, increased female political representation led to more investment in drinking water and roads in response to complaints by local women.
Economic outcome:
A study shows a strong connection between implementation of political reservations and small-scale entrepreneurship among women.
The study noted "a growth in new women-owned establishments and associated employment of approximately 40% after political reservations were implemented" for the 1994-2005 period.
Women representation in Indian parliament:
The proportion of women in the Lok Sabha has seen only a paltry increase since independence—from 4.5% in the first Lok Sabha to the current 12% in the 16th Lok Sabha.
Way ahead:
The debate on the women's reservation Bill is one aspect of the issue—but it's not the only one.
Political parties in India tend not to follow provisions in their constitutions reserving seats for women in different committees.




In several instances, when women are offered party tickets, it's a case of the Lalu Prasad syndrome—the woman being a de facto stand-in for a male relative rather than exercising power in her own right.

Another hurdle is lack of education and leadership training. Additionally, since women are not integrated in any local political process initially, and, unlike men, are not part of the relevant social and power networks, women leaders are prone to inefficiencies.




Given these concerns, there is a pressing need for education and leadership training to familiarize them with the local government functioning and instill in them a sense of agency.
The above two problems create a vicious cycle where socio-economic disadvantages lead to reduced opportunities for women to participate in the political process, leading to weakened representation—which, in turn, retards the process of addressing those socio-economic disadvantages.
It's a cycle that has been perpetuated for seven decades. It must be broken.
Connecting the dots:
B.R. Ambedkar once said that "political power is the key to all social progress", In this light discuss the socio-economic impact of poor political representation of women in India.
---
NATIONAL
TOPIC:General studies 2:

Government policies and interventions for development in various sectors and issues arising out of their design and implementation
Issues relating to development and management of Social Sector/Services relating to Health, Education, Human Resources
Bridge Course: Addressing human resources gaps in primary healthcare
In news:
A National Medical Commission (NMC) proposal in the National Medical Commission Bill and the National Health Policy 2017, proposed allowing Ayush (Ayurveda, yoga and naturopathy, Unani, Siddha and homoeopathy) practitioners to practise basic and limited allopathy on completion of a bridge course.
Faced with strong opposition from allopaths, the Union cabinet in its latest amendments withdrew the proposal and passed on the responsibility to states to utilize this as a strategy for addressing human resources gaps in primary healthcare.
Need of such a policy: Shortage of doctors
India faces an acute shortage of allopathic doctors, with the present doctor-patient ratio at an abysmal 1:1,674.

The last mile of healthcare delivery in India occurs through sub-centres and primary health centres (PHCs). But 61.2% PHCs have just one doctor, while nearly 7% are functioning without any.




More than a third of them do not have a laboratory technician, a fifth of them do without a pharmacist.

India's health system clearly has an acute shortage of doctors. The country needs nearly 500,000 doctors to address this shortage.
In such a milieu, unqualified medical practitioners often rule the roost.
In states such as Uttar Pradesh, Jharkhand and Bihar, a patient faces two-third chances of getting treated by a quack.
Given the paucity of MBBS doctors in rural areas, it makes sense to leverage the ready availability of a large population of willing Ayush practitioners.
Way ahead:
With the availability of appropriate bridge courses, sound regulatory and licensing mechanisms, Ayush graduates should be given a chance to help serve India's primary healthcare needs.
In courses like Ayurveda, nursing, physiotherapy or pharmacy, the curriculum has several strands similar to that of a MBBS course; additional training in pharmacology and basics of medicine with clinical clerkships could provide them an orientation to be able to practise "limited" allopathy.




The bridge course can be delivered through premier Ayush colleges, and selected district hospitals.
The training and curriculum for Ayush candidates can be ring-fenced, and regulatory restrictions brought in to ensure they only practise within the allowed ambit.
Examples of such programmes in the West:
A physician assistant (PA) in the US comes out of such a programme, often taken up by paramedics and nurses, who can after a two-year course and passing a certifying exam become assistants to doctors.

The UK model of physician associate, in a two-year training period, focuses on general adult medicine and general practice.

In New Zealand, the Centre for Rural Health Development identifies PAs as "postgraduate healthcare professionals trained in a clinical role that complements both nursing and medicine and working under the supervision of a senior doctor", who form an important cog in the wheel of rural healthcare.

As of 2013 in Bangladesh, three-year training qualifies a sub-assistant community medical officer (SACMO) to practice. Incidentally, 89% of healthcare delivery in rural areas is being taken care primarily by SACMOs.

Assistant doctors in China, clinical associates in South Africa, and assistant medical officers in Malaysia are all based on similar models.
Importance of bridge course:
The allopathic doctors' community, led by the Indian Medical Association (IMA), should not see the move as legitimization of "quackery".
A bridge course can help bring Ayush candidates to speed on allopathic prescribing for a required set of conditions—this is not to make them half-way quacks but to actually practise base-level primary healthcare provisioning.

Moreover, there are positive externalities at multiple levels in training the Ayush provider to serve a primary healthcare domain need.




Such a provider can help initiate a focus on disease prevention, a dire need considering India's continuing burden of both communicable and (rising) non-communicable diseases.

For a specific set of conditions defined by the government, the Ayush provider can initiate treatment, manage follow-up, and initiate referral when needed. This would ensure that standard treatment protocols are followed.




It can help address irrational medical practice, and existing rampant abuse of drugs such as antibiotics.
Conclusion:
While implementation can be at the state level, the design of the course, the legal framework, and a standardized plan should be the Centre's responsibility.
The proposed redesign of India's health system (Ayushman scheme) will falter in the absence of enabling innovations like a bridge course to raise a cadre of mid-level care providers to serve our primary healthcare needs.
Connecting the dots:
Providing bridge courses to Ayush practitioners to enable them to practice basic and limited allopathy is not just need of the hour given abysmal doctor-patient ratio but will have multiple other benefits as well. Comment.
---
(TEST YOUR KNOWLEDGE)
Model questions: (You can now post your answers in comment section)
Q.1) Consider the following statements about The Credit Guarantee Fund Scheme for Micro and Small Enterprises (CGS)
It was launched to make available collateral-free credit to the micro and small enterprise sector

Only the new enterprises are eligible to be covered under the scheme

The Ministry of Micro, Small and Medium Enterprises, and Small Industries Development Bank of India (SIDBI), established a Trust named Credit Guarantee Fund Trust for Micro and Small Enterprises (CGTMSE) to implement the Credit Guarantee Fund Scheme for Micro and Small Enterprises
Which of the following statements is/are correct?
1 and 2

1 and 3

2 and 3

All of the above
---
MUST READ
Making children happy
How the world explains football?
'Grow in India' before 'Make in India'
Subscribe to IASbaba