IASbaba's Daily Current Affairs (Prelims + Mains Focus)- 27th June 2018
---
(PRELIMS+MAINS FOCUS)
---
India- Seychelles relations
Part of: GS Prelims and Mains II – International Relations; India and the World
Fast Recap:
Confusion continues over the cooperation in the development of Assumption Island.

India has been planning to build naval base on Assumption to provide a foothold in the western Indian Ocean.

Grant of $100 million Line of Credit to Seychelles for the purchase of defence hardware.

Cooperation in carrying out hydrographical studies of the maritime region.

Exchange of necessary oceanic maps between two sides.

India gifted a Dornier aircraft (built by HAL) to Seychelles.

The aircraft would help to bolster the coastal surveillance of Seychelles and the policing of its extensive Exclusive Economic Zone.
Background:
1976 – Independence of Seychelles

1986 – India helps Seychelles –

'Operation Flowers are Blooming'

– INS Vindhyagiri was sent to avert a coup.

2009 – India dispatched naval ships to patrol its exclusive economic zone and guard it against piracy.

2014 –

INS Tarasa

was gifted to Seychelles
Artice link: After aid for defence buys, India gifts plane to Seychelles
---
Jumbo-relocation experiment
Part of: GS Mains – Conservation of biodiversity/animal; Man-Animal Conflict
Key Pointers:
Anthropogenic activities:

Human habitations and barriers such as electric fences and trenches have blocked some of elephant corridors in Assam.

Assam wildlife officials are keen on

Jumbo-relocation experiment

. But the job is easier said than done, as other elephant habitats and corridors in Assam are also under stress.

The situation of elephants have become like football, kicked around from one part of the stadium to the other.

Part of reserve forests and proposed reserve forests are fragmented and interspersed with villages and illegal fishermen controlling wetland areas, which the elephants used to wallow in.

Herds have become more aggressive and conflicts are happening throughout the year.
Do you know?
About half of 58 elephant corridors in the northeast, comprising 35% of the country's, are in Assam.

More than 15 of these corridors, used by an estimated 9,350 elephants, are under the Northeast Frontier Railway.

National park in news: Rajaji National Park in Uttarakhand (Jumbo-relocation experiment was tried here earlier)
Article link: Elephantine threat: Assam considering sedation, relocation of …
---
Centre-State Relations: Centre proposed Dam Safety Bill, 2018
Part of: GS Prelims and Mains – Indian Polity; Centre State Relations; Cooperative Federalism
In news:
Centre has proposed Dam Safety Bill, 2018

Concerns are raised by many states esp. Tamil Nadu

Certain clauses of the Bill affected the interests of Tamil Nadu and could potentially affect the State's rights on control and maintenance of dams located in neighbouring States.

Inputs of the State government were not sought while drafting the bill

Dams in Tamin Nadu: Mullaperiyar, Parambikulam, Thoonakkadavu and Peruvaripallam dams (Remember just Mullaperiyar as it was often in news)
About Dam Safety Bill, 2018
Union Cabinet approved the proposal for introduction of Dam Safety Bill, 2018 in the Parliament.

The objective of this Bill is to help develop

uniform, countrywide procedures for ensuring the safety of dams

.

It empowers the dam safety institutional set-ups in both the Centre and States.

It will also help in standardizing and improving dam safety practices across the country.

The Bill provides for establishment of National Dam Safety Authority as a regulatory body.
Article link: T.N. Assembly says no to Dam Safety Bill – The Hindu
---
India most unsafe for women
Part of: GS Prelims and Mains II – Social issue; Women Issue
In news:
India has been ranked as the most dangerous country out of the world's 10 worst countries for women.

India is behind Afghanistan, Pakistan and Somalia, according to a poll conducted by the

Thomson Reuters Foundation

India was followed by Afghanistan, Syria, Somalia, Saudi Arabia, Pakistan
Reasons:
sexual violence and harassment

the danger women face from cultural, tribal and traditional practices

danger of human trafficking including forced labour, sex slavery and domestic servitude
Belize's Reef: out of risk now
Part of: GS Prelims – Environment and Biodiversity
Key points:
The Mesoamerican Reef, an underwater wonder world whose survival was considered to be at risk for years, may now be removed from UNESCO's list of threatened World Heritage Sites, thanks to bold steps to save it by activists and the Belizean government.
Second in size only to the Great Barrier Reef in Australia, the Caribbean reef was named to the prestigious World Heritage List in 1996, but placed on endangered status in 2009 because of Belize's plans to allow oil exploration nearby.
---
(MAINS FOCUS)
---
NATIONAL/HEALTH ISSUE
TOPIC: General Studies 2:

Issues relating to development and management of Social Sector/Services relating to Health, Education, Human Resources.
Government policies and interventions for development in various sectors and issues arising out of their design and implementation.
Adopting best practices for Organ Transplant
Introduction:
We had already covered about articles which dealt with misuse of organ transplant and organ transplant racket surfacing in Tamil Nadu.

Issue –

International patients used to get priority in cadaver transplants, bypassing long list of Indians. (It was alleged that protocol of organ transplant was misused)
Key pointers from previous articles:
National Organ and Tissue Transplant Organisation (NOTTO) is an all-India apex body for coordination and networking for procurement and distribution of organs/tissues and transplantation.

The legislation called the Transplantation of Human Organ Act (THO) was passed in India in 1994 to streamline organ donation and transplantation activities.

The aim of the THO Act is "to provide for the regulation of removal, storage and transplantation of human organs for therapeutic purposes and for the prevention of commercial dealings in human organs".

Despite the THO legislation, organ commerce and kidney scandals are regularly reported in the Indian media.
Key pointers from today's editorial:
Controversy: Large percentage of foreign nationals are receiving cardiac transplants from deceased donors in India, bypassing long list of Indians.
Debate: Are there any fault lines in transplantation policy in India that need immediate correction?
Do you know?
Christiaan Barnard

performed the first successful human heart transplant in 1967, in Cape Town, Africa.

One of the first cardiac transplants in the world was attempted back in 1968 at Mumbai's King Edward Memorial Hospital by

P.K. Sen

(the world's fifth and sixth heart transplants).

Dr. Sen's transplants as well as India's first successful cardiac transplant in 1994 (by

P. Venugopal

at the All India Institute of Medical Sciences, Delhi) were performed in public institutions.
Market pressures
Along the way, organ transplantation in India (this includes Tamil Nadu) largely became a private sector activity.

While the act of donation is a public act and the organs a public good, from that point onwards whatever happens is largely under the private sector.

The rules of market medicine thus dictate who the organs go to. And hospitals that invest large sums in transplantation programmes which include huge payouts to surgeons look for returns.

The costs of heart transplant are well beyond a large majority of the local population. This is where foreigner nationals who are often able to pay such sums fit in.
Major concerns:
Most of the hospitals (esp. private) are focusing on bypass and stenting and problems of advanced cardiac failure has been sidelined.

There are cases and incidents where hearts of young deceased donors remaining unutilised for the lack of recipients.

Trained cardiac surgeons did not have enough referrals and chose to leave or focus their attention on bypass surgery.
The way ahead: Need for revisiting the policy
Organ transplantation protocol should ensure transparency.

In other words, organs should go to those who need them the most rather than to those who can pay for them.

Therefore there is a need for hard policy changes that include strengthening the capacity of the public sector, subsidising transplantation and perhaps enabling affirmative action in the allocation process in favour of public hospitals.

Every fifth or sixth organ could be mandatorily allotted to a public hospital or the private centre can be asked to perform a certain proportion of transplants free.
This would also improve public trust and lead to high organ donation rates.
Connecting the dots:
What are the reasons behind the imbalance between the number of organs donated and the number of people waiting for a transplant?

"Making organs a commodity is fraught with erosion of social, moral, and ethical values and is not an alternative that can be acceptable to meet organ requirements in a civilized society". Critically analyze.
---
ECONOMY
TOPIC: General Studies 3:

Indian Economy and issues relating to planning, mobilization of resources, growth, development and employment.
Inclusive growth.
"Digital India" remains a distant dream for India
About:
The below article is excerpt from a survey that show why "Digital India" remains a distant dream, with a majority of Indians still living on the wrong side of the digital divide.
Concern:
Majority of Indians live on wrong side of digital divide, shows study.

The internet may have transformed the Indian economy in many ways over the past couple of decades, but India continues to lag behind peer countries when it comes to internet penetration.

Only one in four Indian adults either owns a smartphone or uses the internet occasionally.

India ranks the bottom of a list of 39 large economies considered in the survey, which include both developed and emerging markets.

India also ranked among the very lowest, just above Tanzania, in terms of the percentage of adults owning a smartphone. Smartphones refer to mobile phones, which can access the internet and apps.

India's progress in smartphone penetration has also been slow.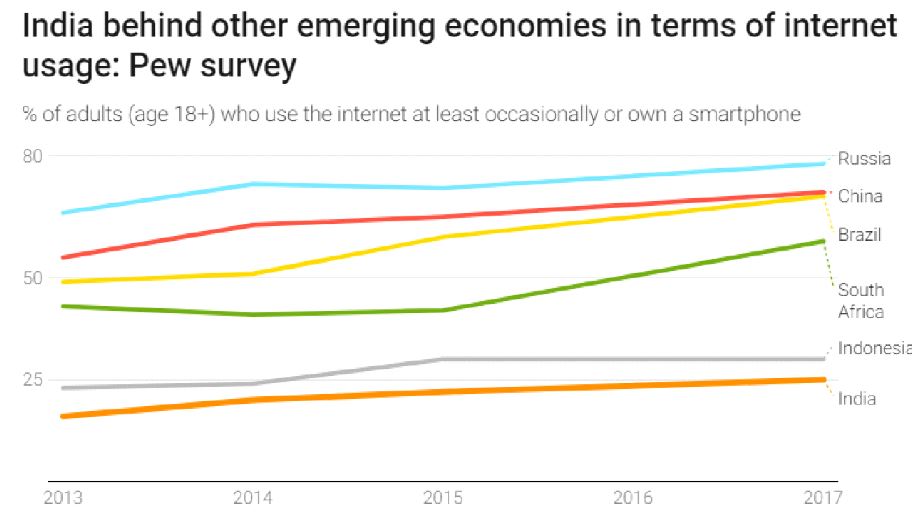 Reasons:
Although mobile penetration has gone up significantly in the country, access to the internet and smartphones has been lacklustre. This is partly owing to India's poverty, with the per-capita incomes of most countries surveyed higher than that of India.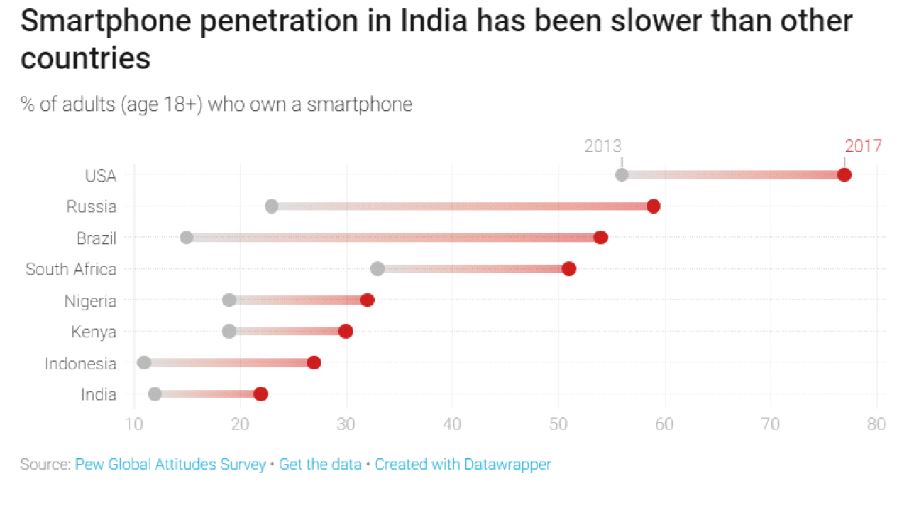 Yet, poverty does not fully explain the low internet penetration. Among countries with higher internet penetration are nations such as Senegal, Ghana, Nigeria and Vietnam, which are poorer than India in per-capita purchasing power parity terms.

While the penetration of internet and smartphones in India is relatively higher among the youth—those aged 18 to 36—it is still lower compared to the internet penetration among the youth in other countries.

Only one in five adults in India uses social networking sites such as Facebook and Twitter—the lowest among all the countries surveyed.

The survey shows that the proportion of non-smartphone users in India is among the highest among major economies of the world.
Conclusion:
India's slow adoption of smartphones has impeded the spread of internet in the country since most Indians tend to access the internet on their mobiles.
As the Pew report points out, in relatively poorer countries such as India, "mobile phones can be extremely important tools— whether (in) helping people gain access to financial services or providing the much-needed assistance with health and agricultural needs".
Yet, with low penetration of smartphones and internet, only a privileged minority is able to access digital services in the country.
Despite some progress, the share of those using digital payments remains among the lowest in India, a World Bank survey published earlier this year had showed
Connecting the dots:
'Digital India' remains a distant dream. Do you agree? Critically examine the statement.
---
(TEST YOUR KNOWLEDGE)
Model questions: (You can now post your answers in comment section)
Q.1) 'Operation Flowers are Blooming' is associated with
Maldives

Seychelles

Mauritius

Congo
---
Q.2) Rajaji Tiger Reserve is located in
Rajasthan

Uttar Pradesh

Madhya Pradesh

Uttarakhand
---
Q.3) The most significant strategy for the conservation of biodiversity together with traditional human life is the establishment of
Botanical Gardens

National Parks

Bird Sanctuaries

Biosphere Reserves
---
Q.4) Belize's Reef or Caribbean reef was in news recently for –
It will be removed from UNESCO's list of threatened World Heritage Sites

It will be added to UNESCO's list of threatened World Heritage Sites

Belize's plans to allow oil exploration nearby and has threatened the reef

None of the above
---
MUST READ
Two inequalities
Listen to the voiceless
The legacy of Indira Gandhi's Emergency
Road map for electric vehicles in India
Towards an India e-commerce policy
US needs to understand India Russia defence ties
For a dedicated peer group, Motivation & Quick updates, Join our official telegram channel – https://t.me/IASbabaOfficialAccount
Subscribe to our YouTube Channel HERE to watch Explainer Videos, Strategy Sessions, Toppers Talks & many more…