IASbaba's Daily Current Affairs (Prelims + Mains
Focus)- 14th July 2018
---
(PRELIMS+MAINS FOCUS)
---
Swachh Survekshan Grameen, 2018
Part of: GS Prelims and Mains II and III – Government schemes and programmes; Social and Welfare, Health; Environment and Pollution
In news:
The Centre has launched the

Swachh Survekshan Grameen, 2018

.

It is a nationwide survey of rural India to rank the cleanest and dirtiest States and districts on the basis of qualitative and quantitative evaluation.

This is the first comprehensive survey for rural India, which has been launched after three successful editions of a similar survey in urban India.

6, 980 villages across 698 districts will be surveyed
Do you know?
The rankings will be based on three basic parameters:
direct observation of public places by independent surveyors,

service-level progress using data from the Swachh Bharat Mission's information system and

citizens' feedback
The feedback will be solicited through village meetings, online feedback and direct interviews, as well as discussions with key influencers such as local officials, elected representatives and anganwadi workers.
An audio-visual publicity campaign, featuring Swachh Bharat ambassadors Amitabh Bachchan and Sachin Tendulkar, was also launched.
---
Person in news: Hima Das
In news:
Hima Das, 18-year-old athlete from Assam, won World Under-20 championships gold at Tampere in Finland.

It is a remarkable achievement as Indians have never done well in sprints on the global stage, even if athletes such as P.T. Usha dominated the 400 m at the Asian level.

Hima's under-20 title was the country's first-ever gold in a track event at any IAAF World event.
Do you know?
Hina Das (53.21 seconds, 400mtrs)

Manjit Kaur hold National Record – 51.05 s (400mtrs)
Other athletes
Discus thrower Vikas Gowda

Javelin thrower Neeraj Chopra
---
India and US Sanctions:
Part of: GS Prelims and Mains II – India and the world; International Relations
In news:
In tightrope walk, India schedules talks with Iran and U.S.

The below pic provides all the info.
Pic: https://d39gegkjaqduz9.cloudfront.net/TH/2018/07/14/DEL/Delhi/TH/5_11/2b4abb9d_2243948_101_mr.jpg
Do you know?
India is going ahead with the purchase of S-400 air defence systems from Russia despite American concerns.

The U.S. has passed the

CAATSA (Countering America's Adversaries Through Sanctions Act)

that proposes to impose sanctions on nations that have significant defence relations with Russia.
---
India and Sri Lanka
Part of: GS Prelims and Mains II – India and the world; International Relations
In news:
India has sought Sri Lanka's cooperation in swift completion of joint ventures
India-assisted projects such as –
proposed joint venture to run the

Mattala airport

in Sri Lanka's Southern Province;

an

LNG terminal near Colombo

, and

the joint development of the oil storage facility in the eastern

port town of Trincomalee
From below map locate following places –
Galle

Trincomalee

Colombo

Palk Strait

Palk Bay

Gulf of Mannar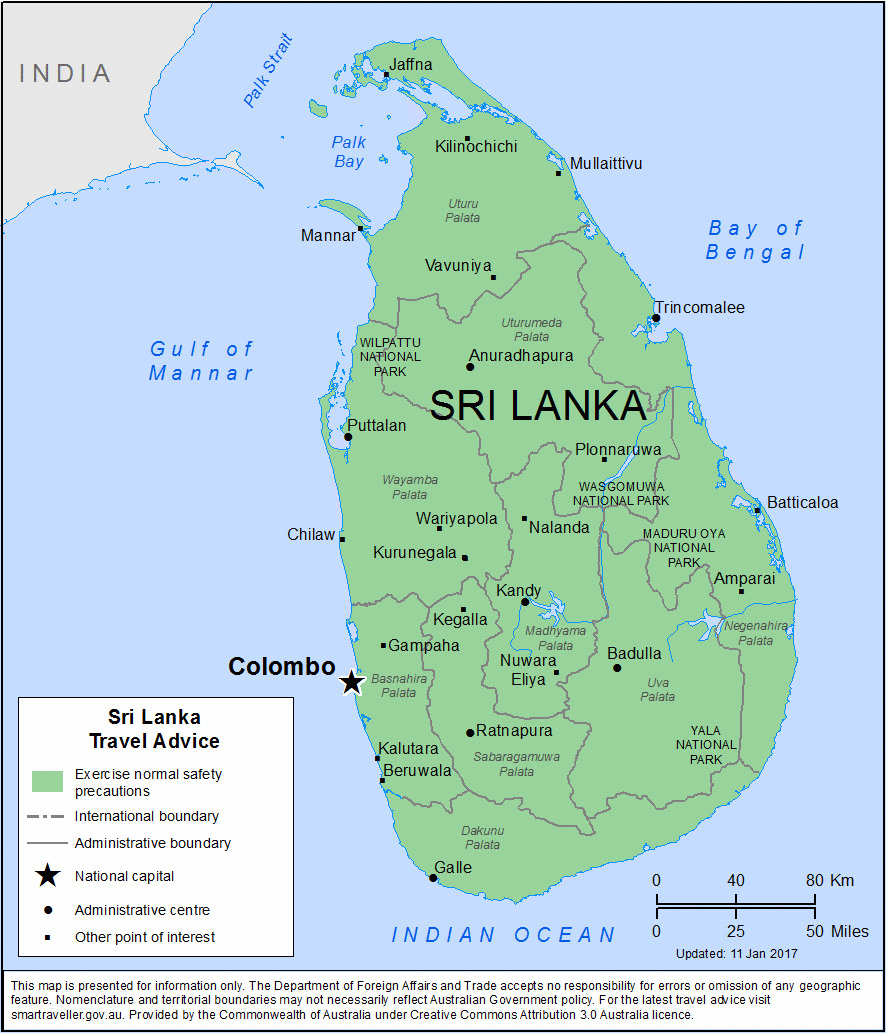 Pic: http://smartraveller.gov.au/Maps/Sri_Lanka.png
---
(MAINS FOCUS)
---
SOCIAL/NATIONAL
TOPIC: General Studies 2

Government policies and interventions for development in various sectors and issues arising out of their design and implementation.
Welfare schemes for vulnerable sections of the population by the Centre and States and the performance of these schemes; mechanisms, laws, institutions and bodies constituted for the protection and betterment of these vulnerable sections
Issues relating to development and management of Social Sector/Services relating to Health, Education, Human Resources.
Can mere policing alone end child abuse?
Introduction:
Police in India are caught up in the different nature of crimes committed in the country.

If there are crimes such as frequent thefts in an area, it can be solved by increasing manpower, improving patrolling and using technology. But if the task is to deal with the recurrent rapes especially of minors, the above time tested methods prove to be futile.
Do you know?
In 80-85 per cent cases of child rapes in our country, the offender is a known person. He can be a neighbour, someone from the local community, a relative or even a family member staying under the same roof.

This horrific data, from the National Crime Records Bureau, simply shows even the best of police systems and toughest of laws cannot ensure prevention of sexual violence against children.
Issues in dealing with child abuses
The legal system in the country can punish the perpetrator only after the crimes are committed and before that damage has already been done.

A jail sentence to the accused comes after years of legal battle, if at all, and hardly helps the victim in dealing with lifelong trauma.

Indian penal laws on sexual violence were last changed in 2013. It was a comprehensive and well thought out amendment; even the definition of rape was widened. Some crimes, mainly crimes involving women, like stalking and human trafficking were made punishable.

But 5 years down the lane after Nirbhaya rape case in 2012 we are presented with more horrific crimes in Kathua, Unnao and other places.
Steps taken to tackle sexual violence
Rape is punishable with death if the victim is below 12 years of age, this has become the law of the land now.

Today we have higher representation of women in the police force. Exclusive women police stations have been established.

Gender sensitisation has become an essential part of the training curriculum in all police academies.

Special cells to deal with crime against women and children are functional at all levels, starting from the Ministry of Home Affairs in Delhi to the office of SP in each district.
Have above steps really made difference in reducing sexual violence?
During an awareness campaign conducted by the Odisha Police on sexual violence against children, many heart-rending stories were narrated by the victims. In most cases, the offender was either a relative or someone from the neighbourhood.

A sexual offence by a known person is one of the worst things that can happen to a child. Due to the physical and social proximity with the offender, the crime gets perpetuated and the victims suffer continuously.

Many a time, especially when the offender is a family member, the victims don't resist or report due to fear of social stigma. Sometimes they are not supported by their own family.

Sometimes minors do not even understand that they are being wronged. Even when such issues come to light, many families try to hush them up and offenders go unpunished.

In many such incidents, victims are forced to change their statements in court just because the matter has been 'amicably settled' among the elders, who are mostly men.
What can be done to reverse the horrifying scenario?
In social crimes, the family and the community have an equally important role to play.

Simple things like educating kids about 'good touch' and 'bad touch' can immensely help in preventing sexual abuse.

Societal norms make it difficult for any fruitful discussion on sex including safety in the household. Children are left to fend for themselves.

Similarly, families need to be educated that kids may need protection from people around them as the perpetrator is lurking in the vicinity all the time.

Continuous community awareness programmes are highly essential in educating the possible victims, the affected families and even the likely offenders

Community based programs like Anganwadi and Women Self Help Groups need to be recalibrated so that they can function as crèche because many rapes take place in urban slums, because children are left alone or with some person known to the parents.

A regular discussion in the community on the issue of child sexual abuse can help change the mindset.
The way ahead
The perceived stigma attached to a victim has functioned as an escape tool for offenders.
The recent "Me Too campaign" on social media has given courage to many women across the globe to speak up against the wrongs they suffered for years.

The community awareness programs also have a similar impact. For example recently in a few cases of sexual abuse in Odisha, the victims said that the recent campaign gave them the courage to speak up.
Along with stricter laws and effective policing, support from the family and society is needed to control the menace of child sexual abuse.
Only when children are empowered to speak, when families are supportive and when the community is aware and joins hands with the police and other agencies, will we be able to keep our children safe.
Connecting the dots:
The use of mere policing to deal with child sexual abuse has proved to be insufficient. Critically analyse.

Numerous legislations regarding 'Rights of children' in India have failed to tap the real essence of 'Right to have a Childhood'. In the light of the statement critically discuss how effective the Indian legislations have been in securing the 'Rights of children'?
---
SOCIAL/NATIONAL
TOPIC: General Studies 2

Government policies and interventions for development in various sectors and issues arising out of their design and implementation.
Welfare schemes for vulnerable sections of the population by the Centre and States and the performance of these schemes; mechanisms, laws, institutions and bodies constituted for the protection and betterment of these vulnerable sections
Issues relating to development and management of Social Sector/Services relating to Health, Education, Human Resources.
Important International institutions, agencies and fora- their structure, mandate.
Repatriation of Prisoners: A pact on transfer of prisoners
About: Repatriation of Prisoners Act, 2003
The Act deals with allowing convicted foreign nationals a chance to get transferred to their home countries, and prisoners of Indian origin in other states to be brought back to India, to serve the remaining part of their sentences.

The transfer of such prisoners to their own native countries shall facilitate their social rehabilitation.
Do you know?
A sentence served in a foreign land, far away from family, familiar food and language, has been globally perceived to be more onerous than one served at home.
Global conventions
The right to return to one's home country is assured under

Article 12(4) of the International Covenant on Civil and Political Rights

.

Vienna Convention on Consular Relations, 1963

, provides for information to consulate, consular protection and consultation upon arrest, detention and during trial in a foreign country including entitlement to travel documents.

Similarly, the

UN Model Agreement on the Transfer of Foreign Prisoners

and

Recommendations on the Treatment of Foreign Prisoners 1985

, lays emphasis on the social rehabilitation of foreign prisoners through early repatriation to their home countries to serve their remaining sentence.

Articles 17 and 45 under UN Conventions of 2004

state that – state parties should consider entering into bilateral or multilateral agreements for transfer to their territory of persons sentenced to imprisonment or other forms of deprivation of liberty for completion of their sentences.
In consonance with these international humanitarian commitments, most countries have legislated on a Repatriation of Prisoners Act.
Indian conditions
India legislated its Repatriation of Prisoners Act in 2003 and it came into force from 2004.
The first part deals with the transfer of sentenced foreign national prisoners from India, while the second deals with the transfer of sentenced Indian nationals into India.

It explains the eligibility for transfer, the transfer process and obligations upon the transferring and receiving states with regard to consent, communication and custody of a prisoner.
Every sentenced foreign prisoner in an Indian prison and every Indian national in a prison abroad is technically eligible for repatriation to a prison in their home country under these conditions:
they are willing;

have no pending appeals;

the offence is not an offence under military law;

the sentence is not a death sentence;

they have at least six months of their sentence still left to serve, and

their transfer has the consent of both treaty countries.
The Act is a significant one for India where there is considerable outflow and inflow by blue- and white-collar workers, fishermen, students, stateless persons and other groups, throughout the year. Several come into conflict with the law.
The Government of India has so far signed bilateral Agreements on Transfer of Sentenced Persons with United Kingdom, Mauritius, Bulgaria, France, Egypt, Sri Lanka, Cambodia, South Korea, Saudi Arabia, Iran, Bangladesh, Brazil, Israel, Bosnia & Herzegovina, UAE, Italy, Turkey, Maldives-, Thailand, Russian Federation, Kuwait, Vietnam, Australia, Hong Kong, Qatar, Mongolia, Kazakhstan and Bahrain.
Key facts:
There were as many as 7,850 Indian nationals in the prisons of 78 countries.

According to India's National Crime Records Bureau, 6,185 foreign national prisoners in India; 66% of them were from Bangladesh alone.

Despite the call of alarming numbers and the scope of treaties, there were only nine foreign prisoners repatriated from India in 2015, six from the U.K. and one each from France, Germany and the UAE.

Between 2003 and March 2018, only 63 of 171 prisoner applicants abroad have been transferred to India.
Conclusion:
Effecting transfers under the Repatriation of Prisoners Act, presents a win-win situation for India as it need not spend unduly on the housing of foreign national prisoners. It can also save the cost of providing consular services abroad by bringing back Indian prisoners. It can simultaneously satisfy the public expectation of bringing nationals home and the meeting of international humanitarian commitments.
Connecting the dots:
According to you, what is the difference between Extradition and Repatriation? Do you think there is a need for effective repatriation of prisoners? Discuss the steps taken at domestic an international level in this regard.
---
(TEST YOUR KNOWLEDGE)
Model questions: (You can now post your answers in comment section)
Q.1) Which of the following are not part of Open Defecation Free (ODF) States of India
Chhattisgarh

Haryana

Madhya Pradesh

Kerala

Uttarakhand
Select the correct code
1, 2 and 3

2, 3 and 5

1 and 3

Only 1
---
Q.2) Swachh Survekshan under Swachh Bharat Mission-urban is undertaken by which of the following ministry?
Ministry of Drinking water and Sanitation

Ministry of Health and Family Welfare

Ministry of Housing and Urban Affairs

Ministry of Rural Development
---
Q.3) The Swachh Bharat Mission (SBM) is in sync with which of the following 'Goals of the Sustainable Development Goal'?
Goal 1

Goal 3

Goal 7

Goal 6
---
Q.4) India and Sri Lanka are separated by
Palk strait

8 degree channel

10 degree channel

Strait of Malacca
---
Q.5) Which of the following is correctly matched?
Hambantota – Sri Lanka

Chabahar – Afghanisatn

Duqm – Iran
Select the correct code:
1 Only

1 and 2

1 and 3

2 and 3
---
MUST READ
Conferring eminence
Staring at statelessness
Common minimum resolve
Job gains versus fake analysis
For a dedicated peer group, Motivation & Quick updates, Join our official telegram channel – https://t.me/IASbabaOfficialAccount
Subscribe to our YouTube Channel HERE to watch Explainer Videos, Strategy Sessions, Toppers Talks & many more…