IASbaba's Daily Current Affairs (Prelims + Mains
Focus)- 16th July 2018
---
(PRELIMS+MAINS FOCUS)
---
Ude Desh ka Aam Naagrik (UDAN) scheme
Key pointers:
The Civil Aviation Ministry launched Regional Connectivity Scheme UDAN (Ude Desh ka Aam Nagrik) in 2017.

UDAN is an innovative scheme to develop the regional aviation market. It is a market-based mechanism in which airlines bid for seat subsidies.

This first-of-its-kind scheme globally will create affordable yet economically viable and profitable flights on regional routes so that flying becomes affordable to the common man even in small towns.
Important Value Addition:
About the Scheme:
The UDAN scheme seeks to provide connectivity to un-served and under-served airports of the country through revival of existing air-strips and airports.

This first-of-its-kind scheme will ensure affordability, connectivity, growth and development.

It aims to increase ticketing volume from 80 million to 300 million by 2022.

Under it regional connectivity will be developed on market-based mechanism under which Airlines will bid for seat subsidies.

It will create affordable yet economically viable and profitable flights on regional routes so that flying becomes affordable to the common man even in small towns.

Under it, airlines will have complete freedom to enter into code sharing with larger airlines for connectivity and they will be exempted from various airport charges.

Airlines will have exclusive rights for three years to fly on a particular regional route.

On these routes for regional flights Airfares will be capped at 2500 rupees for an hour's flight.

Central and State governments and airport operators will provide a financial stimulus in the form of concessions to airlines

The mechanism of Viability Gap Funding (VGF) will be provided to interested airlines to kick-off operations from such airports so that the passenger fares are kept affordable

Government will provide subsidy to airlines for first three years of operations when they will have exclusive flying rights on the selected routes.

Once the market in these routes gets jump started, it will operate on a commercial basis as per market forces of supply and demand.
---
Animal in news: Golden jackal, Harrier birds, Indian black turtle and Softshell turtke
Part of: Prelims – Environment and Biodiversity; Animal Conservation
In news:
Destruction of mangrove cover in the

Bandar Reserve Forest (BRF), Andhra Pradesh

is forcing the golden jackal (Canis aureus) out of its habitat, triggering a conflict with the local communities.

IUCN status – Least concern

The conservation status of the animal is the 'least concern' and it preys on wild crab and fish.
Indian black turtle also known as Indian pond terrapin is classified as Near Threatened by the International Union for Conservation of Nature (IUCN)
Softshell turtle is found in rivers and other water bodies. It is a vulnerable species that feeds mostly on fish, amphibians and aquatic plants.
Key pointers:
Black Softshell turtle

(Nilssonia nigricans)

: :

IUCN status 'Extinct in the wild'

Indian softshell turtle

(Nilssonia gangetica) : : IUCN status 'Vulnerable'

South Asian narrow-headed softshell turtle

(Chitra indica) : : IUCN status 'Endangered'
Harrier birds
Harrier birds, a migratory raptor species that regularly visits vast swathes of India, are declining.

Every winter, several species of harrier birds travel thousands of kilometres to escape frigid Central Asia for the grasslands of the subcontinent.

At least five species of harriers were recorded in India over the years; India has one of the largest roosting sites in the world for Pallid Harriers and Montagu's Harriers.

Rollapadu Bustard Sanctuary in Andhra Pradesh
Globally, of the 16 harrier species, only two are listed as endangered by the International Union for Conservation of Nature, even though most of them are declining.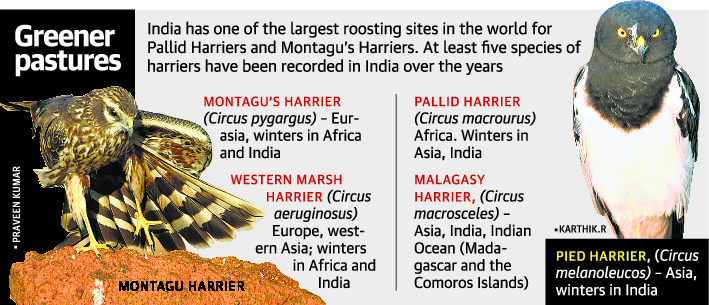 Pic: https://d39gegkjaqduz9.cloudfront.net/TH/2018/07/16/DEL/Delhi/TH/5_07/276a20ed_2249177_101_mr.jpg
---
International Whaling Commission (IWC)
Part of: Prelims – Environment and Biodiversity; Animal Conservation; International institution
About:
The International Whaling Commission (IWC) is an international body set up by the terms of the International Convention for the Regulation of Whaling (ICRW), which was signed in Washington, D.C., United States, on December 2, 1946 to "provide for the proper conservation of whale stocks and thus make possible the orderly development of the whaling industry.

In 1982 the IWC adopted a moratorium on commercial whaling. Currently, Japan, Russia, and a number of other nations oppose this moratorium.
Do you know?
The Indian Ocean Whale Sanctuary is an area in the Indian Ocean where the International Whaling Commission (IWC) has banned all types of commercial whaling.

The IWC has at present designated two such sanctuaries, the other being the Southern Ocean Whale Sanctuary.

India is member of IWC
---
Miscellaneous: Modern Technology
Do you know?
ISRO, J&K govt. to set up telemedicine centre at 12,700 feet, aided by top hospitals (to cater to pilgrims en route to the Amarnath shrine.)
---
(MAINS FOCUS)
---
HISTORY/POLITY
TOPIC:General Studies 1 and 2

Modern Indian history from about the middle of the eighteenth century until the present- significant events, personalities, issues
The Freedom Struggle – its various stages and important contributors /contributions from different parts of the country.
Indian Constitution- historical underpinnings, evolution, features, amendments, significant provisions and basic structure.
Assessment: On the question of changing History or Constitution
About:
According to Winston Churchill, 'history is a narrative of facts that is written by the victors'.

Off recently, there are arguments that – when we read history (or anything for that matter), we tend to assume what we are reading is true. A lot of people believe that history is an unequivocal fact.

However, the history of the world that we know and study lacks just as many facts as it contains if not even more. It doesn't mean history is not accurate; it's just that it doesn't include every fact and every perspective.
The above arguments have some element of truth.
In most of the cases, the voices and perspectives of the victors in history are much more dominant than those who have been conquered, oppressed, and killed.

In more recent history, modern historians have tried to do a better job at including the voices of those who have been oppressed in our history.

At other end, the current government and right wing intends to rewrite the history of India and of the Constitution, if not today, then tomorrow. (This calls for assessment whether Constitution and History need changes and be re-written?)
Does Indian Constitution really need changes or re-written?
The Indian Constitution is large and unwieldy but it is considered to be one of the finest in the world.

The authors of the constitutional draft, especially B.N Rau and Dr. B.R. Ambedkar, were known for their mastery of comparative law, history, politics, sociology and the literary idiom.

More importantly, the Constitution was the outcome of two major movements in Indian history that shaped each other –
(i) series of colonial laws enacted to govern India; notably the Government of India Act, 1935 and
(ii) freedom struggle that brought together large numbers of Indians in a spectacular anti-imperialist and nationalist project.
The historical struggle generated imaginations, aspirations and ideals that were indisputably democratic.
The Constitution of India was an outcome of accommodation and consensus.
All-Parties Conference  and Moti Lal Nehru Report
As early as 1928, an All-Parties Conference established a committee chaired by Motilal Nehru to consider and determine a future constitution for India.

Among noteworthy recommendations of the committee was an integrated list of social, economic and political rights, minority rights, and universal adult franchise.

The Motilal Nehru Report dismissed the idea that non-literacy could pose a problem for universal adult franchise.

They believed – Political experience can only be acquired by active participation in political institutions and does not entirely depend on literacy.
The Nehru report deeply inspired the Constituent Assembly, which met in the wake of momentous movements for Independence in the 1940s.
Objective resolution of Jawaharlal Nehru
While introducing the objective resolution, Jawaharlal Nehru acknowledged that the strength of the people was behind the Assembly and committed that the Constitution will meet the aspirations of the nation, not any party or group, but the people as a whole.
Efforts of Constitution Framers
Despite tremendous violence sparked by Partition and major destruction of lives and property, the makers of the Constitution continued to hold fast to the values of the freedom struggle: democracy, fundamental rights, minority rights, limited government, rule of law, and an independent judiciary.
That is why the Indian Constitution has held a fractious body politic together, when country after country in the post-colonial world has fallen prey to authoritarianism.
It has enthused us; it has enabled us to make the transition from subject to citizen. There is cause for celebration.
Critics to Constitution
However, not all Indians rejoiced and were on same page.

Certain right wing groups argued and lamented that Constitution does not mention unique constitutional developments in ancient Bharat: Manu's laws written much before the laws of Lycurgus of Sparta or Solon of Persia (sic).

Right wing organizations undervalued/considered Constitution unworthy and criticized it. It articulated intense desire to chart a new constitution when in power.
Of course, constitutions can be changed if they prove wanting. But there must be good reasons for doing so.
Rewriting a Constitution to wipe out or obliterate a history that records the non-participation of the religious right in the making of democratic constitutionalism, is hardly reason enough.
Dr. Ambedkar views and words
What would a constitution that reflects ancient Indian culture look like?
Ambedkar warned –
No democratic constitution can be modelled on the Hindu tradition of state and village panchayats.
What is the village, Ambedkar asked, but a sink of localism, a den of ignorance, narrow-mindedness and communalism?
Sets Universal values –
The Constitution is a normative document, but the values it espouses are universal and 'thin'. They do not reflect the belief system of one section of the population even if it is in a majority. Nor do these values dismiss the value systems of minority groups.
On Constitutional Morality –
Dr. Ambedkar talked of constitutional morality.

He said citizen will have deep respect or admiration for Constitution when they realize true intent of Constitution which helps them to possess freedom and rights. When they realize Constitution composes of thin conception of 'good' that can hold a plural and diverse people together.
Democracy is only a top-dressing for the Constitution of India
For Ambedkar, democracy is only a top-dressing on an Indian soil which is essentially undemocratic.

It is the institutionalisation of constitutional democracy that has changed the way Indians think of themselves in relation to each other, and in relation to the state. The Constitution has managed to inculcate democratic sensibilities and spark yearnings for more democracy, not less.
Dr Ambedkar said – power is one thing, wisdom is quite another thing. When deciding the destiny of nations, dignities of people, dignities of leaders and dignities of parties ought to count for nothing. The destiny of the country should count for everything.
Therefore, those who thinking to change the Constitution should reflect on Dr. Ambedkar's words.
Connecting the dots:
Do you agree with the view that Democracy is a mere top-dressing for the Constitution of India? Elaborate your views.

The Constitution of India was an outcome of accommodation and consensus. Do you agree? Elaborate your response.

Essay – 'history is a narrative of facts that is written by the victors'.
---
NATIONAL
TOPIC: General Studies 2

Government policies and interventions for development in various sectors and issues arising out of their design and implementation.
Future of Digital India
In news-
The national telecom policy, rechristened as the National Digital Communications Policy (NDCP-2018), is expected to be announced shortly after Cabinet approval.
Introduction
The government recently has added more services through the UMANG (Unified Mobile Application for New-age Governance) app for smartphones. This app offers 242 services from 57 departments in 12 states.

Though this initiative must be lauded for its unprecedented progress, there is a cause of concern, a recent global survey on Internet/App usage by global research firm Pew Research Centre ranks India lowest amongst the 39 large economies surveyed.
Do you know?
UMANG App aims to bring 162 government services on a single mobile app, with a larger goal to make the government accessible on the mobile phone of our citizens.
UMANG at a glance:
Uniform User Friendly Interface across Government services

242 services of 57 department/ applications and 8 States

Single mobile app to access 1200+ services of various government services from Centre, State and utility services

Supports 13 Indian languages and caters to on-demand scalability

Will soon support feature phones without internet connectivity through USSD
Where India is lacking?
Although the Digital India initiatives are focused on reducing the digital divide, a multi-pronged strategy is required for India to emerge as a leading digital economy

Government had introduced three national telecom policies—NTP 1994, NTP 1999 and NTP 2012—in the past and the Broadband Policy in 2004.

But there has been a failure in the implementation of the stated objectives.

Free roaming was part of the NTP 2012 objectives, but it has not been fully implemented (Outgoing calls while roaming are still charged).

Another example: NTP 2012 stated that broadband Internet should have a minimum download speed of 2 Mbps, while to-date, an Internet speed of 512kbps is considered broadband in India. In comparison, leading economies have already increased the minimum speed to 7-20 Mbps.

The government, regulator TRAI, and telecom firms have failed miserably in providing basic mobile call quality let alone the superlative internet speeds.

The telecom sector has been in financial turmoil with debts rising, because of mindless spectrum auctions pushing the telcos into bankruptcy.

The hyper-competitive environment has led to some operators going out of business. 
Note
The cumulative taxes paid by Indian telcos are the highest in the world. The telcos pay over 32 per cent of their revenue as taxes (including spectrum usage charges, licence fees, GST etc.) to the government, compared to 3-8 per cent in other countries. The government must attempt to reduce the tax burden on the telcos.
What can be done?
The government could consider delaying the NDCP-18. Instead, it could prioritize and draw up specific actions for improving the health of the sector before the new policy is introduced.

State-owned firms Bharat Sanchar Nigam (BSNL) and MTNL are making losses for several years with no sign of revival.

Spectrum being a scarce resource, the government should look at improving efficiency in the spectrum held by BSNL/MTNL by allowing private players with the right checks and balances.

For high-speed Internet access, fixed broadband can be an alternative. BharatNet, a special purpose vehicle envisaged in 2011, was an ambitious plan to connect all the 2,50,000 gram panchayats through a high-speed optical network. This initiative is moving at a snail's pace and should be stepped up.

Reliance is planning to disrupt broadband through an advanced fibre-based solution (1Gbps speed), and aims to be an all-in-one broadband service by encompassing IPTV, landline, video conferencing etc. BSNL currently the leader in fixed broadband service, will face tough competition from reliance given its disrupting potential in the mobile communications.

Most of the e-governance websites and apps are not intuitive and even e-literate citizens would find it challenging to navigate them. or the rural populace to become an integral part of Digital India, simpler, innovative and intuitive user experiences must be created.
Conclusion
The National Knowledge Network (NKN), a government initiative, can play a key role in bringing students, researchers, academics and the government on a common platform for improving the quality of experience.
The government would do well to encourage the NKN to pursue cognitive science programmes that would look at easy ways to communicate and represent information through artificial intelligence and human-computer interaction. Such an initiative will immensely help the semi-literate/illiterate population.
For India to emerge as a dominant digital economy, the government needs to prioritize achievable targets and ensure the implementation of the initiatives.
Connecting the dots:
What do you understand by the term 'digital divide'? What are its implications for a developing economy like India? Also explain the potential of the Digital India scheme to transform the life of a common Indian.
---
(TEST YOUR KNOWLEDGE)
Model questions: (You can now post your answers in comment section)
Q.1) Match List I with List II and select the correct answer using the code given below the Lists:
List I                                 List II
Black Softshell turtle            

1. Endangered

Koalas

                                  

2. Vulnerable

Chitra indica

                        

3. Extinct in the wild
A-B-C
1-2-3

3-2-1

1-1-2

3-1-2
---
Q.2) There has been a steady decline in the number of olive ridley turtles. This has been due to
artificial illumination near beaches

widespread use of endosulfan

loss of nesting habitat
Select the correct answer using the codes given below
1 and 2 only

1 and 3 only

2 and 3 only

1, 2 and 3
---
Q.3) Consider the following statements about International Whaling Commission (IWC).
IWC adopted a moratorium on commercial whaling, which was welcomed by all UN members.

Indian Ocean Whale Sanctuary is the only designated sanctuary by IWC.
Which of the above statements is/are correct?
1 only

2 only

Both 1 and 2

None
---
Q.4) Consider the following statements about International Whaling Commission (IWC)
India is a member of the IWC

It is one of the United Nations Agencies

It acts under the Law of the Sea Convention
Select the INCORRECT statements
1 and 2

2 and 3

1 and 3

All of the above
---
Q.5) India has always been sincere about its wildlife protection measures. India is a part of which of the following International conventions related to wildlife?
Convention on Migratory Species (CMS)

International Union for Conservation of Nature and Natural Resources (IUCN)

Convention on International Trade in Endangered Species of wild fauna and flora (CITES)

United Nations Educational, Scientific and Cultural Organization-World Heritage Committee (UNESCO-WHC)

International Whaling Commission (IWC)
Select the correct code from the following:
2,3 and 4

1,2 and 3

3 and 5

All of the above
---
Q.6) Consider the following statements regarding 'UDAN' Scheme:
The scheme has been launched by Railway Ministry to connect remote areas of the country with superfast tracks.

The acronym 'UDAN' stands for 'Ude Desh ka Aam Naagrik'.

The scheme UDAN envisages providing connectivity to un-served and under-served airports of the country through revival of existing air-strips and airports.
Which of the above statements are correct?
1 and 2

2 and 3

1 and 3

All of the above
---
Q.7) NABH Nirman is in sync with which of the following?
UDAN (Ude Desh ka Aam Nagrik)

Pradhan Mantri Ujjwala Yojana

Pradhan Mantri Vaya Vandana Yojana

Pradhan Mantri Kaushal Vikas Yojana
---
MUST READ
A helping hand for Indian universities
A welcome move: On India's net neutrality regulations
Becoming Pakistan?
A constitutional renaissance
Justice more accessible
Beyond Section 377
For a dedicated peer group, Motivation & Quick updates, Join our official telegram channel – https://t.me/IASbabaOfficialAccount
Subscribe to our YouTube Channel HERE to watch Explainer Videos, Strategy Sessions, Toppers Talks & many more…