IASbaba's Daily Current Affairs (Prelims + Mains
Focus)- 25th July 2018
---
(PRELIMS+MAINS FOCUS)
---
SC on appointment of Lokpal
Part of: Functions and responsibilities of the Government; Separation of powers between various organs; Governance issues
In news:
The Supreme Court of India has reprimanded the central government over the

delay in appointment of Lokpal

.

SC has expressed dissatisfaction over the government's stand on completing the appointment of the Lokpal.
About Lokpal:
Lokpal is the

central governing body

that has

jurisdiction over all members of parliament and central government employees

in case of corruption.

Lokpal is an ombudsman to protect the common man from corruption in public service and power centres.
Do you know?
Lokayukta is similar to the Lokpal, but functions on a state level.

Government failed to appoint a Lokpal despite an April 2017 judgment by the Supreme Court.

The Supreme Court has sent across a timely message that efforts to cleanse the economy must be matched by equally strong measures to cleanse public life too.
The main function of Lokpal and Lokayukta is –
to address complaints of corruption,

to make inquiries, investigations, and

to conduct trials for the case on respective state and central government

to help in curbing the corruption in the central and state government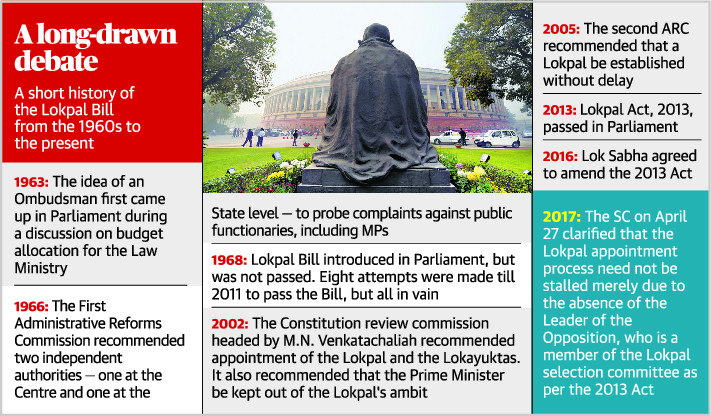 Pic: https://d39gegkjaqduz9.cloudfront.net/TH/2018/07/25/DEL/Delhi/TH/5_01/93afc6bd_2270486_101_mr.jpg
Issue of Lokpal appointment
According to the Lokpal and Lokayuktas Act, 2013, a five-member panel to select the anti-corruption ombudsman, comprising the Prime Minister, the Lok Sabha Speaker, the Leader of the Opposition, the Chief Justice of India and an eminent jurist.

The post

leader of opposition is not recognised

, as no party (other than ruling party) secured the 10% of total seats in Loksabha and it is the main reason behind delay in appointment.

The only reason for the delay in the appointment of the Lokpal is that a minor amendment to the Lokpal and Lokayuktas Act, 2013, to

enable the leader of the largest party

in the opposition in the Lok Sabha to join the five-member selection committee, is yet to be passed.

A parliamentary committee has endorsed the amendment, which is on the same lines as the mechanism for the selection panels for the Central Vigilance Commissioner and the Chief Information Commissioner.
Think:
Should the court take over and appoint the Lokpal?
---
Punjab seeks special category status
Part of: issues and challenges pertaining to the federal structure, devolution of powers and finances up to local levels and challenges therein
In news:
Punjab government asks Centre to grant it special category status under the

Pradhan Mantri Rashtriya Swasthya Suraksha Mission

.

We know that Punjab is struggling to check the menace of drugs.

Punjab government allege that – Punjab State is a victim of proxy war waged by Pakistan

If Punjab gets special category status, that would make it eligible for higher grant from the Centre.
Do you know?
Jammu and Kashmir, hilly and Northeastern States are under special category status. They get a higher share of central grants due to their disturbed status, difficult terrain or due to sharing border with Pakistan.
About Special Category Status
The concept of a special category state was first introduced in 1969 when the 5th Finance Commission sought to provide certain disadvantaged states with preferential treatment in the form of central assistance and tax breaks.

Initially three states Assam, Nagaland and Jammu & Kashmir were granted special status but since then eight more have been included (Arunachal Pradesh, Himachal Pradesh, Manipur, Meghalaya, Mizoram, Sikkim, Tripura and Uttarakhand).
The rationale for special status is that certain states, because of inherent features, have a low resource base and cannot mobilize resources for development. Some of the features required for special status are:
hilly and difficult terrain;

low population density or sizeable share of tribal population;

strategic location along borders with neighbouring countries;

economic and infrastructural backwardness; and

non-viable nature of state finances.
Think:
Differentiate between the special status and special category status.

Benefits which special category status states are getting.
About Pradhan Mantri Swasthya Suraksha Yojana (PMSSY)
It aims at correcting the imbalances in the availability of affordable healthcare facilities in the different parts of the country in general, and augmenting facilities for quality medical education in the under-served States in particular.
PMSSY has two components:
Setting up of AIIMS like Institutions

Upgradation of Government Medical College Institutions.
Note: Government had approved AIIMs like institution and upgradation of medical college institutions in Punjab.
---
National Park in news: Bandipur National Park
Part of: GS Prelims and Mains III – Animal conservation; Biodiversity; Man-Animal Conflict
About:
Bandipur National Park – located in state of Karnataka

It is one of the premier Tiger Reserves in the country along with the adjoining Nagarhole national park.
In news:
There is a significant reduction in the number of roadkill in Bandipur ever since the ban on night traffic through the tiger reserve was introduced in 2009.

two national highways cuts through the tiger reserve
Do you know?
Bandipur, which was established in 1974 as a tiger reserve under Project Tiger, is a national park.
---
Miscellaneous: Girinka programme
In news:
PM Modi gifts 200 cows to Rwanda (under Girinka scheme of African nation)

The Girinka (meaning 'May you have a cow') programme started in 2006 to provide one cow to every poor family for their nutritional and financial security.
---
(MAINS FOCUS)
---
NATIONAL
TOPIC:
General Studies 1
Poverty and developmental issues
Urbanization, their problems and their remedies
General studies 2
Government policies and interventions for development in various sectors and issues arising out of their design and implementation.
Important aspects of governance and e-governance
Inclusive growth and issues arising from it.
Need for Smart Urbanisation
About:
India is witnessing some strange trends:
Villagers across the nation are protesting against their inclusion in the nearby city's urban area by the local urban development authority. (The fruits of urban development are seemingly rejected).

Pollution in India's urban areas seems to have sparked off a reverse migration.

For example, farmers from Haryana who had migrated to Delhi and Gurugram for work to escape an agricultural crisis are increasingly going back to their farms during winter, unable to take the toxic pollution.
The annually recurring instances of floods in Mumbai, dengue in Delhi and lakes on fire in Bengaluru paint a grim picture.
While work continues, admittedly slowly, on the Delhi-Mumbai Industrial Corridor project and the bullet train, urban India's challenges remain manifold.
Key facts:
Over 34% of India's current population lives in urban areas, rising by 3% since 2011.

Population of fringe urban areas (smaller clusters with 10-50 lakh population) have increased significantly compared to existing large urban agglomerations (those with a population above 50 lakh) since 2005.

India's urban population could increase to 814 million by 2050.
Status of Urban Cities in India:
Urban cities look and feel downtrodden, driven with poverty and poor infrastructure.

Poor urban planning.

With an increase in urban population will come rising demands for basic services such as clean water, public transportation, sewage treatment and housing.

Over 90 'Smart Cities' have identified 2,864 projects which India lags on implementation.
Only about 148 projects are completed and over 70% still at various stages of preparation.

There is still an outstanding shortage of over 10 million affordable houses (despite the government taking encouraging steps to incentivise their construction).
Big Concerns:
Flawed definition
One primary problem is that of the definition of what's urban.

Urban development comes under State governments and the Governor notifies an area as urban (based on parameters such as population, density, revenue generated for the local administration and percentage employed in non-agricultural activities).

This notification leads to the creation of an urban local government or municipality, classifying the area as a "statutory town".
With such a vague definition, discretionary decisions yield a wide variance in what is considered a town.
The Central government considers a settlement as urban if –
it has a urban local government,

a minimum population of 5,000;

over 75% of its (male) population working in non-agricultural activities; and

a population density of at least 400 per sq. km.
However, many States consider such "census towns" as rural, and establish governance through a rural local government or panchayat.
Poor infrastructure and investment
Another issue is the low level of urban infrastructure investment and capacity building.

India spends about $17 per capita annually on urban infrastructure projects, against a global benchmark of $100 and China's $116.

Governments have come and gone, announcing a variety of schemes, the Jawaharlal Nehru National Urban Renewal Mission included, but implementation has been mostly inadequate, with exploration of financing options limited as well.

For example, Jaipur and Bengaluru collect only 5-20% of their potential property tax.

Urban institutions also suffer from a shortage of skilled people.
No effective policies to deal with Urban Migration
Finally, there needs to be a systemic policy to deal with urban migration.

Internal migration in India is very closely linked to urban transitions, with such migration helping reduce poverty or prevent households from slipping into it.

Urban migration is not viewed positively in India, with

policies often bluntly seeking to reduce rural to urban migration

.

It would be better to have policies and programmes to

facilitate the integration of migrants

into the local urban fabric, and building city plans with a regular migration forecast assumed.

Lowering the cost of migration, along with eliminating discrimination against migrants, while protecting their rights will help raise development across the board.
For examples, consider Delhi. While historically, urban policy sought to limit urban migration, this is now changing with a focus on revitalising cities nearby such as Meerut, building transport links and connectivity.
Poor and unplanned transition
Our urban policymakers also need to be cognisant of the historical context of our urban development. Our cities have been witness to multiple transitions over the last century (especially during colonial era), with barely any time to recover and adapt.

Transforming them into neatly organised urban spaces will not be easy.
Towards a new model
Perhaps we need a different model of urbanisation. The announcement of a new urbanisation policy that seeks to rebuild Indian cities around clusters of human capital, instead of considering them simply as an agglomeration of land use, is a welcome transition.
We need to empower our cities, with a focus on land policy reforms, granting urban local bodies the freedom to raise financing and enforce local land usage norms. For an India to shine, the transformation of its cities is necessary.
Connecting the dots
Urbanisation in India is taking place at a much faster pace and urban India's challenges remain manifold. Analyze.

Define Urbanisation. Highlight the problems that have been a consequences of rapid urbanisation in India

For an India to shine, the transformation of its cities is necessary. Elucidate.
---
INTERNATIONAL RELATIONS
TOPIC: General Studies 2

India and its neighbourhood- relations.
Bilateral, regional and global groupings and agreements involving India and/or affecting India's interests
Bhutan and India: Treaty of Friendship
Introduction:
Bhutan and India have a unique relationship matched by no two other countries, thanks to the

Treaty of Friendship signed in Darjeeling in 1949

.

The below article just gives the glimpse or background how both the countries had fostered their ties and how the relationship lays the foundation for their future development in the 21st century.
History
After India gained independence, Bhutan was one of the first countries to reach out to the new India.

Formal bilateral relations between Bhutan and India were established in January 1968 with the appointment of a special officer of the Government of India to Bhutan.

The basis for bilateral relations between India and Bhutan is formed by the Indo-Bhutan Treaty of 1949.

On August 8, 1949 Bhutan and India signed the Treaty of Friendship, calling for peace between the two nations and non-interference in each other's internal affairs.

However, Bhutan agreed to let India "guide" its foreign policy and decided that both nations would consult each other closely on foreign and defence affairs. The treaty also established free trade and extradition protocols.
The Treaty of 2007
The treaty of 1949 between India and Bhutan was updated in 2007. The most significant change was in Article 2.

Article 2 was the most important provision in the treaty, according to which, "The Government of India undertakes to exercise no interference in the internal administration of Bhutan.

On its part, the Government of Bhutan agrees to be guided by the advice of the Government of India in regard to its external relations.

The point that had provoked some amount of criticism or controversy pertains to the second part of this Article since it tries to qualify Bhutan's external relations.
The new Article 2 is worded as follows:
"In keeping with the abiding ties of close friendship and cooperation between Bhutan and India, the Government of the Kingdom of Bhutan and the Government of the Republic of India shall cooperate closely with each other on issues relating to their national interests. Neither Government shall allow the use of its territory for activities harmful to the national security and interest of the other."
Conclusion:
The updated India-Bhutan Friendship Treaty not only reflects the contemporary nature of the relationship but also lays the foundation for their future development in the 21st century.
Amongst others, the Treaty provides for perpetual peace and friendship, free trade and commerce, and equal justice to each other's citizens.
Connecting the dots
Bhutan is India's most trusted partner but it shouldn't be taken for granted. Critically analyse relation between both countries.
---
(TEST YOUR KNOWLEDGE)
Model questions: (You can now post your answers in comment section)
Note:
Featured Comments and comments Up-voted by IASbaba are the "correct answers".

IASbaba App users – Team IASbaba will provide correct answers in comment section within 24 hours. Kindly refer to it and update your answers.
Q.1) According to the Lokpal & Lokayuktas Act, 2013, which of the following statements is/are correct?
The act extends to whole of India, excluding Jammu and Kashmir.

The act applies to public servants both in and outside India.

The act mandates for creation of Lokpal for Union and Lokayukta for states.
Choose the correct answer from the code given below:
1 only

1 and 2 only

2 and 3 only

1, 2 and 3
---
Q.2) Consider the following statements about Lokpal.
The Lokpal to consist of a Chairperson with a maximum of 8 members of which 50% shall be judicial members.

Lokpal can suo motu proceed against any public servant.

Institutions which are financed fully or partly by Government are under the jurisdiction of Lokpal, but institutions aided by Government are excluded.

The Lokpal will have the power of superintendence and direction over any investigating agency, including the CBI, for cases referred to them by the Lokpal.
Select the correct answer using the code given below.
1,2 and 3 only

2, 3 and 4 only

1, 3 and 4 only

All the above
---
Q.3) Consider the following statements regarding the jurisdiction of Lokayukta:
There is uniformity regarding the jurisdiction of lokayukta in all the states.

The authorities of the local bodies, corporations, companies and societies are included in the jurisdiction of the lokayukta in most of the states.
Select the correct answer using the code given below:
1 only

2 only

Both 1 and 2

Neither 1 nor 2
---
Q.4) Recently, some states are racing to gain special status which confers preferential treatment in the form of central assistance and tax breaks.  Which among the following are the conditions to categorize states for special status?
hilly and difficult terrain

low population density or sizable share of tribal population

strategic location along borders with neighboring countries

economic and infrastructural backwardness

non-viable nature of state finances
Select the correct code given below:
1, 2 and 3

1, 2, 3 and 4

1, 3 and 5

1, 2, 3, 4 and 5
---
Q.5) Which of the following statements are correct about 'Bandipur National Park'.
It is a man-made and man-managed wetland.

It is famous for migratory birds which come to visit the park during winters.

It is the only National Park, which is recognised as World Heritage Site in Andhra Pradesh
Select the code from the following:
1 and 2

2 and 3

1 and 3

None
---
MUST READ
Cosmetic repair: on inter-creditor agreement
Questioning star power
Restoring faith in EVMs
Proving the hardliners in Tehran right
This is no way to talk
Parting reflections of a CEA
Transient triumphs
For a dedicated peer group, Motivation & Quick updates, Join our official telegram channel – https://t.me/IASbabaOfficialAccount
Subscribe to our YouTube Channel HERE to watch Explainer Videos, Strategy Sessions, Toppers Talks & many more…