IASbaba's Daily Current Affairs (Prelims + Mains Focus)- 4th July 2018
---
(PRELIMS+MAINS FOCUS)
---
SC verdict on Centre-Delhi power tussle
In news:
Supreme Court pronounced its verdict on the ongoing tussle between the Centre and the democratically elected Arvind Kejriwal government over who wields the power to administer and govern the national capital.
Key pointers:
SC ruled that  Delhi government has power in all areas

except land, police and public order

and the

Lt. Governor is bound by the aid and advice of the NCT govt

in areas other than those exempted.

The new five-judge bench adhered to Supreme Court's nine judge Bench decision of 1996 in NDMC versus State of Punjab to hold that Delhi is not a State but 'special'.

LGs/Governors cannot usurp rights of an elected state government. Real authority to take decisions lies in the elected govt. This is the meaning of 'aid and advice'. Titular head has to act in accordance to aid and advice.

L-G cannot send every difference of opinion to President. The L-G needs to be only informed of NCT government's decision. There is no need of his concurrence.
Do you know?
Article 239AA deals with Special Status of Delhi

Under Article 163, the governor has to act on the aid and advice of the council of minister except in the case where he has to exercise his discretion
---
Reforms in the police forces
Part of: GS Mains II – Governance; transparency & accountability and institutional and other measures
In news:
Supreme Court advised the State governments to consult UPSC for selecting police chiefs
Key pointers:
According to Supreme Court,
State governments have to send the names of the probables (to UPSC) three months before the incumbent Directors-General of Police (DGP) is to retire.

The UPSC will prepare a list of three officers fit to be DGP (giving due weightage to merit and seniority) and send it back. (in conformity to

Prakash Singh judgement

)

The State, in turn, shall 'immediately' appoint one of the persons shortlisted by the commission.
The directive from Supreme Court is primarily to "ensure that State governments do not exercise unwarranted influence or pressure on the police."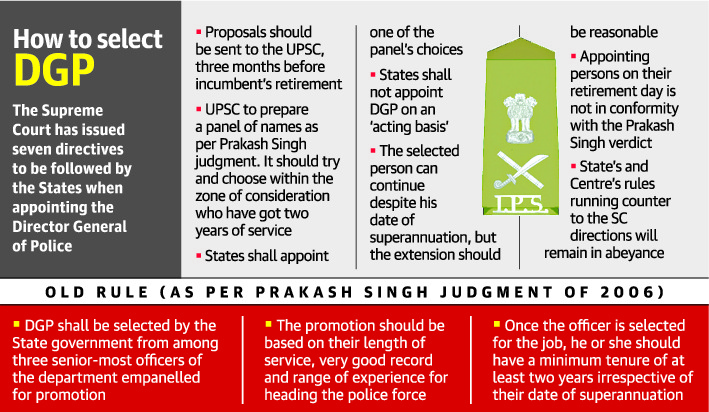 Pic link: https://d39gegkjaqduz9.cloudfront.net/TH/2018/07/04/DEL/Delhi/TH/5_01/beb9e31a_2219759_101_mr.jpg
Article link: Consult UPSC for selecting police chiefs, SC tells States
---
Thanjavur painting and application of Raman spectroscopy
Part of: GS Prelims and Mains I and III – Art and Culture; Science and Tech
About:
It was very tough to know whether the gold and gems used in Tanjavur painting were authentic or fake without ruining the painting.

But with Raman spectroscopy, there is an easy way to tell without taking it apart.
Important value additions:
About Thanjavur painting
Thanjavur painting is a classical South Indian painting style (especially Thanjavur city of Tamil Nadu)

It is characterised by rich, flat and vivid colors, simple iconic composition, glittering gold foils overlaid on delicate but extensive gesso work and inlay of glass beads and pieces or very rarely precious and semi-precious gems.

Tanjore Painting of India devised during the 16th century, under the sovereignty of the Cholas.

In Thanjavur paintings one can see the influence of Deccani, Vijayanagar, Maratha and even European or Company styles of painting.

They are locally known as 'Palagai Padam' as it is mainly done on solid wood planks.

It got GI tag by the Government of India in 2007-08.

The theme of Tanjore Painting of Hindu Gods and Goddesses, along with saints.

The distinctive features were aristocratic or religious figures adorned with jewellery and surrounded by elaborate architectural arches and doorways.

Tanjore paintings are originally done on wood and are encrusted with semi-precious stones. Later the paintings were executed on glass. The glass paintings are coloured from outside inwards. The outlines and final touches have to be done first since the artist paints the picture from the reverse side of the glass.
Article link: Does your Thanjavur painting have fake gold? – Today's Paper
---
Saint Kabir's 500th Death Anniversary
Part of: GS Prelims and Mains I – Art and Culture
Key Pointers:
Kabir Das – India's most revered 15th century mystic poet, saint and social reformer.

His sayings not only influenced people's way of life but also contributed largely towards 'Hinduism Bhakti movement'.

The language of his poetry was straightforward and understandable by the common people. His verses were direct revelation of truth and full of spirituality. He believed in simple life full of purity.

He was against false rituals and superstitions of both Hindu and Muslim religions which have no relevance with the enrichment of the human soul. He said that both are ignorant of realty. He satirically denounced Brahmins and Mullahs and thus won the hearts of poor people who were the victims of their exploitation.

His writings significantly influenced the Bhakti movement. Some of his famous writings include 'Sakhi Granth', 'Anurag Sagar', 'Bijak' and 'Kabir Granthawali'.

A religious community known as 'Kabir Panth' was founded by him and the members of this forum are referred as 'Kabir Panthis', implying the followers of Kabir Das.

Great saint, Ramananda was his Guru.

Kabir was the first saint to reconcile Hinduism with Islam.

Kabir died at Maghar in the Gorakhpur district of Uttar Pradesh in 1518 A.D.
Do you know?
Last week Prime Minister Narendra Modi laid the foundation stone of the Sant Kabir Academy in Uttar Pradesh.

Prime Minister has also inaugurated the two-day 'Kabir Mahotsav' at Maghar in Sant Kabir Nagar district of Uttar Pradesh on June 28, 2018.

The festival, organised by the Union Culture Ministry, will feature folk music, dance performances and musical theatre in which artistes from all over the country will participate.
---
"cVigil" app
GS Prelims:
Election Commission launched an Android-based mobile application named "cVigil".

The app will help citizens to share proof of malpractices by political parties, their candidates and activists when the Model Code of Conduct is in force.
---
(MAINS FOCUS)
---
ECONOMY
TOPIC: General Studies 3:

Indian Economy and issues relating to planning, mobilization of resources, growth, development and employment.
Government policies and interventions for development in various sectors and issues arising out of their design and implementation.
Need for reforming Indian financial structure
Introduction:
RBI's Financial Stability Report: highlights the following –
Indian banks will continue to be under pressure because of their bad loans.  

Bad loans will continue to increase in the current financial year while capital adequacy will decline.
It also highlighted that most of the current policy attention focused on first three of four components of a recovery in financial sector health— recognition, resolution, recapitalization and reform.
Even as the challenges of recognition, resolution and recapitalization continue to dominate the public debate, there is also a need for a debate on the financial structure reforms that India needs in its next round of economic growth.
Background: Indian Financial Structure in post-independence
There have been two different financial structures till now.
Financial structure which came up during the era of planned industrialization.

Financial structure that came up after the radical economic reforms of 1991.
Financial structure which came up during the era of planned industrialization.
The then government set up specialist financial institutions—Industrial Finance Corporation of India, Industrial Credit and Investment Corporation of India and Industrial Development Bank of India—to provide funds to new projects at a time when local financial markets were not developed enough to provide long-term finance for new industrial projects.

These financial institutions focused on project finance while the commercial banks provided working capital.
Financial structure that came up during second era: after the radical economic reforms of 1991.
Former RBI governor M. Narasimham committee provided a road map for a complete overhaul of the Indian financial system.

According to Narasimhan committee, a financial system that had evolved within a system of credit planning would be out of sync with a market economy.

Narasimhan committee pushed India in the direction of universal banking, as the specialist financial institutions either converted themselves into commercial banks or withered into insignificance.
Concern:
The experience of the past decade clearly shows that commercial banks have struggled to profitably lend to long-term projects. They are now weighed down with soured loans to steel, telecom, power and infrastructure projects.
Public sector banks were forced to lend to these projects during the previous credit bubble times.
Commercial banks have been unable to convert their short-term liabilities to long-term assets for a variety of reasons. The limitations of universal banking are evident now.
What next? Is there a need to create new generation of development finance institutions?
The old financial institutions could lend cheaply because they had access to subsidized capital—either from international agencies or directly from RBI.

These options are neither possible nor recommended now.

To blindly transplant the old financial structure into a market economy is not a good idea.
The way ahead:
What India perhaps needs is a newer generation of financial agencies that can help build national infrastructure without landing in a balance sheet mess.
The other alternative is deeper bond markets to provide finance to large projects.
There is a need for a financial structure in which large companies borrow from the bond markets while smaller companies get their funding from commercial banks.
The Indian bond market has shown some signs of life in recent years, especially after banks went slow on fresh lending because of their balance sheet troubles. The risks of depending on commercial banks to fund large projects are still evident.
Connecting the dots:
There has been an impetus on streamlining bond markets to provide finance to large projects. In this light, discuss the potential of bonds in India.
---
INTERNATIONAL
TOPIC: General Studies 2:

India and its neighbourhood- relations.
Bilateral, regional and global groupings and agreements involving India and/or affecting India's interests
Important International institutions, agencies and for a
Security concerns
Afghanistan Jalalabad Incident
Introduction:
Recently, a suicide bomber targeted a group of Sikhs and Hindus on their way to meet Afghanistan's president in the eastern Afghan city of Jalalabad.

17 out of 19 dead in the attack were from the minority Sikh and Hindu community.

The suicide attack is yet another warning from the Islamic State to the war-torn country's unsound or deteriorating political and security apparatus.

What more interesting is that the attack claimed the life of the only Sikh candidate running for elections this year. The incident speaks volumes of the plight of minorities in a country once celebrated for its diversity.
Background:
Sikhs and Hindus have long suffered widespread discrimination in the conservative Muslim country and been targeted by Islamic extremists. Today the community is comprised of only around 1,000 people.
Under Taliban rule in the late 1990s, they were told to identify themselves by wearing yellow armbands, but the dictate was not wholly enforced. In recent years, large numbers of Sikhs and Hindus have sought asylum in India, which has a Hindu majority and a large Sikh population.
Failed peace process:
Over the past few months, the Afghan government has been trying to reach out to the Taliban to begin a peace process.
Mr. Ghani first offered the militants pardon in return for giving up weapons, which the group rejected.

Recently, he announced a unilateral ceasefire (in the run-up to Id last month) which saw some Taliban-led attacks come down. However, the IS, which controls some areas has stepped up assaults.

IS had threatened to attack schools in response to U.S. and Afghan military operations in its controlled provinces.

A day before the Jalalabad attack, a boys' school were set on fire and militants beheaded three workers.
Major concern:
The IS set up its Afghan affiliate as a South Asian outpost when its so-called caliphate in Iraq and Syria came under strain. Afghanistan is relatively easier terrain for the IS to recruit fighters from and occupy turf.
When the government and the Taliban were fighting each other, the IS built a network in certain provinces and started targeting minorities.
Most of its previous attacks were aimed at the Shia minority. Now, by attacking Sikhs and Hindus, the IS has re-emphasised its worldview and renewed its threat to any attempt to make peace in Afghanistan.
If the IS is allowed to grow, Afghanistan's descent into total chaos will only be a matter of time.
Connecting the dots:
A stable Afghanistan is key to India's policy towards Central Asian countries. Comment. Also examine the associated challenges.
---
(TEST YOUR KNOWLEDGE)
Model questions: (You can now post your answers in comment section)
Q.1) Prakash Singh judgement deals with –
Power sharing between NCT elected government and Lt. Governor

Higher education reforms

faster resolution of stressed assets and creation of creation of an asset management company

Consulting UPSC for selecting police chiefs
---
Q.2) Bijak, is a famous work written by –
Surdas

Mirabai

Kabir

Ramanuja
---
Q.3) Consider the following statements regarding Ramananda:
His verses are included in Adi Granth

Simplification of worship and emancipation of people from the traditional caste rules were his two important contributions to the Bhakti movement.

He opposed the caste system and chose his disciples from all sections of society disregarding caste.
Which of the above statements are correct?
1 and 2 only

2 and 3 only

1 and 3 only

All of the above
---
Q.4) In which of the following texts can we find Dohas written by Kabirdas?
Bijak

Adigranth

Sukhinda
Select the code from following:
1 and 2

2 and 3

1 and 3

All of the above
---
Q.5) Tanjore Paintings are one of the folk paintings of South India. Which of the following statements regarding Tanjore Paintings are correct?
They are made entirely by white paint over a red background.

Semi-precious stones, gold and silver foil, glass pieces etc are used to decorate the painting.

The theme of the paintings is usually religious.
Select the code from following:
1 and 2

2 and 3

1 and 3

All of the above
---
Q.6) Consider the following:
Religious figures

Use of semi-precious stones

Usage of rice paste as base

Architectural arches
Which of the above characteristics is/arethe features of Tanjore Painting?
1, 2 and 3 only

1, 2 and 4 only

2, 3 and 4 only

2 and 3 only
---
MUST READ
A faint resonance: on commemorating poet Kabir's 500th death anniversary
The bilateral limits of hype: on India-U.S. relations
Worse than UGC
How climate change can erode Indian coastline
The marriage penalty on women in India
The need for innovation in the legal sector