IASbaba's Daily Current Affairs [Prelims + Mains Focus] – 7th July 2018

IASbaba's Daily Current Affairs (Prelims + Mains Focus)- 7th July 2018
---
(PRELIMS+MAINS FOCUS)
---
Centre-Delhi power tussle
Part of: GS Prelims and Mains II – Indian Polity; Centre-State/UTs relations; Governance
In news:
Recently, we read that Supreme Court in its verdict pronounced that Delhi government has power in all areas

except land, police and public order

and the

Lt. Governor is bound by the aid and advice of the NCT govt

in areas other than those exempted.

However,

issue of 'services'

continue to remain the

bone of contention

with neither side willing to relent on the

right to exercise control over bureaucrats

, mainly those belonging to the All India Services cadre, posted in the Capital.
Do you know?
Article 239AA deals with Special Status of Delhi

Under Article 163, the governor has to act on the aid and advice of the council of minister except in the case where he has to exercise his discretion
Article link: Delhi standoff over control of 'services' continues – The Hindu
---
Extended Gram Swaraj Abhiyan (EGSA)
Part of: GS Prelims and Mains II – Government schemes and policies; Rural development
In news:
Gram Swaraj Abhiyan (GSA) and EGSA
Launched on April 14, the Gram Swaraj Abhiyan (GSA) aims to improve socio-economic conditions of villages.

GSA aims to provide poor households with electricity, insurance, LPG connections and other such facilities.
The Centre's model-village scheme will now include 12 welfare flagship programmes and has been extended to more villages. [therefore the name – Extended Gram Swaraj Abhiyan (EGSA)]
Phase I – Gram Swaraj Abhiyan (GSA)
The first phase, between April and May, comprised

seven schemes

— LPG connection, free LED bulbs and electricity, Pradhan Mantri Jan Dhan Yojana, accident and life insurances and Mission Indradhanush, a vaccination programme.
Phase II – EGSA
The second phase

added five new initiatives –

which will concentrate on improving schools, health services and nutrition and launching agricultural projects and a skill development programme.

The second phase will cover 49,175 villages, up from 16,850 in the first phase.
Recently, govt. deployed 800 IAS officers for village outreach (to ensure delivery of Central welfare schemes via EGSA)
Article link: Govt. deploys 800 IAS officers for village outreach
---
Alternative cereals can improve water use and nutrient supply in India
Part of: GS Prelims and Mains III – Agriculture and irrigation; Environment and Conservation of biodiversity
Key pointers: (according to a study)
If Indian farmers were to switch from growing rice and wheat to 'alternative cereals,' such as maize, sorghum, and millet, it could reduce the demand for irrigation water by 33%.

This could also improve nutritional availability to consumers.
Do you know?
Rice is the least water-efficient cereal when it came to producing nutrients, and was the main driver in increasing irrigation stresses.
Article link:'Alternative cereals can save water'
---
(MAINS FOCUS)
---
INTERNATIONAL
TOPIC: General Studies 2:

Bilateral, regional and global groupings and agreements involving India and/or affecting India's interests
Effect of policies and politics of developed and developing countries on India's interests, Indian diaspora.
Important International institutions, agencies and fora- their structure, mandate.
The new trade order: Tariff War
In news:
U.S. and China launched tit-for-tat tariffs on each other's imports.

US increased 25% duties on Chinese machinery, electronics and hi-tech equipment, including autos, computer hard drives and LEDs.

Economists have warned that the escalating trade frictions could throttle global growth.
From previous articles, we already know that –
Below picture shows US trade war with allies and partners.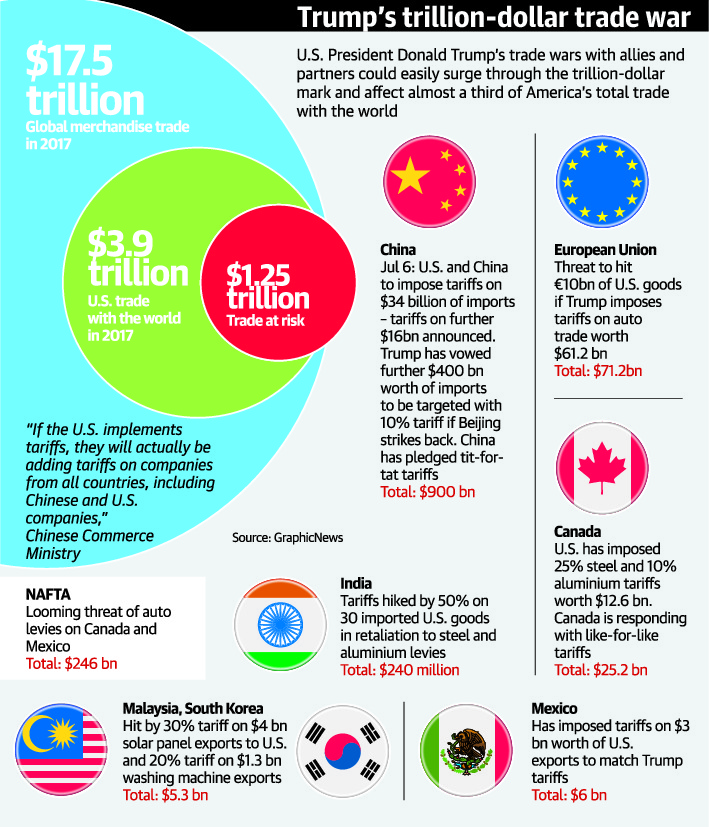 Pic link: https://d39gegkjaqduz9.cloudfront.net/TH/2018/07/06/HYD/Hyderabad/TH/5_12/63fe6f34_2224070_101_mr.jpg
Assessment: Why US (Trump administration) is launching its trade wars?
Since the start of the year, U.S. President Donald Trump has lashed out at allies and adversaries alike on trade.
Often, as with India, the U.S. has pushed for enhanced security cooperation at the same time it declared trade relations a national security threat.
There are at least three possible explanations for trade wars launched by Trump administration:
complaints about Chinese practices

preoccupation with meaningless bilateral trade deficits

a straightforward desire to block trade
Wall of Protectionism
Among the above three options, the best possibility point to the last one – simple protectionism. (Because of below reasons)
One, even though U.S. has significant concerns about Chinese economic practices, such as China's aggressive approach to acquiring intellectual property from American businesses, it has not imposed tariffs on China alone. EU and Canada has also attracted high tariffs.

Two, Trump places a high priority on bilateral trade deficits. For instance, Chinese products attracted higher tariffs. However, countries with which the U.S. runs a trade surplus have also not been immune from trade attacks; Canada is a prime example.

This then leaves the simpler explanation that Mr. Trump is fond of tariffs and believes that American industry will do better behind a wall of protection.
Failure of Global trading systems
Global trading system such as General Agreement on Tariffs and Trade and World Trade Organization were never designed to block a major world power from running amok. They relied on the principal players in global trade respecting the system.
The WTO Dispute Settlement Mechanism has failed to act quickly to address the mounting spats about trade protectionism emanating from the U.S. – a major reason why countries around the world have not waited for verdicts from their WTO complaints and have instead proceeded with retaliation.
Connecting the dots:
Tit-for-tat tariffs/trade war between US and other countries has intensified recently. Discuss the implications of such trade war on developing countries like India.

We are witnessing a trend of increasing protectionism and isolationism by the developed countries of the world. What reasons can be attributed to this trend? How will it affect India's interests? Examine.
---
NATIONAL/SOCIAL
TOPIC: General Studies 2:

Government policies and interventions for development in various sectors and issues arising out of their design and implementation.
Welfare schemes for vulnerable sections of the population by the Centre and States and the performance of these schemes; mechanisms, laws, institutions and bodies constituted for the protection and betterment of these vulnerable sections
Issues relating to development and management of Social Sector/Services relating to Health, Education, Human Resources.
Education and caste-based prejudice
Introduction:
Even as a brave new India forges ahead with smartphones and cities, caste remains a major force shaping social relations and politics.
Over the last few years, crimes against Dalits have been on the rise.  Even in 2018, Indian society doesn't seem to have moved on from caste-based oppression and violence.
National Crime Records Bureau data also shows  the number of crimes reported against Dalits had risen.
Recent incidents of violence against Dalits
Bhima Koregaon clashes between Dalits and upper castes

Recently, three adolescent Dalit boys were brutally assaulted and paraded naked after they were caught having swum in a well forbidden for use by Dalits.
Concerns: Perpetrators of violence against members of oppressed groups document their act themselves, apparently to establish their brazenness. They intended to warn others against transgressing traditionally-maintained boundaries of upper caste authority.
They don't believe that history has moved on, towards new social norms. There is something in the current political ethos that persuades them to hope for a return to old times.
The episode reminds us of the role that wells used to play in India's social life before the advent of piped water. Wells were often demarcated as caste territories. To have a well of your own, in your courtyard, was a symbol of status.
Failure of education curriculum in reducing caste-based prejudice
Education in most states does precious little to deal with caste issues in any depth or detail. Indeed, caste remains a curricular taboo. It is not supposed to be discussed directly. Nor is it acknowledged as a major social institution, shaping relationships as important as marriage.
Schools, colleges and other educational institutions desist from engaging with caste in the false hope that education will remove the social inequality.
From friendships to politics, the influence of caste can be observed everywhere. Many young people feel undisturbed by it. The rhetoric of being fair, open and unprejudiced is well-established in colleges, but no real learning about caste-based practices takes place.
The belief persists that including the caste system in the curriculum will only reinforce it. Many schools and colleges are established by caste associations, and they too prefer to let the magic of caste remain subtle, percolating into the young mind quietly.
B R Ambedkar was right in seeing caste as a barrier to India's intellectual growth, apart from being the lever of oppression.
Connecting the dots:
"Has education helped to speed up economic and social mobility among the lower-placed castes?" Critically examine.

"Has education helped to reduce caste-based prejudice?" Critically analyze.
---
(TEST YOUR KNOWLEDGE)
Model questions: (You can now post your answers in comment section)
Q.1) With respect to Article 239AA of Constitution Delhi assembly can legislate on all those matters listed in the State List and Concurrent List as are applicable to union territories, excluding which of the following?
Public Order

Police

Land
Select the correct statements
1 and 2

2 and 3

1 and 3

All of the above
---
Q.2) In what regard the Centre have special relationship with respect to NCT of Delhi as compared to other states?
Centre appoints Lieutenant Governor of NCT of Delhi unilaterally while Governor of a State is appointed only after consultation with the Chief Minister of the respective State.

Chief Minister of NCT of Delhi is appointed by the Lieutenant Governor of NCT of Delhi while the Chief Minister of a State is appointed by the Governor of that State.
Which of the above statement(s) is/are correct?
1 only

2 only

Both 1 and 2

Neither 1 nor 2
---
Q.3) Which among the following cereals are covered under MSP?
paddy

barley

jowar

bajra

maize

ragi

wheat
Choose the correct answer:
1, 3, 4 and 6

2, 3, 4 and 6

1, 3, 4, 6 and 7

1, 2, 3, 4, 5, 6 and 7
---
Q.4) Government of India has declared the year 2018 as the National year of Millets. Which of the following statements regarding Millets are correct?
Millets include coarse grains like Jowar, Bajra, Ragi, etc.

The cultivation of millet requires less water as compared to wheat and rice.

Millets are distributed under Public Distribution System (PDS) to improve nutritional security.
Select the code from following:
1 and 2

2 and 3

1 and 3

All of the above
---
Q.5) With regard to Gram Swaraj Abhiyan, Consider the following statements:
It is about to promote social harmony, spread awareness about pro-poor initiatives of government.

Gram Shakti Abhiyan is part of this Gram Swaraj Abhiyan.
Which of the above statements is/are correct?
1 only

2 only

Both 1 and 2

None
---
MUST READ
A political ploy: on the hike in MSPs
The Indian wunderkind: on Praggnanandhaa's success and the Indian chess wave
The Pakistan Paradox
Betting on the future
Class Act
Fuel for development