IASbaba's Daily Current Affairs (Prelims + Mains
Focus)- 03rd October 2018
---
(PRELIMS+MAINS FOCUS)
---
International Sanitation Convention
Part of: GS Prelims and Mains II and III – Environment and Ecology; Health
In News:
PM Modi addressed an international sanitation convention on the fourth anniversary of the cleanliness mission.
He said – India was taking the lead on the UN's Sustainable Development Goal on sanitation and was on course to fulfil its commitments 11 years early.
More than 94% of rural households across the country have now been declared open defecation free in comparison to just 39% when the mission was launched four years ago.
Modi also said that the membership of the International Solar Alliance (ISA) — so far restricted to countries between the Tropics of Cancer and Capricorn — would be expanded to include all member countries of the United Nations.
He urged world leaders to move towards a future of 'one world, one sun, one grid' in which countries around the world would share electricity so that none is without it.
About Sustainable Development Goals (Fast Recap)
17 SDGs were adopted by UN member nations in 2015. The deadline to meet them is 2030.
How to remember all 17 Goals?
I Can HELP
Yes, "I Can HELP" is your answer
I2
1.     Industry, Innovation and Infrastructure

2.     Inequality

Can5
3.     Clean water and Sanitation

4.     Clean Energy

5.     Climate Change

6.     Cities and Communities

7.     Consumption and Production

H2
8.     Hunger

9.     Health

E3
10.  Education

11.  Equality

12.  Economic Growth, Decent Work

L2
13.  Life below water

14.  Life on land

P3
15.  Poverty

16.  Peace and Justice

17.  Partnerships for the Goals
Champions of the Earth Award
Part of: GS Prelims and Mains III – Environment and Ecology
In news:
United Nations Environment Programme honours PM Modi with United Nation's Top Environmental Award – Champions of the Earth
The UN recognised Modi with its highest environmental honor in the policy leadership category for his efforts to eliminate all single use plastic in India by 2022.
President of France, Emmanuel Macron has also been awarded in the same category for his work on the Global Pact for the Environment.
They were selected for their pioneering work in championing the International Solar Alliance.
Do you know?
India and France had together launched the ISA on sidelines of the UN climate conference (COP21) in Paris in 2015.
The ISA is an inter-governmental body of solar rich nations whose objective is to galvanise actions for increasing solar power footprints in 121 potential member countries across the globe.
The ISA is headquartered in Gurugram near New Delhi in India.
India's Cochin International Airport – the world's first fully solar-powered airport – is also selected for the award. It is selected in the Entrepreneurial Vision category for its leadership in the use of sustainable energy.
The annual 'Champions of the Earth' prize is awarded to outstanding leaders from government, civil society and the private sector whose actions have had a positive impact on the environment.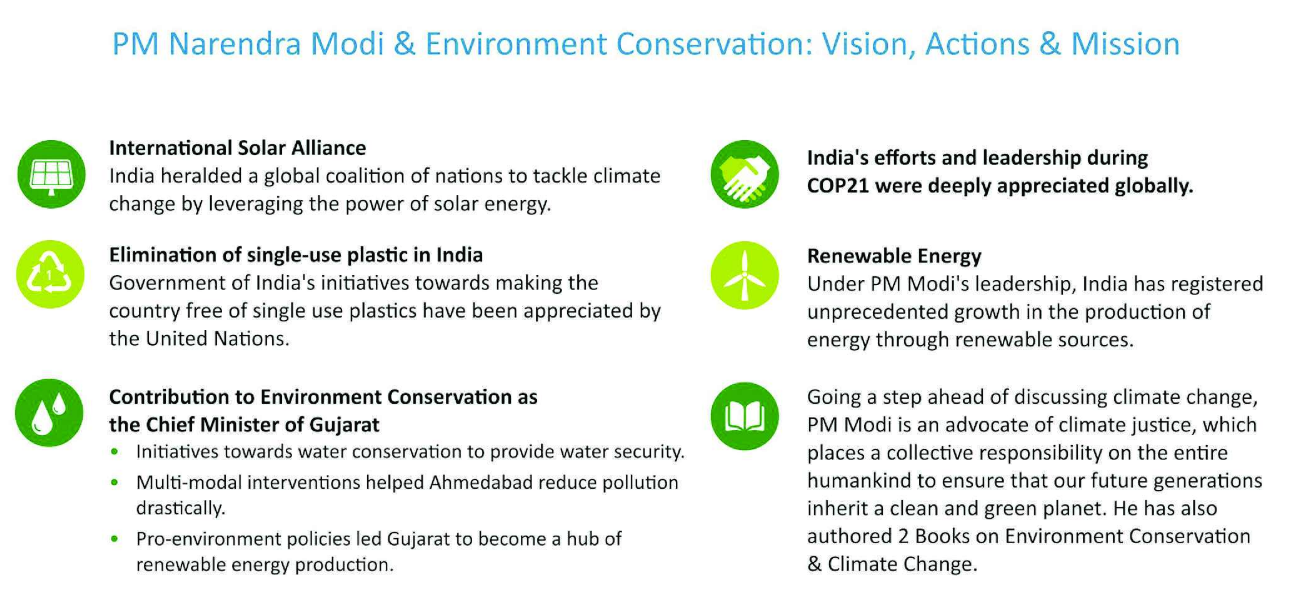 UNESCO Global Geopark Network status
Part of: GS Prelims and Mains I and III – India Art, Culture and Heritage; Heritage sites; Tourism
In news:
Geological Survey chooses heritage locations in Maharashtra and Karnataka for UNESCO site status.
Heritage locations
Lonar Lake – An ancient circular lake created by a meteorite strike in Maharashtra
Mary's Island and Malpe beach – A hexagonal mosaic of basaltic rocks in an island off Udupi
– The above heritage locations are poised to become global geoparks.
Criteria to become Geopark:
An aspiring Global Geopark must have –
a dedicated website,
a corporate identity,
comprehensive management plan,
protection plans,
finance, and
partnerships for it to be accepted.
Do you know?
The Geopark tag is akin to that of a 'World Heritage Site' for historical monuments that can bring India's famed geological features to the global stage. (50,000 years old)
Lonar lake is the only known meteorite crater in basaltic rock and is world famous.
Mary's island is a unique phenomenon that has been preserved well – estimated to be an 88-million-year-old formation that goes back to a time when Greater India broke away from Madagascar.
Odisha launches own food security scheme
Part of: GS Prelims and Mains II – Centre State Relations; Government schemes and policies for welfare of people
In news:
The Naveen Patnaik government launched its own food security scheme on the occasion of Gandhi Jayanti.
The scheme is expected to benefit 25 lakh people who were left out of the National Food Security Act.
The State government had decided to launch its own food security scheme after the Centre did not respond to its request to add additional beneficiaries under the NFSA.
Toilet-for-all: WHO calls for more investment
Part of: GS Prelims and Mains II – Role of International organisations; Health issue
In news:
Vice-President M. Venkaiah Naidu inaugurated the world's largest dome at the Maharashtra Institute of Technology (MIT)'s World Peace University (MIT-WPU) campus at Loni Kalbhor on the 150th birth anniversary of Mahatma Gandhi.
The dome is built atop the MIT World Peace Library and the World Peace Prayer Hall, which are named after the 13th century poet-saint and philosopher Dnyaneshwar — a pivotal figure of the Bhakti movement in Maharashtra.
World Health Organization (WHO) recently launched its first global guidelines on sanitation and health.
WHO said that by adopting its new guidelines, countries can significantly reduce diarrhoeal deaths due to unsafe water and poor sanitation and hygiene.
Do you know?
Worldwide, 2.3 billion people lack basic sanitation (with almost half of them forced to defecate in the open).
They are among the 4.5 billion without access to safely managed sanitation services – in other words a toilet connected to a sewer or pit or septic tank that treats human waste.
Sanitation is a fundamental foundation of human health and development and underpins the core mission of WHO and ministries of health worldwide.
The WHO developed the new guidelines on sanitation and health because current sanitation programmes are not achieving anticipated health gains and there is a lack of authoritative health-based guidance on sanitation.
India sends relief material to Indonesia
Part of: GS Prelims and Mains Paper III- Disaster management; International Relations
In news:
IAF aircraft and naval ships on the way to tsunami-hit Palu
The Navy has diverted its ships INS Tir, Sujata and Shardul on deployment to Singapore to Palu in Indonesia.
The IAF has deployed one C-130J and one C-17 transport aircraft to ferry medical teams and relief material.
Indians to be hit by U.K. immigration plan
Part of: GS Mains II – International Relations; India and the World
In news:
Under the new system, immigrants will be able to bring their immediate families only if they are sponsored by employers
The move would be the biggest shake-up of Britain's immigration system in decades.
Under the existing system, employees are able to bring family members with them if they meet certain criteria, including crossing a certain salary threshold.
The system is already extremely restrictive for workers from India and this is going to make it even more so.
Laser pioneers win Physics Nobel
Persons in news
In news:
Three scientists won the Nobel Physics Prize for inventing optical lasers that have paved the way for advanced precision instruments used in corrective eye surgery.
Arthur Ashkin of the U.S., Gerard Mourou of France and Donna Strickland of Canada
Ashkin, 96, was honoured for his invention of "optical tweezers" that grab particles, atoms, viruses and other living cells with their laser beam fingers.
With this he was able to use the radiation pressure of light to move physical objects
Mourou, 74, and Ms. Strickland ,59 won for helping develop a method to generate ultra-short optical pulses, "the shortest and most intense laser pulses ever created by mankind. Their technique is now used in corrective eye surgery.
---
(MAINS FOCUS)
---
NATIONAL
TOPIC:  

General Studies 1, 2 and 4

Persons in history, India after independence
Social justice, empowerment of vulnerable sections of the society
Ethics and integrity, leadership qualities
Why Shastri matters today
Introduction
The nation must not only pay homage to its leaders on their birth and death anniversaries, but also make the younger generation aware of their stellar contribution to the good of the country.
One such statesman is Lal Bahadur Shastri, who is remembered every year along with the Father of the Nation, Mahatma Gandhi, on October 2.
The man of integrity
Like millions of Indians, Shastri drew inspiration from the Mahatma and plunged into the freedom struggle when he was in his teens.
More than 60 years ago, Shastri showed what probity and integrity in public life are all about.
Following a train accident at Ariyalur in Tamil Nadu, in which more than 140 people were killed, he resigned as railway minister taking moral responsibility for the incident.
Lauding him for his integrity, the then Prime Minister Jawaharlal Nehru said that he was accepting his resignation because it would set an example in constitutional propriety, although Shastri was in no way responsible for it.
A rational and moral personality
He displayed a broad outlook at a very young age and dropped his caste-based surname when he was in the seventh standard.
His progressive attitude came to the fore when he asked for khadi cloth and a spinning wheel as dowry.
His maiden Independence Day speech in 1964 is as relevant today as it was then.
Shastri observed: "We can win respect in the world only if we are strong internally and can banish poverty and unemployment from our country. Above all, we need national unity. Communal, provincial and linguistic conflicts weaken the country. Therefore, we have to forge national unity. I appeal to all to work for national unity and usher in a social revolution to make our country strong. In the ultimate analysis, the strength of the country does not lie in its material wealth alone. It requires people like Mahatma Gandhi, Jawaharlal Nehru and Rabindranath Tagore. It requires the force of character and moral strength. I appeal to our young men to inculcate discipline in themselves discipline and work for the unity and advancement of the nation".
His stress on character and moral strength acquire special significance today, when we see all-round degeneration of values in various fields.
Jai Jawan, Jai Kisan
During the Indo-Pakistan war in 1965, Shastri gave the immortal slogan, "Jai Jawan, Jai Kisan," which continues to inspire every Indian even today.
During his prime ministerial tenure, which unfortunately was cut short by his untimely death, Shastri boosted the morale of the nation by leading India to victory over Pakistan.
His vision for self-sufficiency in foodgrains led to sowing the seeds of the Green Revolution, and promotion of the White Revolution.
The country owes it to him in no small measure that we are self-sufficient in foodgrains production today.
During his speech at death anniversary of Swami Dayanand Saraswati he said : "The nation cannot afford to relax. It is difficult to say what the future holds for us. Pakistan had not yet given up her policy of aggression. The duty of the nation is therefore clear. The country's defences have to be strengthened. The people should spare no efforts to strengthen the defences. Side-by-side, food production has to be increased. Food self-sufficiency is as important as a strong defence system. It was for this reason that I raised the slogan, 'Jai Jawan, Jai Kisan'. The kisan is as much a soldier as the jawan".
Many years later, former Prime Minister A B Vajpayee added "Jai Vigyan" to Shastri's slogan in order to hail achievements of Indian scientists.
Country's interests first
Shastri placed the country's interests above everything else.
Although he was wedded to the principles of peace, Shastri showed that he was made of sterner mettle when it came to protecting India's unity and integrity.
His response was swift and decisive in ordering the Indian armed forces to retaliate against Pakistan's unprovoked aggression.
Shastri's love for the motherland was evident when he responded to Mahatma Gandhi's call to join the Non-Cooperation Movement at the young age of 16.
An incident from his life shows that he was a man of deeds. Before appealing to the countrymen to skip one meal a week in the wake of the foodgrain shortage, he implemented the measure at his house.
His appeal had an electrifying impact and many households across the country responded positively to his call.
A visionary man
His humane quality was reflected in another instance. As Uttar Pradesh's Minister of Police and Transport, he ordered that the police should use water jets instead of lathis to control unruly crowds.
The fact that Shastri was the first transport minister to open the post of bus conductors to women showed how forward-looking he was.
His visionary outlook is reflected in the observations he had made at a rural projects meet in Delhi in 1964.
"We must inject new elements in the services. Let us introduce professors, economists, teachers, engineers and others, even outsiders, so that there is some freshness, a real exchange of views, a meeting of different approaches," he said.
Perhaps, the government's decision to open 10 senior civil services positions for lateral entry is in line with this philosophy.
Conclusion
The present times require every Indian to emulate the simplicity, humility, humanism, austerity, hard work, dedication and nationalism displayed by the unassuming second prime minister of India.
Following his ideals would be a fitting tribute to him on his birth anniversary.
The nation must always remember the contributions of leaders such as Sardar Vallabhbhai Patel, B R Ambedkar, Lal Bahadur Shastri and Syama Prasad Mookerjee and many others, in independent India.
Connecting the dots:
What are the contributions of Lal Bahadur Shastri to post-Independent India's polity and economy? Do you think he is relevant in today's time?
---
NATIONAL/DISASTER MANAGEMENT
TOPIC: 

General Studies 1

Physical Geography of India

Earthquakes and their causes

General Studies 3

Environment conservation
Disaster management

Studying fault lines
Introduction
Recent Kerala floods started the debates and studies about dams and resrviors, and their sesimic effects.
Even very small reservoirs impounding water seasonally can cause deformation in the neighbouring region.
Such deformation may add to the stress of a nearby fault, which if already critically stressed, can trigger an earthquake.
Prone areas of reservoirs induced seismic activity
A 6.3-magnitude earthquake near the Koyna dam that struck in December 1967, killing about 180 people, occurred about five years after it was built. Many smaller quakes occur each year.
Based on Global Positioning System and satellite data, a team of researchers led by Vineet Gahalaut of the National Centre for Seismology, found crustal deformation in four reservoirs — Koyna, Tehri, Ukai, and Dharoi.
These are of varying sizes and are located in different geological zones in India.
There are no reports of any earthquake from the other three reservoirs. But that does not mean there are no earthquakes. It is just that we don't have adequate seismic monitoring network to collect data in these places.
Study on seismic activity induced by reservoirs
In two papers published recently in the journal Bulletin of the Seismological Society of America, the researchers concluded that there is "no lower threshold on the size of the reservoir to cause deformation" in the surrounding area.
The researchers found that the eastern block of the Koyna-Warna fault zone is moving about 0.7 mm faster per year than the western block.
Such anomalous motion adds stress to the fault, leading to earthquakes. Differences in the rock composition could be causing the differential movement.
Lubricating the fault
The strength of the fault reduces when the reservoirs are full.
Impounding of water causes stress, and the water that percolates from the reservoir lubricates the fault, thus reducing the frictional force, leading to reduced strength of the fault or even aiding the fault to fail, causing an earthquake.
In addition to deformation caused by loading of the reservoir, tectonic movement of crustal plates causes stress build-up.
The fault fails, causing an earthquake, when the combined stress caused by the two factors crosses a critical point.
Conclusion
Along with disaster management and Environment conservation, there is need to invest in Research and developments.
Integrated approach for R&D in related fields like civil engineering, environment and ecology, seismology, etc. can help in mitigating the negative effects of large infrastructure projects.
Connecting the dots:
What is reservoir induced seismic activity? Explain with examples; also suggest some measures to mitigate the disasters.
---
(TEST YOUR KNOWLEDGE)
Model questions: (You can now post your answers in comment section)
Note:
Featured Comments and comments Up-voted by IASbaba are the "correct answers".

IASbaba App users – Team IASbaba will provide correct answers in comment section. Kindly refer to it and update your answers.
Q.1) Consider the following statements:
India and France had together launched the ISA on sidelines of the UN climate conference (COP21) in Paris in 2016.
The ISA is an inter-governmental body of solar rich nations whose objective is to galvanise actions for increasing solar power footprints in 121 potential member countries across the globe.
The ISA is headquartered in Gurugram near New Delhi in India.
Which of the statements given above is/are correct?
1 and 3 only
1 and 2 only
2 and 3 only
1, 2 and 3
Q.2) Which of the following programmes are under the International Solar Alliance?
Scaling Solar Applications for Agricultural Use
Affordable Finance at Scale
Scaling Solar Mini Grids
Select the correct code:
1 and 2
2 and 3
1 and 3
All of the above
---
Q.3) Which among the following heritage sites were chose by Geological Survey recently for UNESCO Global Geopark Network status?
Rani ki vav
Lonar Lake
Mary's Island
Pattadakal
Choose correct answer:
1 and 2 only
2 and 3 only
2 and 4 only
1 and 3 only
---
Q.4) Consider the following statements about 'Lonar Lake'
It is a caldera lake
It is a saline lake created during the Pleistocene
Select the correct statements
1 Only
2 Only
Both 1 and 2
Neither 1 nor 2
---
Q.5) Recently, Vice-President M. Venkaiah Naidu inaugurated the world's largest dome at –
Karnataka
Andhra Pradesh
Maharashtra
Gujarat
---
MUST READ
 In the court of last resort
A flight path with obstacles
 'Swachh Bharat has become a people's movement'
In bad company
A Cure Called Inclusion
 From Plate to Plough: Get smarter on the farm
The Mahatma's economics
   Indian agriculture's problem of scale
Blended finance for meeting the SDGs
For a dedicated peer group, Motivation & Quick updates, Join our official telegram channel – https://t.me/IASbabaOfficialAccount
Subscribe to our YouTube Channel HERE to watch Explainer Videos, Strategy Sessions, Toppers Talks & many more…