IASbaba's Daily Current Affairs (Prelims + Mains
Focus)- 04th October 2018
---
(PRELIMS+MAINS FOCUS)
---
Rafale and the S-400 air defence system deal
Part of: GS Prelims and Mains II and III – Defence and Security; International Relations
In news:
The acquisition of the Rafale fighter jets and the S-400 air defence system will go a long way in addressing the depleting squadron strength of the Indian Air Force (IAF).
India and Russia are expected to conclude an agreement for five regiments of the S-400 Triumf air defence system.
However, the US has urged India to forgo S-400 missile deal with Russia, warning that the deal could attract American sanctions.
We have already read that, US's domestic law requires its administration to impose CAATSA (Countering America's Adversaries through Sanctions Act) sanctions on any country that has "significant transactions" with Iran, North Korea or Russia.
Will President Trump waive these sanctions?
Pic: https://d39gegkjaqduz9.cloudfront.net/TH/2018/10/04/CNI/Chennai/TH/5_11/9f3264f5_5861d707_101_mr.jpg
---
Lagoon villas for Lakshadweep soon
Part of: GS Prelims and Mains I and III – Geography; Tourism and Infrastructure
In news:
NITI Aayog plans to boost island tourism (especially Lakshadweep and Andaman and Nicobar Islands)
Government plans to make Lakshadweep – a popular alternative to leading destinations such as Mauritius and Maldives
Government to grant licenses to build villas and attract tourists from across the globe. These will mainly be eco-cottages, for which private players can bid to build.
NITI Aayog, along with other stakeholders, including the Island Development Agency (IDA), which is chaired by Home Minister Rajnath Singh, is conducting a technical feasibility study.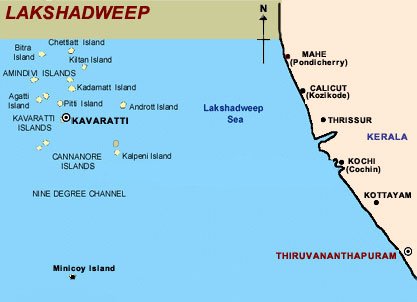 ---
Persons in news: Frances H Arnold, George P Smith and Gregory P Winter
In news:
Frances H Arnold, George P Smith and Gregory P Winter win Nobel prize in chemistry.
Briton and two Americans honoured for using evolutionary principles to develop proteins that have been used in new drugs and medical treatments.
Pic: https://d39gegkjaqduz9.cloudfront.net/TH/2018/10/04/CNI/Chennai/TH/5_12/ab791998_2f705151_101_mr.jpg
---
'Jewel of Roman Empire' faces danger
In news:
UNESCO declared Sabratha to be at risk in 2016, mainly due to damage caused by armed groups
The world heritage site is classified as "endangered" by UNESCO.
Locals say snipers positioned themselves at the top of the amphitheatre, once a jewel of the Roman Empire.
About Sabratha
Sabratha is one of three former cities that constituted Roman Tripolitania. (The others are Oea — modern-day Tripoli — and Leptis Magna in western Libya that was one of the sites categorised as endangered by UNESCO two years ago.)
It is located west of Tripoli, in Libya.
It was an ancient Carthaginian city on the coast of north Africa.
It lies on the Mediterranean coast about 70 km west of modern Tripoli.
The extant archaeological site was inscribed as a UNESCO World Heritage Site in 1982.
Do you know?
Since the toppling and killing of Libya's dictator Muammar Qadhafi in a 2011 uprising, Sabratha has become a key departure point for illegal migration.
Smugglers and militias have profited amply from a chronic security vacuum. It is from the long and deserted shores a few km from ancient Sabratha that most migrants start their perilous boat journeys towards Europe.
---
(MAINS FOCUS)
---
NATIONAL
TOPIC:  

General Studies 2

 Governance

Government policies and issues arising out of their design and implementation  

General studies 3

Security issues
Economy and technological advances

A flight path with obstacles
Introduction
Up until the end of August, flying a drone was mostly illegal in India.
With the publication of the drone regulations in late August, the Ministry of Civil Aviation has attempted to give some structure to the development of drone infrastructure in India.
Potential benefits of drone tech
Drones can be used in various sectors, especially in Agriculture for observing soil condition, weather, time of the year and other information helps analyse and to take corrective measures where necessary.
A successful example of this is, Sensefly, a Swiss drone manufacturer, has customers around the world whose use of drones has resulted in higher yield and significantly lower usage of fertilizers and herbicides.
China's drone economy — manufacturing and development — will be worth $9 billion in 2020, while the U.S's commercial drone market is expected to be $2.05 billion by 2023.
There is much potential for India to tap in terms of economic value on the use of drones in areas such as transport management, disaster management, agriculture, etc.
The drone policy
India's regulations separate drones into five categories — nano, micro, small, medium and large.
There is very little regulation for flying a nano up to 50 metres height, except for not flying near airports, military sites or in segregated airspace.
From the micro category onwards a unique identification number (UIN) is mandatory for each drone
Once the UIN is obtained, operators have to apply for an Unmanned Aircraft Operator Permit (UAOP).
Air space has been partitioned into Red Zone (flying not permitted), Yellow Zone (controlled airspace), and Green Zone (automatic permission).
(Note: For more details on drone policy click here: Regulations for Drones)
Policy contradictions
While announcing the publication of drone guidelines, Civil Aviation Minister made two contradicting statements.
For one, he estimated the potential of the "drone market" in India to be $1 trillion. And in the next he said India's security environment necessitated extra precautions.
It is with such a heavy eye on the precautions that the regulations have been drafted, that flying a drone is a task wrapped tightly in immense paperwork.
There is a long list of documentation including security clearances from the Ministry of Home Affairs (MHA) in several cases.
To fly a micro drone below 200 ft, users have to intimate the local police station 24 hours prior.
Manufacturers of drones as well as technologists and researchers making applications using drones have to test fly these frequently, often several times a day.
In an effort to make things slightly easy, the regulation provides a list of identified areas for testing and demonstration. Flying drones in these areas comes with less paperwork.
However, the locations provided are so far from technology and development hubs that it is unclear how practical these will be.
In Karnataka, for example, the identified areas are Chitradurga, Coorg and Ganimangala village (which does not even appear on Google maps), all of which are around 200 km from Bengaluru entailing nearly four hours of travel one way.
With so many government authorities involved in allowing permission and keeping an eye, it is inevitable that operators could be slapped easily with real and perceived violations.
The structure of these regulations makes the possibility of a red tape-free flight very slim.
Way forward
The security and privacy risks of allowing drones to fly in an unregulated manner are high. It may be recalled that in August, a drone was used in an attack on Venezuelan President Nicolás Maduro during a public meeting.
However, if India is to reach even the fraction of the $1 trillion potential, it needs to figure out a more balanced manner of regulation.
The current rules are a start, but only in the sense that they free all drones from their previous illegality.
The real impact of drones will be in the many applications they will be put to, Agriculture is just one such.
They are likely to be the disaster prevention systems, rescue operation leaders, and even public transport providers in the not too distant future.
Missing out on working on these applications early enough will likely have serious repercussions to India's future competitiveness in the field.
Filing a series of applications in multiple copies and waiting for various government departments to respond is not the best way to get started.
Connecting the dots:
India's drone use policy makes the possibility of a red tape-free flight very slim. Critically comment.
---
ENVIRONMENT
TOPIC: 

General Studies 3

Environment protection and conservation

Indian traditional practices for conservation of environment

In harmony with Mother Nature
Introduction
The United Nations honoured PM Narendra Modi with the Champions of the Earth Award.
He feels that this award is not for an individual. Instead, it is recognition of the Indian culture and values, which have always placed emphasis on living in harmony with Mother Nature.
It was a proud moment for every Indian to see India's proactive role in mitigating climate change being acknowledged and appreciated by the United Nations.
Human and Nature
Human beings and nature have a very special relationship. Mother Nature has nurtured and nourished us. The first civilisations were established on the banks of rivers. Societies that live in harmony with nature flourish and prosper.
Today, human society stands at an important crossroads.
The path that we take hereon will not only determine our well-being but also that of the generations who will inhabit our planet after us.
The imbalances between our greed and necessities have led to grave ecological imbalances.
We can either accept this, go ahead with things as if it is business as usual, or we can take corrective actions.
Positive change: Three things will determine how we as a society can bring a positive change.
The first is internal consciousness.
For that, there is no better place to look than our glorious past. Respect for nature is at the core of India's traditions.
The Atharvaveda contains the Prithvi Sukta, which contains unparalleled knowledge about nature and the environment.
It is beautifully written in Atharvaveda: Salutations to Mother Earth. In Her is woven together Ocean and River Waters; in Her is contained Food which She manifests when ploughed; In Her indeed is alive all Lives; May She bestow us with that Life.
The ancients write about the Panch Tatvas – Prithvi (Earth), Vayu (Air), Jal (Water), Agni (Fire), Akash (Sky) – and how our life systems are based on the harmonious functioning of these elements.
The elements of nature are manifestations of divinity.
Mahatma Gandhi wrote extensively on the environment and even practised a lifestyle where compassion towards the environment was essential.
He propounded the Doctrine of Trusteeship, which places the onus on us, the present generation, to ensure that our coming generations inherit a clean planet.
He called for sustainable consumption so that the world does not face a resource crunch.
Leading lifestyles that are harmonious and sustainable are a part of our ethos.
Once we realise how we are flag bearers of a rich tradition, it will automatically have a positive impact on our actions.
The second aspect is public awareness.
We need to talk, write, debate, discuss and deliberate as much as possible on questions relating to the environment.
At the same time, it is vital to encourage research and innovation on subjects relating to the environment.
This is when more people will know about the pressing challenges of our times and ways to mitigate them.
When we as a society are aware of our strong links with environmental conservation and talk about it regularly, we will automatically be proactive in working towards a sustainable environment.
Proactiveness is the third facet of bringing a positive change.
We see this proactiveness in the Swachh Bharat Mission, which is directly linked to a sustainable future.
With the blessings of the people of India, over 85 million households now have access to toilets for the first time.
Over 400 million Indians no longer have to defecate in the open.
Sanitation coverage is up from 39% to 95%. These are landmark efforts in the quest of reducing the strain on our natural surroundings.
We see this proactiveness in the success of the Ujjwala Yojana, which has significantly reduced indoor air pollution due to unhealthy cooking practices that were causing respiratory diseases.
Till date, over five crore Ujjwala connections have been distributed, thus ensuring a better and cleaner life for the women and their families.
India is moving at a quick pace in cleaning its rivers.
The Ganga, which is India's lifeline, had become polluted in several parts.
The Namami Gange Mission is changing this historical wrong. Emphasis is being given to proper treatment of sewage.
At the core of our urban development initiatives such as AMRUT and the Smart Cities Mission is the need to balance urban growth with environmental care.
The over 13 crore soil health cards distributed to farmers are helping them make informed decisions that will boost their productivity and improve the health of our land, which helps the coming generations.
We have integrated objectives of Skill India in the environment sector and launched the schemes, including Green Skill Development Programme for skilling about seven million youth in environment, forestry, wildlife and climate change sectors by 2021.
This will go a long way in creating numerous opportunities for skilled jobs and entrepreneurships in the environment sector.
Our country is devoting unparalleled attention to new and renewable sources of energy. Over the last four years, this sector has become more accessible and affordable.
The Ujala Yojana has led to the distribution of nearly 31 crore LED bulbs. The costs of LED bulbs have reduced and so have the electricity bills and the CO2 emissions.
India's proactiveness is seen internationally. India remained at the forefront of the COP-21 negotiations in Paris in 2015.
In March 2018, world leaders of several countries converged in New Delhi to mark the start of the International Solar Alliance, an endeavour to harness the rich potential of solar energy and bring together all nations that are blessed with solar power.
Climate justice
While the world is talking about climate change, the call for climate justice has also reverberated from India.
Climate justice is about safeguarding the rights and interests of the poor and marginalised sections of society, who are often the biggest sufferers from the menace of climate change.
Conclusion
Our actions today will have an impact on human civilisation much beyond our time. It is up to us to take on the mantle of global responsibility towards a sustainable future.
The world needs to shift to a paradigm of environmental philosophy that is anchored in environmental consciousness rather than merely in government regulations.
All those individuals and organisations who are working assiduously in this direction, deserve compliments. They have become the harbingers of a monumental change in our society.
Connecting the dots:
Indian culture and values have always placed emphasis on living in harmony with Mother Nature. Elucidate.
---
(TEST YOUR KNOWLEDGE)
Model questions: (You can now post your answers in comment section)
Note:
Featured Comments and comments Up-voted by IASbaba are the "correct answers".

IASbaba App users – Team IASbaba will provide correct answers in comment section. Kindly refer to it and update your answers.
Q.1) Oil and natural gas is not found in
Andaman and Nicobar basin
Lakshadweep basin
Saurashtra Kachh basin
Ganga basin
---
Q.2) Which of the following statements are correct differences between Andaman and Nicobar Islands, and Lakshadweep Islands?
Lakshadweep islands are of coral origin only while Andaman & Nicobar (A&N) Islands are of volcanic origin only.
The average height of Lakshadweep islands above sea level is much lesser than A&N islands.
Andaman and Nicobar islands have higher biodiversity than Lakshadweep islands.
Select the code from below:
1 and 2
2 and 3
1 and 3
All of the above
---
Q.3) Consider the following statements:
15th Finance Commission have the mandate to recommend grant of special category status (SCS) to States.
Article 280 of the Indian Constitution defines the scope and functions of the commission.
The qualifications of the members of commission are not specified in the Constitution.
Which of the statements given above is/are correct?
1 and 2 only
2 and 3 only
3 only
1, 2 and 3
---
Q.4) Sabratha, one of three former cities that constituted Roman Tripolitania is located in –
Libya
Syria
Lebanon
Albania
---
Q.5) Fifteenth Finance Commission (FCC) is headed by –
Preetham Reddy
Y V Reddy
NK Singh
Mihir Shah
---
MUST READ
The scope of constitutional morality
 The creamy layer of social justice
No sweeping change — on Swachh Bharat Mission

 The Uncovered Last Mile
 The green state of mind
What the majority missed 
  When a woman points a finger at the powerful man
 Second Brexit referendum: a double-edged sword?
For a dedicated peer group, Motivation & Quick updates, Join our official telegram channel – https://t.me/IASbabaOfficialAccount
Subscribe to our YouTube Channel HERE to watch Explainer Videos, Strategy Sessions, Toppers Talks & many more…