India's Nuclear Triad INS Arihant
Search 6th November, 2018 Spotlight here: http://www.newsonair.com/Audio-Archive-Search.aspx
TOPIC: General studies 3

Security challenges and their management in border areas
In News: INS Arihant, the country's first indigenous nuclear submarine, completes India's nuclear triad – puts India among a handful of countries having the capability to design, construct and operate SSBNs (Strategic Strike Nuclear Submarine).
The completion of the maiden deterrence patrol by India's first indigenous nuclear-powered ballistic missile submarine is a momentous development in terms of the country's ability to defend itself in a rough neighbourhood where it faces challenges from certain inimical powers. It signals not only India's capability, along with a handful of nations, to build and operate a SSBN or nuclear submarine armed with ballistic missiles, but is a key step towards a survivable nuclear triad, or the ability to launch a nuclear second strike from sea, air or land in view of the country's "no first use" policy for its nuclear arsenal.
The successful completion of the deterrence patrol ensures that India will have the necessary second-strike capabilities with the country's nuclear shield now complete. A nuclear response option is only feasible if the country's nuclear triad- air, land, and sea, is ready for engagement with enemy forces.
India's nuclear Triad – What is it?
India earlier had the capabilities to launch nuclear weapons from the Air, mounted largely on its Mirage 2000 and Jaguar Aircraft, and by land-based missiles, ranging from its Agni 1 missile, with a range 700-900 km, to Agni 5 Missiles, with a range of 5500 km. Its aim has been to develop a "credible nuclear deterrent", with capabilities to deliver nuclear weapons from multiple locations on land, air and sea, to all strategic areas and centres, in its two nuclear-armed neighbours —China and Pakistan.
The Arihant provides India with a capability to hit either neighbour from 300 meters under the sea. The sea-based missiles envisaged for this purpose are the Sagarika with a range of 750 km and the K-4, with a range of 3500 km. While land-based missile sites can be attacked and destroyed, a submarine-based deterrent is virtually impregnable against a missile attack. India is the only country having a sea-based nuclear deterrent, which is not a Permanent Member of the UN Security Council.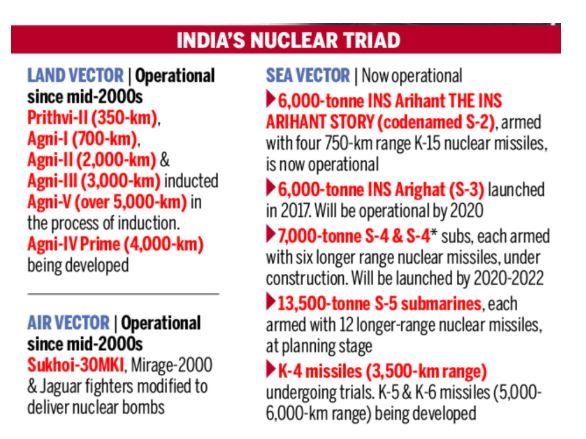 Image source: https://timesofindia.indiatimes.com/india/as-nuclear-sub-arihant-returns-after-first-deterrence-patrol-indias-nuclear-triad-complete/articleshow/66515624.cms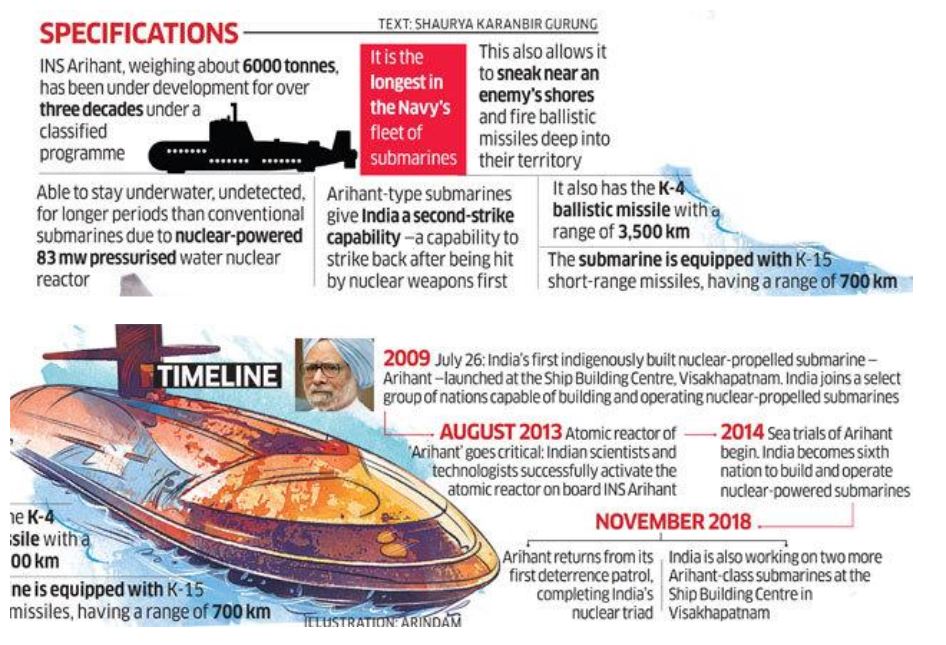 Image Source: https://economictimes.indiatimes.com/news/defence/ins-arihant-completes-indias-nuclear-triad-pm-modi-felicitates-crew/articleshow/66509959.cms
Policy in place
India has put in place a robust nuclear command and control structure, safety assurance architecture and strict political control, under its Nuclear Command Authority. The country remains committed to the doctrine of Credible Minimum Deterrence and No First Use.
India's nuclear doctrine stated that its nuclear weapons would only be used in retaliation against a major attack on Indian territory, or on Indian forces anywhere, in which nuclear weapons are used. India also retains the right to use nuclear weapons in the event of major attacks on its territory, or on Indian forces anywhere, in which chemical or biological weapons are used. Pakistan, on the other hand does not have a formal nuclear doctrine.
China maintains deliberate ambiguity on its nuclear doctrine, when it comes to dealing with India. Many legitimately ask whether this is meant to signal to Pakistan that China will come to its aid in any nuclear exchange Pakistan has with India, even if it is initiated by Pakistan. This Chinese ambiguity only adds to India's determination to strengthen its "Triad" of land, air and sea-based nuclear weapons.
The Way Ahead
While India has a well-organised, streamlined nuclear command structure headed by the Prime Minister and Cabinet Committee on Security, it needs to address serious issues on the archaic structure of its Ministry of Defence. Most importantly, the key military figure in the Nuclear Command structure is the Chairman of the Joint Chiefs of Staff Committee, who generally holds office for less than a year. This is hardly the time adequate for him to become fully familiar the complexities of our Strategic Nuclear Command.
Experts believe a real sea-based deterrence requires at least three atomic-powered submarines, two of which would be on patrol along the eastern and western seaboards while one undergoes a refit at any given time. The submarines will also need to be armed with missiles with a range of up to 5,000 km to give India the wherewithal to counter regional powers; China has a force of more than 60 undersea vessels, including SSBNs. The distance between India officially unveiling its plans for a nuclear triad and the first deterrence patrol took 15 years. Other milestones in this important programme shouldn't take as long.
Connecting the dots:
In the light of India's nuclear triad, critically examine the state of India's nuclear deterrence.
For a dedicated peer group, Motivation & Quick updates, Join our official telegram channel – https://t.me/IASbabaOfficialAccount
Subscribe to our YouTube Channel HERE to watch Explainer Videos, Strategy Sessions, Toppers Talks & many more…