IAS UPSC Prelims and Mains Exam – 21st February 2019
---
---
Bank recapitalisation and Prompt Corrective Action (PCA) Framework
Part of: GS Prelims and Mains III – Government policies and interventions; Indian Economy and issues relating to it
In news:
The Centre has approved a recapitalisation package of ₹48,239 crore for 12 public sector banks.
Bank recapitalisation means recapitalising banks with new capital to improve their balance sheet.
The government, using different instruments, infuses capital into banks undergoing credit crunch.
Capital is the money invested by shareholders in the business. Since the government is the biggest shareholder in public sector banks, the responsibility of infusing capital majorly lies with the government.
The recapitalisation plan comes into action when banks get caught in a situation where their liabilities are comparatively higher than their assets.
Objectives of Bank recapitalisation:
To bring the better-performing banks now in the Prompt Corrective Action (PCA) category out of the restrictive framework.
To help those banks that had come out of the PCA to stay out of it.
To equip non-PCA banks to meet regulatory requirements.
To help the PCA banks to meet their requirements.
Important Value Additions:
What is RBI's Prompt Corrective Action (PCA) Framework?
RBI introduces Prompt Corrective Action when the Bank's financial conditions worsen below certain limits.
The limits are based on three conventional financial indicators – CRAR (capital to risk weighted assets ratio), Net NPA and Return on Assets.
Whenever the Bank is in the PCA category, the RBI will intervene with corrective action.
PCA norms allow the regulator to place certain restrictions such as halting branch expansion and stopping dividend payment. It can even cap a bank's lending limit to one entity or sector.
The parameters that invite corrective action from the central bank are:
Capital to Risk weighted Asset Ratio (CRAR)
Net Non-Performing Assets (NPA) and
Return on Assets (RoA)
Leverage ratio
---
Wuzhen meet and India-Saudi ties
Part of: GS Prelims and Mains II – India and the World; International Relations
In news:
India and China are expected to hold their first high-level talks on the Pulwama terror attack.
External Affairs Minister to meet her counterparts from Beijing and Moscow in Wuzhen.
India pitches for global action against terrorism
India pitched for global action against terrorism while welcoming the Saudi Crown Prince Mohammed bin Salman visit to India.
Saudi Arabia agreed to share intelligence with India and other countries that were willing to fight terrorism.
Both countries urged for early adoption of the UN Comprehensive Convention on International Terrorism and pitched for "comprehensive sanctioning of terrorists and their organisations by the UN."
Both sides also resolved to create a "Comprehensive Security Dialogue" consisting of National Security Advisers and set up a Joint Working Group on Counter Terrorism. Both sides also launched a Strategic Partnership Council that will be led by the Prime Minister and the Crown Prince.
During the visit of Mohammed Bin Salman, Saudi Arabia joined the International Solar Alliance (ISA).
---
Miscellaneous:
Facts about Election ink
Key facts:
Electoral ink, indelible ink, electoral stain or phosphoric ink is a semi-permanent ink or dye that is applied to the forefinger (usually) of voters during elections in order to prevent electoral fraud such as double voting.
Mysore Paints and Varnish Limited is the only company in India authorised to produce indelible ink, which is used in elections to prevent people from voting multiple times.
The company is owned and operated by the Government of Karnataka.
Do you know?
The ink is also exported to countries like Thailand, Singapore, Nigeria, Malaysia and South Africa.
Election ink uses silver nitrate, and excessive exposure can cause argyria.
---
Ghost nets, plastics pose threat to seabirds
In news:
The unprecedented August 2018 flood in Kerala has washed out a huge amount of plastics from the land and rivers into the ocean, threatening marine life and underwater ecosystems.
Migratory birds are also victims of the discarded plastic.
The sight of seabirds ingesting plastics is on the increase in Kerala, especially during November to February when migratory species visit the State.
Animal in news: Lesser black-backed gull
It is a large gull that breeds on the Atlantic coasts of Europe.
It is migratory, wintering from the British Isles south to West Africa. It is a regular winter visitor to the east coast of North America, probably from the breeding population in Iceland.
It is also called as Heuglin's Gull. It breeds in the tundra of northern Russia and migrates south to southwest Asia, including India, during winter.
IUCN Status: Least Concern
Animal in news: Lesser crested tern
It is a winter visitor to Kerala. It breeds in subtropical coastal parts of the world mainly from the Red Sea across the Indian Ocean to the western Pacific, and Australia, with a significant population on the southern coast of the Mediterranean on two islands off the Libyan coast.
IUCN Status: Least Concern
---
Aero India 2019
Key pointers:
12th edition of the biennial international military and civil expo and air show was held in Bangalore.
Defence Minister rolled out a red carpet of opportunities in local defence and aerospace manufacturing to global investors during the launch of the Aero India.
The chiefs of the three Armed Forces — Air Chief Marshal B.S. Dhanoa, Admiral Sunil Lanba and General Bipin Rawat — were in attendance at the show.
---
---
INTERNATIONAL
TOPIC:General studies 2

Bilateral, regional and global groupings and agreements involving India and/or affecting India's interests ; 
India and the World ; India and its neighbourhood- relations. 
Effect of policies and politics of developed and developing countries on India's interests
India's trade-related action against Pakistan: More symbolic than punitive
Context:
We earlier read that India decided to withdraw the Most Favoured Nation (MFN) status to Pakistan. (After Pulwama attack)
Therefore, India will not treat Pakistan on an equal footing in trade as is expected of fellow members of the World Trade Organisation.
India is set to raise tariff duty on imports to 200%.
Non-tariff measures will also be increased.
Concept: "Beggar-thy-neighbour policy"
In economics, a beggar-thy-neighbour policy is an economic policy through which one country attempts to remedy its economic problems by means that tend to worsen the economic problems of other countries.
However, this policy can act only as a pressure tactic and do little unless stringent actions are taken to stop informal trade that has been going on between the two countries for long.
Do you know?
Trade now takes place using three channels:
the official route;
the illegal (informal) route, through smuggling along porous India-Pakistan land borders and also Afghanistan, which may not be accounted for in the national income; and lastly,
through mainly Dubai and Singapore, which have free ports and accommodate legal agents of traders from India and Pakistan.
India's trade-related action will encourage informal trade and propel Pakistan to look for markets beyond South Asia.
Informal trade generally takes place due to following reasons –
Restrictions on import of specific items on grounds of health and religious beliefs.
High tariff barriers or transportation costs
Imposition of non-tariff measures (NTMs)
Weaknesses in the 'rules of origin' resulting in 'trade routed through a third country
Leakages in transit trade
Distortions in domestic policies such as the absence of or relatively low indirect taxes, creating an incentive to transport items illegally to neighbouring countries
India-Pakistan Informal Trade
Traders have carried out informal trade between Pakistan and India through the exchange of goods at the border as well as through the personal baggage scheme' through "green channel" facilities at international airports or railway stations.
'Informal trade has also taken place through Afghanistan where goods are exported officially from India and later smuggled into Pakistan.
Indian-made goods smuggled into Pakistan include cosmetics, liquor, stainless steel utensils, ayurvedic medicines, videotapes/CDs, confectionery/cashew nuts, tea, coffee, live animals and spices'.
In 2012-13, informal trade between India and Pakistan was $4.71 billion, which was double when compared to formal trade.
India's informal export share to Pakistan was again much higher at $4 billion while its import share was low at $0.71 billion.
Impact of India's trade-related action against Pakistan –
India's imports from Pakistan are reasonably low at $0.488 billion. In other words, India exports more than what it imports. Therefore, major exports from India would be hit. (such as cotton, p-Xylene, polypropylene, and single yarn)
Pakistan's loss from major exports to India would be much less. (India imports dates, portland cement, other petroleum oil, light oils and preparations etc)
Thus Pakistan is an important export destination for India but not vice-a-versa.
Pakistan imposes a large number of NTMs (143) on Indian exports while India's NTMs are soft barriers which operate as delays or bureaucratic hurdles rather than bans.
Conclusion:
Crux – Pakistan may not face an exacerbating situation with India withdrawing the MFN status and raising the import duty.
Informal trade may proliferate, which might not be in India's interest and an appropriate strategy is required to bring it to a halt.
Such steps may propel Pakistan to look for new markets beyond South Asia and growing prospects of trade through a third country.
Connecting the dots:
How will the economies of India and Pakistan be affected with rising tensions aftermath of Pulwama Attack. Discuss.
---
ENVIRONMENT
TOPIC:General studies 3

Conservation, environmental pollution and degradation, environmental impact assessment
Government policies and interventions for development in various sectors and issues arising out of their design and implementation.
Green India Mission Grossly Underfunded
Introduction:
Green India Mission (GIM) is a programme that is aimed at protecting, restoring, and enhancing the country's diminishing forest cover and at responding to climate change by a combination of adaptation and mitigation measures.
National Mission for Green India (GIM) is one of the eight Missions outlined under the National Action Plan on Climate Change (NAPCC).
According to a Parliamentary committee report –
The scheme is proposed for 10 years with an outlay of Rs 60,000 crore.
During 2017-18, GIM budget allocation of ₹47.80 Cr. is grossly insufficient.
The committed liability of FY 2015-16 and 2016-17 is ₹89.53 Crore, is more than the budget allocation of FY 2017-18.
In 2015-16 and 2016-17, the GIM missed its targets by 34 per cent. Instead of the targeted 67,956 hectares, only 44,749 hectares of land got green cover.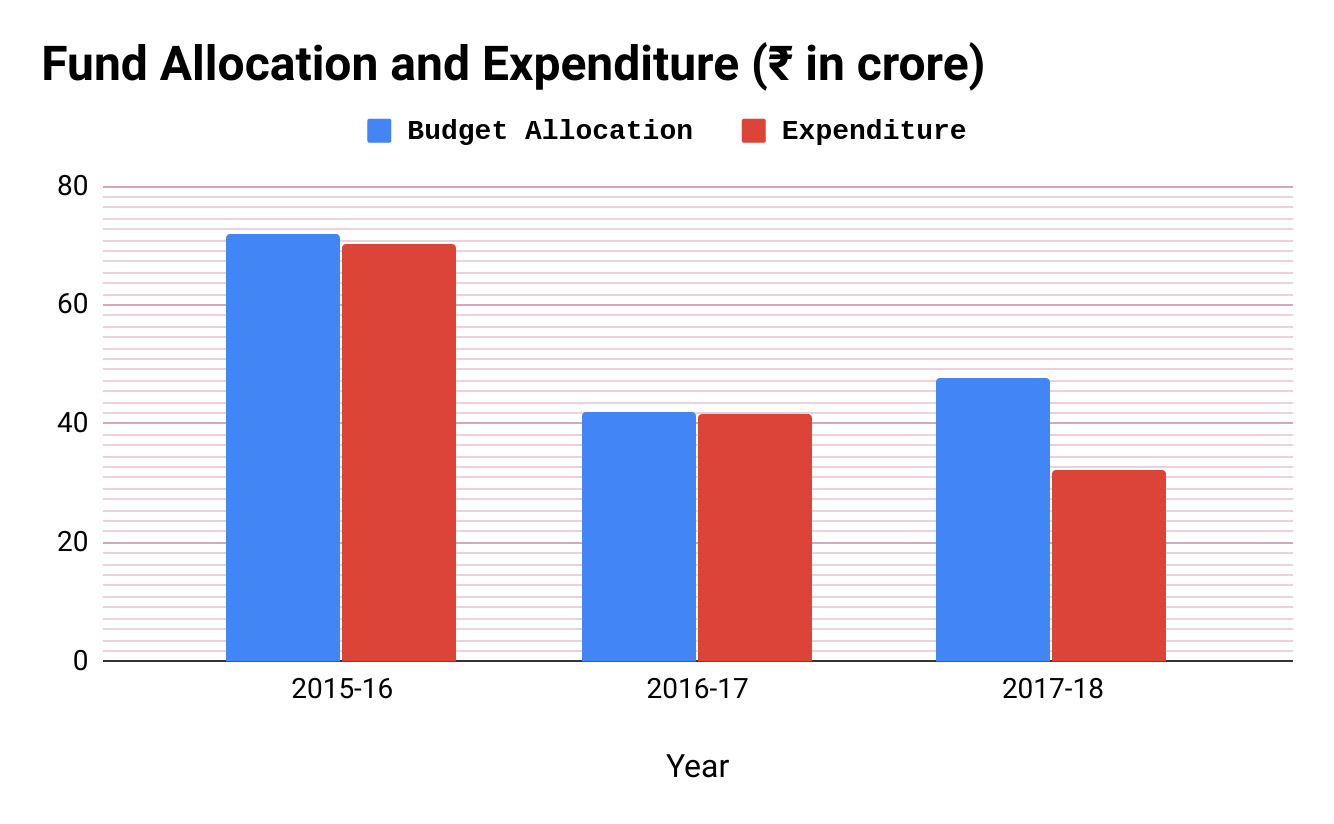 Afforestation done under the GIM was only aimed at increasing tree count without considering the soil and weather conditions.
Trees like eucalyptus were planted which make environmental problems worse rather than solving it. Planting of unsuitable trees may cause drought, and prevent biodiversity in the regions.
The report also makes a distinction between plantations and forests and how the former cannot replace the latter. (Plantations only have value in terms of timber, the other ecological services provided by a forest like prevention of soil erosion, promoting biodiversity, providing livelihood etc are not there at all.)
Other concerns:
The Parliamentary committee panel has raised concerns about the targets set by GIM on India's Intended Nationally Determined Contribution (NDC) submitted to the United Nations Framework Convention on Climate Change.
According to the NDC, India has a target to sequester 2.523 billion tonnes of carbon by 2020-30.
India's current forest cover is 75 million hectare and to meet our target of carbon sequestration, 30 million hectares of additional land would be required for forests.
The GIM document does not mention from where will this land be arranged.
Till 2016-17, afforestation programme was targeted to cover only 51,387 hectare, which is a tiny proportion of what is needed.
(Note): We had earlier dealt with article – Green India Mission: Expanding 'good' green cover in India, in which the following areas were covered –
About Green India Mission and its Goals
Effectiveness of Green India Mission
Do you know?
GIM was supposed to be launched with the starting of the 12th five-year plan in 2012. But, owing to financial delays the mission was finally launched in 2015.
The objective of the mission is to increase green cover to the extent of 5 million hectares (mha) and improve quality of existing green cover on another 5 mha, improve eco-system services like carbon sequestration, hydrological services and biodiversity and provisioning services like fuel, fodder, and timber and non-timber forest produces (NTFPs).
It also has to increase forest-based livelihood income for about 3 million households.
The committee has recommended that adequate financial allocation be made for the mission so that the activities of the mission can be carried out more efficiently and the targets set by it can be met.
Connecting the dots:
What is Green India Mission? What are its objectives? Explain.
India's efforts at addressing climate change and the wider issues of environmental governance, has been far from convincing. Critically examine.
---
(TEST YOUR KNOWLEDGE)
---
Model questions: (You can now post your answers in comment section)
Note:
Featured Comments and comments Up-voted by IASbaba are the "correct answers".

IASbaba App users – Team IASbaba will provide correct answers in comment section. Kindly refer to it and update your answers.
Q.1) To ensure that banks don't go bust, RBI has put in place some trigger points to assess, monitor, control and take corrective actions on banks which are weak and troubled. The process or mechanism under which such actions are taken is known as Prompt Corrective Action, or PCA. On which of the following the RBI has set the trigger points?
Capital-to-risk weighted Assets Ratio (CRAR)
Non-Performing Assets (NPA)
Return on Assets (ROA)
Statutory Liquidity Ratio (SLR)
Select the correct answer using the codes given below:
1, 2 and 3 only
2, 3 and 4 only
1, 3 and 4 only
All the above
---
Q.2) Consider the below statements in regard to Capital to Risk (Weighted) Assets Ratio (CRAR)
CRAR is a standard metric to measure balance sheet strength of banks.
In India, RBI has implemented BASEL III norms which prescribes the minimum capital adequacy ratio that banks must maintain is 8%.
Which of the statements given above is/are correct?
1 only
2 only
Both 1 and 2
Neither 1 nor 2
---
Q.3) Article 36 of the Vienna Convention, which was in news often, deals with –
Protection of the Stratospheric Ozone
Clean Development Mechanism (CDM)
Consular Relations
Prevention of Marine Pollution
---
Q.4) Consider the following statements with regard to indelible ink used during elections:
Delhi-based National Physical Laboratory (NPL) has a monopoly on the manufacture of indelible ink since 1962
Election ink uses silver nitrate, and excessive exposure can cause argyria.
Which of the statements given above is/are correct?
1 Only
2 Only
Both 1 and 2
Neither 1 nor 2
---
Q.5) Which among the following is/are critically endangered according to IUCN status?
Lesser black-backed gull
Great Hornbill
Lesser crested tern
Siberian Crane
Choose correct answer:
1, 2 and 3
1 and 3
2 and 4
4 only
---
MUST READ
  The employment test
A modern story of Ekalavya
The private sector in public health 
Are soldiers paying the price for the 'Bollywoodization' of war?
How a nation of startups can ease India's job crisis
 Why attack young Kashmiris for Pulwama attack, a crime committed by someone else?
The cost of Pulwama
Love of labour
Enterprise empowerment 
For a dedicated peer group, Motivation & Quick updates, Join our official telegram channel – https://t.me/IASbabaOfficialAccount
Subscribe to our YouTube Channel HERE to watch Explainer Videos, Strategy Sessions, Toppers Talks & many more…