IAS UPSC Prelims and Mains Exam – 26th April 2019
---
(PRELIMS+MAINS FOCUS)
---
Former SC judge A.K. Patnaik to probe 'conspiracy' against CJI
Part of: GS Mains II – Accountability and transparency; Social Justice
In news:
SC appointed its former judge, Justice A.K. Patnaik, to probe 'conspiracy' against CJI.
Over 250 women, including lawyers and activists, had penned a letter to the SC, demanding a special, impartial inquiry into the allegations against Gogoi under the Sexual Harassment of Women at Workplace Act 2013.
According to the activists, CJI Gogoi's request for an in-house committee violates the 2013 Act that requires an outside, independent panelist to probe allegations of sexual assault.
Do you know?
Supreme Court Bar Association (SCBA) comprising 6,000 lawyers passed a resolution stating that the CJI violated legal procedure by hearing a case against himself.
The SCBA also asked the SC to take necessary legal action for an unbiased hearing against Gogoi.
There is a need for a judicial accountability mechanism for the high courts and Supreme Court through a constitutional amendment, as in so many countries.
There must be a procedure to answer the adage Quis custodiet ipsos custodes: Who will be the custodian of the custodians?
---
CCMB working on cell-based meat or 'Clean Meat'
Part of: GS Prelims and Mains III – Environment and conservation; Science and Technology; Food security
In news:
The country's first project to research on cell-based meat, also called clean meat, would be taken up at the Centre for Cellular and Molecular Biology (CCMB).
Department of Biotechnology (DBT) decided to give ₹4.5 crore for the two-year work as the initial grant.
The National Research Centre on Meat would partner with the CCMB in the pioneering work to develop cultured meat, which is said to be equivalent to conventional animal meat in terms of taste and feel, with the only difference being in the method of production.
Clean meat would be produced through cellular agriculture with cells sourced from animals and cultivated into meat. Hence, it promises to revolutionise the food system by providing protein without harming the environment.
The Atal Incubation Centre of the CCMB is working towards promoting clean meat sector. It aims to feed 10 billion people by 2050 by creating a platform for tasty, affordable protein.
Do you know?
Cell-based meat companies across the world are receiving significant government support, with the governments of Netherlands, Japan and Israel among others investing in clean meat companies.
Additionally, the regulatory authorities of countries like the US are deliberating on the path to market these products. These efforts reflect the potential of the clean meat sector to provide future generations with sustainable nutrition.
---
Bt brinjal being grown in Haryana: activists
Part of: GS Prelims and Mains III – Environment and conservation; Science and Technology; Food security
In news:
Genetically modified (GM) brinjal is being illegally grown in the Fatehabad district of Haryana, according to anti-GM activists.
They demanded that Central and State regulatory agencies immediately take action to stop the cultivation, investigate the spread of the illegal variety and destroy all such crops, seeds and saplings as dangerous biohazards entering the food chain.
Do you know?
Brinjal has been genetically modified by inserting a protein gene from the soil bacterium Bacillus thuringiensis to give protection against certain pests.
Bt Brinjal, which was developed in India by Maharashtra-based seed company Mahyco, was on the verge of becoming India's first GM food crop, when the Genetic Engineering Appraisal Committee cleared it for commercialisation in 2009, before doubts about the long-term impact on consumer health and plant biodiversity led the then Environment Minister to slap an indefinite moratorium on the crop.
---
Himas or Khasi kingdoms to revisit 1947 agreements
Part of:  GS Prelims and Mains II – Polity; Tribal/Welfare issues; Centre versus state
In news:
A federation of 25 Himas or Khasi kingdoms that have a cosmetic existence today, plan to revisit the 1948 agreements that made present-day Meghalaya a part of India.
The revisiting is aimed at safeguarding tribal customs and traditions from Central laws in force or could be enacted, such as the Citizenship (Amendment) Bill.
Do you know?
The 25 Khasi states had signed the Instrument of Accession and Annexed Agreement with the Dominion of India between December 15, 1947, and March 19, 1948.
The conditional treaty with these states was signed by Governor General Chakravarty Rajagopalachari on August 17, 1948.
The Khasi states, though, did not sign the Instrument of Merger unlike most other states in India.
After independence, Khasi states had to sign documents beginning with the Standstill Agreement that provided a few rights to the states.
Though the Constitution has provided self-rule to a considerable extent through tribal councils, there has been an increasing demand for giving more teeth to the Khasi states.
---
WHO says one in 10 children did not get vaccinated in 2016
Part of: GS Prelims and Mains II – Role of International Organization; Social/Health issue
In news:
Despite immunisation being one of the most successful and cost-effective means to help children grow into healthy adults, worldwide 12.9 million infants — nearly 1 in 10 — did not receive any vaccination in 2016.
According to WHO, infants missing the first dose of diphtheria-tetanus-pertussis (DTP) vaccine means putting them at serious risk of these potentially fatal diseases.
Do you know?
Global vaccination coverage remains at 85%, with no significant changes during the past few years.
An additional 1.5 million deaths could be avoided if global immunisation coverage improves.
According to WHO in 2017, the number of children immunised — 116.2 million — was the highest-ever reported.
Immunisation prevents illness, disability and death from vaccine-preventable diseases including cervical cancer, diphtheria, hepatitis B, measles, mumps, pertussis (whooping cough), pneumonia, polio, rotavirus diarrhoea, rubella and tetanus.
---
World's forests are 'in emergency room': study
Part of: GS Prelims and Mains III – Environment and conservation; Role of International Organization or NGO/CSOs
In news:
According to a study and data from Global Forest Watch –
The world lost 12 million hectares of tropical tree cover last year
It was the fourth highest annual decline since records began in 2001
Indigenous communities are considered to be the most vulnerable to losing their homes
It warned that the planet's health was at stake
Do you know?
Global Forest Watch (GFW) is an open-source web application to monitor global forests in near real-time.
GFW is an initiative of the World Resources Institute (WRI), with partners including Google, USAID, the University of Maryland (UMD) and many other academic, non-profit, public, and private organizations.
Global Forest Watch originally began in 1997 as an initiative to establish a global forest monitoring network, convened by the World Resources Institute and partners.
---
Scientists track Indian Ocean's plastic
Part of: GS Prelims and Mains III – Environment and conservation; Pollution
In news:
Indian Ocean is the world's biggest dumping ground for plastic waste, but where the trash ultimately ends up has remained a mystery, scientists say.
According to researchers, unique characteristics of the southern Indian Ocean pushes floating plastics towards the western side of the ocean, where it leaks past South Africa into the South Atlantic Ocean.
Because of the Asian monsoon system, the southeast trade winds in the southern Indian Ocean are stronger than the trade winds in the Pacific and Atlantic Oceans.
In the northern Indian Ocean, the simulations showed that there may be an accumulation in the Bay of Bengal. It is also most likely that floating plastics will ultimately end up on beaches, transported by the reversing monsoon winds and currents, researchers said.
Do you know?
Studies show that atmospheric and oceanic attributes of the Indian Ocean are different to other ocean basins and that there may not be a concentrated garbage patch.
---
Antarctic penguins suffer huge breeding failure
Part of: GS Prelims and Mains III – Environment and animal conservation; Biodiversity
In news:
The second largest Emperor penguin colony (Halley Bay colony in the Weddell Sea, Antartica) in the world has suffered a "catastrophic" breeding failure.
According to research, nearly all chicks born over three years died as their icy Antarctic habitat shrinks.
Do you know?
Halley Bay has long been home to one of the largest emperor penguin colonies in Antarctica, second only to Coulman Island in the Ross Sea.
Over the past 60 years that researchers have been observing the Halley Bay colony, between 14,300 and 23,000 pairs have flocked to the site's sea ice to breed.
About Emperor Penguin
It is the tallest and heaviest of all living penguin species.
Feathers of the head and back are black and sharply delineated from the white belly, pale-yellow breast and bright-yellow ear patches.
Like all penguins it is flightless with wings stiffened and flattened into flippers for a marine habitat.
IUCN Status: Near threatened.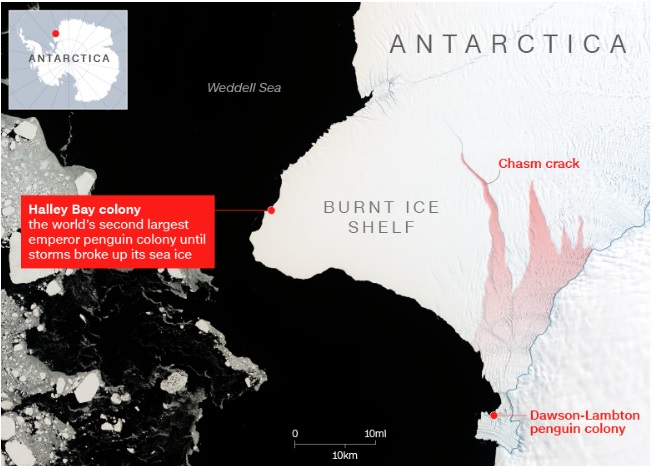 ---
Miscellaneous
Maruti to dump 'dirty' diesel models from 2020
In news:
Maruti Suzuki, which is the largest car maker in the country, plans to stop manufacturing diesel-powered vehicles from the next financial year.
It cited uncertainty over demand for such vehicles due to "significant" increase in price once the new BS VI emission norms kick in.
There have been efforts to ban diesel vehicles older than 10 years and environmental activists say that diesel is a more polluting fuel.
---
(MAINS FOCUS)
---
INTERNATIONAL/ENERGY
TOPIC: General studies 2 and 3

 India and the World
International Relations
Policies of developed and developing countries and their impact on India's interests
Energy and Infrastructure

US sanctions and the end of cheap oil
Context:
The Trump administration has decided not to renew any of the oil waivers it had granted earlier.
In other words, the temporary exemption granted to India and seven other countries from US sanctions on purchase of Iranian oil to end shortly.
And the countries that do not stop buying Iranian oil by then could face American strictures.
Implications:
The removal of Iranian oil from India's energy sourcing basket may have major implications.
India has been a major importer of Iranian oil. India imports more than 10% of its crude oil from Iran, so the government faces the immediate challenge of having to find alternative suppliers to meet its huge energy needs.
The price of Brent crude oil to increase further, which will have negative impact on India's current account deficit, fiscal deficit and inflation in the wider economy.
The rise in the price of oil will automatically increase the price of the commodity.
The currency could be impacted if the trade and current account deficits were to widen. An increase in the import bill will tend to put pressure on the rupee.
The big concern is that the substitute crude suppliers — Saudi Arabia, Kuwait, Iraq, Nigeria and the US — do not offer the attractive options that Iran does, including 60-day credit, and free insurance and shipping. The challenge is to secure an alternative supplier at competitive terms in an already tightening global situation.
The way ahead:
India in order to protect its interests in the ever-volatile global oil market, will need to take steps to diversify its supplier base and also work towards increasing domestic sources of energy supplies.
Opening up the renewable energy sector for more investments will also help avoid over-dependence on oil from the global market to meet the country's ever-increasing energy needs.
Another key area for Delhi to focus on is setting up of large-scale refineries to process crude oil.
India may increase its dependency on oil imports from Saudi Arabia and the United Arab Emirates (UAE) at a time when the West Asian nations plan to increase their investments in India.
In addition, US shale production may offer India a reprieve, with the world's third largest oil importer upping its bets on American supplies.
In an uncertain geopolitical landscape accompanied by unpredictable behaviour by state actors today, India will constantly need to recalibrate policy and balance relations to ensure its interests are maintained.
Connecting the dots:
How can India ensure that its relations with the US and Iran, and particularly its energy interests are not affected? Suggest.
What do you understand by the term 'energy mix'? Elucidate it's importance for India in fighting out the ensuing energy crisis.
---
NATIONAL
TOPIC: General studies 2

Structure, organization and functioning of the Executive and the Judiciary
The case for comprehensive reforms of our judicial system
Context:
We are aware of issues confronting the judiciary
Issues confronting the judiciary:
Slow delivery of justice and pendency in courts
Abnormal delays that amount to justice being doubly blind
Inadequate infrastructure and lack of facilities for judicial functionaries
Insufficient budgetary provision
Vacancies or delays in promotional appointments
Resourceful defendants are seen escaping culpability not necessarily on merit, but due to their ability to quickly manage judicial processes to their advantage
Without self-discipline and enforceable timelines, non-judicial staff are also found taking advantage of the prevailing opaqueness
Disposal delays largely occur when lawyers seek unnecessary processes and repeated adjournments. Often, lawyers are found trying to influence the conduct of courts.
State and central governments are held responsible for the above issues. However, a scrutiny of higher financial allocations in the last 10-15 years, including hikes in salaries of judicial officers vis-à-vis other state services, does not suggest that visible improvements in facilities have led to noticeably faster disposal of pending cases.
The courts cannot hold governments responsible for vacancies or delays in promotional appointments either, since the Supreme Court and respective high courts now exercise full control over judicial appointments.
Elected governments are blamed for even judicial mal-administration, including the pendency pile-up.
Conclusion:
Therefore, it is time to examine the functioning of courts and signs of an increasing loss of public faith in the judiciary.
The judiciary needs to overhaul and regulate itself, as none other is empowered to do this under the constitutional architecture as interpreted by apex court.
It is also time to make genuine procedural changes to discourage the prioritization of a few high-profile cases, fix timelines for submissions by litigants, bring in IT-based automation, have petitions registered online and pload digitally-signed copies of every court order.
It is equally essential to impose punitive measures on those who indulge in frivolous litigations, document-faking, perjury, contempt of court, and the like.
Connecting the dots:
Judiciary is no longer a 'secret' organisation when it comes to its functioning. Discuss the various transparency initiatives taken by Indian judiciary.
A fundamental shift is required in the way courts are administered. Discuss.
The role of a robust judiciary in a nation's development is pivotal. Discuss.
---
(TEST YOUR KNOWLEDGE)
---
Model questions: (You can now post your answers in comment section)
Note:
Featured Comments and comments Up-voted by IASbaba are the "correct answers".

IASbaba App users – Team IASbaba will provide correct answers in comment section. Kindly refer to it and update your answers.
Q.1) A genetically engineered form of brinjal, known as the Bt-brinjal, has been developed. The objective of this is (2011)
To make it pest-resistant
To improve its taste and nutritive qualities
To make it drought-resistant
To make its shelf-life longer
---
Q.2) Other than resistance to pests, what are the prospects for which genetically engineered plants have been created? (2012)
To enable them to withstand drought
To increase the nutritive value of the produce
To enable them to grow and do photosynthesis in spaceships and space stations
To increase their shelf life.
Select the correct answer using the codes given below:
1 and 2 only
3 and 4 only
1, 2 and 4 only
1, 2, 3 and 4
---
Q.3) Genetic Engineering Appraisal Committee (GEAC) is the apex regulator of genetically modified seed. GEAC is established under the Ministry of
Environment, Forest and Climate Change
Science and Technology
Agriculture & Farmers Welfare
Trade and Commerce
---
Q.4) Transgenic plants are the ones
Generated by introducing foreign DNA into a cell and regenerating a plant from that cell.
Produced after protoplast fusion in artificial medium
Grown in artificial medium after hybridization in the field
Produced by a somatic embryo in artificial medium
---
Q.5) Consider the following statements about Sexual Harassment at Workplace Act, 2013
The Act uses a definition of sexual harassment which was laid down by the Supreme Court of India in Vishaka v. State of Rajasthan (1997).
It is compulsory for any organisation with 10 or more employees to set up an internal complaints committee for addressing complaints of sexual harassment.
It covers all women, across formal and informal employment, including clients, customers, domestic workers, contractual employees, volunteers, probationers, trainees, and interns.
Select the correct statements
1 and 2
2 and 3
1 and 3
All of the above
---
Q.6) Himas or Khasi kingdom was in news recently. They are associated with which of the following state?
Meghalaya
Assam
Arunachal Pradesh
Tripura
---
Q.7) Which among the following is considered to be the second largest Emperor penguin colony in the world?
Weddell Bay colony
Halley Bay colony
Coulman Island colony
Davis Bay colony
---
MUST READ
The IS shadow: On Sri Lanka Easter bombings
Breaking new ground: The Madras High Court's recent judgment on LGBTQ community
Vision for our cities
Real estate can lead conservation efforts in environmental sustainability
Are there limits to policy-induced growth?
Improving learning outcomes: Shifting the focus from syllabus
For a dedicated peer group, Motivation & Quick updates, Join our official telegram channel – https://t.me/IASbabaOfficialAccount
Subscribe to our YouTube Channel HERE to watch Explainer Videos, Strategy Sessions, Toppers Talks & many more…