Chabahar Port & US Sanctions
TOPIC: General studies 2

India and its neighborhood- relations, International relations
Bilateral, regional and global groupings and agreements involving India and/or affecting India's interests.
Effect of policies and politics of developed and developing countries on India's interests, Indian diaspora.
In News: The strategic Chabahar port project, being developed by India in Iran, is a separate exception and will not be impacted by US President Donald Trump's decision not to renew exemptions that let eight countries including India to buy Iranian oil without facing tough American sanctions.
The United States has said Chabahar is exempted from sanctions to help Afghanistan's economic development and facilitate India's investment in the port. This exception relates to reconstruction assistance and economic development for Afghanistan. These activities are vital for the ongoing support of Afghanistan's growth and humanitarian relief

The effort to build up Afghanistan's economy is also aimed at reducing Kabul's dependence on foreign aid and putting a major dent in the illicit opium trade that has been a major source of revenue for the Taliban insurgency.
Iran is India's third-largest oil supplier behind Iraq and Saudi Arabia. Iran supplied 18.4 million tonnes of crude oil during April 2017 and January 2018 (first 10 months of 2017-18 fiscal).
What US wants from Iran?
Iran should totally give up its right to enrich uranium and close down all nuclear facilities including those engaged in research for peaceful purposes.

Iran should curtail and eradicate its ballistic missile programme and radically change its west-Asia policy to fall in line with American preferences in Syria, Iraq, Lebanon and Yemen.
However, Iran has stood up to unprecedented sanctions for four decades and remained unbowed.
What are the potential issues?
Tehran's Islamic Revolutionary Guard Corps (IRGC) has a track record of using Iran's air and sea ports to smuggle goods. If the past is precedent, the regime may redirect the funds generated by trade at Chabahar to its weapons programs and regional proxies. The IRGC's ubiquitous role in the Iranian economy, combined with its well-documented history of sanctions evasion, requires India to monitor the port rigorously.
If all else fails – United States can
The United States can aid India's effort in monitoring the port. For instance, Washington can provide export control and cargo inspection expertise to help New Delhi detect possible Iranian subversion.

The Trump administration can also pressure India by requiring Indian companies to place funds in escrow accounts in order to make sure they can pay U.S. fines if they fail to comply with sanctions.

Likewise, the Trump administration can require India to issue certifications that no IRGC affiliates are active in Chabahar. Though the U.S. would have limited means to verify or enforce such certifications independently, the requirement would force India to go on the record. In so doing, it would give Washington a political basis to take even harsher measures to pressure New Delhi, if all else fails.

For example, America could threaten to revoke the Chabahar project's exemption, thereby exposing New Delhi to U.S. secondary sanctions. America could also rescind the waiver it gave India that allows it to keep importing 300,000 barrels per day of Iranian crude despite U.S. sanctions.
Chabahar Port: Crucial gateway for India's objectives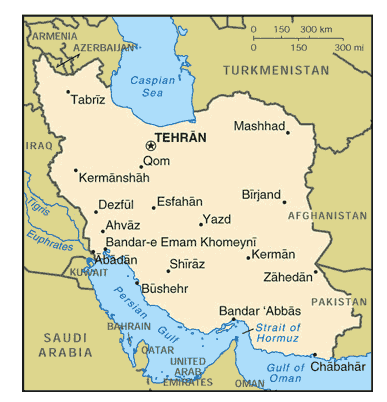 About Chabahar Port
Located on the Makran coast

South-eastern coast of Iran

It is relatively underdeveloped free trade and industrial zone (compared to the sprawling port of Bandar Abbas further west)
For India, Chabahar is of strategic importance for two reasons:
First, it is the nearest port to India on the Iranian coast, which provides access to the resources and markets of Afghanistan and Central Asia.

Second, it is located 76 nautical miles (less than 150km) west of the Pakistani port of Gwadar, being developed by China; this makes it ideal for keeping track of Chinese or Pakistani military activity based out of Gwadar.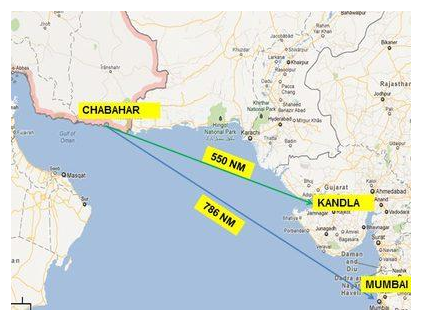 (See fig: http://www.joc.com/sites/default/files/resize/field_feature_image/chabahar-400×299.JPG)
Conclusion:
Chabahar port holds significant economic promise for India, the United States, and the region. But the lack of adequate safeguards to protect the port from IRGC activity may undermine not only U.S. sanctions on Iran, but also the U.S.-India relationship. Washington and New Delhi should work together to prevent such an outcome.
Connecting the Dots:
The signing of the much anticipated bilateral pact with Iran for the development of Chabahar port is a significant step towards securing India's strategic and economic interests. Comment.

How can India ensure that its relations with the US and Iran, and particularly its energy interests are not affected? Suggest.

How do global sanctions operate? How does it affect India's interests? Comment in the light of US sanctions against Iran.
For a dedicated peer group, Motivation & Quick updates, Join our official telegram channel – https://t.me/IASbabaOfficialAccount
Subscribe to our YouTube Channel HERE to watch Explainer Videos, Strategy Sessions, Toppers Talks & many more…