TOPPER'S STRATEGY: Anya Das, Rank 60 UPSC CSE 2018-IASbaba's ILP Student! With Special Emphasis on PRELIMS STRATEGY!
"Two roads diverged in a yellow wood
And sorry I could not travel both
And be one traveller long I stood.. "
When I had to decide how would I like to spend the next 30- 40 years of my life I had many options .But I could only  traverse a single path. I chose the vocation of a Civil Servant.
And lo and behold today I am one. I am Anya Das ,AIR 60 in CSE 2018. In this post I would like to share my journey and if this sharing turns to be of some help to aspirants it would be great.
Background:
I belong to Jamshedpur ,Jharkhand .I did my graduation in English literature from Ravenshaw University ,Cuttack.
Tryst with UPSC:
I completed my graduation in May 2016 and I gave my first attempt the very same year.  I secured AIR 579 and was allotted IRPS.
What I did in the first attempt?
Only constant thing I did was reading newspapers
I followed a sectional approach. Chunk of the prelims preparation was done  after May and GS preparation was done primarily after prelims.
I began my Optional Sociology only after prelims, spending around 2 and half hours everyday in optional coaching class.Its syllabus is comparatively less and therefore I could complete it in three months time.
I could not complete the  syllabus but due to my decent writing skills and Essay marks- 162 and decent Optional score -267, I could sail through
In 2017 I gave my second attempt but couldn't clear prelims for 1 mark 🙁
From dreaming to becoming- getting into IAS
For my 3rd attempt I started from January 2018 as till December I was doing my foundation course.
Strategy:
Prelims
–
Revising
and giving
Test series
is the key. I gave
IASbaba 60 Days
test. I made notes out of these tests and revised them frequently.
I have mentioned more about Prelims Strategy @ the end of this Post
Mains-My focus was on improving my GS score, as in my first attempt my total GS score was 382. This time it is 417 (GS Marks).
For this,I  jotted down keywords in the syllabus, went through books, study material, internet and created crisp notes. Revision of these notes frequently ,with focus on maps, diagrams helped.
One must go through previous year's questions and try to solve them. Focus on areas from where most questions are asked, for example in GS 1 Paper monsoon is a favourite topic.
How to deal with the Grey areas?
Art and culture– apart from reading NCERT and CCERT text, doing history section thoroughly helps. For mains, practicing diagrams can help-eg stupa, Harappan pottery.
Science and technology– Read one basic material for science and tech . I referred to Vajiram's yellow book and kept an eye on the current developments. Rajya Sabha TV episodes on certain topics help.
Role of Iasbaba in my Preparation:
My Motivation:
It's a long exam, demanding a lot of mental energy. I meditated every morning and used to read motivational quotes in the internet. One needs to do the positive self talk everyday to stay motivated. Remember you have chosen this glorious road- of hard work,of contributing to the society. You will certainly feel someday-
"Two roads diverged in a wood ,and I
 I took the less traveled by ,
And that has made all the difference"
Scores:
PRELIMS -112
MAINS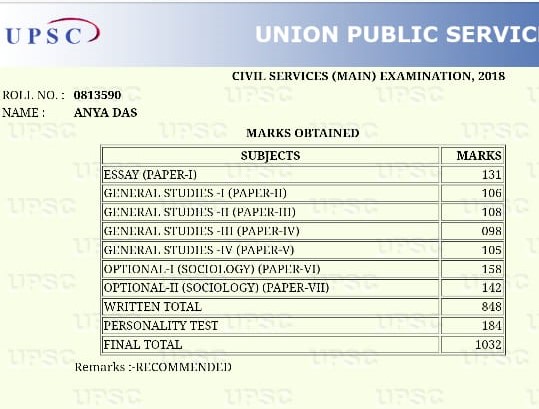 Since Prelims is round the corner, I would like to emphasis what to do in the next 1 month
I am sure you all must be working hard at this point to crack this holy grail.The 2018 Prelims Paper  was a challenge. Although I cleared prelims with 112 marks, after giving the paper I was not sure that I will clear this exam.  Prelims paper has become quite challenging because-
a) questions being asked from details-such as on RTE, Aadhar in 2018
b) analytical bent of questions -polity questions in 2017
c) questions from the static part have become more complex- eg history
d) factual questions-eg if India is 3rd largest in the world in the manufacture of silicon wafers used in PV cells (2018)
e) bouncer questions-if GST is applicable on cooked chicken eggs(2018)
The right approach for prelims invariably includes frequent and multiple revisions and practicing tests.I am providing few tips which I think will be helpful
Master the static portion-Economics, Polity,history must be read multiple times. Revise Laxmikant, Spectrum many times) the question on exports from Bengal in the middle of 18th century which included cotton, Silk saltpetre ,opium,can be found in Spectrum
Focus on Science and Technology -Last year this section had high number of questions from IRNSS to GM Mustard. While reading Science and Technology, focus on the facts is also important .Eg-Area covered by IRNSS satellite
Tackling Polity-In polity, understand the concepts clearly. eg-difference between a constitutional and legal right(2017)
Acing Environment-This part has  become  tricky as direct questions from the book are less. Focus on-National parks, environment organisations, reports,wetlands,UNESCO world heritage sites. Few pages at the back of Shankar IAS environment book will be immensely helpful. Focus on certain topics such as international organisations, reports, North East flora fauna, Andaman Nicobar , rivers, GI tags, Western Ghats,government schemes,  which have been a hot favourite of UPSC.
Diligently solve test papers and analyse it. IASBaba's 60 days tests will be quite helpful. I used to read the test syllabus and then attempt the test. I then made a note of my mistakes.This helped to prepare areas which I hadn't prepared earlier-eg defence assets of India
Summarize and shorten your notes-It will help in revising just a few days before the exam.For polity,  I pasted sticky notes in the Laxmikant to have crisp,short notes.
One week  before the exam, give mocks at the same time during which Prelims exam will be conducted. It will condition your brain to be most efficient during that period.
Number of questions to attempt-There are many candidates who attempt above 90 questions and clear prelims. I attempted 73 questions this time and still cleared the exam by getting 112. Practise during the mocks to know your attempt threshold.
Attempting the paper -In the first round solve the questions which you know well .In the second round solve the questions which you are less sure of. Go for the third round to solve remaining questions.
Remember success in prelims does not depend on knowledge per se,  but on the application of that knowledge. One will be able to do this only when one is calm and confident. Go into the exam hall with a positive mindset and trust the hours of hard work you have put in for this day.
All the best!!
Anya Das
For a dedicated peer group, Motivation & Quick updates, Join our official telegram channel – https://t.me/IASbabaOfficialAccount
Subscribe to our YouTube Channel HERE to watch Explainer Videos, Strategy Sessions, Toppers Talks & many more…