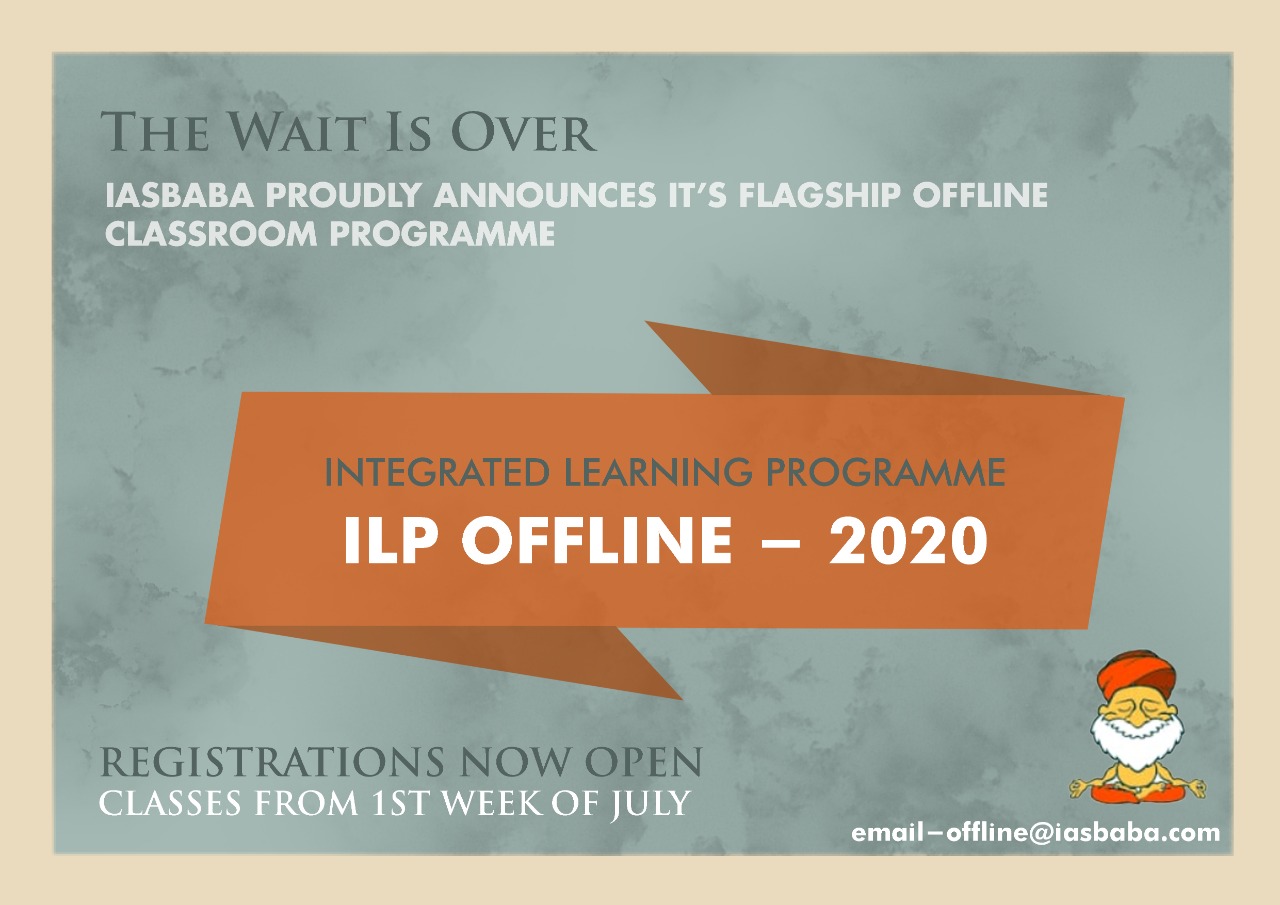 FAQ's: Integrated Learning Programme (ILP) OFFLINE -2020 Offline Classroom Programme- ADMISSION OPEN
Many had mailed can we take admission to IASbaba's OFFLINE Classes now- Yes you can !
---
---
---
For complete Details about IASbaba's  ILP OFFLINE Classes
->
CLICK HERE
---
What makes ILP (Offline) so special?
Well! The answer to this question are many. But before we answer that question, let us tell you something about the values we believe in. Quality of guidance, sincerity in efforts and innovation in pedagogy are our core values. We strive hard to integrate these values in our packet of offerings to the student community, something that is clearly visible in our initiatives like ILP, AIPTS, C2C, TLP, DNA and so on. As a result of the success of these flagship initiatives, we started getting requests from many aspirants to move into the offline domain with similar quality, sincerity and innovation. In our effort to meet these demands, we came up with the offline classroom programme.
The last three years of this programme have attracted students from different parts of the country (from 22 States) and the number of enrolments have been increasing year by year.
This program is meant for those who have completed 0% of syllabus yet determined to succeed in the first attempt itself.
Our flagship program ILP OFFLINE is designed to help freshers learn from first principles and build strong basics. This approach helped our students solve several confusing/ambiguous questions of Prelims 2017, 2018, 2019.
We believe in smart work. Our classes and materials guide aspirants to get the best results with minimal time and effort.
ILP Offline provides end to end integrated preparation with tests, discussions and quizzes modelled in the programme. Highly focused and minute module planning helps you to prepare your syllabus in an integrated manner by the end of March 2020.
IASbaba shall be your friend, philosopher, guide and companion during your UPSC preparation. This unique and unparalleled programme will increase your chances manifold, provided you are sincere and highly dedicated. What separates a successful candidate from others is perseverance and that is what is required of you.
Basic Information about IASbaba's OFFLINE Classes in FAQ format:
When will the classes start?
Duration of the classes?
Totally 15 months programme.

It is an incentive-based programme. July – March (9 Months). If you clear Prelims, you will be able to access C2C Mentorship based Mains Answer Writing Programme (3 months) which is relevant for that year mains, followed by Interview Programme (3 Months).

If you qualify prelims in the next year of your coaching you will be able to access that years C2C and subsequently Interview Programme
Is this Prelims-Mains-Interview Oriented Classes?
Yes, it is an

integrated program

covering all the 3 Stages of UPSC Preparation. There will be special strategy classes for prelims and mains at appropriate time and Answer writing sessions held at regular intervals.
Will there be regular Tests (Prelims and Mains)?
Both Prelims and Mains Tests will be held after the end of each module. Please check the Schedule.

Assignments will be given and students have to complete it before attending the next class of the same subject.

ILP for Fresher's/Working Professionals ONLINE Programme 2020

will be given as a complimentary to students who join the Offline Programme. Here, you can access Prelims Test Series (50+ Tests which includes GS and CSAT), Current Affairs -Babapedia (Prelimspedia and Mainspedia), Value Added Notes (VAN).
Schedule :
---
To Download the Schedule

->

CLICK HERE
---
Faculty Profile :
The Best part about IASbaba is Faculties are easily accessible. We have the best mentors for the programme who will guide you throughout with the best possible support. IAS/IPS/IRS rank holders, IIT, IIM NIT and RV College alumni who are extremely talented, experienced, dynamic, friendly and accessible who will be providing vastly superior inputs.
Strategic classes will be taken by people in Service (IAS/IPS/IRS).
Name of Faculty
Qualification
Teaching Subject
Experience in Teaching
YESHWANTH G V

(Founder of IASbaba)

IAS, 2010 Batch; 

B- Tech – Electronics and Communication Engineering (NITK Surathkal).

PGP – MBA (IIM Bangalore).

Polity,

Economics

Involved with teaching and mentoring students since 9 Years

MOHAN KUMAR. S

(Founder of IASbaba)

B.E in Telecommunication

R.V. College of Engineering

Current Affairs,

International Relations

Involved with teaching and mentoring students since 7 Years

TAUSEEF AHMAD

(Founder of IASbaba)

Masters in Chemistry from Indian Institute of Technology, (IIT Delhi)

Science and Technology

Environment

Involved with mentoring students since 4 Years

ATYAB ALI ZAIDI

B. Tech in Chemical Engineering from NIT, Allahabad.

GS –Geography

OPTIONAL- Geography

Involved with teaching and mentoring students since 5 Years

HIMA BINDU

B.Tech from JNTU, Hyderabad

Ancient, Medieval and Modern History;

Art and Culture

5 years of experience in teaching History for UPSC Aspirants

POOVENDHAN A

Bachelor of Science IT – KSR college of Technology (Tiruchengode, Tamil Nadu) 

Post-Independence

Involved with teaching and mentoring students since 5 Years

SUMANTH

MA Public Administration

Economics

5 years of experience in teaching Economics for UPSC Aspirants

SANDEEP

MA in International Relations

Published Paper's in International Journals

Ethics

Involved with teaching and mentoring students since 7 Years

RAHUL SAIGAONKER

MTech from NIT-Surathkal, (MA Pol Sci).

GS – Internal Security

OPTIONAL- Political Science

Involved with teaching and mentoring students since 4 Years

SHANTHILAL J

BE from BMS College of Engineering  Bangalore

CSAT – Aptitude, Logical Reasoning, Comprehension

8 years of experience in teaching CSAT for UPSC Aspirants

Exams Cleared – SBI PO,SSC CGL, IBPS PO

DR. NC VAMSHI KRISHNA

BDS (Bachelor of Dental Surgery ) from Sri Sai College of Dental Surgery, Vikarabad.

PGDHA from Apollo Institute of Medical Sciences (Hyderabad).

OPTIONAL-

Sociology

Involved with teaching (Sociology)and mentoring students since 5 Years

P VISHNU VARDHAN

M A Anthroplogy

OPTIONAL-

Anthropology

8 years of experience in teaching for UPSC Aspirants

DR.RAKESH. E.S

MSc (Agricultural Science)

PhD(Agricultural Extension Management )Alma mater-Indian Agricultural Research Institute, New delhi

OPTIONAL-

Kannada Literature

Teaching Kannada literature Optional subject for UPSC from 2013 (7 Years)
**Serving Officers (IAS/IPS/IRS), have been taking classes on Pro-Bono for the Subjects mentioned below-
Environment, World History, Science & Technology

Prelims and Mains Strategic Classes
Weekday and Weekend Batch timings?
There shall be five sessions every week. Each Session will be 2.5 – 3 hrs.
Weekday batch shall have 1 session starting from 10 A.M everyday from Monday to Friday.
Weekend batch will have 2 sessions on Saturday starting from 2:00 P.M. and 3 sessions on Sunday starting from 9:30 A.M.
Weekday : 

10 am – 12.30 noon (Monday – Friday)

Weekend : 

2pm- 7pm (Saturday) & 9.30 am- 5.30 pm (Sunday)
Where will the Classes be held?
Venue: Classes would be conducted in Chandralayout (Weekday Batch) and Vijayanagar (Weekend Batch)
Will Optional Classes be conducted?
Yes! For Sociology, Geography, Anthropology, Political Science, Kannada Literature.
The Orientation for Optional Classes will be held in July 3rd Week and the Classes will begin on August 1st Week.
---
For complete Details about Optional Classes and Registration ->  CLICK HERE
---
Will there be any Extra-curricular activity?
Yes, to inculcate the spirit of team work we have Baba Premier League (BPL) Cricket match.
Feedback about the Class:
---
---
Is there any Criteria or Eligibility for admission into the class?
This program is meant for those who have completed 0% of syllabus yet determined to succeed in the first attempt itself.
We do not have "X" criterion of the syllabus

 that needs to be completed and 'X' books to be read to join our programme. An aspirant with Basic English and Aptitude is all we are looking forward to.

A FRESHER who has the passion, zeal and perseverance to clear the exam in his/her 1st attempt,

one who is honest and dedicated to put in that extra effort can join our Offline Programme. There are many students who are in their final year of graduation who joined the weekend batch and are ready to ace.

We believe in the practical transformation of an individual

 who has no skill and want to assist/impart the required skill in the process.
Mode of Admission:
Just like the previous year, we are limiting the intake this time also in order to maintain the quality that we have always strived for.
Your payment confirms your admission!
Once the payment is done, you can take the print copy of online payment and come to centre along with 2 passport sized photographs, Aadhar card or 10th standard marks card and fill the application form. 
(OR)
You can visit any of the following centres for admissions or related enquiries:
Vijayanagar Centre: 1737/ 37, MRCR Layout, Vijayanagar Service Road, Vijaynagar, Bengaluru-5660040
Chandra Layout Centre: No. 1443/1444, Above Carzspa, 80 Ft. Main Road, Ganapathi Circle, Chandra Layout, Bengaluru- 560040
You can also reach us on 
Email id: offline@iasbaba.com 
Mobile No.: 9035077800/7353177800 ( Office Timings: 10 am – 6 pm)  
When is the last day to make the payment?
Last Date to make payment is July 5th, 2019. However, since we take only limited admissions, it's based on First-cum-First Serve basis. Once we reach the required number the admission closes for the year!
Where to make Online Payment?
If you have sorted all your queries, you can directly register/pay through the payment link given below or visit our Office.
---
---
What do we expect from you?
Be regular to classes and be dedicated.

Read relevant topics/pre-reads before coming to the session.

Complete the assignments given by the faculty before coming to the next class.

Make the best use of library – have regular discussions with both batchmates and seniors in reading room.

Take tests regularly in the slots provided.
What to do until the class starts?
We are also providing a set of Basic books for your reference.
HISTORY
Modern India
NCERT – Class 8th (New) – 'Our Pasts – III'
NCERT-Class 12th 'Modern India' (OLD)
Tamil Nadu Edition- Class 12th
OR
Spectrum Modern India – Rajiv Ahir
Reference Book: India's Struggle for Independence – Bipan Chandra; Plassey to Partition by Sekhar Bandyopadhyay
Medieval India
NCERT – Class 7th (New) –'Our Pasts –II'
NCERT – Class 11th 'Medieval India' (OLD)- Satish Chandra
Tamil Nadu Edition-Class 11th
Ancient India
NCERT– Class 11th 'Ancient India' (OLD)- R.S. Sharma
NCERT– Class 12th 'Themes in Indian History- Part I' (NEW)-

Chapters 1 to 6
Tamil Nadu Edition – Class 11th
NOTE: Most part of 'Culture' section overlaps with Ancient and Medieval History. Apart from the above mentioned books, you can refer the below link for more information on Culture.
You need to study CCRT Website –  CCRT ; Performing Arts and Literary Arts
GEOGRAPHY
NCERT Social Science, Class 6th (New) 'The Earth Our Habitat'
NCERT Social Science, Class 7th (New) 'Our Environment'
NCERT Social Science, Class 8th (New) ' Resource and Development'
NCERT Social Science, Class 9th (New) 'Contemporary India'
NCERT Social Science, Class 10th (New) 'Contemporary India-Part II'
NCERT – Class 11th (New)

Fundamentals of Physical Geography

India physical environment
NCERT – Class 12th (New)

Fundamentals of Human Geography

India – People and Economy
Atlas:

Orient BlackSwan School Atlas (or) Oxford School Atlas
Reference Book: Certificate Physical and Indian Geography – Goh Cheng Leong; OLD NCERT Geography – Class 11th and 12th (if you can find them  )
POLITY
NCERT – 6th to 8th (for basic understanding)
NCERT- Class 9th to 12th (for understanding more on democracy and federalism)
Reference Book: Introduction to Indian Constitution – D.D.Basu
ECONOMICS
Macroeconomics- Class 12th , NCERT
NCERT 11th – Indian Economic Development

NCERT- Class 9

th

and 10th (for basics)
SCIENCE & TECHNOLOGY
NCERT – Biology – 11th (Unit IV & V only – read basic concepts not technical details)
NCERT Biology – 12th (Chapters 4, 5 and rest from 7 to 16 – all important – read line by line except technical details)
NCERT – Biology – 12th (OLD) – Chapter 9 onwards
NCERT – Physics – 11th (Chap 1,5 & 8) and 12th (Chap 15 only)

NCERT – Chemistry – 11th (Chap 1 & 14 only) and 12th (Chap 14 & 16 only)
ENVIRONMENT
ICSE Board- Environmental studies- Class 10th and 11th
NCERT- Geography Books (in 6th to 12th there are lot of chapters on Environment)
Reference material : Shankar IAS notes on Environment.
---
For complete Details about the Offline Classes
->
CLICK HERE
---
Thank You
IASbaba
For a dedicated peer group, Motivation & Quick updates, Join our official telegram channel – https://t.me/IASbabaOfficialAccount
Subscribe to our YouTube Channel HERE to watch Explainer Videos, Strategy Sessions, Toppers Talks & many more…