Health Scenario in Bihar
Search 18th June, 2019 Spotlight here: http://www.newsonair.com/Main_Audio_Bulletins_Search.aspx 
TOPIC:
General studies 2
Welfare schemes for vulnerable sections of the population by the Centre and States and the performance of these schemes
General studies 3
Issues relating to development and management of Social Sector/Services relating to Health
In News: Children in Bihar's Muzaffarpur and adjoining districts have been plagued with Acute Encephalitis Syndrome (AES) which has resulted in loss of lives. The rising death toll of children in Bihar's Muzaffarpur district not only points to a health crisis, but also the crippling healthcare infrastructure in the state.
Numbers indicating the sorry state
According to the latest data available with the ministry of health and family welfare, about 79.5% of the 1,719 villages in Muzaffarpur district do not have a public healthcare facility. There are only 630 public healthcare facilities in Muzaffarpur. 

According to the census of 2011, Bihar is the third most populous state in India, with around 40% of its population below the poverty line. 

The major health and demographic indicators of the state, such as infant mortality rate, maternal mortality ratio, and total fertility rate, are substantially higher than the all-India average, and reflect the poor health status of the people. 

The state has a shortage of 1,210 sub-centres, 131 primary health centres (PHCs), and 389 community health centres (CHCs).
So far, 167 children have died in Bihar, with Muzaffarpur recording 117 deaths. Other districts include Vaishali (19), Motihari (12), Begusarai (8), Samastipur (8), and one each in Arrah, Sheohar and Purnia.
Three issues emerge out of these concurrent flare-ups. 
First, despite this region being endemic to brain fever, there is a dearth of reliable research-based evidence on what kills so many children each year. 

Secondly, the serious lack of health infrastructure in Bihar and Uttar Pradesh makes handling of such outbreaks and disease epidemics more challenging.

Thirdly, the Centre issued Rs 88.5 crore to the Bihar state government in the last fiscal year to strengthen its public health system. Astonishingly, the state government spent less than one-third of it.
The confusion over what has killed over 100 children in Bihar is a symptom of the gangrenous rot in public healthcare in India. While even doctors are casually bandying about the term Acute Encephalitis Syndrome (AES) to talk about the disease that has repeatedly struck one of the poorest regions in the country, the fact is untrained health workers may use the term AES to talk about an undiagnosed brain disease which manifests symptoms like convulsions, loss of consciousness, etc. But when doctors use the phrase after a 100 deaths, it is a worrying sign—the doctors themselves are not sure of what they are dealing with.
While experts agree that a host of diseases and ingestion of certain toxins exhibit the symptoms seen in the current outbreak in Bihar, the fact that over 300 children have been hospitalised should have immediately pointed at lines of investigation to ascertain cause. Instead, there is confusion, with senior doctors at one of the major treatment hospitals in Bihar calling it a case of heat-wave related morbidity while a set of researchers who studied past outbreaks in the region believe it to be litchi-toxicity related critical hypoglycemia.
Irrespective of whether a biological agent or malnutrition is to blame, Bihar's poor track record in ensuring that the poorest have access to adequate nutrition and distrust in the public health care system are major causes for the deaths.
The Numbers are Unsettling
Malnutrition: There is enough evidence to show that malnourished children are more prone to the infection. In Bihar, 48 percent of the children are stunted, 20.8 percent are wasted and 44 percent children are underweight. For Uttar Pradesh, these numbers stand at 46 percent, 18 percent and 39.5 percent, respectively. More than 63 percent children in both the states are anaemic. Only 25 percent households in Bihar and 35 percent in Uttar Pradesh have access to sanitation facilities.
Healthcare Resources: In terms of healthcare resources, each doctor in Bihar serves an average population of 28,391, and in Uttar Pradesh, the average is about 20,000 per doctor. To put this in context, each doctor in Tamil Nadu serves about 9,544 people. Bihar has one hospital bed per 8,645 people and Uttar Pradesh has 2,904 people per bed. Tamil Nadu has 899 people per bed.
Total Expenditure on Health: Despite such skewed numbers, only 3.94 percent of Bihar's total expenditure is for health, the second lowest after Haryana.
The Way Forward
A greater push is needed for supporting the development of dedicated public health cadres in States. Whether it is combating a Nipah virus outbreak in Kerala or preventing the death of children due to the Acute Encephalitis Syndrome in Bihar, a strong public health system is crucial. In fact, in a rapidly urbanising and densely populated India, the risk of disease outbreaks and spreading of contagion is much higher.

Prevention and efficient disease management is the key to reducing the bulging patient load.

A key enabler for implementing these reforms and programmes is an increase in government health expenditure to at least 2.5 per cent of GDP by, if not before, 2025. State governments also have a key role to play in ensuring that they spend at least 8 per cent of their budget on the health sector.
At a time when public health in India languishes amidst shortages of doctors and inadequate infrastructure and government spending remains low, it is important to recognise the Bihar child deaths as a preventable tragedy. With this in mind, state governments failing to make the most of what is accorded to them for public health, must be held to account.
We must make the recent deaths in Bihar a turning point for prioritising public health in India!
Note:
Encephalopathy (Brain disease)
The early morning onset and frequent finding of low blood glucose level (hypoglycaemia) point to a biochemical disease related to glucose metabolism. 

Several hours after food intake (early morning) is when the body tends to develop hypoglycaemia.

In addition, there is brain swelling caused by toxic damage to brain cells — encephalopathy, specifically, "hypoglycaemic encephalopathy". 

If the fasting interval is longer than 6-7 hours, because some children were not given a night meal, the situation becomes more severe.

Malnourished children do not have glucose reserves in the liver, which makes matters worse.

Moreover, many children were referred to Muzaffarpur medical college, and the long delay in reaching there resulted in many deaths. Prevention is simple, as is treatment.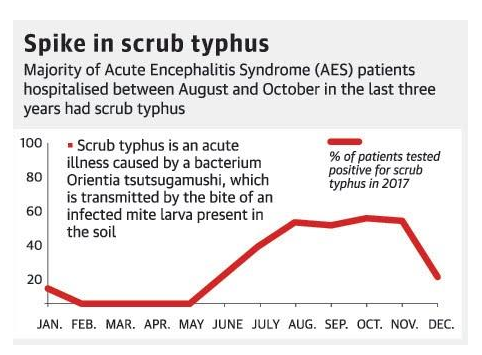 Source: https://d39gegkjaqduz9.cloudfront.net/TH/2018/08/08/DEL/Delhi/TH/5_07/ac7e44e3_2304601_101_mr.jpg 
Must Read: Enhancing the Health Infrastructure of the Country
For a dedicated peer group, Motivation & Quick updates, Join our official telegram channel – https://t.me/IASbabaOfficialAccount
Subscribe to our YouTube Channel HERE to watch Explainer Videos, Strategy Sessions, Toppers Talks & many more…