IAS UPSC Prelims and Mains Exam – 10th July 2019
---
(PRELIMS + MAINS FOCUS)
---
SC to decide if illegal migrants can be given the status of refugees
Part of Prelims and mains GS II International Relations 
In news
Two Rohingya men filed a prtition against the government's proposal to deport their 40,000-strong community to their native land of Myanmar, where "discrimination and possibly summary executions await them".

According to the petitions, the Centre's move violated the constitutional guarantee that the Indian State should "protect the life and liberty of every human being, whether citizen or not".

The Rohingya, who fled to India after violence in the State of Rakhine in Myanmar, are settled in Jammu, Hyderabad, Haryana, Uttar Pradesh, Delhi-NCR and Rajasthan.

The National Human Rights Commission (NHRC) had also issued notice to the government on the proposed deportation.
Do you know?
Status of refugee in India:-
India is not a party to the 1951 Convention relating to the Status of Refugees or the 1967 Protocol, nor does it have a legal framework and national refugee status determination system. 

As a result, UNHCR processes claims for refugee status in India.

The UNHCR carries out a Refugee Status Determination (RSD) procedure, which starts with registration as asylum seekers. Following the registration, UNHCR will then conduct interviews with each individual asylum seeker accompanied by a qualified interpreter. 

This process provides a reasoned decision on whether refugee status is granted or not, and gives the individual an opportunity to appeal a decision if the claim is rejected.
---
CPCB pulls up 52 firms over handling of waste
Part of Prelims and mains GS III Environment and ecology
In news 
The Central Pollution Control Board (CPCB) has pulled up 52 companies, including Amazon, Flipkart, Danone Foods and Beverages and PatanjaliAyurved Limited, for not specifying a time line or a plan to collect the plastic waste that results from their business activities.
Do you know?
Facts: 
According to CPCB estimates in 2015, Indian cities generate about 15,000 tonnes of plastic waste per day and about 70% of the plastic produced in the country ends up as waste.

Nearly 40% of the plastic waste is neither collected nor recycled and ends up polluting the land and water.
The Plastic Waste Management Rules, 2016, (which was amended in 2018)
Rural areas have been brought in ambit of these Rules since plastic has reached to rural areas also. Responsibility for implementation of the rules is given to Gram Panchayat.

First time, responsibility of waste generators is being introduced. Individual and bulk generators like offices, commercial establishments, industries are to segregate the plastic waste at source, handover segregated waste, pay user fee as per bye-laws of the local bodies.

Plastic products are left littered after the public events (marriage functions, religious gatherings, public meetings etc) held in open spaces. First time, persons organising such events have been made responsible for management of waste generated from these events.

Extended Producer Responsibility: Earlier, EPR was left to the discretion of the local bodies. First time, the producers and brand owners have been made responsible for collecting waste generated from their products. They have to approach local bodies for formulation of plan/system for the plastic waste management within the prescribed timeframe.
---
DRDO gets clearance for missile test facility in A.P.
Part of Prelims and mains GS III Science and tech, GS II Defence and security 
In news
The Ministry of Environment, Forest and Climate Change (MoEFCC) has granted environment and Coastal Regulatory Zone clearances for setting up Missile Testing Launch Facility on the Bay of Bengal coast and Technical Facility at Gullalamoda village in Krishna district.
Krishna Wildlife Sanctuary is in Krishna district of Andhra Pradesh 
---
Honour for 'Plan Bee' that helped save jumbos
Part of Prelims and mains GS III Environment and ecology
In news
Plan Bee, earned the Northeast Frontier Railway (NFR) the best innovation award in Indian Railways for the 2018-19 fiscal.
Need of Plan
There are 29 earmarked elephant corridors with the operating zone of NFR spread across the north-eastern states and parts of Bihar and West Bengal. Trains are required to slow down at these corridors and adhere to speed specified on signs.

But elephants have ventured into the path of trains even in non-corridor areas, often leading to accidents resulting in elephant deaths.
Plan Bee
Under this plan, a device was designed to generate the amplified sound of honey bees audible from 700-800 metres.

It is an amplifying system imitating the buzz of a swarm of honey bees to keep wild elephants away from railway tracks.

NFR now has 46 such devices installed at vulnerable points.
---
88 manual scavenging deaths in 3 years
Part of Prelims and mains GS II Social justice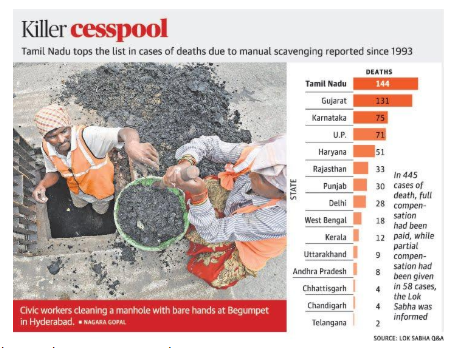 Image:https://d39gegkjaqduz9.cloudfront.net/TH/2019/07/10/CNI/Chennai/TH/5_11/3cdbf8ad_3060214_101_mr.jpg
In news
The number of deaths of sanitation workers while cleaning septic tanks and sewers has risen, despite a ban on manual scavenging, with 620 cases reported since 1993, of which 88 occurred in the past three years, according to the Social Justice and Empowerment Ministry. 

On casualities due to manual scanvenging, some States had not reported and some had reported nil, leading to the possibility of the actual deaths from manual scavenging being higher.

Prohibition of Employment as Manual Scavengers and their Rehabilitation Act, 2013 had laid down a mechanism of monitoring its implementation through vigilance committees and monitoring committees at different levels.
---
Karnataka offers quota for girl children of trafficked women
Part of Prelims and mains GS II Social justice
In news
Recently Karnataka government has announced for providing 1% reservation for girl children of women who were victims of sexual assault or were Devadasis in all State-run universities.
It will be enforced by universities in the 2019-2020 academic year in all undergraduate and postgraduate programmes.
Devadasi system in India
According to the Indian National Commission for Women(NCW), there are still at least 44,000 active devadasi in India. 

Although the numbers are difficult to confirm due to the practice being not only underground but also difficult to differentiate from non-religious prostitution, the practice is particularly concentrated in a few states. 

According to the NCW, the majority of active devadasis are in Karnataka (22,491 individuals), Andhra Pradesh (16,624 individuals), and Maharashtra (2,479 individuals).
---
(MAINS FOCUS)
---
NATIONAL
TOPIC: General studies 2

Government policies and interventions and issues arising out of their design and implementation.
A regrettable conviction
Background:
The conviction of prominent pro-LTTE politician Vaiko on the charge of sedition, based on a typically impassioned speech he had made in Chennai a decade ago, is a worrying development. Even though Section 124A, the IPC section that makes sedition an offence, attracts either a three-year term or imprisonment for life, the trial court sentenced him to a somewhat lenient one-year jail term.
Sedition has been defined in Indian Penal Code under section 124A:
Whoever, by words, either spoken or written, or by signs, or by visible representation, or otherwise, brings or attempts to bring into hatred or contempt, or excites or attempts to excite disaffection towards the Government estab­lished by law, shall be punished with im­prisonment for life, to which fine may be added, or with imprisonment which may extend to three years, to which fine may be added, or with fine.
Article 19:
It gurantees freedom of speech and expression subject to reasonable limitations under Article 19(2) on the grounds of,
In the interests of the sovereignty and integrity of India, 

The security of the State, 

Friendly relations with foreign States, 

Public order, decency or morality or 

In relation to contempt of court, 

Defamation or 

Incitement to an offence
Section 124A should be scrapped
There is greater recognition now than in the past that Section 124A is neither relevant nor needed today. 

The Law Commission released a consultation paper highlighting arguments for its reconsideration. 

There is a body of opinion that a modern democracy does not need a free speech restriction based on political concepts such as disloyalty and disaffection towards the state. 

Britain, which introduced the offence of sedition in India in 1870 to check the use of speech and writing to criticise its colonial administration, has abolished it.
Conclusion:
In recent years, there has been an alarming rise in sedition charges being used to quell political dissent. In a modern democracy like India, there no need of restrictions on freedom of speech based on political concepts. 
Connecting the dots:
What do you understand by sedition? Critically comment on the way section 124a is being used politically.
---
INTERNATIONAL
TOPIC: General studies 2

Bilateral, regional and global groupings and agreements involving India and/or affecting India's interests.
Effect of policies and politics of developed and developing countries on India's interests, Indian diaspora
A shot at economic logic
Background
The 12th Extra-Ordinary Summit of the African Union (AU) which concluded on July 8 at Niamey, the capital of the Niger Republic, saw 54 of 55 of its member states signing the African Continental Free Trade Agreement (AfCFTA) for goods and services.
What is African Continental FTA? 
The 18th session of the African Union, held in Addis Ababa, Ethiopia in 2012 adopted a decision to establish a Continental Free Trade Area (CFTA) by 2017.
Most of the African countries signed the African Continental Free Trade Area and the Protocol establishing the African Economic Community in Kigali, Rwanda in 2018. This led to the Kigali Declaration.
Objectives of AfCFTA:
Create a single continental market for goods and services

Free movement of business persons and investments

Accelerate the establishment of the Continental Customs Union and the African customs union

Expand intra African trade  

Coordination among members for trade facilitation regimes and instruments

Enhance competitiveness at the industry and enterprise level on Pan-African level

Exploiting opportunities for scale production and continental market access
Hurdles & Roadblocks for AfCFTA:
The African Union has been largely ineffective in dealing with the continent's various problems & therefore, AU past failures and ineffectiveness raises concerns whether it can successfully implement AfCFTA. 

AfCFTA has to work against the ongoing global protectionist trends as seen in the U.S.-China trade conflict, Brexit and the problems in WTO functioning. 

The intra-African trade currently comprises just about 15% of the continent's trade. This is quite low when compared to regional trade in other continents – roughly 67% in Europe, 58% in Asia and 48% in North America.

The exports of most African countries are predominantly primary commodity. This would need to be pared down in international trade and adjusted among members.

Most African countries currently lack in additive manufacturing, automation and other fourth industrial revolution innovations. This issue is highly un-likely to be resolved by CFTA.

Negotiations on important issues like intellectual property rights, tariffs for some goods, are still on-going among AU members.

Nigeria and South Africa, the two largest economies of Africa have  shown reluctance for AfCFTA. 
AfCFTA impact on India:
Africa is an important economic partner for India with total annual merchandise trade estimated at $70 billion & with India as Africa's third largest trading partner. 

India's global exports have weakened due to the economic slowdown, however India's exports to Africa has increased.

Africa has a strong demand market for goods and services that India produces such as automobiles, pharmaceuticals, consumer goods, IT/IT-Enabled Service, health care and education, among other.

AfCFTA would ensure African economies would become more formalised and transparent and this would be in India's interest. 

Local manufactured items and services may ultimately compete with Indian exports, however it also provides Indian firms an opportunity for joint ventures with African firms. 

India had donated $15 million to Niger to fund the Niamey AU Summit & similarly India can also help the African Union to prepare the requisite architecture, such as common external tariffs, competition policy, intellectual property rights, and natural persons' movement. 

India can identify various African transnational corporations which are destined to play a greater role in a future continental common market and engage with them strategically.

India can augment its economic strength in Africa by engaging with Indian diaspora in Africa.

After the AfCFTA is accepted & implemented in Africa, both India and Africa can negotiate for an India-African FTA.
Conclusion
If taken to its logical conclusion, this audacious project would eventually create an African Common Market of 1.2 billion people and a GDP of over $3.4 billion — the metrics are comparable to India's. The AfCFTA would be world's largest FTA, and in a world dependent on African markets and commodities, it would have global impact.
Connecting the dots:
Analyse the significance of the African Continental Free Trade Agreement (AfCFTA) for India and the world.
---
(TEST YOUR KNOWLEDGE)
---
Model questions: (You can now post your answers in comment section)
Note: 
Featured Comments and comments Up-voted by IASbaba are the "correct answers".

IASbaba App users – Team IASbaba will provide correct answers in comment section. Kindly refer to it and update your answers.
Q.1) Consider the following statements about The Plastic Waste Management Rules, 2016, (which was amended in 2018), 
Rural areas have been brought in ambit of these Rules

First time, responsibility of waste generators is being introduced.
Select the correct statements
Only 1

Only 2

Both 1 and 2

Neither 1 nor 2
---
Q.2) Section 124A of the Indian Penal Code frequently seen in news is related to,
Cyber crime

Sedition 

Child labour

None of the above
---
Q.3) "Plan Bee" recently seen in news is,
Bee keeping plan to enable natural pollination 

It is an amplifying system imitating the buzz of a swarm of honey bees to keep wild elephants away from railway tracks.

Beekeeping or apiculture to produce honey.

None of the above
---
MUST READ
One more quota
Going electric: on plans to switch to electric vehicles
Reserve Bank of India's new sweeping powers
For a dedicated peer group, Motivation & Quick updates, Join our official telegram channel – https://t.me/IASbabaOfficialAccount
Subscribe to our YouTube Channel HERE to watch Explainer Videos, Strategy Sessions, Toppers Talks & many more…