IAS UPSC Prelims and Mains Exam – 2nd September 2019
---
(PRELIMS + MAINS FOCUS)
---
KALIMANTAN
Part of: GS Prelims and GS-I – Geography
In News
Indonesian President Joko Widodo announced that the nation's capital will be moved from

Jakarta on the island of Java

to a yet-to-be-built city in East

Kalimantan on the island of Borneo.
The main reason to move the capital

is to ease congestion
Kalimantan is the Indonesian part of

Borneo, an island

shared with Malaysia and Brunei.

Jakarta is

crowded

with home to more than 10 million people – and has some of the world's worst air

pollution

and

traffic congestion

– estimated to cost 100 trillion rupiah (S$9.73 billion) a year due to

lost productivity
Poor urban planning in Jakarta

, as well as unregulated draining of aquifers, has left 40% of the city below sea level. 

The move is part of a broader strategy to

decentralise Indonesia's economic growth

– Jakarta is home to 60% of the country's population and accounts for over half of its economic activity.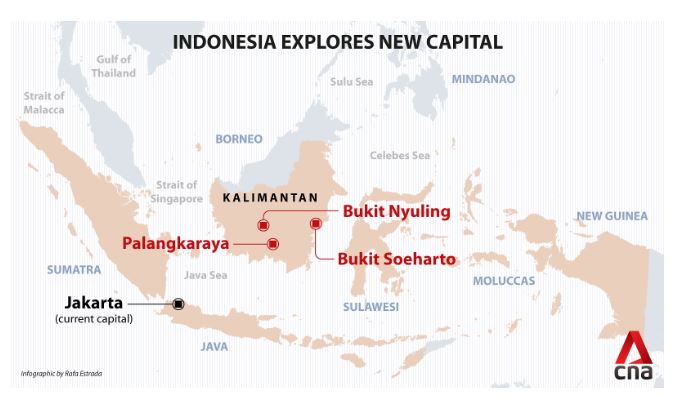 https://www.channelnewsasia.com/image/11669408/0x0/1600/900/8672b8af994452f5a57e4617d6f09ec/jf/indonesia-explores-new-capital.png
Do You Know?
In 2005,

Myanmar moved its capital

from Yangon to Naypyidaw, which was also purpose built as a new capital. 

In 1960,

Brazil moved its capital

from Rio de Janeiro to Brasília, another planned city. 

Malaysia

has also moved its administrative centre to Putrajaya, south of the capital Kuala Lumpur
---
Uranium Corporation of India limited (UCIL)
Part of: GS Prelims and Mains GS-I – Geography
In News
The

Andhra Pradesh government

has ordered an inquiry into a number of complaints about

groundwater pollution caused by the uranium mining

and processing project of UCIL in

Kadapa district

of AP

UCIL was incorporated in 1967 as a Public Sector Enterprise under the

Department of Atomic Energy

, for uranium mining and uranium processing. 
Do You Know?
Jaduguda in Singhbhum Thrust Belt (in the state of Jharkhand) is the first uranium deposit to be discovered in India in 1951.

Only 3% of power in India is provided by Uranium.

Largest viable deposits of Uranium are found in 

Australia, Kazakhstan, 

and 

Canada

.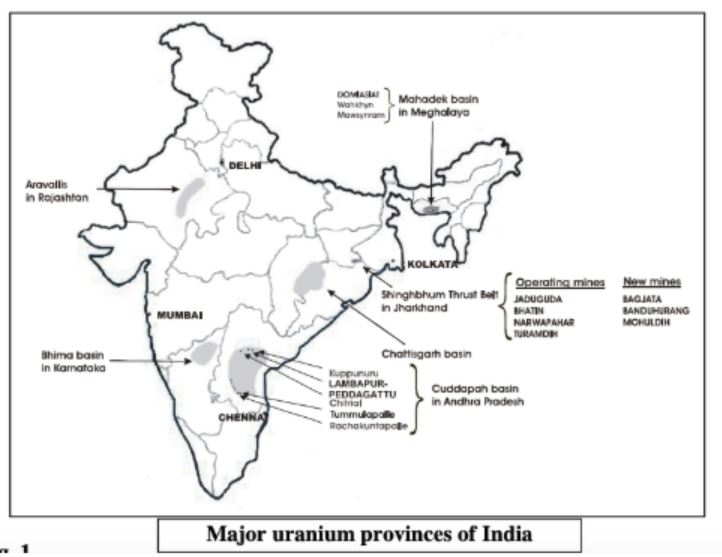 http://www.ucil.gov.in/pdf/myth/Emerging%20trend%20in%20U%20mining.pdf
---
Ek Bharat, Vijayi Bharat
Part of: GS Prelims and GS Mains I – Society
In News
Kanyakumari-based

Vivekanand Kendra

and its state units will launch a

year-long nation-wide contact programme

to spread the messages of Swami Vivekananda

The mass contact programme, titled "Ek Bharat Vijayi Bharat", coincides with the 50th foundation year of

Vivekanand Rock Memorial in Kanyakumari

The programme will focus on spreading the messages of Swami Vivekananda, making people aware of the inspiring story of Vivekanand Rock Memorial and the activities of Vivekanand Kendra.

Vivekananda Rock Memorial

is a monument in K

anyakumari, Tamil Nadu

at the Tri-junction of Indian ocean, Bay of Bengal and Arabian sea.

It was built in 1970 in honour of Swami Vivekananda who is said to have attained enlightenment at this place in 1892, prior to his famous Chicago trip

The memorial consists of two main structures, the Vivekananda Mandapam and the Shripada Mandapam. The design of the mandapa incorporates different styles of temple architecture from all over India. 

Vivekananda Kendra works in the field of yoga, education, rural development, youth motivation, natural resource development, cultural research among other areas.
---
Mamallapuram
Part of: GS Prelims and Mains GS-II- International Relations
In News
The historic coastal town of Mamallapuram in Tamil Nadu will be the venue for the

second India-China informal summit

between PM Modi and Chinese President Xi Jinping, scheduled in October this year. 

The first informal summit between them was held in Wuhan in China in April 2018

.

Mamallapuram also hosted the Defence Expo 2018 or known as Defexpo, the Union Defence Ministry's annual event with international participation.
Do You Know?
Mamallapuram was one of two major

port cities

by the 7th century within the

Pallava

kingdom. 

The town has a collection of 7th and 8th century religious monuments that has been declared as a UNESCO World Heritage site. 

Some important structures include: Thirukadalmallai,

Descent of the Ganges or Arjuna's Penance

, Varaha Cave Temple and

Pancha Rathas (Five Chariots). 
---
(MAINS FOCUS)
---
INTERNATIONAL AGENCIES
TOPIC: General studies 2

Bilateral, regional and global groupings and agreements involving India and/or affecting India's interests
Effect of policies and politics of developed and developing countries on India's interests, Indian Diaspora.
Important International institutions, agencies and fora- their structure, mandate.
Red notices
Context:
Home Minister Amit Shah has conveyed to Interpol Secretary-General Jurgen Stock that India would like the international police agency to expedite its process of publishing Red Notices
Concern:
As many as 18 requests for RNs from India are pending with Interpol.
What is an RED NOTICE?
Criminals or suspects often flee to other countries to evade facing justice. An RN alerts police forces across the world about fugitives who are wanted internationally.

Interpol describes an RN as "a request to law enforcement worldwide to locate and provisionally arrest a person pending extradition, surrender, or similar legal action".

RNs contain information that helps identify wanted persons, such as their names, dates of birth, nationality, and physical attributes such as the colour of their hair and eyes, as well as pictures and biometric data such as fingerprints, if they are available. RNs also mention the crime(s) they are wanted for.

An RN is published by Interpol at the request of a member country. The fugitives may be wanted for prosecution or to serve a sentence. The country issuing the request need not be the home country of the fugitive; Interpol acts on the request of a country where the alleged crime has been committed.
Number of Red Notices
The Interpol says some 58,000 RNs are currently valid, of which around 7,000 are public. Most RNs are restricted to law enforcement use only.

In cases where the help of the public is needed to locate an individual, or if those individuals pose a threat to public safety, a public extract of the RN is published on the Interpol's website.

In 2018, Interpol issued 13,516 RNs
Importance of RNs
RNs are issued to simultaneously alert police in all member countries about internationally wanted fugitives

An RN can help bring a fugitive to justice, sometimes many years after the crime was committed.

However, because an RN is not an arrest warrant, action against a fugitive frequently rests on the diplomatic clout that the country making the request has with the country where the fugitive is located.
Key notes about Interpol:
Interpol is global police co-operation agency and a non-governmental organization (NGO).

It was established as the International Criminal Police Commission (ICPC) in 1923.

Its headquartered is located at Lyon, France.

It is the world's largest international police organization, with 194 member countries (including India).

It is second-largest international organization after United Nations in terms of international representation.

Its work focuses on public safety and battling terrorism, crimes against humanity, genocide, war crimes, environmental crime etc.

It seeks to facilitate international police cooperation even where diplomatic relations do not exist between particular countries.

It ensures that police around world have access to tools and services necessary to do their jobs effectively.

It also provides targeted training, expert investigative support, relevant data and secure communications channels.

It primarily uses its police expertise and capabilities for these three types of crimes.




1. Counter-Terrorism




2. Organized crime




3. Cyber Crime




Interpol works in conjunction with all member countries and international organizations like the United Nations and European Union to combat international crime.
India's membership:
India has been a member since 1956. Like any member nation, India maintains a National Central Bureau which serves as the national platform for cooperation between domestic law enforcement units and the international police community.

The NCB is the designated contact point for the Interpol. India has collaborated with the Interpol in tackling a myriad of organised crimes such as poaching, wildlife trafficking, spurious drugs and fake medicine rackets, among others.
Connecting the dots:
What is Interpol's Red notice and extradition? Explain how it works and what happens if there would be no extradition treaty?
---
CLIMATE CHANGE/ENVIRONMENT
TOPIC:General Studies 3:

Conservation, environmental pollution and degradation, environmental impact assessment
Climate Change and Nationalist Ideology
In news:
Brazil's Amazon forests are ablaze with dozens of fires, most of them set intentionally by loggers and others seeking greater access to forest land. At this scale the fires are paving the way for a global climate catastrophe. 

Meanwhile, many cities in Europe and elsewhere have seen high temperatures never before experienced. 

Heat waves have also accelerated melting of glaciers in Greenland at a rate that was not anticipated.
Nationalism and climate change:
The Brazilian President has stated that the Amazon forest fires is an internal matter.
The American President Donald Trump has withdrawn from the Paris Climate Agreement stating that it is against the national interests of the U.S. Across the Atlantic.
British Prime Minister has received

funding from climate science denial groups while saying that he would lobby the U.S. to take climate change more seriously.
The burning of the world's largest forest reserves, the withdrawal of the world's leading polluter from a major international treaty and the U.K.'s isolationist policies may appear to be the triumph of nationalist ideology.
But these actions have consequences that far transcend national boundaries and impact all creatures that share life on the planet.
Way ahead:
Better land use:
Changes in land use pattern and climate change:
While energy and transport are mainly responsible for the accumulation of greenhouse gases (GHGs) in the atmosphere, changes in land use patterns too have made significant contributions. 

Deforestation, industrial agricultural systems and desertification are major drivers of climate change. 

Agriculture, forestry and other land use activities accounted for a little less than a quarter (23%) of the total net anthropogenic emissions of GHGs between 2007-2016.
A recent report of the Intergovernmental Panel on Climate Change (IPCC) report makes it clear that unless land is managed in a sustainable manner, climate change can't be tackled.
Solution:
Managing land better for farming would entail implementing more sustainable agricultural practices. It would mean, for instance, reducing chemical input drastically, and taking the practice of food production closer to natural methods of agroecology, as these would reduce emissions and enhance resilience to warming. 

The IPCC report calls for avoiding conversion of grassland to cropland, bringing in equitable management of water in agriculture, crop diversification, agroforestry and investment in local and indigenous seed varieties that can withstand higher temperatures. 

It also recommends practices that increase soil carbon and reduce salinisation.
An inclusive land use policy:
To make these significant changes and reduce inequality and poverty, land use policy should incorporate better access to markets for small and marginal farmers, empower women farmers, expand agricultural services and strengthen land tenure systems. 

Sustainable land management can reduce multiple stressors on ecosystems and societies. It will also help societies adapt better to warmer climates and reduce their greenhouse gas emissions.
Establishing sustainable food systems:
Reducing food waste, which is estimated to be a quarter of the food produced.

It also necessitates eating locally grown food and cutting meat consumption.
Alongside these changes, it is important to put an end to deforestation, while conserving mangroves, peatland and other wetlands.
Addressing the transnational challenges of climate change and land:
The narrow lens of nationalism is no longer serving us.
We need a new planetary ethics that supports alternative systems for the future, for a sustainable earth.
Focus has to be on the following:
Gowth of ecological sensibilities.

Supporting pluralism.

Enhancing quality of life.

Shifting values away from consumerism.

Creating new identities and cultures that transcend conventional boundaries.
Conclusion:
Viewing the transnational challenge of climate change through the narrow lens of nationalism will only spell disaster. A sense of solidarity across boundaries needs to be created, instead of building fortress worlds, will contribute to the path we build.
Connecting the dots:
Viewing the transnational challenge of climate change through the narrow lens of nationalism will only spell disaster. Comment.
---
(TEST YOUR KNOWLEDGE)
---
Model questions: (You can now post your answers in comment section)
Note: 
Featured Comments and comments Up-voted by IASbaba are the "correct answers".

IASbaba App users – Team IASbaba will provide correct answers in comment section. Kindly refer to it and update your answers.
Q.1) The descent of the Ganges and Arjuna's Penance are portrayed in which of the following India's heritage site
Ajanta Caves

Ellora Caves 

Mahabalipuram

None of the above
---
Q.2) Uranium deposits are located at which among the following places in India
Mahadek Basin in Meghalaya

Singhbhum belt in Jharkhand

Bhima basin in Karnataka

Aravallis in Rajasthan
Select the correct answer from the codes given below.
1,2 and 3 only

2,3 and 4 only

1,2 and 3 only

1,2,3 and 4
---
Q.3) Consider the following statements 
Ministry of Culture is lauching "Ek Bharat Vijayi Bharat", a mass-contact programme to spread the teachings of Swami Vivekananda 

Vivekananda Rock Memorial is a monument in Kanyakumari, Tamil Nadu

at the Tri-junction of Indian ocean, Bay of Bengal and Arabian sea.
Which of the statement(s) given above is/are correct?
1 only

2 only

Both 1 and 2

Neither 1 nor 2
---
Q.4) Which of the following is geographically closest to Great Nicobar?
Sumatra

Borneo

Java

Sri Lanka
---
Must Read:
A misguided stimulus plan to revive our economic growth
A new ethics for a sustainable planet
Redesigning medical education 
Nation's orphans
Irresponsible rhetoric
For a dedicated peer group, Motivation & Quick updates, Join our official telegram channel – https://t.me/IASbabaOfficialAccount
Subscribe to our YouTube Channel HERE to watch Explainer Videos, Strategy Sessions, Toppers Talks & many more…