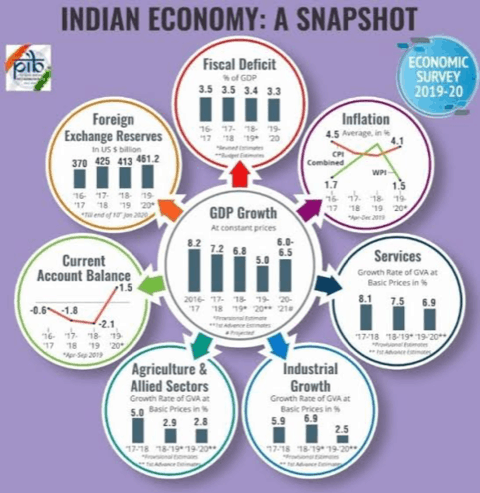 IAS UPSC Prelims and Mains Exam – 1st February 2020
---
(PRELIMS + MAINS FOCUS)
---
34th Surajkund International Crafts Mela inaugurated
Part of: GS Prelims and GS-I- Culture
In News
The mela is

held in Faridabad, Haryana

and this year partner

country is Uzbekistan

and Himachal Pradesh is the theme-state

It is being organized

since 1987

to showcase the richness and diversity of handicrafts, handlooms and cultural heritage of India.

Surajkund (literal meaning is 'Lake of the Sun') is an

artificial Kund

('Kund' means "lake" or reservoir) which is said to have been built by the

King Surajpal of Tomar dynasty

in the 10th century

Surajkund is located on Southern Delhi Ridge of Aravalli range in Faridabad city of Haryana.
---
Economic Survey 
Part of: GS Prelims and GS-III- Economy
In News
The Economic Survey 2019-20 with the theme of ethical wealth creation was tabled in the Parliament by the Union Minister for Finance.(Details in the mains section)
About Economic Survey
It is an official government's report on the state of the economy in the past one year, the key challenges it anticipates, and their possible solutions.

The document is prepared by the 

Economic Division of the Department of Economic Affairs

(DEA) under the guidance of the Chief Economic Adviser (CEA)

Government is

not constitutionally bound to present the Economic Survey

or to follow the recommendations that are made in it
---
Beijing Declaration  – 25 years of adoption
Part of: GS Prelims and GS-I- Society
In News
T

he Beijing Declaration

 was a resolution adopted by the UN at the end of the Fourth World Conference on Women in 1995. 

The resolution adopted to promulgate a set of principles concerning the equality of men and women.

It was a critical turning point in the

world's focus on gender equality and the empowerment of women.
---
Huduma Namba – Kenya's UID
Part of: GS Prelims and GS-I- International Affairs
In News
New digital identification system (NIIMS) has been launched by

Kenyan government

whereby each citizen will be assigned a Unique Identification Number (UID) or the "Huduma Namba" (as it is referred to in Swahili)

National Integrated Identity Management System (NIIMS)

is envisaged as a national population register which will be the single source of information about Kenyan citizens and foreigners resident in the country.

Data collected for the purposes of the Huduma Namba includes place of birth, parentage, marital status, education background, employment status and biometrics including fingerprints and a photograph.

Kenya has maintained that registering in NIIMS will be

necessary to have access to all public services

such as healthcare, housing, voting rights, driving license and passport making it difficult and some cases impossible to opt-out of the system
Think!
India's Aadhar ecosystem
---
Brexit
Part of: GS Prelims and GS-I- International Affairs
In News
Britain has officially left the European Union (EU)

and has become the first country to leave the 28-member bloc.

However,

nothing will change immediately

because of the 11-month

transition period (till Dec 31, 2020)

negotiated as part of an EU-UK exit deal, 2019

During the transition, the UK will be officially out of the EU and not be represented on EU bodies but would still have the same obligations as an EU member. That includes remaining in the EU customs union and the single market, contributing to the EU's budget and following EU law.
---
OCI Cardholders
Part of: GS Prelims and GS-II- Indian Polity
In News
Union government has told the Delhi High Court that Overseas Citizen of India (OCI) cardholders do not enjoy fundamental rights guaranteed by the Constitution

The category was introduced by the government in 2005. 

The

Ministry of Home Affairs

defines an OCI as a person who:

Was a citizen of India on or after 26th January 1950; or

Was eligible to become a citizen of India on 26th January 1950; or

Is a child or grandchild of such a person, among other eligibility criteria.

Also, an applicant is not eligible for the OCI card if he, his parents or grandparents have ever been a citizen of Pakistan or Bangladesh.

OCI cardholders have been merely granted statutory rights under Citizenship Act,1955

The Government of India via Citizenship (Amendment) Act, 2015

merged the Person of Indian Origin (PIO) category with OCI category in 2015.
Benefits to OCI Cardholders
OCI cardholders can 

enter India multiple times

, get a multipurpose lifelong visa to visit India, and are exempt from registering with Foreigners Regional Registration Office (FRRO).

If an individual is registered as an

OCI for a period of five years

, he/she is 

eligible to apply for Indian citizenship

.

OCI cardholders can open special bank accounts in India,

buy the non-farm property

and exercise ownership rights and can also apply for a PAN card.
Limitations of OCI cardholders
OCI cardholders 

do not get voting rights, cannot hold a government job

 and purchase agricultural or farmland.

They cannot travel to restricted areas without government permission.
---
(MAINS FOCUS)
---
Indian Economy
Topic: General Studies 3:

Government Budgeting.
Indian Economy and issues relating to planning, mobilization, of resources, growth, development and employment.
Key Highlights of the Economic Survey 2019-20 – Part I
Pic Source: India Today
WEALTH CREATION: THE INVISIBLE HAND SUPPORTED BY THE HAND OF TRUST
Exponential rise in India's GDP and GDP per capita post-liberalisation coincides with wealth generation. Also, the liberalized sectors grew significantly faster than the closed ones.
Survey suggests strengthening the invisible hand by promoting pro-business policies to:
Provide equal opportunities for new entrants.

Enable fair competition and ease doing business.

Eliminate policies unnecessarily undermining markets through government intervention.

Enable trade for job creation.

Efficiently scale up the banking sector.

Introducing the idea of trust as a public good,

which gets enhanced with greater use.

Policies must empower transparency and effective enforcement using data and technology.
ENTREPRENEURSHIP AND WEALTH CREATION AT THE GRASSROOTS
India ranks third in number of new firms created, as per the World Bank. About 1.24 lakh new firms created in 2018, an increase of about 80 % from about 70,000 in 2014.
A 10% increase in registration of new firms in a district yields a 1.8 % increase in Gross Domestic District Product (GDDP). Entrepreneurship at district level has a significant impact on wealth creation at the grassroots.
Literacy and education in a district foster local entrepreneurship significantly:  New firm formation is the lowest in eastern India with lowest literacy rate (59.6 % as per 2011 Census).
PRO-BUSINESS VERSUS PRO-MARKETS
India's aspiration to become a $5 trillion economy depends critically on promoting "pro-business" policy and weaning away from "pro-crony" policy, that may favour specific private interests, especially powerful incumbents.
Viewed from the lens of the Stock market, creative destruction increased significantly post-liberalisation:
Before liberalisation, a Sensex firm expected to stay in it for 60 years, which decreased to only 12 years after liberalisation.

Post Liberalisation,

every five years, one-third of Sensex firms are churned out

, reflecting the continuous influx of new firms, products and technologies into the economy.
Pro-crony policies such as discretionary allocation of natural resources till 2011 led to rent-seeking by beneficiaries while competitive allocation of the same post 2014 ended such rent extraction.
Crony lending that led to wilful default, wherein promoters collectively siphoned off wealth from banks, led to losses that dwarf subsidies for rural development.
UNDERMINING MARKETS: WHEN GOVERNMENT INTERVENTION HURTS MORE THAN IT HELPS
Four examples of anachronistic government interventions:
Essential Commodities Act (ECA), 1955 distorts
The incentives for the creation of storage infrastructure by the private sector.

Movement up the agricultural value chain.

Development of national market for agricultural commodities.

With raids having abysmally low conviction rate and no impact on prices, the ECA only seems to enable rent-seeking and harassment.
Drug Price Control under ECA:
The regulation of prices of drugs, through the DPCO 2013, led to increase in the price of the regulated pharmaceutical drug vis-à-vis that of an unregulated but similar drug.

Solution: Government, being a huge buyer of drugs, can intervene more effectively to provide affordable drugs by combining all its purchases and exercising its bargaining power.
Government intervention in Grain markets:
Policies in the food-grain markets led to:

Emergence of Government as the largest procurer and hoarder of rice and wheat.

Crowding out of private trade.

Burgeoning food subsidy burden

Inefficiencies in the markets, affecting the long run growth of agricultural sector.

The food-grains policy needs to be dynamic and allow switching from physical handling and distribution of food-grains to

cash transfers/food coupons/smart cards
Debt waivers: Analysis of debt waivers given by States/Centre:
Full waiver beneficiaries consume less, save less, invest less and are less productive after the waiver, compared to the partial beneficiaries.

Debt waivers disrupt the credit culture.

They reduce formal credit flow to the very same farmers, thereby defeating the purpose.
Creating Jobs and Growth by Specializing in Network Products
Survey says India has unprecedented opportunity to chart a China-like, labour-intensive, export trajectory.

By

integrating "Assemble in India for the world" into Make in India

, India can:

Raise its export market share to about 3.5 % by 2025 and 6 % by 2030

Create 4 crore well-paid jobs by 2025 and 8 crore by 2030.

Survey suggests a strategy similar to one used by China to grab this opportunity:

Specialization at large scale in labour-intensive sectors, especially network products.

Laser-like focus on enabling assembling operations at mammoth scale in network products.

Export primarily to markets in rich countries.

Trade policy must be an enabler
---
(TEST YOUR KNOWLEDGE)
---
Model questions: (You can now post your answers in comment section)
Note: 
Correct answers of today's questions will be provided in next day's DNA section. Kindly refer to it and update your answers. 

Comments Up-voted by IASbaba are also the "correct answers".
Q.1) Consider the following statements about Economic Survey
It is an official government's report on the state of the economy in the past one year, the key challenges it anticipates, and their possible solutions

Government is constitutionally bound to present the Economic Survey before tabling the Union Budget
Which of the above statement(s) given above is/are correct?
1 only

2 only

Both 1 and 2

Neither 1 nor 2
---
Q.2) Beijing Declaration often seen in news is related to which of the following field?
Environment Conservation 

Security in South China Sea

Gender Equality and Women Empowerment

None of the above
---
Q.3) Consider the following statements about Surajkund International Crafts Mela
It is being organized since 1987 to showcase the richness and diversity of handicrafts, handlooms and cultural heritage of India.

It is being held in Himachal Pradesh in 2020 with partner Country as Maldives
Which of the statement(s) given above is/are correct?
1 only

2 only

Both 1 and 2

Neither 1 nor 2
---
Q.4) Consider the following statements about Huduma Namba
It is a Unique Identity Number provided to each citizen in Kenya

It resembles the Aadhar system of India with regard to Centralised databases, use for availing public service and collection of biometric data
Which of the statement(s) given above is/are correct?
1 only

2 only

Both 1 and 2

Neither 1 nor 2
---
ANSWERS FOR 31 JAN 2020 TEST YOUR KNOWLEDGE (TYK)
---
MUST READ
About Coastal Zone Regulations and Environment Sustainability:
About Agriculture :
About Corona virus impact on China:
For a dedicated peer group, Motivation & Quick updates, Join our official telegram channel – https://t.me/IASbabaOfficialAccount
Subscribe to our YouTube Channel HERE to watch Explainer Videos, Strategy Sessions, Toppers Talks & many more…