IAS UPSC Prelims and Mains Exam – 3rd July 2020
---
(PRELIMS + MAINS FOCUS)
---
Part of: GS Prelims and Mains II and III – India-Russia ties; Defence
In news:
Defence Acquisition Council

approved deals worth Rs. 38,900 crore which includes procurement of

21 MiG-29 fighter jets

and upgrade of 59 MiG-29s and acquirement of

12 Su-30 MKI aircraft

.

The approval came after Defence Minister's visit to Russia for the Victory Day Parade.
Important Value Additions:
About Defence Acquisition Council
DAC – is the government's highest decision-making body on defence procurement.

DAC is chaired by Union Defence Minister.

To counter corruption and speed up decision-making in military procurements.
The decision flowing from the Defence Acquisition Council are to be implemented by the following 3 Boards –
Defence Procurement Board headed by the Defence Secretary

Defence Production Board headed by the Secretary (Defence Production)

Defence Research & Development Board headed by the Secretary (Defence Research & Development)
---
Part of: GS Prelims and Mains II – India-Italy relations; International laws and policies
About Enrica Lexie case: 
It is an ongoing international controversy about a shooting that happened off the western coast of India. 

On 15 February 2012, two Indian fishermen on board Indian fishing vessel were killed off the coast of Kerala after they were fired upon by Italian marines on board the Italian-flagged commercial oil tanker MV Enrica Lexie.

Italy had approached the International Tribunal for the Law of the Sea (ITLOS) in 2015 and the matter was heard by the Permanent Court of Arbitration in July 2019.
In news:
Permanent Court of Arbitration (PCA) tribunal

has now ruled that Italian marines held "diplomatic immunity" and would face a trial in Italy, not India.
However, PCA tribunal found merit in India's counter-claim that the marines on board "Enrica Lexie" had violated the freedom of navigation rights under the United Nations Convention on the Law of the Sea (UNCLOS) by shooting at fishing boat and should pay compensation to the victims' families, the boat owner and crew members.
The tribunal said India must cease to exercise its jurisdiction.
Important value addition:
The

International Tribunal for the Law of the Sea (ITLOS)

is an independent judicial body established by the

United Nations Convention on the Law of the Sea (UNCLOS)

to adjudicate disputes arising out of the interpretation and application of the Convention.

The

Permanent Court of Arbitration (PCA)

is an intergovernmental organization located at The Hague in the Netherlands. 

The PCA is

not a court in the traditional sense

but provides services of arbitral tribunal to resolve disputes that arise out of international agreements between member states, international organizations or private parties.

The PCA is constituted through two separate multilateral conventions and is

not a United Nations agency

, but the PCA is an official United Nations Observer.
---
Part of: GS Prelims and Mains III – Indian Economy and related issues; Trade deficit
In news: 
India's trade deficit with China fell to $48.66 billion in 2019-20 due to decline in imports.

The trade deficit stood at $53.56 billion in 2018-19 and $63 billion in 2017-18.
Note: A trade deficit is an economic measure of international trade in which a country's imports exceeds its exports.
(Trade Deficit = Total Value of Imports – Total Value of Exports)
Recent measures taken by the Indian government to reduce the widening trade deficit with China:
It is framing

technical regulations and quality norms

for several products to reduce dependence on Chinese imports.

It has

imposed anti-dumping duties on goods

, which are being dumped in the domestic market at below the average prices from China.

Government

tightened norms for FDI

coming from countries which share a land border with India. 
Do you know?
As per the amended FDI policy, a company or an individual from a country that shares a land border with India can invest in any sector only after getting government approval.
---
Miscellaneous:

Bid to turn Shivalik forest into tiger reserve
In news:
Uttar Pradesh government is actively considering the proposal to declare the Shivalik forest in the Saharanpur circle a tiger reserve.

If accepted, it would be the fourth tiger reserve in Uttar Pradesh after Amangarh in Bijnor, Pilibhit and Dudhwa in Lakhimpur-Kheri.

The move would not only reduce the increasing man-animal conflict but also help nurture the rich biodiversity of the region.
Do you know?
As of 2019, there are 50 tiger reserves in India, which are governed by Project Tiger which is administrated by the

National Tiger Conservation Authority (NTCA).

India is home to 80 percent of tigers in the world.

Tiger Reserves are declared by National Tiger Conservation Authority via Wild Life (Protection) Amendment Act, 2006 under centrally sponsored scheme called Project Tiger.

To declare an area as Tiger Reserve, the state governments can forward their proposals in this regard to NTCA. Central Government via NTCA may also advise the state governments to forward a proposal for creation of Tiger Reserves.
---
Udyog Setu
In news:
Consortium of Indian Associations (CIA) has urged the Centre to develop Udyog Setu, a mobile application, similar to the Aarogya Setu to bail out the micro, small and medium enterprises (MSMEs) that have been badly hit by COVID-19.

Lack of reliable data was impeding the sector's revival and hence Udyog Setu app could help. 

The mobile application will contain all the data pertaining to the MSMEs such as the names of enterprises, turnover, number of employees, plant location and the like.
---
C. Rangarajan gets Mahalanobis award
In news:
Former Reserve Bank of India Governor C. Rangarajan has been conferred the P.C. Mahalanobis Lifetime Achievement Award in recognition of his contribution to official statistics.

The Mahalanobis International Award is sponsored by the Ministry of Statistics and Programme Implementation of the Government of India. 

The award recognizes an individual for lifetime achievements in statistics in developing country or region.
Do you know?
Professor P.C. Mahalanobis (1893-1972) was a highly distinguished statistician who made extensive contributions to methodology, applications, statistical development, and public policy.

He founded the Indian Statistical Institute and served as an advisor to the Government of India.
---
(MAINS FOCUS)
---
INTERNATIONAL/ SECURITY
Topic: General Studies 2,3:

Important International institutions, agencies and fora- their structure, mandate. 
Government policies and interventions for security
Context: India will be back in the United Nations Security Council (UNSC) for a two-year term beginning January 1, 2021
By 2021, it is hoped that 
COVID-19 will have subsided

U.S. President will have been elected, 

The contours of a new world order may have emerged
About this year's election to non-permanent seat
In the order of the number of votes received by each one, the countries elected were Mexico, India, Norway, Ireland and Kenya. 

Since there was no endorsement in the African Group, Kenya had to go for a second round against Djibouti. 

Kenya was the favourite of the West and Djibouti was supported by China and the Islamic states. 

In the Western European and Others Group, Canada lost to Ireland in a contentious contest.
What impact did COVID-19 have election process?
Ambassadors were allowed to enter the General Assembly Hall one by one to cast their ballots instead of the simultaneous voting 

The campaign was also unconventional — it took place through Zoom conversations and the sharing of brochures and pamphlets, rather than through personal meetings
How will India gain by getting elected to UNSC as non-permanent member?
Enhances hope for Permanent Seat

: out of the 192 votes cast, India got 184 which has understandably ignited the hope that its quest for permanent membership of the Council may succeed

Access to High Diplomacy:

India will also have access into the consultations chamber of the UNSC, which is closed to non-members of the Council. It is there that hard negotiations take place without any public record.

Push for India's interest:

Counter-terrorism will be one of the highest priorities for India at the UNSC.

Higher Profile

: India will have a higher profile at the UN for the next two years as the non-permanent members have a collective veto over every resolution in the Council. 
Active Diplomacy:

Permanent members can prevent adoption of resolutions by themselves, but they need at least nine votes to get a resolution passed, where India can play active lobbying role which might serve its interests

 
Challenges for India
India's performance in the Council may earn it respect, but it will not lead to its elevation to permanent membership as there is strong opposition to any expansion from permanent members

The pressure of work of Indian mission will also increase because India will get involved in many issues in which it may not have any direct interest.

Since India does not have a veto, it shall have to proceed cautiously not to offend anyone particularly the veto members so that they don't retaliate when India's interests come up
Connecting the dots:
Why League of Nations failed?

History of UN and criticism of its working
---
ECONOMY/ GOVERNANCE / AGRICULTURE
Topic: General Studies 2,3:

Indian Economy and issues relating to planning, mobilization, of resources
Government policies and interventions for development in various sectors
Context: Output in the eight core industries suffered an overall contraction for a third straight month in May 2020.
About Index of Eight Core Industries (ICI)
The monthly Index of Eight Core Industries (ICI) is a production volume index. 

ICI measures collective and individual performance of production in selected eight core industries 

Coal, 

Crude oil, 

Natural Gas, 

Petroleum refinery products, 

Fertilizer, 

Cement, 

Steel, and 

Electricity generation. 

It is compiled and released by Office of the Economic Adviser (OEA), Department of Industrial Policy & Promotion (DIPP), and Ministry of Commerce & Industry. 

ICI is an important lead indicator for overall industrial performance and general economic activities in the economy.

These eight industries comprise 40.27% of the weight of the items included in the Index of Industrial Production (IIP is released by CSO).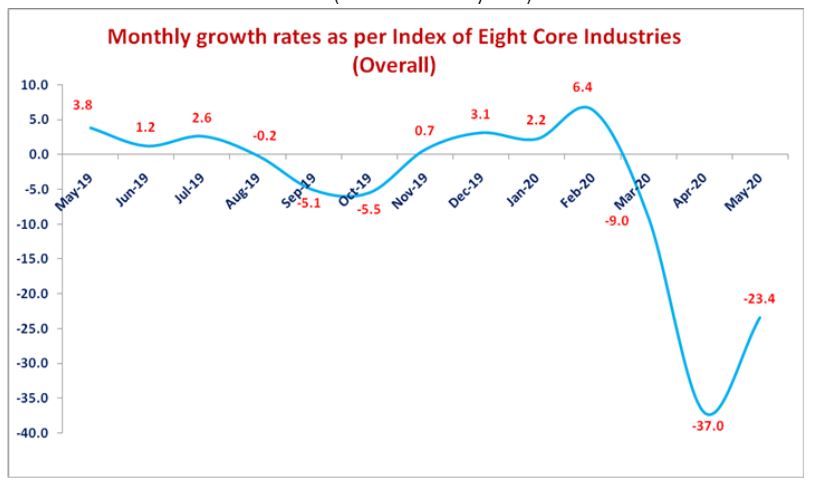 Image Source: PIB
ICI for May, 2020
The growth rate of ICI for May 2020 declined by 23.4% (provisional) compared to decline of 37 percent (provisional) in previous month of April 2020.

Barring fertiliser, all seven sectors — coal, crude oil, natural gas, refinery products, steel, cement, and electricity — had recorded negative growth in May.

Six sectors have witnessed double-digit drops.

Steel and cement were the worst hit, slumping 48.4% and 22.2%, respectively
Why ICI was in negative for May 2020?
Pandemic-induced lockdown had kept large parts of the economy shuttered, which meant reduction in demand for these eight industries

Construction activity and infrastructure projects

remained mostly stalled thereby drastically reducing the demand for steel & cement

Due to curbs on vehicular movement

during lockdown, refinery products, with the largest weight in the index contributing 28%, contracted 21.3% as demand for automobile fuels fell

Output of electricity fell 15.6%,

a slight improvement from April's 23% slump, aided by the partial easing of restrictions and peak summer consumption by households.
The only silver lining came from the fertilizer industry
Fertilizer production rose 7.5% reversing the slump seen in the preceding two months and signalling robust activity in the agricultural sector

There are two factors inducing farmers to increase plantings (& thus fertilizer usage)

The first is the monsoon

: There is 17.6% above-normal precipitation in June 

The second is improved soil moisture conditions: T

he surplus rains from the second half of 2019 has led to a significant recharging of groundwater tables along with the filling of dam reservoirs to near capacity

As a result, there was sharp jump in kharif sowing, with the area sown as on June 26 more than doubling compared with a year earlier to 315.6 lakh hectares.
Challenges Ahead
Much of agricultural output will depend on the monsoon staying its course.

There is a danger to the farm sector, especially in western, central and northern India this year from locust swarms. 

The Food and Agriculture Organization had in its June 27 update warned that India would need to remain on high alert through July for the possible arrival of swarms from northern Africa.

Increase in diesel prices during past one month (Rs11/litre) increases the cost of cultivation
Connecting the dots:
Coal Mining reforms – its impact on reviving growth

Doubling of Farmer's Income – Ashok Dalwai Committee
---
(TEST YOUR KNOWLEDGE)
---
Model questions: (You can now post your answers in comment section)
Note: 
Correct answers of today's questions will be provided in next day's DNA section. Kindly refer to it and update your answers. 

Comments Up-voted by IASbaba are also the "correct answers".
Q.1 The 'Enrica Lexie Incident' is one of the cases being looked into by the International Tribunal for the Law of the Sea. It is concerned with which of the following countries?
China and Japan

India and Italy

US and China

India and Russia
---
Q.2 Who is considered as founding father of modern economics?
Adam Smith 

Mahalanobis 

J.M. Keynes 

Gopal Krishna Sarangi
---
Q.3 Which of the following five year plans was based on Mahalanobis Model?
1st five year plan

2nd five year plan

5th five year plan

12th five year plan
---
Q.4 Consider the following statements:
Animal Welfare Board of India is established under the Environment (Protection) Act, 1986.

National Tiger Conservation Authority is a statutory body.

National Ganga River Basin Authority is chaired by the Prime Minister.
Which of the statements given above is/are correct?
1 only

2 and 3 only

2 only

1, 2 and 3
---
Q.5) Consider the following statements in regard to Permanent Court of Arbitration (PCA):
It is an intergovernmental organization that provides a variety of dispute resolution services to the international community.

It is one of the agencies of the United Nations.

PCA also administers cases under the arbitration rules of the United Nations Commission on International Trade Law (UNCITRAL).
Which of the statements given above is/are correct?
1 only

1 and 3 only

2 and 3 only

1, 2 and 3
---
ANSWERS FOR 2nd July 2020 TEST YOUR KNOWLEDGE (TYK)
---
Must Read
About NIRF:
About need for basic minimum income support for weak & vulnerable:
India's torture culture to end now:
For a dedicated peer group, Motivation & Quick updates, Join our official telegram channel – https://t.me/IASbabaOfficialAccount
Subscribe to our YouTube Channel HERE to watch Explainer Videos, Strategy Sessions, Toppers Talks & many more…