Let's just say that there are two types of aspirants –
One who simply follows the trend…
Another, who understands the trend, analyses where does she/he lack, make it a point to work harder in those areas and emerge successful in the examination
Who do you identify yourself with?
When an aspirant starts preparing for the examination, the first or the second investment is the Prelims Test Series. Today, we will break down everything around Prelims Test Series for you.
The WHY behind the Test Series
UPSC CSE – Prelims has become more analytical and challenging lately. With no sure shot questions and questions which create confusion even in the minds of the sharpest of students, it is not so easy to crack the exam anymore. With a solid preparation, one also needs to develop the right approach for the examination. It is here, that the test series play a key role. And if the test series have been developed carefully, it can literally serve as a strong training point for aspirants who are serious in cracking the exam.
Right from being able to break down the questions in a simpler form, to having a strategy in hand for elimination, making safe guesses through continuous practice, to managing the anxiety and stress of the high pressure situation, the 'right' test series will arm you up with all the ammunitions in the arsenal to beat UPSC in its attempt to eliminate him/her. If approached correctly, these test series also serve as a good revision material and in refreshing your memories of concepts that might make or break the result that you deserve.
How aspirants go wrong with Test Series?
But we are all guilty of not utilizing Test Series optimally in our performance. There are three very common mistakes aspirants make. Hence, it becomes imperative for us to highlight them so that you do not commit them.
Most of the times it is the things that we should not do that makes all the difference. Once an aspirant understands this, the approach changes and they are set on a right track because then there's no room for confusion.
So what are these mistakes?
Mistake 1: Buying as many test series from as many coaching classes as possible
!!!RED ALERT!!!
DO NOT fall into the trap of buying different test series. The one who is a serious aspirant would know how important it is to stay focused. Choose ONE and stick to it like your life depends on it.
Mistake 2: Not investing in a Test Series at all
And just studying and studying. Only studying can only take you so far. You need real time practice of solving papers using elimination method as well as managing your time to get through the exam. Plus, the revision that comes along with – totally unparalleled.
Mistake 3: Creating a treasure chest of test series
What will you do if you would just keep buying these test series and never attempting one? Most common answer to this is the fear of not getting good marks.
Success Hack: Less Marks = A great excuse for you to identify what you need to study, and become exam ready (as you will read the solutions part à you are aware of the concept now).
A little bit of a change in perspective can create wonders.
What makes a Test Series the right one for you?
Yes, your mind must have moved to this question as soon as you would have read the term 'right' in the previous section.
This is your sign to keep check on your thoughts. In this journey, it is very important to steer ahead patiently, keeping an open mind.
And therefore, choosing a test series that serve you becomes extremely important in a market full of so many options. Without further ado, the following diagram will indicate the points you need to keep in mind before investing in ONE.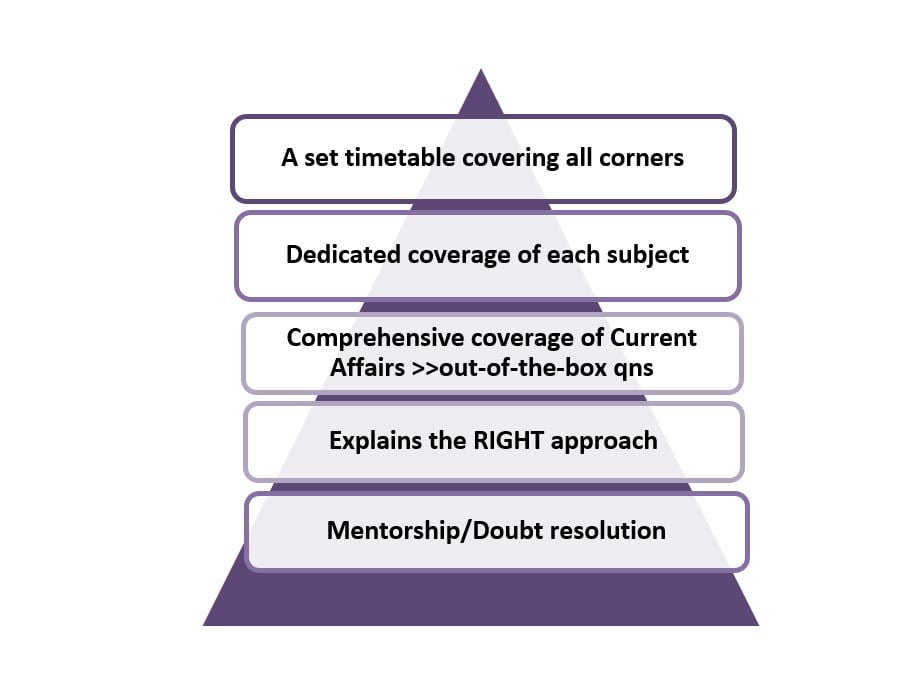 How should you decide the RIGHT Prelims Test Series for yourself?
We will highlight the exact set of steps that you need to start doing to reap maximum dividends of all your efforts combined –
Step 1: Complete the first 2 readings of NCERT books & 1 reading of other supplementary books.
Step 2: Attempt previous year UPSC questions (last ten years) in a timed environment with negative marking. Analyse your performance based on the official UPSC key.
Step 3: Keep making notes of the new things (under their respective topics where you have already made notes, and not randomly) you learnt during the analysis you do for each paper. Understand which areas are your strong areas and the ones that require more efforts.
(Do not consider any area to be weak; it just means that you need to put more efforts into it.)
Step 4: Highlight the top 5 Test Series that you think will be good for you. Closely, look at their features (refer to the diagram above) and check if it satisfies all the criteria.
Step 5: From the top 2 that you have decided, check if you can attempt any free test questions that they have or some of the other initiatives that they have on their website.
Golden Tip: You can tell a lot about the kind of guidance you would receive on the way they design their initiatives and the questions they create for practice, for free.
Step 6: Once you select, SURRENDER to the process. Follow it to the T, and make it a potent tool for success.
How does one surrender to the process?
Let us shift to a more action oriented course of action now.
>>You got a timetable to follow as per the Test Series designed?
Stick with it. Revise every topic that falls under that subject. Be prepared.
>>You have a test scheduled at 2 PM?
Attend each test as if you are sitting for the Prelims examination for real. Zero disturbance. Not letting your mind wander towards other responsibilities/priorities/duties.
>> You scored really BAD.
That you feel like crying and giving up. Your mind tricks you with the thought "let me stop writing tests and just study and when I have studied properly, I will attempt these tests then."
STOP RIGHT THERE.
You scored real bad à This means that you have got an opportunity to learn things that you had missed out on. Study these concepts properly. Make notes. Revise the concept from the standard notebook. Stop not till you are sure that no matter whatever question gets asked from this concept – you will nail it.
>> You scored real well.
That's good >> put your efforts in revising it once again and solidifying your understanding. Work harder towards questions you got wrong. Here's an opportunity to learn – grab it with both hands. You never know, how these questions have the potential to help you cross the cut-off.
Introducing IASbaba's All India Prelims Test Series (AIPTS) 2022
Now, if you are ready to invest in your jump towards the second stage of the examination, we have a really good suggestion for you that ticks through everything you will ever need to accelerate your journey – IASbaba's All India Prelims Test Series (AIPTS) 2022
As we come to the end of this blog, something that you should always keep coming back to…
Surrender to the process. Keep going even when you feel like deviating from the track.
No matter how difficult it gets – Don't stop!
Mail us on: support@iasbaba.com
Call us on : 91691 91888
BENGALURU CENTRE:
IASbaba Admission Centre: No.38, 3rd Cross, 1st Phase, 2nd Stage, 60 Feet Mains Road, Chandralayout, Bengaluru-560040. 
Landmark: Opposite to BBMP Office/ CULT Fitness
IASbaba, Plot 22-B, 3rd floor, Pusa Road, Bada Bazar Marg, Rajinder Nagar, New Delhi- 110060
Landmark: Above Dominos
IASbaba, B-1/66, Sector J, Sector-A, Lucknow – 226024
Landmark: Near Mr Brown / Opp to Sahu Studio.