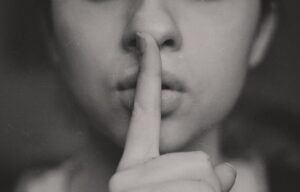 Value of Silence:
Throughout the day, just observe you talking to yourself. Then, for a few moments, silence the mind completely: Look at something, but don't talk about it; have a cup of tea, but don't talk about it; eat nice food, but don't talk about it. You will see that don't talk about it means more than just not opening your mouth and saying something. You should not even describe the experience in your mind. When you don't describe your experience, it remains fresh and authentic. The experience of life is greatly enhanced when you don't keep talking about it. In this sense, there is no such thing as boredom in existence. Boredom is simply a repetitive voice in your head!
Let me share an example of how we cling to language. I ask, "What's for dinner?" and you say, "Spaghetti." I immediately respond, "I don't like spaghetti, could we have something else?" Do you see what I just did? You said spaghetti, and I immediately said that I dislike it. How do I know which spaghetti you are talking about? You might be offering a different kind of spaghetti, but my mind would just hold on to a previous experience of spaghetti that I had eaten before. Without language, it would be impossible for me to say "I don't like it" without experiencing it. Just think about the number of times you have missed the opportunity to experience and appreciate life, only because you were clinging to pre-recorded words in your head.
Dogs eat the same food every day and they never complain (can't say the same for cats!) because they have no language to define what they are eating. Suppose you were to tell your dog, "Today I am feeding you rice, and tomorrow I am going to feed you chicken." The next day, if you feed her rice, she will not be disappointed because she will not know the difference. Dogs can eat the same food every day and not get bored because they simply don't know how to compare two foods in their mind using language. Disappointment, dissatisfaction and boredom are all uniquely human experiences, and they come from our over-dependence on language.
"This article is a part of the creative endeavor of Nirvana Foundation and IASBABA."
For a dedicated peer group, Motivation & Quick updates, Join our official telegram channel – https://t.me/IASbabaOfficialAccount
Subscribe to our YouTube Channel HERE to watch Explainer Videos, Strategy Sessions, Toppers Talks & many more…