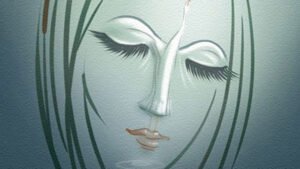 The Illusion:
The starting point of your search is to accept that there is something more to you, and you still don't know what that is. With that humbleness, with that child-like inquisitive nature, you can say, "I've explored life so much, and I've seen what is on the outside. Now I want to see what is inside." That is all Self-Discovery is. As you continue to look inward, a day will come that will reveal the true nature of who you are. A day will come, when that watching, that looking inward, reaches its absolute peak. On that day, you will know who you are, what the body is, what the mind is, and why you were unnecessarily suffering. Self-Discovery is the moment when the illusion of life, the illusion of pain and suffering, is gone forever.
There is a beautiful story in the Upanishads.
"A man is walking home at night and sees what appears to be a snake. Immediately he is startled and scared. The next day, when there is enough light, he looks at the snake on his way out of the village and sees that it is not a snake. It is just a rope that had fallen there. When he could not see the rope clearly in darkness, he mistook it for a snake and was almost scared to death."
Even a rope has the capability of scaring you. Why? – Only because you could not see it properly. It is the same with all the things that are scaring you now. Most things just appear to be scary. People are bound by illusions, and an illusion is simply ignorance of the truth. The most important ignorance is the ignorance of life and death. You think that you are just this perishable body and you are constantly fighting against your aging body. You think that life is slipping away and you still have so many things to accomplish. You cannot rest, be peaceful, and enjoy the experience of life. All these fears are only because you have mistaken the images and expressions of life, for life. You have mistaken the rope for a snake.
"This article is a part of the creative endeavor of Nirvana Foundation and IASBABA."
For a dedicated peer group, Motivation & Quick updates, Join our official telegram channel – https://t.me/IASbabaOfficialAccount
Subscribe to our YouTube Channel HERE to watch Explainer Videos, Strategy Sessions, Toppers Talks & many more…